Abstract
Objective
Bracket slots and orthodontic archwires offering high dimensional precision are needed for fully customized lingual appliances. We aimed to investigate whether high-precision appliances of this type enable dentoalveolar compensation of class III malocclusion so that lower incisor inclination at the end of treatment will closely match the anticipated situation as defined in a pretreatment setup.
Materials and methods
This retrospective study included a total of 34 consecutive patients who had worn a fully customized lingual appliance to achieve dentoalveolar compensation for class III malocclusion by intermaxillary elastics, or proximal enamel reduction, or extraction of teeth in one or both jaws. Casts fabricated at different points in time were three-dimensionally scanned to analyze how precisely the lower incisor inclinations envisioned in the setup were implemented in clinical practice.
Results
Aside from minor deviations of ±3.75°, the lower incisor inclinations were clinically implemented as planned even in patients with major sagittal discrepancies.
Conclusion
Treatment goals predefined in a setup of dentoalveolar compensation for class III malocclusion can be very precisely achieved via a customized lingual appliance. Correct planning can prevent undesirable lingual tipping of the lower incisors. This finding should not encourage a more liberal use of dentoalveolar compensation, but it should heighten clinicians' awareness of how essential it is to sufficiently consider the individual anatomy of the dentoalveolar complex during treatment planning.
Zusammenfassung
Zielsetzung
Bei der Herstellung vollständig individueller lingualer Apparaturen werden besonders hohe Anforderungen an die Präzision der Dimension der Bracketslots und der kieferorthopädischen Bögen gestellt. In der Studie sollte überprüft werden, ob dadurch bei der dentoalveolären Kompensation einer Klasse-III-Malokklusion auch die Inklination der Unterkieferfrontzähne erreicht wird, die im prätherapeutischen Set-up festgelegt wurde.
Material und Methode
34 konsekutiv behandelte Patienten, bei denen eine Klasse-III-Malokklusion mittels intermaxillärer Gummizüge, approximaler Schmelzreduktion oder uni- bzw. bimaxillärer Extraktionen im Rahmen einer Lingualbehandlung mit einer vollständig individuellen Apparatur dentoalveolär kompensiert wurde, bildeten das Untersuchungskollektiv dieser retrospektiven Studie. Die im Set-up geplante Inklination der Unterkieferfrontzähne wurde nach einer dreidimensionalen Digitalisierung mit dem Behandlungsergebnis verglichen.
Ergebnisse
Die geplante Inklination der Unterkieferfrontzähne konnte auch bei Patienten mit größeren sagittalen Diskrepanzen bis auf geringe Abweichungen (±3,75°) realisiert werden.
Schlussfolgerung
Bei der dentoalveolären Kompensation einer Klasse-III-Malokklusion mit individuellen lingualen Apparaturen kann das am Set-up festgelegte Behandlungsergebnis mit hoher Präzision erreicht werden, und unerwünschte Lingualkippungen der Unterkieferschneidezähne können bei korrekter Planung verhindert werden. Dieses sollte aber nicht zu einer Ausweitung der Indikation für eine dentoalveoläre Kompensation führen, sondern vielmehr den Behandler sensibilisieren, die individuelle Anatomie des dentoalveolären Komplexes bei der Therapieplanung hinreichend zu berücksichtigen.
Access options
Buy single article
Instant access to the full article PDF.
USD 39.95
Price excludes VAT (USA)
Tax calculation will be finalised during checkout.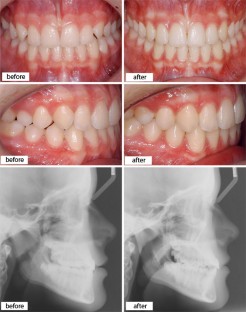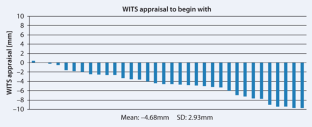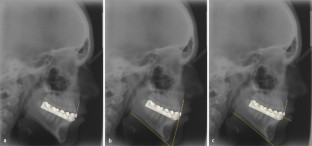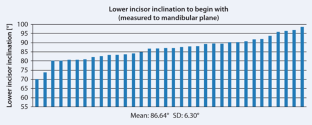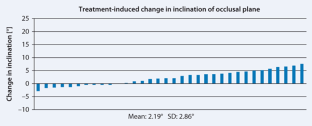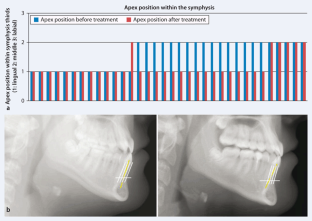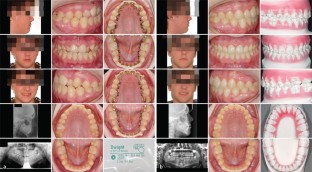 References
Allais D, Melsen B (2003) Does labial movement of lower incisors influence the level of the gingival margin? A case-control study of adult orthodontic patients. Eur J Orthod 25:343–352

Artun J, Grobety D (2001) Periodontal status of mandibular incisors after pronounced orthodontic advancement during adolescence: a follow-up evaluation. Am J Orthod Dentofacial Orthop 119:2–10

Aziz T, Flores-Mir C (2011) A systematic review of the association between appliance-induced labial movement of mandibular incisors and gingival recession. Aust Orthod J 27:33–39

Baker P, Spedding C (2002) The aetiology of gingival recession. Dent Update 29:59–62

Baumrind S, Frantz RC (1971) The reliability of head film measurements. 2. Conventional angular and linear measures. Am J Orthod 60:505–517

Baumrind S, Frantz RC (1971) The reliability of head film measurements. 1. Landmark identification. Am J Orthod 60:111–127

Bennett DT, Smales FC (1969) Accuracy of angular measurements obtained from radiographic cephalometric analysis. J Dent Res 48:595

Broadway ES, Healy MJ, Poyton HG (1966) The accuracy of tracings from lateral skull radiographs. Dent Pract 12:455–460

Bukhary MT (2005) Comparative cephalometric study of Class III malocclusion in Saudi and Japanese adult females. J Oral Sci 47:83–90

Cash AC, Good SA, Curtis RV et al (2004) An evaluation of slot size in orthodontic brackets—are standards as expected? Angle Orthod 74:450–453

Cattaneo PM, Dalstra M, Melsen B (2008) Moment-to-force ratio, center of rotation, and force level: a finite element study predicting their interdependency for simulated orthodontic loading regimens. Am J Orthod Dentofacial Orthop 133:681–689

Chan GK (1974) Class 3 malocclusion in Chinese (Cantonese): etiology and treatment. Am J Orthod 65:152–157

Chen F, Terada K, Yang L et al (2008) Dental arch widths and mandibular-maxillary base widths in Class III malocclusions from ages 10 to 14. Am J Orthod Dentofacial Orthop 133:65–69

Dahlberg G (1940) Statistical methods for the medical and biological students. Allen and Unwin, London

Deguchi T, Kuroda T, Minoshima Y et al (2002) Craniofacial features of patients with Class III abnormalities: growth-related changes and effects of short-term and long-term chincup therapy. Am J Orthod Dentofacial Orthop 121:84–92

Demling A, Dittmer MP, Schwestka-Polly R (2009) Comparative analysis of slot dimension in lingual bracket systems. Head Face Med 5:27

Djeu G, Hayes C, Zawaideh S (2002) Correlation between mandibular central incisor proclination and gingival recession during fixed appliance therapy. Angle Orthod 72:238–245

el-Batouti A, Ogaard B, Bishara SE (1994) Longitudinal cephalometric standards for Norwegians between the ages of 6 and 18 years. Eur J Orthod 16:501–509

Endo T (1971) An epidemiological study of reversed occlusion. I. Incidence of reversed occlusion in children 6 to 14 years old. Nihon Kyosei Shika Gakkai Zasshi 30:73–77

Fischer-Brandies H, Orthuber W, Es-Souni M et al (2000) Torque transmission between square wire and bracket as a function of measurement, form and hardness parameters. J Orofac Orthop 61:258–265

Gesch D (2000) A longitudinal study on growth in untreated children with Angle Class II, Division 1 malocclusion. J Orofac Orthop 61:20–33

Graber TM, Vanarsdall RL, Vig KWL (2005) Orthodontics. Current principles and techniques, 4. edn. Mosby, St Louis

Grauer D, Proffit WR (2011) Accuracy in tooth positioning with a fully customized lingual orthodontic appliance. Am J Orthod Dentofacial Orthop 140:433–443

Houston WJ (1983) The analysis of errors in orthodontic measurements. Am J Orthod 83:382–390

Joch A, Pichelmayer M, Weiland F (2010) Bracket slot and archwire dimensions: manufacturing precision and third order clearance. J Orthod 37:241–249

Krieger E, Seiferth J, Marinello I et al (2012) Invisalign® treatment in the anterior region: were the predicted tooth movements achieved? J Orofac Orthop 73:365–376

Lippold C, Bos L van den, Hohoff A et al (2003) Interdisciplinary study of orthopedic and orthodontic findings in pre-school infants. J Orofac Orthop 64:330–340

Ludwig B, Glasl B, Bowman SJ et al (2010) Miniscrew-supported Class III treatment with the Hybrid RPE Advancer. J Clin Orthod 44:533–539 (quiz 561)

Lux CJ, Ducker B, Pritsch M et al (2009) Occlusal status and prevalence of occlusal malocclusion traits among 9-year-old schoolchildren. Eur J Orthod 31:294–299

Miethke RR (1989) Zur Lokalisationsgenauigkeit kephalometrischer Referenzpunkte. Prakt Kieferorthop 3:107–122

Olmos G (2012) Periodontal response of mandibular incisors in patients treated with a Herbst and a completely customized lingual appliance. Hannover Medical School

Pies S (2010) Inklination unterer Inzisivi zur Unterkieferbasis bei der Behandlung mit einem individuellen lingualen System in Kombination mit der Herbst-Apparatur. Medizinische Hochschule Hannover

Rabie AB, Wong RW, Min GU (2008) Treatment in borderline class III malocclusion: orthodontic camouflage (extraction) versus orthognathic surgery. Open Dent J 2:38–48

Riolo ML, Moyers RE, McNamara JA et al (1974) An atlas of craniofacial growth: cephalometric standards from the university school growth study. Center for Human Growth and Development. Ann Arbor, Michigan

Schmuth GP (1971) Technical problems in the use of roentgen cephalometry in orthodontics. Fortschr Kieferorthop 32:317–325

Schopf P (2003) Indication for and frequency of early orthodontic therapy or interceptive measures. J Orofac Orthop 64:186–200

Sperry TP, Speidel TM, Isaacson RJ et al (1977) The role of dental compensations in the orthodontic treatment of mandibular prognathism. Angle Orthod 47:293–299

Stahl F, Baccetti T, Franchi L et al (2008) Longitudinal growth changes in untreated subjects with Class II Division 1 malocclusion. Am J Orthod Dentofacial Orthop 134:125–137

Susami R, Asai Y, Hirose K et al (1972) Prevalence of malocclusion in Japanese school children. 4. The frequency of mandibular overjet. Nihon Kyosei Shika Gakkai Zasshi 31:319–324

Trexler A, Wiechmann D, Schwestka-Polly R (2012) Auswirkungen der Herbstapparatur und einer vollständig individuellen lingualen Apparatur auf die Inklination der Unterkieferinzisivi und der Okklusionsebene. Inf Orthod Kieferorthop 44:75–79

Vasconcelos G, Kjellsen K, Preus H et al (2012) Prevalence and severity of vestibular recession in mandibular incisors after orthodontic treatment. Angle Orthod 82:42–47

Wiechmann D (1999) Lingual orthodontics (part 2): archwire fabrication. J Orofac Orthop 60:416–426

Wiechmann D (1999) Lingual orthodontics (part 1): laboratory procedure. J Orofac Orthop 60:371–379

Wiechmann D (2002) A new bracket system for lingual orthodontic treatment. Part 1: theoretical background and development. J Orofac Orthop 63:234–245

Wiechmann D (2003) A new bracket system for lingual orthodontic treatment. Part 2: first clinical experiences and further development. J Orofac Orthop 64:372–388

Wiechmann D, Rummel V, Thalheim A et al (2003) Customized brackets and archwires for lingual orthodontic treatment. Am J Orthod Dentofacial Orthop 124:593–599

Wiechmann D, Schwestka-Polly R, Pancherz H et al (2010) Control of mandibular incisors with the combined Herbst and completely customized lingual appliance–a pilot study. Head Face Med 6:3

Zimmer B, Nischwitz D (2012) Therapeutic changes in the occlusal plane inclination using intermaxillary elastics. J Orofac Orthop 73:377–386
Acknowledgments
The authors wish to thank the team at D. W.'s orthodontic practice for assistance in compiling and digitizing the patient data. They are indebted to Professor Hartmut Hecker (Hannover Medical School) for supporting the statistical analysis.
Danksagung
Die Autoren danken den Mitarbeitern und Mitarbeiterinnen der Praxis PD Dr. Wiechmann und Partner für die Unterstützung bei der Zusammenstellung und Digitalisierung der Patientenunterlagen. Besonderer Dank gebührt Herrn Prof. em. Dr. Hartmut Hecker (Medizinische Hochschule Hannover) für seine Hilfe bei der statistischen Analyse.
Conflict of interest
On behalf of all authors, the corresponding author states that there are no conflicts of interest.
Interessenkonflikt
Der korrespondierende Autor gibt für sich und seine Koautoren an, dass kein Interessenkonflikt besteht.
About this article
Cite this article
Lossdörfer, S., Schwestka-Polly, R. & Wiechmann, D. Control of lower incisor inclination with a completely customized lingual appliance for dentoalveolar compensation of class III malocclusion. J Orofac Orthop 74, 381–396 (2013). https://doi.org/10.1007/s00056-013-0163-y
Received:

Accepted:

Published:

Issue Date:

DOI: https://doi.org/10.1007/s00056-013-0163-y
Keywords
Schlüsselwörter