Abstract
Objective
Using computed tomography, scan impressions can be saved and edited as virtual data. The aim of this study was to evaluate the parameters influencing different impression materials and impression trays and their relevance with regard to accuracy and dimensional stability.
Materials and methods
Two alginate impressions (Zhermack Hydrogum®5 and Kaniedenta Tetrachrom®) and a polyether impression (3MEspe Impregum™) were each combined with two acrylic trays (3M Espe Position Tray™ and Profimed Opti-Tray) and CT scanned immediately after impression at the Fraunhofer Institute Development Center for X-ray Technology (EZRT) in Fürth, Germany. Each impression was digitized 10 times on the same day, 3 times after 2 days and twice after 6 days, thus determining the dimensional stability of the various materials. An acrylic model was digitized with a high-resolution µCT research scanner to be used as a reference for assessing the accuracy of the impression materials. For graphic and statistical analysis, VGStudio Max® was used.
Results
Both alginate impressions were less dimensionally stable than the polyether impression material. The Zhermack Hydrogum®5 alginate impression resulted in more deviation (151 µm) after 6 days than the Kaniedenta Tetrachrom® impression. The polyether scans showed a mean deviation of 73 µm. The accuracy of both alginates was similarly precise (mean value: Hydrogum®5 0.129 ± 0.021 mm, Tetrachrom® 0.137 ± 0.002 mm). The type of tray had limited influence on the results of the alginate impressions, while the accuracy of the Impregum™ impression depended on the tray combination chosen.
Conclusion
The accuracy of the alginate impressions is sufficient for clinical use in orthodontics and produced, with correct storage, acceptable results even after 2 days. Hydrogum®5 impressions proved to be slightly more accurate than the reference material but less dimensionally stable than the Tetrachrom® impressions. The 3M Espe Position Tray™ seemed to be more practical due to a better retentive effect compared to the Opti-Tray made by Profimed.
Zusammenfassung
Ziel
Mittels computertomographischer Aufnahmen können Abformungen als virtuelle Datensätze gespeichert und bearbeitet werden. Ziel der Studie war die Evaluation der Einflussparameter bei unterschiedlichen Abformmaterialien und Abformlöffeln und deren Relevanz im Bezug auf Genauigkeit und Dimensionsstabilität.
Material und Methodik
Zwei Alginatabformungen (Zhermack Hydrogum®5, Kaniedenta Tetrachrom®) und eine Polyetherabformung (3M Espe Impregum™) in Kombination mit je zwei Kunststofflöffeln (3M Espe Position Tray™, Profimed Opti-Tray) wurden direkt nach Abdrucknahme am Fraunhofer Entwicklungszentrum Röntgentechnik EZRT in Fürth, mittels CT-Scan digitalisiert. Jeder Abdruck wurde noch am selben Tag zehnmal digitalisiert, nach zwei Tagen folgten drei und nach sechs Tagen zwei weitere Aufnahmen. Dadurch war eine Bestimmung der Dimensionsstabilität der unterschiedlichen Materialien möglich. Als Referenz für die Genauigkeitsermittlung der Abformmaterialien wurde ein Kunststoffmodell mit einer hochauflösenden µCT-Forschungsanlage digitalisiert. Für die graphische und statistische Analyse wurde VGStudio Max® verwendet.
Ergebnisse
Die beiden Alginatabformungen waren weniger dimensionsstabil als das Polyether-Abformmaterial. Die Alginatabformung Zhermack Hydrogum®5 ergab nach sechs Tagen eine größere Abweichung (151 µm) als die Kaniedenta Tetrachrom®-Abformung. Die Polyetheraufnahmen zeigten eine mittlere Abweichung von 73 µm. Die Genauigkeit der beiden Alginate war ähnlich exakt (Mittelwerte: Hydrogum®5 0,129 mm ± 0,021 mm, Tetrachrom 0,137 mm ± 0,002 mm). Die Art des Löffels beeinflusste das Ergebnis der Alginatabformungen nur bedingt, während die Genauigkeit der Impregum™ Abformungen von der gewählten Löffelkombination abhing.
Schlussfolgerungen
Die Genauigkeit der Alginatabformungen ist in der Kieferorthopädie klinisch ausreichend und weist bei korrekter Lagerung auch nach zwei Tagen noch akzeptable Ergebnisse auf. Hydrogum® 5-Abformungen erwiesen sich minimal präziser gegenüber der Referenz, aber geringer dimensionsstabil als die Tetrachrom®-Abformungen. Der Abformlöffel 3M Espe Position Tray™ erschien aufgrund besserer Retentionswirkung gegenüber dem Opti-Tray von Profimed als praktikabler.
This is a preview of subscription content, log in to check access.
Access options
Buy single article
Instant unlimited access to the full article PDF.
US$ 39.95
Price includes VAT for USA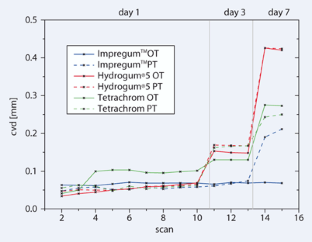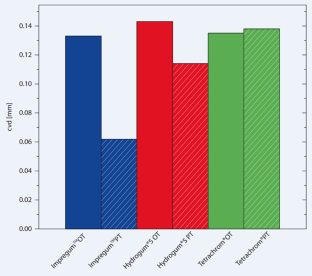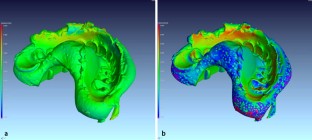 References
1.

Alcan T, Ceylanoglu C, Baysal B (2009) The relationship between digital model accuracy and time-dependent deformation of alginate impressions. Angle Orthod 79:30–36

2.

Boldt F, Weinzierl C, Hertrich K et al (2009) Comparison of the spatial landmark scatter of various 3D digitalization methods. J Orofac Orthop 70:247–263

3.

Bootvong K, Liu Z, McGrath C et al (2010) Virtual model analysis as an alternative approach to plaster model analysis: reliability and validity. Eur J Orthod Epub ahead of print

4.

Costalos PA, Sarraf K, Cangialosi TJ et al (2005) Evaluation of the accuracy of digital model analysis for the American Board of Orthodontics objective grading system for dental casts. Am J Orthod Dentofacial Orthop 128:624–629

5.

Dalstra M, Melsen B (2009) From alginate impressions to digital virtual models: accuracy and reproducibility. J Orthod 36:36–41; discussion 14

6.

DeLong R, Heinzen M, Hodges JS et al (2003) Accuracy of a system for creating 3D computer models of dental arches. J Dent Res 82:438–442

7.

Elefteriadis JN, Athanasiou AE (1996) Evaluation of impacted canines by means of computerized tomography. Int J Adult Orthodon Orthognath Surg 11:257–264

8.

Endo T, Finger WJ (2006) Dimensional accuracy of a new polyether impression material. Quintessence Int 37:47–51

9.

Faria AC, Rodrigues RC, Macedo AP et al (2008) Accuracy of stone casts obtained by different impression materials. Braz Oral Res 22:293–298

10.

Hajeer MY, Millett DT, Ayoub AF et al (2004) Applications of 3D imaging in orthodontics: Part II. J Orthod 31:154–162

11.

Hirschinger R (2001) Digital dentistry: information technology for today's (and tomorrow's) dental practice. J Calif Dent Assoc 29:215–221, 223–225

12.

Holst S, Blatz MB, Bergler M et al (2007) Influence of impression material and time on the 3-dimensional accuracy of implant impressions. Quintessence Int 38:67–73

13.

Horton HM, Miller JR, Gaillard PR et al (2010) Technique comparison for efficient orthodontic tooth measurements using digital models. Angle Orthod 80:254–261

14.

Kamegawa M, Nakamura M, Kitahara K et al (2008) 3D morphological assessment of occlusal treatment by measuring dental casts with a micro-focus X-ray CT. J Oral Rehabil 35:382–389

15.

Kamegawa M, Nakamura M, Tsutsumi S (2008) 3D morphological measurements of dental casts with occlusal relationship using microfocus X-ray CT. Dent Mater J 27:549–554

16.

Kasperl S, Hiller J (2009) Artefaktkorrekturen beim dimensionellen Messen mit industrieller Röntgen-Computertomographie. tm – Technisches Messen 76:401–409

17.

Krumm M, Kasperl S, Franz M (2008) Reducing non-linear artifacts of multi-material objects in industrial 3D computed tomography. NDT & E International 41:242–251

18.

Li C, Wang G, Xu T et al (2005) Orthodontic simulation and diagnosis: an enhanced tool for dentists. Conf Proc IEEE Eng Med Biol Soc 4:4345–4348

19.

Loos R (2008) Vergleichende Untersuchung von intraoraler und extraoraler Digitalisierung nach Modellherstellung mit CEREC-3D. Med Diss Med. Fakultät Carl Gustav Carus TU Dresden

20.

Quimby ML, Vig KW, Rashid RG et al (2004) The accuracy and reliability of measurements made on computer-based digital models. Angle Orthod 74:298–303

21.

Redlich M, Weinstock T, Abed Y et al (2008) A new system for scanning, measuring and analyzing dental casts based on a 3D holographic sensor. Orthod Craniofac Res 11:90–95

22.

Santoro M, Galkin S, Teredesai M et al (2003) Comparison of measurements made on digital and plaster models. Am J Orthod Dentofacial Orthop 124:101–105

23.

Schwenke H, Härtig F, Neuschaefer-Rube U et al (2007) Koordinatenmesstechnik als Schlüsseltechnologie der mechanischen Produktion – Herausforderungen für die PTB. PTB-Mitt 117:349–345

24.

Sedda M, Casarotto A, Raustia A et al (2008) Effect of storage time on the accuracy of casts made from different irreversible hydrocolloids. J Contemp Dent Pract 9:59–66

25.

Sjogren AP, Lindgren JE, Huggare JA (2009) Orthodontic Study Cast analysis-reproducibility of recordings and agreement between conventional and 3D virtual measurements. J Digit Imaging

26.

Stevens DR, Flores-Mir C, Nebbe B et al (2006) Validity, reliability, and reproducibility of plaster vs digital study models: comparison of peer assessment rating and Bolton analysis and their constituent measurements. Am J Orthod Dentofacial Orthop 129:794–803

27.

Tarawneh FM, Panos PG, Athanasiou AE (2008) Three-dimensional assessment of dental casts' occlusal surfaces using two impression materials. J Oral Rehabil 35:821–826

28.

Veenema AC, Katsaros C, Boxum SC et al (2009) Index of complexity, outcome and need scored on plaster and digital models. Eur J Orthod 31:281–286

29.

Yan B, Wang L, Hu QS et al (2005) Development and study of three-dimensional CT scanning system for dental cast measurement and analysis. Hua Xi Kou Qiang Yi Xue Za Zhi 23:329–331
Acknowledgments
This study was financed by the Scientific Research Fund of the German Orthodontic Society (DGKFO). Software support was provided by Volume Graphics GmbH (Heidelberg, Germany).
Danksagungen
Finanziert wurde die Studie aus Mitteln des Wissenschaftsfonds der Deutschen Gesellschaft für Kieferorthopädie (DGKFO). Eine Unterstützung in Softwarefragen erfolgte durch die Firma Volume Graphics (Heidelberg, Deutschland).
Conflict of interest
None declared.
Interessenkonflikt
Keine Angaben
About this article
Cite this article
Steinhäuser-Andresen, S., Detterbeck, A., Funk, C. et al. Pilot study on accuracy and dimensional stability of impression materials using industrial CT technology. J Orofac Orthop 72, 111–124 (2011) doi:10.1007/s00056-011-0015-6
Keywords
Computed tomography

Dental casts

Digital models

Impression materials

Accuracy

Dimensional stability
Schlüsselwörter
Computertomographie

Dentale Modelle

Digitale Modelle

Abformmaterialien

Genauigkeit

Dimensionsstabilität