Abstract
Background
Surgical management of sacrococcygeal pilonidal disease ranges from pit/sinus procedures through excision with healing by secondary intent to various flap techniques. Short- and long-term outcomes differ between surgeons and techniques.
Objective
An overview of primary open treatment of sacrococcygeal pilonidal disease, including technique, wound complications and recurrence is presented.
Materials and methods
Relevant articles were identified from PubMed.
Results
Of the three primary open treatment procedures (deroofing, marsupialization and wide local excision), marsupialization may have the lowest recurrence rate. Primary open treatment has a significant rate of non-healing as well as recurrence.
Conclusion
Primary open treatment is widely practiced but wound healing may be a challenge for the patient and recurrence a challenge for the surgeon.
Zusammenfassung
Hintergrund
Die chirurgische Behandlung des sakrokokzygealen Pilonidalsinus umfasst multiple Techniken – von der Sinusexzision mit primär offener Behandlung bis hin zu verschiedenen Lappenplastiken. Kurz- und Langzeitergebnisse sind wesentlich vom Chirurgen und der von ihm angewandten Technik abhängig.
Ziel der Arbeit
Ziel der vorliegenden Studie ist es, einen Überblick über die Methoden der primär offenen Behandlung des Pilonidalsinus einschließlich Technik, Komplikationen und Rezidivraten zu geben.
Material und Methoden
Relevante Artikel sind aus der Datenbank PubMed entnommen und zusammengefasst worden.
Ergebnisse
Von den 3 primär offenen Methoden Entdachung, Marsupialisation und weit offener Exzision weist die Marsupialisation die niedrigste Rezidivrate auf. Bei der primär offenen Behandlung nach weiter lokaler Exzision besteht eine signifikante Rate an ausbleibenden Heilungen und Rezidiven.
Schlussfolgerung
Die primär offene Behandlung mit weiter Exzision wird zwar oft angewendet, kann aber in der Wundbehandlung eine Herausforderung für den Patienten und bei Rezidiven eine Herausforderung für den Chirurgen bedeuten.
Access options
Buy single article
Instant access to the full article PDF.
USD 39.95
Price excludes VAT (USA)
Tax calculation will be finalised during checkout.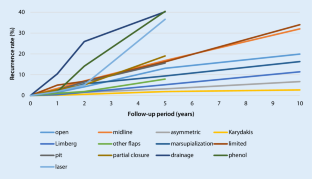 References
Wysocki AP (2018) Flaps for pilonidal sinus disease. Turkiye Klin J Gen Surg-special Top 11(2):124–129

Doll D et al (2015) Recurrence-free survival, but not surgical therapy per se, determines 583 patients' long-term satisfaction following primary pilonidal sinus surgery. Int J Colorectal Dis 30(5):605–611

McCallum I, King PM, Bruce J (2009) Healing by primary versus secondary intention after surgical treatment for pilonidal sinus. Cochrane Database Syst Rev 4:CD6213

Enriquez-Navascues JM et al (2014) Meta-analysis of randomized controlled trials comparing different techniques with primary closure for chronic pilonidal sinus. Tech Coloproctol 18(10):863–872

Petersen S et al (2009) Long-term effects of postoperative razor epilation in pilonidal sinus disease. Dis Colon Rectum 52(1):131–134

Bascom J, Bascom T (2002) Failed pilonidal surgery: new paradigm and new operation leading to cures. Arch Surg 137(10):1146–1150 (discussion 1151)

Barnett LA (1944) Pilonidal cyst: the postoperative problem. Am J Surg 64:338–345

Iesalnieks I et al (2016) German national guideline on the management of pilonidal disease. Langenbecks Arch Surg 401(5):599–609

Jain V, Jain A (2012) Use of lasers for the management of refractory cases of hidradenitis suppurativa and pilonidal sinus. J Cutan Aesthet Surg 5(3):190–192

Yildirim D et al (2010) Combined single step definitive treatment in acute pilonidal sinus abscess. J Surg Sci 1:24–26

Sasse KC et al (2013) Accelerated healing of complex open pilonidal wounds using MatriStem extracellular matrix xenograft: nine cases. J Surg Case Rep 2013(4):rjt025. https://doi.org/10.1093/jscr/rjt025

Stauffer VK et al (2018) Common surgical procedures in pilonidal sinus disease: a meta-analysis, merged data analysis, and comprehensive study on recurrence. Nature Sci Rep 8(1):1–27

Abramson DJ (1957) Modified marsupialization operation for pilonidal sinus; an ambulatory treatment using lidocaine as a local anesthesia. U S Armed Forces Med J 8(4):513–518

Garg P, Menon GR, Gupta V (2016) Laying open (deroofing) and curettage of sinus as treatment of pilonidal disease: a systematic review and meta-analysis. Anz J Surg 86(1):27–33

Tavangari FR et al (2017) Outcomes of unroofing with limited excision and structured postoperative care for Pilonidal disease. Am Surg 83(10):1045–1049

Shirah BH, Shirah HA (2017) Effect of surgical wound care methods of the lay open technique on the outcome of chronic sacrococcygeal pilonidal sinus management. Wound Med 16:1–6

Gidwani AL et al (2010) Incise and lay open: an effective procedure for coccygeal pilonidal sinus disease. Ir J Med Sci 179(2):207–210

Buie LA (1937) Practical Proctology. W. B. Saunders Co. Ltd, Philadelphia

Neumeister CA (1963) A modification of the marsupialization operation for pilonidal disease. South Med J 56:730–732

Karakayali F et al (2009) Unroofing and marsupialization vs. rhomboid excision and Limberg flap in pilonidal disease: a prospective, randomized, clinical trial. Dis Colon Rectum 52(3):496–502

Abramson DJ (1960) A simple marsupialization technic for treatment of pilonidal sinus: long-term follow up. Ann Surg 151:261–267

Oncel M et al (2002) Excision and marsupialization versus sinus excision for the treatment of limited chronic pilonidal disease: a prospective, randomized trial. Tech Coloproctol 6(3):165–169

Rouch JD et al (2016) Short- and long-term results of unroofing and marsupialization for adolescent pilonidal disease. Jama Surg 151(9):877–879

Rogers H, Dwight RW (1938) Pilonidal sinus: observations on one hundred forty cases treated by cautery excision. Ann Surg 107(3):400–418

Marks J et al (1985) Pilonidal sinus excision—healing by open granulation. Br J Surg 72(8):637–640

KCI (2013) Science behind the therapy—wound healing begins at the cellular level. https://www.kci-medical.ie/IE-ENG/sciencebehindthetherapy. Accessed 22 Aug 2018

Biter LU et al (2014) The use of negative-pressure wound therapy in pilonidal sinus disease: a randomized controlled trial comparing negative-pressure wound therapy versus standard open wound care after surgical excision. Dis Colon Rectum 57(12):1406–1411

Abou Ashour H, Abelshahid M (2015) Outcome of karydakis lateral flap versus open technique in the treatment of pilonidal sinus. Egypt J Surg 34(4):251–257

Hosseini M, Heidari A, Jafarnejad B (2013) Comparison of three surgical methods in treatment of patients with pilonidal sinus: modified excision and repair/wide excision/wide excision and flap in RASOUL, OMID and SADR hospitals (2004–2007). Indian J Surg 75(5):395–400

Varnalidis I et al (2014) Pilonidal sinus: a comparative study of treatment methods. J Med Life 7(1):27–30

Gendy AS et al (2011) A comparison of the cleft lift procedure vs wide excision and packing for the treatment of pilonidal disease in adolescents. J Pediatr Surg 46(6):1256–1259

Dunphy JE, Matson DD (1942) The treatment of Pilonidal sinus. Surg Gynecol Obstet 75:737

Yoldas T et al (2013) Recurrent pilonidal sinus: lay open or flap closure, does it differ? Int Surg 98(4):319–323

Doll D et al (2013) Incision and drainage preceding definite surgery achieves lower 20-year long-term recurrence rate in 583 primary pilonidal sinus surgery patients. J Dtsch Dermatol Ges 11(1):60–64
Ethics declarations
Conflict of interest
A. P. Wysocki routinely performs the Anderson modified Karydakis flap for primary and recurrent pilonidal disease. A. P. Wysocki was a sponsored speaker at the AcelityTM Asia Wound Forum in 2018. AcelityTM is a manufacturer of negative-pressure wound therapy devices.
This article does not contain any studies with human participants or animals performed by any of the authors.
About this article
Cite this article
Wysocki, A.P. Primary open treatment of sacrococcygeal pilonidal disease. coloproctology 41, 106–109 (2019). https://doi.org/10.1007/s00053-019-0346-0
Published:

Issue Date:

DOI: https://doi.org/10.1007/s00053-019-0346-0
Keywords
Schlüsselwörter