Zusammenfassung
Hintergrund
Flache Rektumadenome stellen aufgrund eines nicht unbeträchtlichen Entartungspotenzials und der Vielfalt der zur Verfügung stehenden Abtragungstechniken eine interdisziplinäre Herausforderung dar. Um eine klare histologische Einordnung zu ermöglichen und Rezidive zu vermeiden, muss das Ziel aller Techniken die vollständige Abtragung der Adenome sein.
Methoden und Ergebnisse
Die chirurgisch-operativen und flexibel-endoskopischen Verfahren entwickelten sich in Europa unabhängig voneinander. Ihr Einsatz erfolgte bisher nicht nach klaren strategischen Vorgaben. In diesem Beitrag wird die Operationsmethode der transanal-endoskopischen mikrochirurgischen Submukosadissektion (TEM-ESD) zur En-bloc-Abtragung von großen Rektumadenomen und kleinen Rektumkarzinomen vorgestellt. Durch die Kombination der TEM-Operationstechnik mit den interventionellen endoskopischen Techniken (Chromoendoskopie, Wasserstrahl) steht damit ein neues und technisch einfaches Verfahren zur Verfügung. Anhand eines Operationsvideos, welches online zur Verfügung steht, wird die Operationstechnik detailliert dargestellt. Ergänzend werden die Ergebnisse einer Fallserie von 78 Patienten vorgestellt.
Schlussfolgerung
Die TEM-ESD stellt ein sicheres Verfahren zur Entfernung von Rektumadenomen und Low-risk-Rektumkarzinomen dar, ermöglicht den Organ- und Funktionserhalt des Rektums und bietet die größtmögliche onkologische Sicherheit für den Fall einer notwendigen Salvage-Operation.
Abstract
Background
The treatment of flat rectal adenomas is challenging. The technical difficulty and the potential of malignancy in suspected benign lesions are the factors in question. Surgical and interventional endoscopic techniques are implemented in Europe without a clear strategy. To minimize recurrent adenoma and unclear histopathological work up en bloc excision is desirable.
Methods and results
We demonstrate in this article the transanal endoscopic microsurgical submucosa dissection (TEM-ESD) procedure as a feasible method for en bloc excision of rectal adenomas and early rectal cancer. The surgical technique is demonstrated in detail with the help of a video of the operation that is available online. The results of a consecutive series of 78 patients are presented.
Conclusion
TEM-ESD is a safe procedure for resection of rectal adenomas and low risk carcinomas. It offers the possibility of organ preservation and minimizes functional disturbances. In case of a necessary salvage operation, the preserved integrity of the rectal muscle tube grants maximal oncological safety.
This is a preview of subscription content, log in to check access.
Access options
Buy single article
Instant access to the full article PDF.
US$ 39.95
Price includes VAT for USA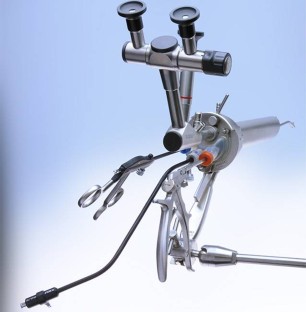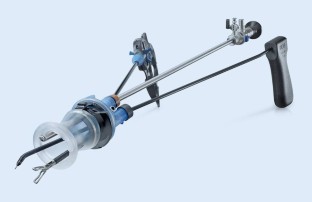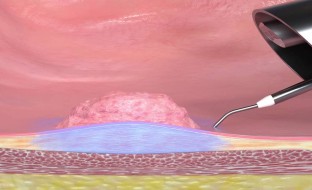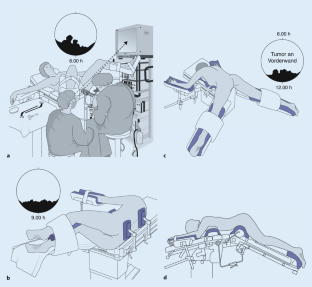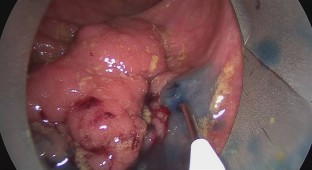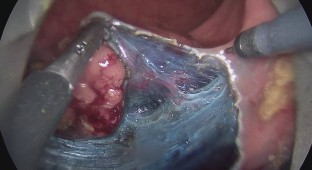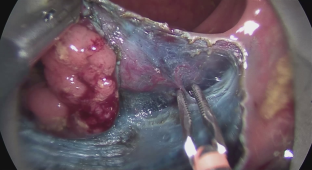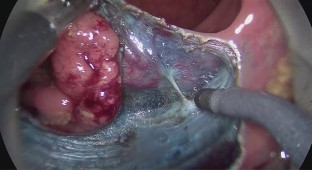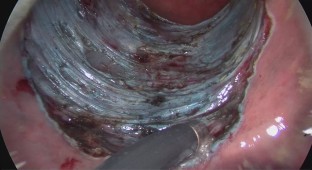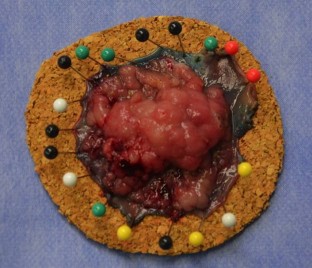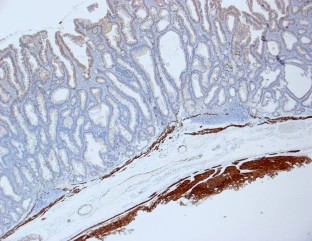 Literatur
1.

Allaix ME, Arezzo A, Cassoni P et al (2012) Recurrence after transanal endoscopic microsurgery for large rectal adenomas. Surg Endosc 26:2594–2600. https://doi.org/10.1007/s00464-012-2238-z

2.

Arezzo A, Passera R, Saito Y et al (2014) Systematic review and meta-analysis of endoscopic submucosal dissection versus transanal endoscopic microsurgery for large noninvasive rectal lesions. Surg Endosc 28:427–438. https://doi.org/10.1007/s00464-013-3238-3

3.

Baral J, Fender S, Hanna W, Schön M (2011) The waterjet supported submucosal transanal endoscopic microsurgical excision of giant rectal adenomas. https://cine-med.com/?nav=surgery&subnav=acs&cat=Colon+and+Rectal+Surgery&id=ACS-3124. Zugegriffen: 11. Mai 2018

4.

Buess G, Hutterer F, Theiss J et al (1984) A system for a transanal endoscopic rectum operation. Chirurg 55:677–680

5.

Denzer U, Beilenhoff U, Eickhoff A et al (2016) S2k-Leitlinie Qualitätsanforderungen in der gastrointestinalen Endoskopie, AWMF Register Nr. 021–022. Z Gastroenterol 53:E1–E227. https://doi.org/10.1055/s-0041-109598

6.

Deutsche Krebsgesellschaft, Deutsche Krebshilfe, AWMF (2017) S3-Leitlinie Kolorektales Karzinom, Langversion 2.0, AWMF Registrierungsnummer: 021/007OL. http://www.leitlinienprogramm-onkologie.de/leitlinien/kolorektales-karzinom/ (Leitlinienprogramm Onkologie). Zugegriffen: 30.07.2018

7.

Hompes R, McDonald R, Buskens C et al (2013) Completion surgery following transanal endoscopic microsurgery: assessment of quality and short- and long-term outcome. Colorectal Dis 15:e576–e581. https://doi.org/10.1111/codi.12381

8.

Knabe M, Pohl J, Gerges C et al (2014) Standardized long-term follow-up after endoscopic resection of large, nonpedunculated colorectal lesions: a prospective two-center study. Am J Gastroenterol 109:183–189. https://doi.org/10.1038/ajg.2013.419

9.

Mason AY (1975) Malignant tumours of the rectum. Part II: local excision. Clin Gastroenterol 4:582–593

10.

Mölle B, Ommer A, Lange J, Girona J (2018) Chirurgische Proktologie. Springer, Heidelberg, Berlin, New York https://doi.org/10.1007/978-3-662-54682-6

11.

Nagata K, Shimizu M (2012) Pathological evaluation of gastrointestinal endoscopic submucosal dissection materials based on Japanese guidelines. World J Gastrointest Endosc 4:489–499. https://doi.org/10.4253/wjge.v4.i11.489

12.

Oyama T, Yahagi N, Ponchon T et al (2015) How to establish endoscopic submucosal dissection in Western countries. World J Gastroenterol 21:11209. https://doi.org/10.3748/wjg.v21.i40.11209

13.

Pohl H, Srivastava A, Bensen SP et al (2013) Incomplete polyp resection during colonoscopy-results of the complete adenoma resection (CARE) study. Gastroenterology 144:74–80.e1. https://doi.org/10.1053/j.gastro.2012.09.043

14.

Robertson DJ, Lieberman DA, Winawer SJ et al (2014) Colorectal cancers soon after colonoscopy: a pooled multicohort analysis. Gut 63:949–956. https://doi.org/10.1136/gutjnl-2012-303796

15.

Schmidt A, Bauerfeind P, Gubler C et al (2015) Endoscopic full-thickness resection in the colorectum with a novel over-the-scope device: first experience. Endoscopy 47:719–725. https://doi.org/10.1055/s-0034-1391781

16.

Wada Y, Kashida H, Kudo S et al (2010) Diagnostic accuracy of pit pattern and vascular pattern analyses in colorectalI lesions. Dig Endosc 22:192–199. https://doi.org/10.1111/j.1443-1661.2010.00983.x

17.

Watanabe T, Muro K, Ajioka Y et al (2018) Japanese Society for Cancer of the Colon and Rectum (JSCCR) guidelines 2016 for the treatment of colorectal cancer. Int J Clin Oncol 23:1–34. https://doi.org/10.1007/s10147-017-1101-6

18.

Yamamoto H, Koiwai H, Yube T et al (1999) A successful single-step endoscopic resection of a 40 millimeter flat-elevated tumor in the rectum: endoscopic mucosal resection using sodium hyaluronate. Gastrointest Endosc 50:701–704
Ethics declarations
Interessenkonflikt
J. Baral gibt an, einen Beratervertrag mit der Richard Wolf GmbH zu besitzen.
Dieser Beitrag beinhaltet keine von den Autoren durchgeführten Studien an Menschen oder Tieren.
Additional information
Teile dieser Arbeit basieren auf dem Kapitel "Anal- und Rektumtumoren", aus "Chirurgische Proktologie" [10].
Caption Electronic Supplementary Material
Video zur Operationstechnik: Transanal-endoskopische mikrochirurgische Submukosadissektion (TEM-ESD) (© Dr. J. Baral, Klinik für Allgemein- und Viszeralchirurgie, Klinikum Karlsruhe)
About this article
Cite this article
Baral, J. Transanal-endoskopische mikrochirurgische Submukosadissektion in der Behandlung von Rektumadenomen und T1-Rektumkarzinomen. coloproctology 41, 7–15 (2019). https://doi.org/10.1007/s00053-018-0275-3
Schlüsselwörter
Transanale Chirurgie

Endoskopische Mukosaresektion

Lokale Exzision

Wasserstrahl

Chromoendoskopie
Keywords
Transanal surgery

Endoscopic mucosal resection

Local excision

Waterjet

Chromoendoscopy