Zusammenfassung
In der vorliegenden Studie wird das Management von Patienten mit Hämorrhoiden Grad 3–4 in einer deutschen Tagesklinik beschrieben. Es werden 3 Operationsmethoden untersucht: Hämorrhoidektomie nach Milligan-Morgan/Ferguson mit Thermokoagulationsklemmen, dopplergesteuerte Hämorrhoidenarterienligatur (DGHAL) mit Mukopexie und die Hämorrhoidektomie nach Fansler-Arnold. Die Analyse der prospektiven Daten von 332 Patienten zeigte, dass diese Operationsmethoden im ambulanten Bereich sicher durchgeführt werden können. Da der postoperative Verlauf sich im ambulanten vom stationären Bereich unterscheidet, musste die multimodale Schmerztherapie entsprechend angepasst werden. Um einen postoperativen Harnverhalt zu vermeiden, erhielten die Patienten keine Spinalanästhesie oder Analtamponaden. Keiner der Patienten musste wegen postoperativer Blutung, Schmerz oder Harnverhalt stationär aufgenommen werden.
Abstract
The aim of this article is to describe the management of patients with 3rd–4th grade hemorrhoids in a German day surgery clinic. A total of 3 different operation methods are examined: the Milligan-Morgan/Ferguson hemorrhoidectomy with thermocoagulation clamps, Doppler-guided hemorrhoid artery ligation (DGHAL) with mucopexy and the classical Fansler-Arnold hemorrhoidectomy. The analysis of the prospective data on 332 patients showed that these operations can be safely performed in an outpatient setting. As the postoperative course of ambulatory patients is different compared to patients in hospital, the multimodal pain therapy protocols had to be adapted. To avoid urinary retention, patients did not receive a spinal anesthesia or anal tampons. None of the patients had to be admitted to hospital for postoperative bleeding, pain or urinary retention.
This is a preview of subscription content, log in to check access.
Access options
Buy single article
Instant access to the full article PDF.
US$ 39.95
Tax calculation will be finalised during checkout.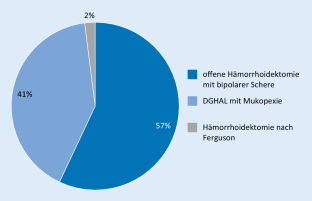 Literatur
1.

Bernal JC, Enguix M, López García J, García Romero J, Trullenque Peris R (2005) Rubber-band ligation for hemorrhoids in a colorectal unit. A prospective study. Rev Esp Enferm Dig 97(1):38–45

2.

Brown S, Tiernan J, Biggs K et al (2016) The HubBLe trial: haemorrhoidal artery ligation (HAL) versus rubber band ligation (RBL) for symptomatic second- and third-degree haemorrhoids: a multicentre randomised controlled trial and health-economic evaluation. Health Technol Assess 20(88):1–150

3.

Chan PY, Lee MP, Cheung HY, Chung CC, Li MK (2010) Unplanned admission after day-case haemorrhoidectomy: a retrospective study. Asian J Surg 33:203–207

4.

Colloca L, Klinger R, Flor H, Bingel U (2013) Placebo analgesia: psychological and neurobiological mechanisms. Pain 154:511–514

5.

Elmer SE, Nygren JO, Lenander CE (2013) A randomized trial of transanal hemorroidal dearterialization with anopexy compared with open hemorrhoidectomy in the treatment of hemorrhoids. Dis Colon Rectum 56:484–490

6.

Forlini A, Manzelli A, Quaresima S, Forlini M (2009) Long-term result after rubber band ligation for haemorrhoids. Int J Colorectal Dis 24(9):1007–1010

7.

Franklin EJ, Seetharam S, Lowney J, Horgan PG (2003) Randomized, clinical trial of Ligasure vs conventional diathermy in hemorrhoidectomy. Dis Colon Rectum 46(10):1380–1383

8.

Infantino A, Bellomo R, Dal Monte PP, Salafia C, Tagariello C, Tonizzo CA, Spazzafumo L, Romano G, Altomare DF (2010) Transanal haemorrhoidal artery echodoppler ligation and anopexy (THD) is effective for II and III degree haemorrhoids: a prospective multicentric study. Colorectal Dis 12:804–809

9.

Jayaraman S, Colquhoun PH, Malthaner RA (2006) Stapled versus conventional surgery for hemorrhoids. Cochrane Database Syst Rev. https://doi.org/10.1002/14651858.cd005393.pub2

10.

Jayne DG, Botterill I, Ambrose NS, Brennan TG, Guillou PJ, O'Riordain DS (2002) Randomized clinical trial of Ligasure versus conventional diathermy for day-case haemorrhoidectomy. Br J Surg 89:428–432

11.

Jayne DG, Botterill I, Ambrose NS, Brennan TG, Guillou PJ, O'Riordain DS (2002) Randomized clinical trial of Ligasure versus conventional diathermy for day-case haemorrhoidectomy. Br J Surg 89(4):428–432

12.

Joos AK, Herold A (2010) Hämorrhoidalleiden. Gastroenterologe 5:326–335

13.

Kosorok P, Mlakar B (2005) Haemorrhoidectomy as a one-day surgical procedure: modified Ferguson technique. Tech Coloproctol 9:57–59

14.

Lam TY, Lam SC, Kwok SP (2001) Feasibility case-controlled study of day-case haemorrhoidectomy. Anz J Surg 71:652–654

15.

Lu LY, Zhu Y, Sun Q (2013) A retrospective analysis of short and long term efficacy of RBL for hemorrhoids. Eur Rev Med Pharmacol Sci 17(20):2827–2830

16.

Moiniche S, Kehlet H, Dahl JB (2002) A qualitative and quantitative systematic review of preemptive analgesia for postoperative pain relief: the role of timing analgesia. Anesthesiology 96:725–741

17.

Moser KH et al (2013) Efficacy and safety of sclerotherapy with polidocanol foam in coparison with fluid sclerosant in the treatment of first-grade haemorrhoidal disease: a randomized, controlled, single-blind, multicenter trial. Int J Colorectal Dis 28:1439–1447

18.

Muzi MG, Milito G, Nigro C, Cadeddu F, Andreoli F, Amabile D, Farinon AM (2007) Randomized clinical trial of LigaSure and con-ventional diathermy haemorrhoidectomy. Br J Surg 94:937–942

19.

El Nakeeb AM, Fikry AA, Omar WH, Fouda EM, El Metwally TA, Ghazy HE et al (2008) Rubber band ligation for 750 cases of symptomatic hemorrhoids out of 2200 cases. World J Gastroenterol 14(42):6525–6530

20.

De Nardi P, Capretti G, Corsaro A, Staudacher C (2014) A prospective, randomized trial comparing the short- and long-term results of doppler-guided transanal hemorrhoid dearterialization with mucopexy versus excision hemorrhoidectomy for grade III hemorrhoids. Dis Colon Rectum 57(3):348–353

21.

Ong CK, Lirk P, Seymour RA, Jenkins BJ (2005) The efficacy of preemptive analgesia for acute postoperative pain management: a meta-analysis. Anesth Analg 100:757–773

22.

Palazzo FF, Francis DL, Clifton MA (2002) Randomized clinical trial of Ligasure versus open haemorrhoidectomy. Br J Surg 89(2):154–157

23.

Simanski C (2013) Qualitätsmanagement Akutschmerztherapie – Erfahrungsbericht über 6 Jahre – TÜV-Zertifizierung aus Sicht des Chirurgen. Passion Chir 3:4–10

24.

The Standards Task Force (2003) The American Society of Colon and Rectal Surgeons. Practice parameters for ambulatory anorectal 1018 surgery. Dis Colon Rectum 46:573–576

25.

Trenti L, Biondo S, Galvez A, Bravo A, Cabrera J, Kreisler E (2017) Distal Doppler-guided transanal hemorrhoidal dearterialization with mucopexy versus conventional hemorrhoidectomy for grade III and IV hemorrhoids: postoperative morbidity and long-term outcomes. Tech Coloproctol 21(5):337–344

26.

Vinson-Bonnet B et al (2014) Ambulatory haemorrhoidal surgery: systematic literature review and qualitative analysis. Int J Colorectal Dis 30(4):437–445

27.

Xu L, Chen H, Lin G, Ge Q (2015) Ligasure versus Ferguson hemorrhoidectomy in the treatment of hemorrhoids: a meta-analysis of randomized control trials. Surg Laparosc Endosc Percutan Tech 25(2):106–110
Ethics declarations
Interessenkonflikt
K.-H. Moser gibt an, dass kein Interessenkonflikt besteht.
Dieser Beitrag beinhaltet keine von den Autoren durchgeführten Studien an Menschen oder Tieren.
About this article
Cite this article
Moser, KH. Ambulante Therapie des Hämorrhoidalleidens in einer chirurgischen Praxis. coloproctology 40, 251–257 (2018). https://doi.org/10.1007/s00053-018-0266-4
Schlüsselwörter
Hämorrhoiden

Chirurgische Verfahren

Ambulante Operation

Schmerztherapie

Thermokoagulationsklemmen
Keywords
Hemorrhoids

Surgerical procedures

Day surgery

Pain therapy

Thermocoagulation clamps