Zusammenfassung
Die Prävalenz der Obstipation liegt bei etwa 5 %, betroffen sind v. a. Frauen. Faserarme Kost, geringe Flüssigkeitsaufnahme und mangelnde Bewegung sind Risikofaktoren. Schwere Obstipationsformen können mit enterischen Neuropathien oder Myopathien einhergehen. Die Basisdiagnostik umfasst Anamnese, rektale und gynäkologische Untersuchung, Ultraschall sowie ggf. eine Koloskopie. Manometrie, Defäkographie und Transitzeitmessung finden bei Entleerungsstörungen oder bei therapierefraktärem Verlauf Anwendung. Die Basistherapie mit Ausgleich von Risikofaktoren und Ballaststoffgabe wird bei einer Entleerungsstörung um Suppositorien und Klysmen ergänzt, bei Refraktärität um Biofeedback oder operative Verfahren. Liegt keine Entleerungsstörung vor, beginnt die spezifische Behandlung mit einer Laxanzientherapie. Bei Ineffektivität oder Nebenwirkungen wird Prucaloprid eingesetzt, ggf. auch Linaclotid. Ferner kommen Kombinationstherapien, eine Irrigationstherapie, ein sakraler Schrittmacher oder als Ultima Ratio die subtotale Kolektomie in Betracht.
Abstract
The prevalence of constipation is approximately 5 % in Germany with a predominance in women and a significant increase with age. Reduced fibre or fluid intake and sedentary behavior are risk factors and severe forms of constipation can be accompanied by enteric neuropathy and myopathy. The medical history, rectal digital and gynecological examinations, ultrasound and if indicated colonoscopy should be carried out in every patient, while manometry, defecography and colon transit time measurement should be reserved for patients with outlet obstruction or refractory constipation. The basic therapy involves elimination of risk factors and an intake of additional fibre in the diet. In outlet obstruction, suppositories and enemas are added while biofeedback therapy and surgery are restricted to refractory patients. Laxatives are initially given to constipated patients without outlet obstruction. Prucalopride or if necessary the secretagogue linaclotide are indicated when laxatives are ineffective or induce adverse effects. Combination therapy, colonic irrigation, sacral nerve stimulation and subtotal colectomy can be considered for refractory constipation.
This is a preview of subscription content, log in to check access.
Access options
Buy single article
Instant access to the full article PDF.
US$ 39.95
Price includes VAT for USA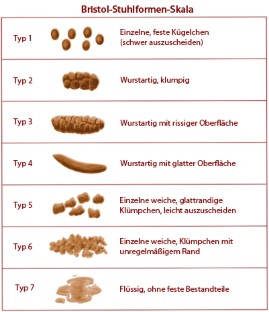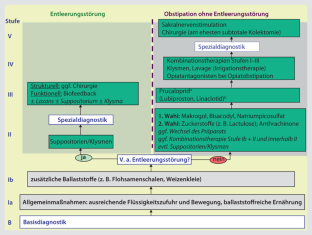 Literatur
1.

Andresen V, Enck P, Frieling T et al (2013) S2k-Leitlinie Chronische Obstipation: Definition, Pathophysiologie, Diagnostik und Therapie. Z Gastroenterol 51:651–672

2.

Wald A, Scarpignato C, Kamm MA et al (2007) The burden of constipation on quality of life: results of a multinational survey. Aliment Pharmacol Ther 26:227–236

3.

Kyle Thompson, this work with the title "Bristol Stool Chart" [http://commons.wikimedia.org/wiki/File:Bristol_Stool_Chart.png] is licensed under the Creative Commons CC-BY-SA-3.0-migrated-with-disclaimers (http://commons.wikimedia.org/wiki/Category:CC-BY-SA-3.0-migrated-with-disclaimers). No modifications were made

4.

Wald A, Scarpignato C, Mueller-Lissner S et al (2008) A multinational survey of prevalence and patterns of laxative use among adults with self-defined constipation. Aliment Pharmacol Ther 28:917–930

5.

Mugie SM, Benninga MA, Di Lorenzo C (2011) Epidemiology of constipation in children and adults: a systematic review. Best Pract Res Clin Gastroenterol 25:3–18

6.

Sandler RS, Jordan MC, Shelton BJ (1990) Demographic and dietary determinants of constipation in the US population. Am J Public Health 80:185–189

7.

Johanson JF, Sonnenberg A, Koch TR (1989) Clinical epidemiology of chronic constipation. J Clin Gastroenterol 11:525–536

8.

Talley NJ, O'Keefe EA, Zinsmeister AR, Melton LJ (1992) Prevalence of gastrointestinal symptoms in the elderly: a population-based study. Gastroenterology 102:895–901

9.

Fosnes GS, Lydersen S, Farup PG (2012) Drugs and constipation in elderly in nursing homes: what is the relation? Gastroenterol Res Pract 2012:290231

10.

Alessi CA, Henderson CT (1988) Constipation and fecal impaction in the long-term care patient. Clin Geriatr Med 4:571–588

11.

Singh G, Lingala V, Wang H et al (2007) Use of health care resources and cost of care for adults with constipation. Clin Gastroenterol Hepatol 5:1053–1058

12.

Bruce Wirta S, Hodgkins P, Joseph A (2014) Economic burden associated with chronic constipation in Sweden: a retrospective cohort study. Clinicoecon Outcomes Res 6:369–379

13.

Johanson JF, Kralstein J (2007) Chronic constipation: a survey of the patient perspective. Aliment Pharmacol Ther 25:599–608

14.

Winter HS, Di Lorenzo C, Benninga MA et al (2013) Oral prucalopride in children with functional constipation. J Pediatr Gastroenterol Nutr 57:197–203
Einhaltung ethischer Richtlinien
Interessenkonflikt. C. Pehl ist als Berater für Shire, Almirall und Steigerwald tätig und erhält Referentenhonorare von Abbott, AbbVie, Almirall, Berlin-Chemie, Buck Elektromedizin, Falk, Ferring, Lilly, Novartis und Shire-Movetis. Er unterstützt Studien für Fresenius, Medtronic und Dr. R. Pfleger Chemische Fabrik. Dieser Beitrag beinhaltet keine Studien an Menschen oder Tieren.
About this article
Cite this article
Pehl, C. Chronische Obstipation. coloproctology 36, 495–505 (2014). https://doi.org/10.1007/s00053-014-0488-z
Schlüsselwörter
Epidemiologie

Ätiologie

Defäkographie

Laxanzien

Therapiealgorithmen
Keywords
Epidemiology

Etiology

Defecography

Laxatives

Treatment algorithms