Zusammenfassung
Methoden
In einer prospektiven Fall-Kontroll-Serie von 16 Patienten wurde die Heilungsrate von Sekundärnähten an subkutanen Wundinfektionen der medianen Laparotomiewunden nach kolorektalen Eingriffen untersucht, bei denen die Wunden vorher mittels eines Vakuumtherapiesystems mit Polyhexamethylbiguanid (PHMB) Gaze konditioniert worden waren.
Ergebnisse
Das nach Eröffnung der infizierten Wunden initial gemessene mittlere Wundvolumen betrug 203 ml. Die Vakuumverbände konnten im Durchschnitt alle 3 Tage am Krankenbett gewechselt werden, was aufgrund des beim Verbandwechsel gemessenen geringen Schmerzniveaus von 1 [Mittelwert (MW), visuelle Analogskala (VAS)] gut möglich war. Nach durchschnittlich 3 Vakuumverbandwechseln waren die Wunden infektfrei und konnten am Krankenbett in Lokalanästhesie durch eine Sekundärnaht verschlossen werden. Bei den ersten 7 Patienten wurden subkutan kapillare Drainagen ohne Sog eingelegt. Da die Heilungsrate in dieser ersten Gruppe mit 29 % niedrig war, wurden die folgenden 9 Patienten mit subkutan eingelegten, runden Drainagen mit angeschlossenem Unterdruck behandelt. Daraufhin konnte eine Heilungsrate von 89 % erzielt werden. Die Kosten für die Vakuumtherapie inklusive der Arbeitskosten betrugen durchschnittlich 322,20 EUR pro Patient.
Schlussfolgerung
Die Vakuumtherapie mit PHMB Gaze erwies sich als eine wirtschaftliche Behandlungsmethode, durch die eine Verringerung des Zeitaufwands und der Gesamtkosten sowie eine Entlastung des zentralen Operationssaals erreicht werden konnten.
Abstract
Methods
In a prospective case control study of 16 patients, the healing rate of secondary suturing of subcutaneous wound infections after median laparotomy wounds for colorectal surgery was investigated, whereby the wounds had previously been conditioned using negative pressure wound therapy (NPWT) with polyhexamethylene biguanide (PHMB) gauze.
Results
After opening the infected wound the average wound volume was 203 ml. A débridement of the wounds was carried out to remove necrotic and sloughed tissue then the first NPWT dressing was applied. The NPWT with PHMB gauze could be changed on average every 3 days at the bedside which was possible because the pain level during each dressing change was recorded as an average of 1 on the visual analog scale (VAS). After an average of 3 NPWT dressing changes, the wounds showed no signs of infection and secondary suturing was carried out at the bedside using local anesthesia. For the first 7 patients, subcutaneously placed capillary drainage without suction was used in the wounds (group 1). As the healing rate was low (29 %) subcutaneously placed round channel drainage under suction were used for the next 9 patients (group 2) and the healing rate was 89 % after secondary suture. The average costs for NPWT treatment including labor costs were calculated as 322.20 EUR per patient.
Conclusion
All procedures could be performed at the bedside and all patients were satisfied with the treatment and results. The NPWT therapy with PHMB gauze provides an economic method for lowering the total treatment time and costs as well as unnecessary usage of operating theaters.
Access options
Buy single article
Instant access to the full article PDF.
USD 39.95
Price excludes VAT (USA)
Tax calculation will be finalised during checkout.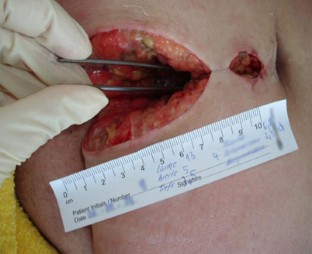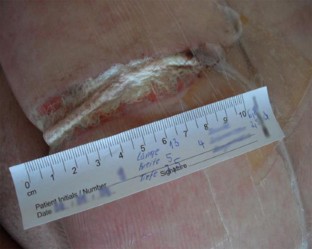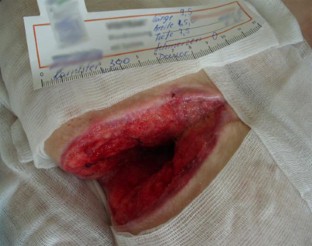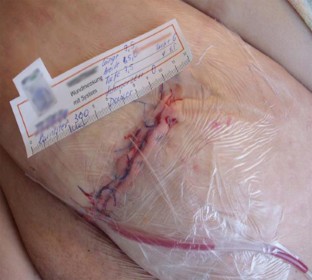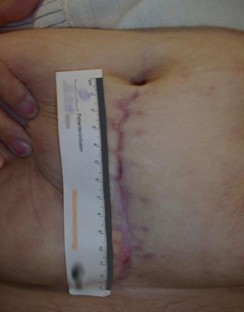 Literatur
Argenta LC, Morykwas MJ (1997) Vacuum-assisted closure: a new method for wound control and treatment: clinical experience. Ann Plast Surg 38:563–577

Baier PK, Glück NC, Baumgartner U et al (2010) Subcutaneous Redon drains do not reduce the incidence of surgical site infections after laparotomy. A randomized controlled trial on 200 patients. Int J Colorectal Dis 25:639–643. doi:10.1007/s00384-010-0884-y

Chariker ME, Jeter KF, Tintle TE (1989) Effective management of incisional and cutaneous fistulae with closed suction wound drainage. Contemp Surg 34:59–63

Davydov YA, Malafeeva AP, Smirnov AP (1986) Vacuum therapy in the treatment of purulent lactation mastitis. Vestn Khir 9:66–70

Fleischmann W, Strecker W, Bombelli M, Kinzl L (1993) Die Vakuumversiegelung zur Behandlung des Weichteilschadens bei offenen Frakturen. Unfallchirurg 96(9):488–492

Marquardt C, Egglseder T, Schiedeck T (2008) Gauze versus foam for topical negative pressure wound therapy (NPWT) in postoperative subcutaneous wound infections after abdominal operations. First clinical observations. 18th Conference of the European Wound Management Association in Lissabon, Portugal, 14.–16.05.2008

Marquardt C, Krohs U, Bil E et al (2010) Challenge in wound care: management of the open abdomen with intestinal fistula and stoma. 23rd Annual Symposium on Adanced Wound Care & Wound Healing Society (SAWC/WHS), Orlando, April 17–20

Morykwas MJ, Argenta LC, Shelton-Brown EI et al (1997) Vacuum-assisted closure: a new method for wound control and treatment: animal studies and basic foundation. Ann Plast Surg 38:553–562

Nationales Referenzzentrum für Surveillance von nosokomialen Infektionen (2011) In: Robert Koch-Institut (Hrsg) Definition nosokomialer Infektionen (CDC-Definitionen), 7. Aufl., Berlin, S 8–9

Pastor C, Baek JH, Varma MG et al (2010) Validation of the risk index category as a predictor of surgical site infection in elective colorectal surgery. Dis Colon Rectum 53:721–727

Tan A, Gollop ND, Klimach SG et al (2014) Should infected laparotomy wounds be treated with negative pressure wound therapy? Int J Surg 12:26–29
Einhaltung ethischer Richtlinien
Interessenkonflikt. C. Marquard ist seit 2006 Berater der Firma Medela AG, Baar, Schweiz.
Alle im vorliegenden Manuskript beschriebenen Untersuchungen am Menschen wurden mit Zustimmung der zuständigen Ethik-Kommission, im Einklang mit nationalem Recht sowie gemäß der Deklaration von Helsinki von 1975 (in der aktuellen, überarbeiteten Fassung) durchgeführt. Von allen beteiligten Patienten liegt eine Einverständniserklärung vor.
Alle Patienten, die über Bildmaterial oder anderweitige Angaben innerhalb des Manuskripts zu identifizieren sind, haben hierzu ihre schriftliche Einwilligung gegeben. Im Falle von nicht mündigen Patienten liegt die Einwilligung eines Erziehungsberechtigen oder des gesetzlich bestellten Betreuers vor.
Danksagung
Diese Studie wurde von der Medela AG, Baar, Schweiz, unterstützt.
Additional information
Teile dieser Arbeit wurden als Poster auf dem 24th Annual Symposium on Advanced Wound Care and Wound Healing Society (SAWC/WHS), in Dallas, Texas (USA), vom 14.–17.04.2011 vorgestellt.
About this article
Cite this article
Marquardt, C., Koppes, P., Krohs, U. et al. Vakuumtherapie mit PHMB Gaze zur Behandlung postoperativer subkutaner Bauchdeckeninfektionen. coloproctology 36, 364–369 (2014). https://doi.org/10.1007/s00053-014-0478-1
Published:

Issue Date:

DOI: https://doi.org/10.1007/s00053-014-0478-1
Schlüsselwörter
Postoperative Komplikationen

Chirurgische Wundinfektion

Vakuumtherapie

Kolorektale Chirurgie

Wundbehandlung
Keywords
Postoperative complications

Surgical site infection

Negative pressure wound therapy

Colorectal surgery

Wound management