Abstract
Background
Slow-transit constipation (STC) is caused by a motility disorder of the colon which leads to delayed transit (>72 h). The probiotic strain Lactobacillus casei Shirota (LcS) has been shown to improve constipation-related symptoms, such as stool frequency and consistency. A randomized double-blind placebo-controlled trial was performed to determine the effect of LcS on the colonic transit time in patients with STC.
Patients and methods
Colonic transit time of all consecutive outpatients with chronic constipation was determined by the Hinton test using radiopaque markers. Patients with a transit time longer than 72 h were included in the study. A total of 24 patients received either a dairy drink containing 6.5×109 colony forming units (cfu) of LcS or a placebo daily for 4 weeks. General gastrointestinal symptoms were evaluated weekly by a questionnaire and the measurement of colonic transit time was repeated after the intervention.
Results
The intake of LcS resulted in a significant acceleration of the total colonic transit time from 95.6 h to 76.5 h (p=0.05). This effect was most pronounced in the sigmoid and rectum transit time (p<0.007). In the placebo group no statistically significant change in the total colonic transit time was observed (before: 95.8 h, after: 87.1 h, p=0.282)
Conclusion
The daily intake of a probiotic drink containing LcS significantly reduced the colonic transit time in patients with STC.
Zusammenfassung
Hintergrund
Slow-transit constipation (STC) basiert auf einer Kolonmotilitätsstörung, welche zu einer verzögerten Transitzeit führt (>72 h). Es wurde bereits gezeigt, dass der probiotische Bakterienstamm Lactobacillus casei Shirota (LcS) Verstopfungssymptome wie Stuhlfrequenz und – konsistenz verbessern kann. Der Effekt von LcS auf die Transitzeit bei STC-Patienten wurde nun randomisiert doppelblind und Placebo-kontrolliert untersucht.
Patienten und Methoden
Bei ambulanten Patienten mit chronischer Verstopfung wurde konsekutiv die Kolontransitzeit durch den Hinton-Test mit röntgenfähigen Markern gemessen. Patienten mit einer Transitzeit über 72 Stunden wurden in die Studie eingeschlossen. Insgesamt 24 Patienten erhielten täglich ein Getränk mit LcS (6,5-mal 109 KBE) oder ein Placebo über einen Zeitraum von 4 Wochen. Danach wurde die Messung der Transitzeit wiederholt. Allgemeine gastrointestinale Symptome wurden durch einen wöchentlichen Fragebogen erfasst.
Ergebnisse
LcS führte zu einer signifikanten Beschleunigung der Kolontransitzeit von 95,6 auf 76,5 Stunden (p=0,05). Dieser Effekt war bei der sigmoiden und rektalen Transitzeit am ausgeprägtesten (p<0,007). Die Veränderung der Transitzeit von 95,8 auf 87,1 Stunden (p=0,282) in der Placebogruppe erreichte keine statistische Signifikanz.
Schlußfolgerung
Die tägliche Gabe eines probiotischen Getränks mit LcS reduzierte signifikant die Kolontransitzeit bei STC-Patienten.
Access options
Buy single article
Instant access to the full article PDF.
USD 39.95
Price includes VAT (USA)
Tax calculation will be finalised during checkout.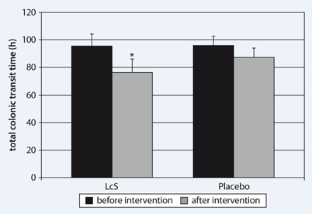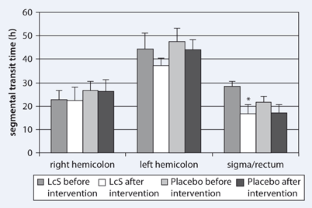 References
1.

Lembo A, Camilleri M (2003) Chronic constipation. N Engl J Med 349:1360–1368

2.

Peppas G, Alexiou VG, Mourtzoukou E, Falagas ME (2008) Epidemiology of constipation in Europe and Oceania: a systematic review. BMC Gastroenterol 8:5

3.

Knowles CH, Martin JE (2000) Slow transit constipation: a model of human gut dysmotility. Review of possible aetiologies. Neurogastroenterol Motil 12:181–196

4.

Bassotti G, Roberto GD, Sediari L, Morelli A (2004) Toward a definition of colonic inertia. World J Gastroenterol 10:2465–2467

5.

Malinen E, Rinttilä T, Kajander K et al (2005) Analysis of the fecal microbiota of irritable bowel syndrome patients and healthy controls with real-time PCR. Am J Gastroenterol 100:373–382

6.

Möllenbrink M, Bruckschen E (1994) Behandlung der chronischen Obstipation mit physiologischen Escherichia-coli-Bakterien. Ergebnisse einer klinischen Studie zur Wirksamkeit und Verträglichkeit der mikrobiologischen Therapie mit dem E.-coli-Stamm Nissle 1917 (Mutaflor®). Med Klin 89:587–593

7.

Krammer HJ, Kämper H, Bünau R von et al (2006) Probiotic drug therapy with E. coli strain Nissle 1917 (EcN): results of a prospective study of the records of 3,807 patients. Z Gastroenterol 44:651–656 (German)

8.

Koebnick C, Wagner I, Leitzmann P et al (2003) Probiotic beverage containing Lactobacillus casei Shirota improves gastrointestinal symptoms in patients with chronic constipation. Can J Gastroenterol 17:655–659

9.

Heaton KW, Radvan J, Cripps H et al (1992) Defecation frequency and timing, and stool form in the general population: a prospective study. Gut 33:818–824

10.

Agachan F, Chen T, Pfeifer J et al (1996) A constipation scoring system to simplify evaluation and management of constipated patients. Dis Colon Rectum 39:681–685

11.

Svedlund J, Sjödin I, Dotevall G (1988) GSRS – a clinical rating scale for gastrointestinal symptoms in patients with irritable bowel syndrome and peptic ulcer disease. Dig Dis Sci 33:129–134

12.

Metcalf AM, Phillips SF, Zinsmeister AR et al (1987) Simplified assessment of segmental colonic transit. Gastroenterology 92:40–47

13.

Spanhaak S, Havenaar R, Schaafsma G (1998) The effect of milk fermented by Lactobacillus casei Shirota on the intestinal microflora and immune parameters in humans. Eur J Clin Nutr 52:899–907

14.

Cummings JH (2001) Prebiotic digestion and fermentation. Am J Clin Nutr 73 (Suppl):415S–420S

15.

Ohashi Y, Inoue R, Tanaka K et al (2001a) Lactobacillus casei Shirota-fermented milk stimulates indigenous lactobacilli in the pig intestine. J Nutr Sci Vitaminol (Tokyo) 47:172–176

16.

Malcolm A, Kellow JE (1997) Motility. Curr Opin Gastroenterol 13:117–123

17.

Roberfroid M (1993) Dietary fiber, inulin, and oligofructose: a review comparing their physiologic effects. Crit Rev Food Sci Nutr 33:103–148

18.

Grider JR, Piland BE (2007) The peristaltic reflex induced by short-chain fatty acids is mediated by sequential release of 5-HT and neuronal CGRP but not BDNF. Am J Physiol Gastrointest Liver Physiol 292:G429–437

19.

Ohashi Y, Inoue R, Tanaka K et al (2001b) Strain gauge force transducer and its application in a pig model to evaluate the effect of probiotic on colonic motility. J Nutr Sci Vitaminol (Tokyo) 47:351–356

20.

Clemens ET, Stevens CE, Southworth M (1975) Sites of organic acid production and pattern of digesta movement in the gastrointestinal tract of swine. J Nutr 105:759–768

21.

Lewis SJ, Heaton KW (1997) Increasing butyrate concentration in the distal colon by accelerating intestinal transit. Gut 41:245–251

22.

Bouvier M, Meance S, Bouley C et al (2001) Effects of consumption of a milk fermented by the probiotic Bifidobacterium animalis DN 173 010 on colonic transit time in healthy humans. Bioscience Microflora 20:43–48

23.

Marteau P, Cuillerier E, Meance S et al (2002) Bifidobacterium animalis strain DN-173 010 shortens the colonic transit time in healthy women: a double-blind, randomized, controlled study. Aliment Pharmacol Ther 16:587–593

24.

Méance S, Cayuela C, Turchet P et al (2001) Recent advances in the use of functional foods: effects of the commercial fermented milk with Bifidobacterium probiotic strain DN-173 010 and yoghurt strains on gut transit time in the elderly. Microb Ecol Health Dis 15:15–22
Interessenkonflikt
The corresponding author states the following: Diese Studie wurde von Yakult Honsha Co. Ltd, Japan gesponsort. Dr. Schaumburg steht in einem Beschäftigungsverhältnis der Yakult Deutschland GmbH. Prof. Dr. H. Krammer, Dr. von Seggern. Dr. F. Neumer ohne Interessenkonflikt.
About this article
Cite this article
Krammer, HJ., von Seggern, H., Schaumburg, J. et al. Effect of Lactobacillus casei Shirota on colonic transit time in patients with chronic constipation. coloproctology 33, 109–113 (2011). https://doi.org/10.1007/s00053-011-0177-0
Keywords
Probiotics

Constipation

Transit time

Shirota

Clinical trial
Schlüsselwörter
Probiotika

Obstipation

Transitzeit

Shirota

Klinische Studie