Zusammenfassung
Die Theorie des Leitbahnsystems kann als eine systematische Ordnung empirischen Wissens verstanden werden, die als Basis für balancierte Leitbahn-Kombinationen in der Akupunkturtherapie dient. Im vorausgehenden Artikel ("Systematische Leitbahn-Kombinatorik (Teil 1)", Chinesische Medizin 03/13) wurden sechs historische Systeme für balancierte Zweifach-Kombinationen von Leitbahnen identifiziert und graphisch auf die Chinesische Organuhr (CO) projiziert. Auf Basis der spezifischen Gemeinsamkeiten der sechs historischen Systeme wurde berechnet, ob weitere Leitbahn-Kombinationen dieser Systematik folgen. Dabei wurden 19 Systeme (inklusive der sechs historischen) identifiziert. Kumulativ konnte daraus ermittelt werden, dass für jede Leitbahn 7 balancierte Kombinationsmöglichkeiten bestehen, die auf der CO den Schritten 1, 2, 3 und 6 entsprechen. Hiervon ausgehend berechneten wir Kombinationen von 4 Leitbahnen, die sich alle gegenseitig balancieren und damit eine ideale Balance repräsentieren. Dabei konnten für jede Leitbahn jeweils 5 balancierte Muster identifiziert werden, was 12 x 5 = 60 Musterbildern entspricht. Hieraus resultieren nach Abzug der Redundanzen 15 unterschiedliche Muster. Die klinische Relevanz dieser Erkenntnisse für die Behandlung lokalisierter Schmerzen und für klinische Studien wird im dritten Teil des Artikels, Systematische Leitbahn-Kombinatorik (Teil 3), in der Ausgabe 01/14 der Chinesischen Medizin dargestellt.
Abstract
The meridian system is a systematic order of empirical knowledge functioning as a rational basis for a balanced treatment by combining meridians. In our prior article "Systematic combinations of meridians (Part 1)" (Chinesische Medizin 03/13) we identified six historical systems for balanced 2-meridian combinations and plotted them on the Chinese Clock (CC). Taking the historical systems as a basis, we calculated the possible combinations that followed the intrinsic rules of the historical descriptions. We discovered 19 systems (including the six historical systems). Merging these data, we concluded that there are 7 combinatorial options for each meridian, which correspond to steps 1, 2, 3 and 6 on the CC. On the basis of these data, we calculated 4-meridian combinations which all balance with each other, thus giving an ideal balance pattern. We identified 5 of these patterns for each meridian, so we ended up with 12 x 5 = 60 patterns, but we found multiple overlapping. After deletion of redundancies, 15 distinct patterns remain. The clinical relevance of these results for the treatment of localized pain and for clinical trials will be presented in the third part of this article in the issue 01/14 of Chinesische Medizin.
Access options
Buy single article
Instant access to the full article PDF.
USD 39.95
Price excludes VAT (USA)
Tax calculation will be finalised during checkout.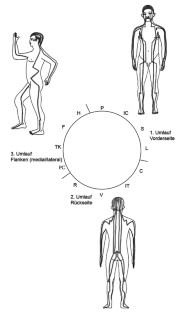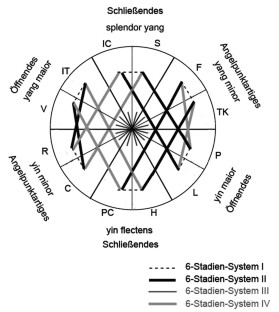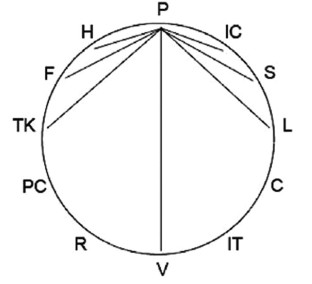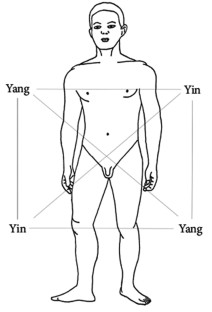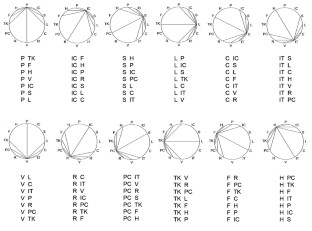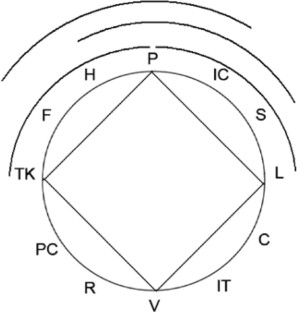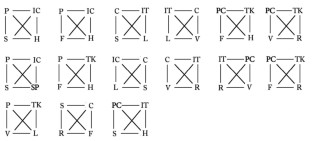 Literatur
Dun AC: The Yellow Emperor's Inner Classic, Spiritual Pivot (Huang Di Nei Jing Su Wen Jiao Zhu Yu Yi). Tianjin: Tianjin Science and Technology Press, 1989.

Feeley RA: Yamamoto New Scalp Acupuncture—Principles and Practice. Stuttgart: Thieme, 2011.

Guo Z, Yu S, Guan Y et al.: "Molecular mechanisms of same TCM syndrome for different diseases and different TCM syndrome for same disease in chronic hepatitis B and liver cirrhosis." Evidence-Based Complementary and Alternative Medicine, Volume 2012, Article ID 120350, 2012.

Hempen C-H: Taschenatlas Akupunktur. Stuttgart: Georg Thieme Verlag, 2009.

Hsu Ta-ch'un: Forgotten Traditions of Ancient Chinese Medicine: A Chinese View from the Eighteenth Century. The 'I-Hsueh Yuan Liu Lun' of 1757 (Übersetzung Paul Unschuld). Brookline: Paradigm Publications, 1990.

Li Y: "5-Zang Extra Relationship-Theory" in Introduction to Medicine (Yi Xue Ru Men), Zang Fu Depth Chapter. T. Li, Ed., vol. 1575, Tianjin: Tianjin Science and Technology Press, 1999.

Lu A, Jiang M, Zhang C, Chan K: "An integrative approach of linking traditional Chinese medicine pattern classification and biomedicine diagnosis." Journal of Ethnopharmacology, vol. 141, no. 2, pp. 549–556, 2012.

Ma T, Tan C, Zhang H, Wang M, Ding W, Li S: "Bridging the gap between traditional Chinese medicine and systems biology: the connection of Cold syndrome and NEI network." Molecular BioSystems, vol. 6, no. 4, pp. 613–619, 2010.

Ross HJ, Winarto FS: Die Balance-Methode in der Akupunktur: Eine Anleitung zur Schmerztherapie mit Syndromen und Fallbeispielen. München: Müller und Steinicke, 2010.

Ross J: Acupuncture Point Combinations — The Key to Clinical Success. Edinburgh/San Diego: Churchill Livingstone, 1995/2002.

Schroeder S, Epplée S, Zhang J, Meyer-Hamme G, Friedemann T, Hu W: "Mathematical reflections on acupoint combinations in the traditional meridian systems." Evidence-Based Complementary and Alternative Medicine, Volume 2012, Article ID 268237, 2012, http://dx.doi.org/10.1155/2012/268237.

Schroeder S, Meyer-Hamme G, Zhang JW, Epplée S, Friedemann T, Hu WG: "An Acupuncture Research Protocol Developed from Historical Writings by Mathematical Reflections. A Rational Individualized Acupoint Selection Method for Immediate Pain Relief." Evidence-Based Complementary and Alternative Medicine, Volume 2013, Article ID 256754, 2013, http://dx.doi.org/10.1155/2013/256754.

Spears JA: Meridian Circuit Systems: A Channel Based Approach to Pattern Identification, vol. 1. North Charleston: CreateSpace, 2010.

van Wietmarschen H, Yuan K, Lu C, Gao P, Wang J, Xiao C, Yan X, Wang M, Schroën J, Lu A, Xu G, van der Greef J: "Systems biology guided by Chinese medicine reveals new markers for sub-typing rheumatoid arthritis patients." J Clin Rheumatol. 2009 Oct;15(7):330–7. doi: 10.1097/RHU.0b013e3181ba3926.

Tan R.: Acupuncture 1, 2, 3 for back pain. elotus update, 2008, http://www.elotus.org/.

Tan R: Dr. Tan's Strategy of Twelve Magical Points. Richard Tan, San Diego, California, 2002.

Unschuld P: Huang Di Nei Jing Su Wen: Nature, Knowledge, Imagery in an Acient Chinese Medical Text. Berkeley: University of California Press, 2003.

Wu T, Yang M, Wei HF, He SH, Wang SC, Ji G: "Application of metabolomics in traditional Chinese medicine differentiation of deficiency and excess syndromes in patients with diabetes mellitus." Evidence-Based Complementary and Alternative Medicine, Volume 2012, Article ID 968083, 2012.
Additional information
Zu den Autoren
Dr. med. Sven Schröder (geb. 1962 in Hamburg) machte seine Ausbildung zum Facharzt für Neurologie an der Charité in Berlin und in Hamburg überwiegend am Universitätsklinikum Hamburg-Eppendorf (UKE). Schon vor seinem Medizinstudium wurde die Leidenschaft zur chinesischen Medizin entfacht, ab 2000 leitete er eine der großen TCM-Praxen in Hamburg. Sven Schröder ist in Deutschland und China in Akupunktur, Kräuterheilkunde und Tuina ausgebildet worden und fand 2006 zur SMS. Seit 2010 ist er medizinischer Direktor des HanseMerkur Zentrums für TCM am UKE, baut eine große Behandlungsambulanz auf und organisiert den Aufbau der naturwissenschaftlichen Forschung.
Gesa Meyer-Hamme (geb. 1970 in Hamburg) absolvierte ihr Medizinstudium an der Semmelweis-Universität Budapest und in Hamburg. Sie lebte mehrere Jahre in Brasilien und war in einer Praxis für Allgemeinmedizin in Hamburg tätig. Seit 2010 arbeitet sie am HanseMerkur Zentrum für TCM am UKE. Neben ihrer klinischen Tätigkeit organisiert sie als Doktorandin die klinische Studie "Akupunktur bei diabetischer Polyneuropathie".
Prof. Zhang Jianwei (geb. 1963 in Zhengzhou) studierte Ingenieurwissenschaft und Computerwissenschaft an der Tsinghua-Universität in Beijing, bevor er zur Abteilung für Computerwissenschaft (Institute of Real-Time Computer Systems and Robotics) der Universität Karlsruhe wechselte, an der er 1994 promovierte. Bis 2001 war er dort Assistent-Professor und arbeitete bis Juli 2002 an der Universität Bielefeld. Seit August 2003 ist er Professor der Universität Hamburg (Abteilung für Computerwissenschaften) und leitet das Institut TAMS (Technical Aspects of Multimodal Systems). Seine Forschungsschwerpunkte liegen u.a. im Bereich Robotik an der Schnittstelle von Mensch und Maschine.
Wei Hertz (geb. Zhang, 1980 in Shandong) studierte Kunsterziehung an der Pädagogischen Universität Huadong in Shanghai. Seit 2003 lebt sie in Deutschland und erlangte ein Diplom in Musikerziehung an der Hochschule für Musik und Theater in Hamburg. Seit 2008 arbeitet sie als freie Sprachtrainerin, Übersetzerin und Business Consultant für deutsch-chinesische Geschäftsbeziehungen in Hamburg und unterstützt seit 2012 mit ihrer Firma Deutsch-Mandarin Communication das HanseMerkur Zentrum für TCM am UKE u.a. durch Übersetzung diverser Fachartikel.
Dr. Hu Weiguo (geb. 1965 in Shanghai) schloss 1989 sein Medizinstudium an der TCM-Universität Peking ab. Danach hat er in Peking an der National Academy for Acupuncture and Moxibustion als TCM-Arzt gearbeitet und wurde dort Direktor der Abteilung für Akupressur und TCM-Diagnose. Parallel wirkte er in der staatlichen Verwaltung der TCM als Projektmanager und als Gastdozent in englischer Sprache für "TCM and Daoist Theory" am WHO-TCM-Zentrum in Peking. Von 1998 bis 2001 arbeite Hu an seiner Doktor-Arbeit in Hunan (Südchina). Danach wechselte er an die Universität Nizza, wo er 2003 den französischen Master-Abschluss erhielt. Seit 2003 arbeitet er in einer TCM-Praxis in Genf. Zudem ist er Vize-Generalsekretär der WFAS (World Federation of Acupuncture-Moxibustion Societies) in Peking.
About this article
Cite this article
Schröder, S., Meyer-Hamme, G., Zhang, J. et al. Systematische Leitbahn-Kombinatorik (Teil 2). Chinese Medicine 28, 231–240 (2013). https://doi.org/10.1007/s00052-013-0014-3
Published:

Issue Date:

DOI: https://doi.org/10.1007/s00052-013-0014-3
Schlüsselwörter
Akupunktur

Leitbahn-Kombinationen

balancierte Akupunktur

TCM-Theorie

Chinesische Organuhr
Key Words
Acupuncture

Combinations of meridians

balanced acupuncture

TCM theory

Chinese clock