Abstract
Pheromones play an important role in the mating behavior of many insects, especially in bees, and it has recently been shown that female Osmia bicornis use the odor bouquet found on male antennae in female choice. Nevertheless, the glandular origin of the substances found on the male antennae is so far unknown. In this study, we investigated if antennal glands exist in males and if they are the glandular source of substances on the antennae's cuticle, as has been suggested by previous studies. Since electron and light microscopy revealed no such glands, we investigated further possible places of origin for the antennal compounds by conducting chemical analyses of solvent extracts of the male abdominal surface and the antennae, as well as of two glands found in the bee's head, the labial and mandibular gland. Our results clearly show that the substances found on the abdominal surface and in solvent extracts of the antennae differ significantly in relative amounts. Therefore, the compounds on the antennae must have additional sources. Since the relative amounts of compounds on the surface of antennae are different from the blends on the mandibular gland or the labial gland, neither one of them can be the sole source of the antennal compounds. Hence we believe another glandular source is also involved in the production of the bouquet on the antennae. Especially interesting were high amounts of sterols on the antennae, which also play a role in population differences. This sheds new light on the importance of the antennal compounds and also the importance sterols might play in communication.
Access options
Buy single article
Instant access to the full article PDF.
US$ 39.95
Tax calculation will be finalised during checkout.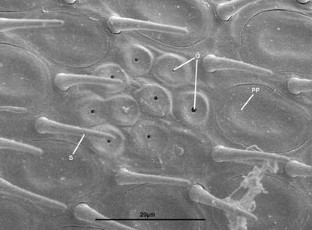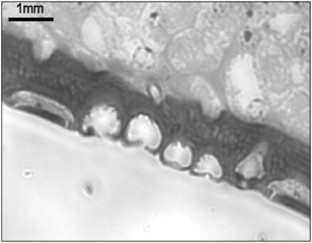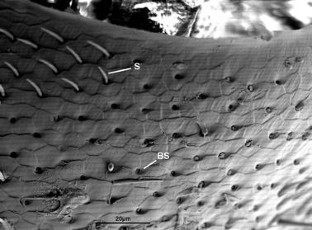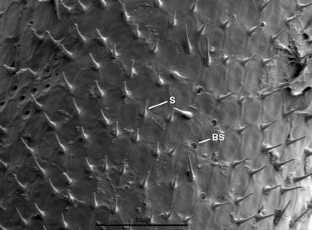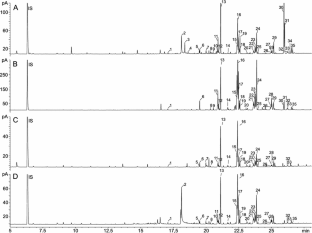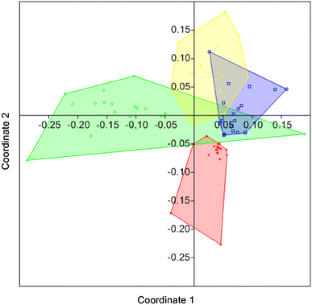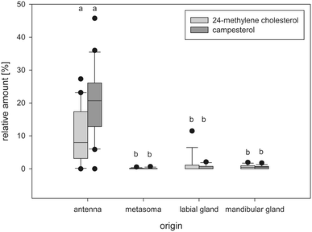 References
Andersson M (1986) Evolution of condition-dependent sex ornaments and mating preferences: sexual selection based on viability differences. Evolution 40(4):804–816

Ando T, S-i Inomata, Yamamoto M (2004) Lepidopteran sex pheromones. In: Schulz S (ed) Topics in current chemistry, vol 239. Springer, Heidelberg, pp 51–96

Ayasse M, Engels W, Francke W (1999) Mating expenditures reduced via female sex pheromone modulation in the primitively eusocial halictine bee, Lasioglossum (Evylaeus) malachurum (Hymenoptera Halictidae). Behav Ecol Sociobiol 45:95–106. doi:10.1007/s002650050543

Ayasse M, Paxton RJ, Tengö J (2001) Mating behavior and chemical communication in the order Hymenoptera. Annu Rev Entomol 46(1):31–78. doi:10.1146/annurev.ento.46.1.31

Behmer ST, Nes DW (2003) Insect sterol nutrition and physiology: a global overview. Adv Insect Phys 31:1–72. doi:10.1016/S0065-2806(03)31001-X

Bergström G, Kullemberg B, Stallberg-Stenhagen S (1973) Studies on natural odoriferous compounds VII: Recognition of two forms of Bombus lucorum L. (Hymenoptera, Apidae) by analysis of the volatile marking secretion from individual males. Chem scripta 4:174–182

Bertsch A, Schweer H, Titze A (2004) Analysis of the labial gland secretions of the male bumblebee Bombus griseocollis (Hymenoptera: Apidae). Z Naturforsch 59:701–707. doi:10.1515/znc-2004-9-1015

Bin F, Vinson SB (1986) Morphology of the antennal sex-gland in male Trissolcus basalis (Woll.) (Hymenoptera Scelionidae), an egg parasitoid of the green stink bug, Nezara viridula (Hemiptera: Pentatomidae). Int J Ins Morphol 15(3):129–138. doi:10.1016/0020-7322(86)90052-8

Bin F, Wäckers F, Romani R, Isidoro N (1999) Tyloids in Pimpla turionellae (L.) are release structures of male antennal glands involved in courtship behaviour (Hymenoptera Ichneumonidae). Int J Ins Morphol 28(1–2):61–68. doi:10.1016/S0020-7322(99)00015-X

Bloem KA, Kelley KC, Duffey SS (1989) Differential effect of tomatine and its alleviation by cholesterol on larval growth and efficiency of food utilization in Heliothis zea and Spodoptera exigua. J Chem Ecol 15(1):387–398. doi:10.1007/BF02027799

Blomquist Gary J, Bagnères Anne-Geneviève (eds) (2010) Insect hydrocarbons biology, biochemistry, and chemical ecology. Cambridge University Press, Cambridge

Bonavita-Cougourdan A, Clement JL, Lange C (1993) Functional subcaste discrimination (foragers and brood-tenders) in the ant Camponotus vagus scop.: polymorphism of cuticular hydrocarbon patterns. J Chem Ecol 19(7):1461–1477. doi:10.1007/BF00984890

Bouali I, Trabelsi H, Herchi W, Martine L, Albouchi A, Bouzaien G, Sifi S, Boukhchina S, Berdeaux O (2014) Analysis of pecan nut (Carya illinoinensis) unsaponifiable fraction. Effect of ripening stage on phytosterols and phytostanols composition. Food Chem 164:309–316. doi:10.1016/j.foodchem.2014.05.029

Chapman RF (1982) The insects: structure and function, 3rd edn. Harvard Univ. Press, Cambridge

Clark AJ, Bloch K (1959) The absence of sterol synthesis in insects. J Biol Chem 234(10):2578–2582

Clayton RB (1964) The utilization of sterols by insects. J Lipid Res 5(1):3–19

Conrad T, Paxton RJ, Barth FG, Francke W, Ayasse M (2010) Female choice in the red mason bee, Osmia rufa (L.) (Megachilidae). J Exp Biol 213(23):4065–4073. doi:10.1242/jeb.038174

Dahms EC (1984) An interpretation of the structure and function of the antennal sense organs of Melittobia australica (Hymenoptera: Eulophidae) with the discovery of a large dermal gland in the male scape. Mem Quensl Mus 21:361–385

Development Core Team R (2009) R: A language and environment for statistical computing. R Foundation for Statistical Computing, Vienna

Felicioli A, Isidoro N, Romani R, Bin F (1998) Ethological and morphological analysis of mating behavior in Osmia cornuta Latr. (Hymenoptera Megachilidae). Insect Soc Life 2:137–144

Ferreira-Caliman MJ, Silva CId, Mateus S, Zucchi R, Nascimento FSd (2012) Neutral sterols of cephalic glands of stingless bees and their correlation with sterols from pollen. Psyche. doi:10.1155/2012/982802

Fraberger RJ, Ayasse M (2007) Mating behavior, male territoriality and chemical communication in the European spiral-horned bees, Systropha planidens and S. curvicornis (Hymenoptera Halictidae). J Kans Entomol Soc 80(4):348–360. doi:10.2317/0022-8567(2007)80[348:mbmtac]2.0.co;2

Guerrieri E, Pedata PA, Romani R, Isidoro N, Bin F (2001) Functional anatomy of male antennal glands in three species of Encyrtidae (Hymenoptera Chalcidoidea). J Nat Hist 35(1):41–54. doi:10.1080/002229301447880

Gwatidzo L, Botha BM, McCrindle RI, Combrinck S (2014) Extraction and identification of phytosterols in manketti (Schinziophyton rautanenii) nut oil. J Am Oil Chem Soc 91(5):783–794

Horai H, Arita M, Kanaya S, Nihei Y, Ikeda T, Suwa K, Ojima Y, Tanaka K, Tanaka S, Aoshima K, Oda Y, Kakazu Y, Kusano M, Tohge T, Matsuda F, Sawada Y, Hirai MY, Nakanishi H, Ikeda K, Akimoto N, Maoka T, Takahashi H, Ara T, Sakurai N, Suzuki H, Shibata D, Neumann S, Iida T, Tanaka K, Funatsu K, Matsuura F, Soga T, Taguchi R, Saito K, Nishioka T (2010) MassBank: a public repository for sharing mass spectral data for life sciences. J Mass Spectrom 45(7):703–714. doi: 10.1002/jms.1777

Howard RW (1992) Comparative analysis of cuticular hydrocarbons from the ectoparasitoids Cephalonomia waterstoni and Laelius utilis (Hymenoptera: Bethylidae) and their respective hosts, Cryptolestes ferrugineus (Coleoptera: Cucujidae) and Trogoderma variabile (Coleoptera: Dermestidae). Ann Entomol Soc Am 85(3):317–325. doi:10.1093/aesa/85.3.317

Ibarra F (2000) Intra- und interspezifische chemische Kommunikation von Insekten Identifizierung und Synthese flüchtiger Signalstoffe. PhD thesis, Universität Hamburg, Hamburg

Ikan R, Gottlieb R, Bergmann ED (1969) Lipids of the queen of the Oriental hornet, Vespa orientalis. J Insect Physiol 15(7):1249–1257. doi:10.1016/0022-1910(69)90234-0

Isidoro N, Bin F (1995) Male antennal gland of Amitus spiniferus (Brethes) (Hymenoptera Platygastridae), likely involved in courtship behavior. Int J Ins Morphol 24(4):365–373. doi:10.1016/0020-7322(95)00014-U

Isidoro N, Bin F, Colazza S, Vinson SB (1996) Morphology of antennal gustatory sensilla and glands in some parasitoid Hymenoptera with hypothesis on their role in sex and host recognition. J Hymenopt Res 5:206–239. doi:10.5962/bhl.part.28120

Isidoro N, Romani R, Velasquez D, Renthal R, Bin F, Vinson SB (2000) Antennal glands in queen and worker of the fire ant, Solenopsis invicta Buren first report in female social Aculeata (Hymenoptera, Formicidae). Ins Soc 47(3):236–240. doi:10.1007/PL00001709

Karlson P, Lüscher M (1959) Pheromones: a new term for a class of biologically active substances. Nature 183(4653):55–56. doi:10.1038/183055a0

Krieger G, Duchateau M-J, Doorn A, Ibarra F, Francke W, Ayasse M (2006) Identification of queen sex pheromone components of the bumblebee Bombus terrestris. J Chem Ecol 32(2):453–471. doi:10.1007/s10886-005-9013-8

Li TSC, Beveridge THJ, Drover JCG (2007) Phytosterol content of sea buckthorn (Hippophae rhamnoides L.) seed oil: extraction and identification. Food Chem 101(4):1633–1639

Nakanishi A, Nishino H, Watanabe H, Yokohari F, Nishikawa M (2009) Sex-specific antennal sensory system in the ant Camponotus japonicus structure and distribution of sensilla on the flagellum. Cell Tissue Res 338(1):79–97. doi:10.1007/s00441-009-0863-1

Noirot C, Quennedey A (1974) Fine structure of insect epidermal glands. Annu Rev Entomol 19(1):61–80. doi:10.1146/annurev.en.19.010174.000425

Pospischil A, Walther P, Dingemanse J (2009) Phospholipidosis in healthy subjects participating in clinical studies: ultrastructural findings in white blood cells. Exp Toxicol Pathol 62(5):567–571. doi:10.1016/j.etp.2009.07.007

Roitberg BD, Isman MB (eds) (1992) Insect chemical ecology: An evolutionary approach. Chapmann & Hall, New York

Romani R, Isidoro N, Riolo P, Bin F (2003) Antennal glands in male bees: structures for sexual communication by pheromones? Apidologie 34:603–610. doi:10.1051/apido:2003053

Romani R, Isidoro N, Riolo P, Bin F, Fortunato A, Turillazzi S, Beani L (2005) A new role for antennation in paper wasps (Hymenoptera, Vespidae): antennal courtship and sex dimorphic glands in antennomeres. Ins Soc 52(1):96–102. doi:10.1007/s00040-004-0780-y

Ryan P, Harper D, Whalley J (1995) PALSTAT, Statistics for palaeontologists. Chapman & Hall, London

Seidelmann K (1995) Untersuchungen zur Reproduktionsbiologie der Roten Mauerbiene, Osmia rufa (L., 1758). PhD thesis, Martin-Luther University Halle-Wittenberg, Halle

Snodgrass RE (1942) The skeleto-muscular mechanisms of the honey bee. Smithson Misc Collect 103(2):1–120

Snodgrass RE (1956) Anatomy of the honey bee. Cornell University Press, Ithaca

Svoboda JA, Herbert EW, Thompson MJ, Feldlaufer MF (1986) Selective sterol transfer in the honey bee: its significance and relationship to other Hymenoptera. Lipids 21(1):97–101. doi:10.1007/BF02534310

Vander Meer RK, Breed MD, Espelie KE, Winston ML (1998) Pheromone communication in social insects: ants, wasps, bees, and termites. Westview Press, Boulder

Vidkjær NH, Wollenweber B, Gislum R, Jensen K-MV, Fomsgaard IS (2015) Are ant feces nutrients for plants? A metabolomics approach to elucidate the nutritional effects on plants hosting weaver ants. Metabolomics 11(4):1013–1028. doi:10.1007/s11306-014-0757-4

Vidkjær NH, Jensen KMV, Gislum R, Fomsgaard IS (2016a) Profiling and metabolism of sterols in the weaver ant genus Oecophylla. Nat Prod Commun 11(1):39–43

Vidkjær NH, Wollenweber B, Jensen K-MV, Ambus PL, Offenberg HJ, Fomsgaard IS (2016b) Urea in weaver ant feces: quantification and investigation of the uptake and translocation of urea in Coffea arabica. J Plant Growth Regul 35(3):803–814. doi:10.1007/s00344-016-9586-1

Walther P (2008) High resolution cryoscanning electron microscopy of biological samples. In: Schatten H, Pawley JB (eds) Biological low-voltage scanning electron microscopy. Springer, New York, pp 245–261

Wigglesworth VB (1945) Transpiration through the cuticle of insects. J Exp Biol 21(3–4):97

Wyatt TD (2014) Pheromones and animal behavior: chemical signals and signatures. Cambridge University Press, Cambridge
Acknowledgements
We would like to thank Eberhard Schmid from the Central Facility for Electron Microscopy, Ulm University for all his help in preparing the samples used for SEM, TEM and light microscopy. We would also like to thank Dr. Stefan Jarau (PH Voralberg) for help with the microscopy and Dr. Hans G. Rinderknecht (Lawrance Livermore National Laboratory, CA) for language advice. This study was funded by the German Federal Environmental Foundation.
Additional information
Handling Editor: Michael Heethoff.
Electronic supplementary material
Below is the link to the electronic supplementary material.
About this article
Cite this article
Conrad, T., Vidkjær, N.H. & Ayasse, M. The origin of the compounds found on males' antennae of the red mason bee, Osmia bicornis (L.). Chemoecology 27, 207–216 (2017). https://doi.org/10.1007/s00049-017-0245-1
Received:

Accepted:

Published:

Issue Date:
Keywords
Labial gland

Mandibular gland

Antennal glands

Male pheromones