Abstract
The present contribution offers an overview of the main problems concerning the representation of the planets in the pre-Islamic Iranian world, the origin of their denominations, their astral roles and the reasons behind their demonization in the Zoroastrian and Manichaean frameworks. This is a preliminary attempt to resume the planetary iconography and iconology in western and eastern Iranian sources, involving also external visual data, such as those coming from Dunhuang and the Chinese world. The article offers an intellectual journey into a net of mutual cultural and spiritual relations, focusing on the image of the heaven (and of its celestial beings), thereby proposing a new synthesis and highlighting a number of intercultural contaminations.
Zusammenfassung
Der vorliegende Artikel bietet einen Überblick über die hauptsächlichen Probleme der Planetendarstellungen in der vorislamischen iranischen Welt, den Ursprung ihrer Bezeichnungen, ihre himmlischen Rollen sowie die Gründe hinter ihrer Verwandlung in Dämonen in den zoroastrischen und manichäischen Lehren. Es ist ein erster Versuch, das Thema der Planetenikonographie und -ikonologie in westlichen und östlichen iranischen Quellen erneut aufzunehmen und dabei auch externe visuelle Daten wie die aus Dunhuang und der chinesischen Welt mit einzubeziehen. Es geht auf eine intellektuelle Reise in ein Netzwerk wechselseitiger kultureller und spiritueller Beziehungen, die sich vor allem auf das Bild vom Himmel (und seinen himmlischen Wesen) konzentriert, und dabei eine neue Synthese des Materials vorschlägt und eine Anzahl interkultureller Verflechtungen betont.
This is a preview of subscription content, log in to check access.
Access options
Buy single article
Instant access to the full article PDF.
US$ 39.95
Price includes VAT for USA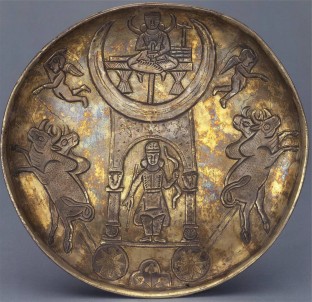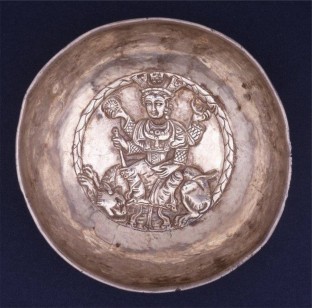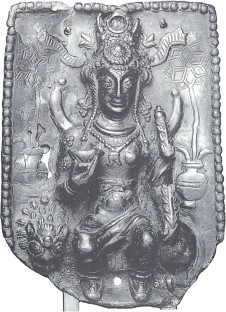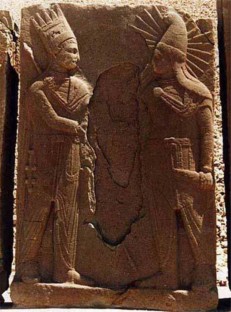 Notes
1.

For an introduction to and a more general overview of the history of sciences in ancient Iran, see Panaino (2018). Some different views have been expressed on the same subject by Brown (2018). A large number of pertinent studies on Iranian astronomy, astrology and calendrical matters, are at disposal in the two volumes by Panaino (2014) (with a wide-ranging bibliography). Considering the main scope of the present contribution, most of the specific Iranological linguistic technicalities have been reduced (and so also the relative bibliography) in favor of a larger historical treatment of the problems, with some additional methodological clarifications. Only few problems of technical nature have been treated where their analysis and discussion became absolutely indispensable for the comprehension of the arguments presented in this paper.

2.

Tīr was a genuine divinity, probably assimilated with Tištar, mentioned just once in the entire Pahlavi literature in a variant of the Ardā Wīrāz Nāmag, named Wīrāzagān, par. 6 (codex TD 26; Ms. R 494) found in the K. R. Cama Oriental Institute of Mumbay (Asha 2017). The god is here presented as Tīr ī dibīr "Tir the scribe", near the bridge of Činwad, and keeping records of the good and bad deeds of the dead. I thank Dr. R. Nikoghosyan for having brought this source to my attention.

3.

It is very unlikely that Vedic people already classified the five planets as a group of grahas. Sanskrit texts attest explicit references to them only after the Greek settlement in Bactria (third century BCE); Yano (2004: 333).

4.

In Pahlavi, the fixed stars were called a‑wiyābānīg, that is "not wandering" (then "fixed"), from the verb wiyābān- "to deviate, to go astray". We find this designation also in the Classical languages (Gk. ἀπλανής, Lat. inerrans), where the planets were opposed to the stars as "wandering stars" (πλανήτες ἀστέρες). We infer the existence in Pahlavi of the corresponding planetary designation as *wiyābānīg ("wandering") thanks to the survival of a reference to the stelle beibenie ("beibenie stars") in Latin translations of Arabo-Islamic sources. We must recall that in the Sasanian astronomical and astrological tradition, the motion of the planets was explained as due to the action played by a number of wind-cord connected with teh Sun. It is probable that this doctrine was of Indian origin, although it was adapted to the Iranian procees of planetary demonization, so that the planets were considered under the direct control of the Sun. This doctrine found a special favour within the Manichaean tradition; see Panaino 1998.

5.

In China the list of the planets was expanded to eleven by four pseudo-planets. This system finds a parallel in Iran with the head and the tail of the dragon, as well as the "Dark Sun" and the "Dark Moon".

6.

7.

This phenomenon can be explained by assuming that the Kushan cult of Nana preserved the astral planetary association because it entered the Bactrian area before the definitive systematization of the Mazdean process affecting the demonization of the planets. Furthermore, we can presume that the Indian cult of the planets, as the positive representation of Venus, widespread in the western traditions (so important in the Graeco-Bactrian region) offered a significant alternative to the demonization of the planet Venus.

8.

On the Klimova Plate there is an archer below the Moon God. Grenet (2018a: 242) has suggested that this figure symbolizes Uṣas, the divinity of dawn. Although unknown in a strictly Iranian context, in the Indian iconography of Sūrya, Uṣas and Pratyuśas are sometimes represented as archers (see also Frenger's paper in this special issue). Thus, it is possible that Hindu iconography influenced the Mithraic composition at Bamiyān and perhaps this one as well. But this archer could also be interpreted as the hero par excellence of the Aryans, Εrəxša, whose arrow was connected with the motion of Sirius (Tištrya). Moreover, in the hymn to Tištar, the Moon is mentioned already in the first stanza of the text.

9.

In this transformation we could suspect an Iranian intermediation, if we consider the fact that on Bactrian coins of Huviška TEIRO, corresponding to Tīr, is presented as a female with bow and arrow (Shenkar 2014a: 149–151).
References
Annus, Amar 2002. The God Ninurta in the Mythology and Royal Ideology of Ancient Mesopotamia. Helsinki: The Neo-Assyrian Text Corpus Project.

Asha, Raham 2017. Vīrāzagān, The visionary journey of Vīrāza to Heaven and Hell. Editio Princeps of the Vīrāzagān and the Ardā Vīrāzagān. Tehran: Shourafarin Publication.

Azarnouche, Samra and Frantz Grenet 2010. Thaumaturgie sogdienne: Nouvelle édition et commentaire du texte P.3. Studia Iranica (39): 27–77.

Barstad, Hans M. 2014. The Religious Polemics of Amos. Studies in the Preaching of Amos ii 7B–8, iv 1–13, v 1–27, vi 4–7, viii 14. Leiden: Brill.

Beck, Roger 1987. The Anabibazontes in the Manichaean Kephalaia. Zeitschrift für Papyrologie und Epigraphik (69): 193–196.

Benveniste, Émile 1940. Mission Pelliot en Asie Central. III: Textes sogdiens édités, traduits et commentés. Paris: Librairie Orientaliste Paul Geuthner.

Betts, Alison, † Vadim N. Yagodin, Frantz Grenet, Fiona Kidd, Michele Minardi, Melodie Bonnat and Stanislav Khashimov 2012. The Akchakhan-kala Wall Paintings: New Perspectives on Kingship and Religion in ancient Chorasmia. Journal of Inner Asian Art and Archaeology (7): 125–165.

Betts, Alison, † Vadim N. Yagodin, Frantz Grenet, Fiona Kidd, Michele Minardi, Melodie Bonnat and Stanislav Khashimov 2015. Des divinités avestique sur les peintures murales d'Akchakhan-kala, Ouzbékistan. Comptes-rendus des Séances de l'Académie des Inscriptions et Belles-Lettres 2015 (3): 1369–1396.

Boll, Franz 1903. Sphaera. Neue griechische Texte und Untersuchungen zur Geschichte der Sternbilder. Mit einem Beitrag von Karl Dyroff. Leipzig: Teubner.

Bouché-Leclercq, Auguste 1899. L'astrologie grecque. Paris: Ernest Leroux.

Boyce, Mary 1975a. A Reader in Manichaean Middle Persian and Parthian. Texts with Notes. Leiden: Brill.

Boyce, Mary 1975b. Iconoclasm among the Zoroastrians. In: Jacob Neusner (ed.). Christianity, Judaism and Other Greco-Roman Cults: Studies for Morton Smith at Sixty, Leiden: Brill: 93–111.

Brown, David 2000. Mesopotamian planetary astronomy-astrology. Groningen: Styx Publications.

Brown, David 2018. The Interactions of Ancient Astral Sciences, with contributions by Jonathan Ben-Dow, Geoffrey Lloyd, Raymond Mercier, Antonio Panaino, Joachim Quack, Alexandra van Lieven and Michio Yano. Bremen: Hempen Verlag.

Burnett, Charles and Pingree, David 1997. The Liber Aristotilis of Hugo of Santalla. London: The Warburg Institute.

Caiozzo, Anna 1999. Le ciel de l'astronome, le ciel de l'astrologue et celui du sorcier, trois conceptions des cieux dans les manuscrits enluminés de l'Orient médiéval. In: Rika Gyselen (ed.). La Science de Cieux. Sages, mages, astrologues. Bur-sur-Yvette: Association pour l'Avancement des Etudes Iraniennes: 11–51.

Caiozzo, Anna 2003. Images du ciel d'Orient au Moyen Âge. Une histoire du zodiaque et de ses représentations dans les manuscrits du Proche-Orient musulman. Paris: Presses de l'Université de Paris-Sorbonne.

Caiozzo, Anna 2013. Éclipse ou apocalypse, remarques autour du noeud du dragon dans les miniatures des « Commentaires de l'Apocalypse » de Beatus de Liébana. Médiévales (65). Le Couple dans le Monde Franc (Ve–XIIe siècle): 125–154.

Chavannes, Édouard, Pelliot, Paul 1912. Un Traité Manichéen retrouvé en Chine, traduit et annoté. Paris: Imprimerie nationale.

Compareti, Matteo 2017. Nana and Tish in Sogdiana: The Adoption from Mesopotamia of a Divine Couple. Dabir 4 (1): 1–7.

Compareti, Matteo 2019. The 'Eight Divinities' in Khotanese Paintings: Local Deities or Sogdian Importation?. https://www.academia.edu/40406933/state_hermitage_museum_proceedings_of_the_eighth_european_conference_of_iranian_studies_volume_i.

Duchesne-Guillemin, Jacques 1972. L'Église sassanide et le mazdéisme. In: Henri-Charles Puech (ed.). Histoire des religions. Vol. II. La formation des religions universelles et les religions de salut dans le monde méditerranéen et le Proche-Orient. Les religions constitués en Occident et leurs contre-courants. Paris: Gallimard: 3–32.

Eilers, Wilhelm 1967. Stern-Planet-Regenbogen. Zur Nomenklatur der orientalischen Himmelskunde. In: Wilhelm Hoenerbach (ed.). Der Orient in der Forschung. Festschrift für Otto Spies zum 5. April 1966. Wiesbaden: Otto Harrassowitz Verlag: 92–149.

Eilers, Wilhelm 1976. Sinn und Herkunft der Planetennamen. München: Verlag der Bayerischen Akademie der Wissenschaften & Beck.

Eilers, Wilhelm 1987. Axtar. In: Ehsan Yarshater (ed.). Encyclopædia Iranica III/2. London: Routledge and Kegan Paul, Ltd. 123–124.

Falk, Harry 2015. Kushan rule granted by Nana: The background of a heavenly legitimation. In: Harry Falk (ed.). Kushan Histories Literary Sources and Selected Papers from a Symposium at Berlin, December 5 to 7, 2013. Bremen: Hempen Verlag: 265–299.

Farridnejad, Shervin 2018. Die Sprache der Bilder. Eine Studie zur ikonographischen Exegese der anthropomorphen Götterbilder im Zoroastrismus. Iranica 27. Wiesbaden: Harrassowitz.

Finot, Louis 1896. Les Lapidaires Indiens, Paris: Émile Buillon Éditeur.

Gariboldi, Andrea 2004. Astral Symbology on Iranian Coinage. East and West (54): 31–55.

Göbl, Robert 1984. System und Chronologie der Münzprägung des Kušanreiches. Wien: Verlag der Österreichischen Akademie der Wissenschaften.

Gössmann, Felix 1950. Planetarium Babylonicum oder die sumerisch-babylonischen Stern-Namen. Rom: Verlag des Päpstlichen Bibelinstituts.

Grenet, Frantz 1995. Mithra et les planètes dans l'Hindukush central: essai d'interprétation de la peinture de Dokhtar‑i Nôshirvân. In: Rika Gyselen (ed.). Au carrefour des religions. Mélanges offerts à Philippe Gignoux. Bures-sur-Yvettes: Peeters. 101–119.

Grenet, Frantz 2001. Mithra dieu iranien: nouvelles données. Topoi 11 (1): 35–58.

Grenet, Frantz 2003. L'Inde des astrologues sur une peinture sogdienne du VIIe siècle. In: Carlo Giovanni Cereti, Mauro Maggi and Elio Provasi (eds.). Religious Themes and Texts of Pre-Islamic Iran and Central Asia: Studies in Honour of Professor Gherardo Gnoli on the Occasion of his 65th Birthday. Wiesbaden: Reichert: 123–129.

Grenet, Frantz 2013. The Silk Road, Central Asia and China. In: Sarah Stewart (ed.). The Everlasting Flame. Zoroastrianism in History and Imagination. London: Tauris: 92–103.

Grenet, Frantz 2015. Zoroastrianism in Central Asia. In: Michael Stausberg and Yuhan Sohrab-Dinshaw Vevaina (eds.) The Wiley Blackwell Companion to Zoroastrianism. Oxford: John Wiley & Sons: 129–146.

Grenet, Frantz 2018a. The Circulation of Astrological Lore and its Political Use between the Roman East, Sasanian Iran, Central Asia, India, and the Türks. In: Nicola Di Cosmo and Michael Maas (eds.). Empires and Exchanges in Eurasian Late Antiquity: Rome, China, Iran, and the Steppe, ca. 250–750. Cambridge: Cambridge University Press: 235–252.

Grenet, Frantz 2018b. Was Zoroastrian Art Invented in Chorasmia? Ancient Civilizations from Scythia to Siberia (24): 68–86.

Grenet, Frantz and Samra Azarnouche 2007. Where Are the Sogdian Magi? Bulletin of the Asia Institute (21): 159–177.

Grenet, Frantz and Boris Marshak 1998. Le mythe de Nana dans l'art de la Sogdiane. Arts asiatiques (53): 5–18.

Grenet, Frantz and Georges-Jean Pinault 1997. Contacts des traditions astrologiques de l'Inde et de l'Iran d'après une peinture des collections de Turfan. Comptes rendus des séances de l'Académie des Inscriptions et Belles-Lettres 141 (4): 1003–1063.

Guláksi, Zsuzsanna and Jason BeDuhn 2011. Picturing Mani's Cosmology: An Analysis of Doctrinal Iconography on a Manichaean Hanging Scroll from 13th/14th-Century Southern China. Bulletin of the Asia Institute, New Series (25): 55–105.

Hartner, Willy 1935. The Pseudoplanetary Nodes of the Moon Orbit in Hindu and Islamic Iconographies. A Contribution to the History of Ancient and Medieval Astrology. Ars Islamica (V.2): 112y–154 [reprinted with Addenda and Corrigenda in Hartner 1968: 349–404].

Hartner, Willy 1955. Le problème de la planète Kaïd. Les Conférences du Palais de la Découverte, Série D, No. 36. Université de Paris: Paris [= Hartner 1968: 268–286].

Hartner, Willy 1963a. al-Djawzahar. In: Encyclopedia of Islam. Vol. 2, new edition. Leiden: Brill: 501y–502 [reprinted in Hartner 1968: 264].

Hartner, Willy 1963b. al-Kayd. In Encyclopedia of Islam. Vol. 4, new edition. Leiden: Brill: 809y–811.

Hartner, Willy 1968. Oriens Occidens. Ausgewählte Schriften zur Wissenschafts- und Kulturgeschichte. Festschrift zum 60. Geburtstag von Willy Hartner. Herausgegeben von Günther Kerstein, Friedrich Klemm, Walter Rüegg und Matthias Schramm. Reihe: Collectanea 3. Hildesheim: G. Olms.

Henning, Walter Bruno 1942. An Astronomical Chapter of the Bundahishn. Journal of the Royal Asiatic Society 3 (4): 229–248.

Henning, Walter Bruno 1947–1948. A Sogdian Fragment of the Manichaean Cosmogony. Bulletin of the School of Oriental and African Studies (12): 306–318.

Henning, Walter Bruno 1958. Mitteliranisch. In Iranistik. Erster Abschnitt. Linguistik. Leiden – Köln: Brill: 20–130.

Henning, Walter Bruno 1965. A Sogdian God. Bulletin of the School of Oriental and African Studies 28 (2): 717–740.

Hintze, A. 2005: The cow that Came from the Moon. The Avestan expression māh-gaociϑra‑. In: C. Altman Bromberg, N. Sims-Williams, and U. Sims-Williams (eds.): Iranian and Zoroastrian Studies in Honor of Prods Oktor Skjærvø. (Bulletin of the Asia Institute 19, [2009]), pp. 59–68.

Hiyama, Satomi forthcoming 2020, A New Identification of Astral Deities Represented in the Western Wall of Mogao Cave 285. In: Evgeny A. Kiy and Pavel B. Lurje (eds.). Inner and Central Asian Art and Archaeology III: Studies in Central Asian Murals and Sculptures, Essays in Honor of Kira F. Samosyuk. Turnhout: Brepols.

Hiyama, Satomi forthcoming, Overlapping heavens in the mural paintings of Mogao Cave 285 in Dunhuang—An art-historical study of the syncretistic images on its west wall and ceiling. Tbp.s

Howard, Angela 1983. Planet Worship. Some Evidence, Mainly Textual, in Chinese Esoteric Buddhism. Asiatische Studien (37.2): 104–119.

Hutter, Manfred 1992. Manis Kosmogonische Šābuhragān-Texte. Edition, Kommentar und literaturgeschichtliche Einordnung der manichäisch-mittelpersischen Handschriften M 98/99 I und M 7980–7984. Wiesbaden: Harrassowitz Verlag.

Koch-Westenholz, Ulla 1995. Mesopotamian Astrology: An Introduction to Babylonian and Assyrian Celestial Divination. Copenhagen: Museum Tusculanum Press.

Kotyk, Jeffrey 2017a. Iranian Elements in Late-Tang Buddhist Astrology. Asia Major (30): 25–58.

Kotyk, Jeffrey 2017b. Astrological Iconography of Planetary Deities in Tang China: Near Eastern and Indian Icons in Chinese Buddhism. Journal of Chinese Buddhist Studies (30): 33–88.

Kotyk, Jeffrey 2018a. The Sinicization of Indo-Iranian Astrology in Medieval China. Sino-Platonic Papers (282): 1–95.

Kotyk, Jeffrey 2018b. Japanese Buddhist Astrology and Astral Magic: Mikkyō and Sukuyōdō. Japanese Journal of Religious Studies 45 (1): 37–86.

Kuehn, Sara 2016. The Eclipse Demons Rāhu and Ketu in Islamic Astral Sciences. In: Dmitry Antonov and Olga Khristoforova (eds.). In Umbra: Demonology as a Semiotic System. АЛЬМАНАХ 5, Moscow: Indrik: 204–235.

Lincoln, Bruce 2009. Anomaly, Science, and Religion: Treatment of the Planets in Medieval Zoroastrianism. History of Religions 48 (4): 270–283.

MacKenzie, David Niels 1964. Zoroastrian Astrology in the Bundahišn. Bulletin of the School of Oriental and African Studies (27): 511–529.

Mak, Bill J. 2014. Yusi Jing—A Treatise of 'Western' Astral Science in Chinese and its Versified Version Xitian yusi jing. SCIAMVS (15): 105–169.

Mak, Bill J. 2016. Astral Science of the East Syriac Christians in China during the Late First Millennium AD. Mediterranean Archaeology and Archaeometry (16.4): 87–92.

McCoy, Michelle 2017. Astral Visuality in the Chinese and Inner Asian Cult of Tejaprabhā Buddha ca. 900–1300 AD. PhD Thesis. University of California Berkeley.

Müller, Friedrich W. K. 1907. Die "persischen" Kalenderausdrücke in chinesischen Tripiṭaka. Sitzungsberichte der Königlich Preußischen Akademie der Wissenschaften. Philosophisch-Historische Klasse: Berlin: Verlag der der Königlich-Preußischen Akademie der Wissenschaften: 458–465.

Neugebauer, Otto and Henry Bartlett Van Hoesen 1959. Greek Horoscopes. Philadelphia: American Philosophical Society.

Panaino, Antonio 1990a. Tištrya. Part I: The Avestan Hymn to Sirius. Rome: ISMEO.

Panaino, Antonio 1990b. Demonizzazione e denominazione dei pianeti nello zoroastrismo di epoca sassanide. In: Antonio Panaino (ed.). Parva Iranica. Etnolingusitica dell'Area Iranica. Napoli: Istituto Universitario Orientale: 27–45 (reprinted in Panaino 2014, II: 759–777).

Panaino, Antonio 1995. Tištrya. Part II: The Iranian Myth of the Star Sirius. Rome: ISMEO.

Panaino, Antonio 1996. Saturn, the Lord of the Seventh Millennium, with a contribution of David Pingree. East and West (46): 235–250.

Panaino, Antonio 1997. Visione della volta celeste e Astrologia nel Manicheismo. In: Luigi Cirillo and Alois van Tongerloo (eds.). Atti del Terzo Congresso Internazionale di Studi: «Manicheismo e Oriente Cristiano Antico». Arcavacata di Rende—Amantea, 31 August–5 September. Louvain: Brepols: 249–295.

Panaino, Antonio 1998. Tessere il cielo. Considerazioni sulle Tavole astronomiche, gli Oroscopi e la Dottrina dei Legamenti tra Induismo, Zoroastrismo e Mandeismo. Rome: ISIAO.

Panaino, Antonio 2000. Manichaean Concepts in the Pahlavi Commentary of Māh Nyāyišn, par. 4? In: Ronald E. Emmerick, Werner Sundermann and Peter Zieme (eds.). Studia Manichaica. IV. Internationaler Kongreß zum Manichäismus. Berlin, 14.–18. Juli 1997. Berlin: Akademie Verlag: 464–480.

Panaino, Antonio 2005a. Yt.8,8: stārō kərəm • o stārō.kərəm • ? «Stelle infuocate» o «stelle-verme»? In: Günther Schweiger (ed.) Indogermanica. Festschrift Gert Klingenschmitt. Indische, iranische und indogermanische Studien, dem verehrten Jubilar dargebracht zu seinem fünfundsechzigsten Geburtstag. Taimering: Schweiger VWT-Verlag [2006]: 455–463.

Panaino, Antonio 2005b. Lunar and Snake Omens among the Zoroastrians. In: Shaul Shaked (ed.). Officina Magica: Essay on the Practice of Magic in Antiquity. Leiden: Brill: 73–89.

Panaino, Antonio 2005c. Pahlavi Gwcyhl: gōzihr o gawčihr? In: Michele Bernardini and Natalia L. Tornesello (eds.). Scritti in onore di Giovanni M. D'Erme. Napoli: IUO: 795–826.

Panaino, Antonio 2011. Sadwēs, Anāhīd and the Manichaean Maiden of Light. In: Zekine Özertural and Jens Wilkens (eds.). Der östliche Manichäismus. Gattungs- und Werksgeschichte. Vorträge des Göttinger Symposiums von 4/5. März 2010. Göttingen: De Gruyter: 121–131.

Panaino, Antonio 2013. The "Gift" of the "Givers". In: Jamsheed K. Choksy and Jennifer Dubeansky (eds.) Gifts to a Magus: Indo-Iranian Studies Honoring Firoze Kotwal. New York: P. Lang: 137–145.

Panaino, Antonio 2014. Sidera Viva. In: Andrea Gariboldi, Paolo Ognibene and Velizar Sadovski (eds.). Studi Iranici di Storia della mitologia astrale, dell'astronomia e dell'astrologia antica. Iranian Studies in history of Ancient astral Mythology, Astronomy and Astrology. Milan: Mimesis.

Panaino, Antonio 2015. Cosmology and Astrology. In: Michael Stausberg (ed.) The Wiley Blackwell Companion to Zoroastrianism. Chichester, West Sussex, UK: Wiley Blackwell, pp. 235–257

Panaino, Antonio 2017. Astrologi cristiani alle corti Sasanide e Cinese. Bizantinistica (Serie Seconda) (18): 149–165.

Panaino, Antonio 2018. On Iran's Role in the Transmission of Ancient Astral Science and the Ramification thereof. In: David Brown (ed.). The Interactions of Ancient Astral Sciences. Bremen: Hempen Verlag: 482–514.

Panaino, Antonio 2019: Old Iranian Cosmography. Debates and Perspectives. Mimesis: Milan.

Pingree, David 1963. The Indian Iconography of the Decans and Horâs. Journal of the Warburg and Courtauld Institutes (26.3–4): 223–254.

Pingree, David 1997. From Astral Omens to Astrology, From Babylon to Bīkāner. Rome: ISMEO.

Pirtea, Adrian 2017. Is There an Eclipse Dragon in Manichaeism? Some Problems Concerning the Origin and Function of āṯālyā in Manichaean Sources? In: Alberto Cantera and Maria Macuch (eds.). Zur Lichten Heimat: Studien zum Manichäismus, Iranistik, und Zentralasienkunde im Gedenken an Werner Sundermann. (Iranica 25) Harrassowitz Verlag: Wiesbaden: 535–554.

Raffaelli, Enrico 1999. The Diagrams of the Zāyč ī gēhān. East and West 49 1 (4): 285–291.

Raffaelli, Enrico 2001. L'oroscopo del mondo. Il tema di nascita del mondo e del primo uomo secondo l'astrologia zoroastriana. Milan: Mimesis.

Raffaelli, Enrico 2010. L'astrologie dans le zoroastrisme d'époque sassanide: L'exemple de la 5ème section du Bundahišn. Studia Asiatica 11 (1–2): 63–87.

Raffaelli, Enrico 2017. Astrology and Religion in the Zoroastrian Pahlavi Texts. Journal asiatique 305 (2): 171–190.

Rochberg, Francesca 1998. Babylonian Horoscopes. Philadelphia: American Philological Society.

Rochberg, Francesca 2009. "The Stars Their Likenesses". Perspectives on the Relation Between Celestial Bodies and Gods in Ancient Mesopotamia. In: Barbara N. Porter (ed.). What Is a God: Anthropomorphic and Non-Anthropomorphic Aspects of Deity in Ancient Mesopotamia. Winona Lake: Eisenbrauns: 41–90.

Rochberg, Francesca 2010. In the Path of the Moon. Babylonian Celestial Divination and Its Legacy. Leiden: Brill.

Rochberg-Halton, Francesca 1988a. Benefic and Malefic Planets in Babylonian Astrology. In: Erle Leichty, Maria de J. Ellis and Samuel Noah Kramer (eds.). A Scientific Humanist. Studies in Memory of Abraham Sachs. Philadelphia: University of Pennsylvania: 323–328.

Rochberg-Halton, Francesca 1988b. Elements of the Babylonian Contribution to Hellenistic Astrology. Journal of the American Oriental Society 108 (1): 51–62.

Russell-Smith, Lilla 2005. Uygur Patronage in Dunhuang. Regional Art Centres on the Northern Silk Road in the Tenth and Eleventh Centuries. (Inner Asian Library 14) Leiden: Brill.

Russell-Smith, Lilla 2006. Stars and Planets in Chinese and Central Asian Buddhist Art in the Ninth to Fifteenth Centuries. In: Lucia Dolce (ed.). The Worship of Stars in Japanese Religious Practice. (Culture and Cosmos) 10 (1–2): 99–124.

Saxl, Fritz 1912. Beiträge zu einer Geschichte der Planetendarstellungen im Orient und Okzident. Der Islam (3): 152–173.

Shenkar, Michael 2012 [2008]. Aniconism in the Religious Art of Pre-Islamic Iran and Central Asia. Bulletin of the Asia Institute (22): 239–256.

Shenkar, Michael 2014a. Intangible Spirits and Graven Images: The Iconography of Deities in the Pre-Islamic Iranian World. Brill: Leiden.

Shenkar, Michael 2014b. Rethinking Sasanian Iconoclasm. Journal of the American Oriental Society 135 (3): 471–498.

Shenkar, Michael 2017. The Great Iranian Divide: Between Aniconic West and Anthropomorphic East. Religion 47 (3): 378–98.

Shenkar, Michael 2019. The Chorasmian Gad: On the "Colossal" Figure from Akchakhan-kala. In: Annette L. Juliano and Judith A. Lerner (ed). Inner and Central Asian Art and Archaeology. New Research on Central Asian, Buddhist and Far Eastern Art and Archaeology. Vol. 2. Turnhout: Brepols: 9–31.

Sims-Williams, Nicholas 1997. New Light on Ancient Afghanistan. The Decipherment of Bactrian: an Inaugural Lecture delivered on 1th February 1996. London: SOAS.

Sims-Williams, Nicholas 2000. Some Reflections on Zoroastrianism in Sogdiana and Bactria. In: David Christian and Craig Benjamin (eds.). Realms of the Silk Roads: Ancient and Modern: Proceedings from the Third Conference of the Australasian Society for Inner Asian Studies (A.S.I.A.S.), Macquarie University, September 21–22, 1998. Turnhout: Brepols: 1–13.

Sluijs, Marinus Antony van der and Peter James 2013. Saturn as the "Sun of Night" in Ancient Near Eastern Tradition. Aula Orientalis 31 (12): 279–321.

Tavernier, Jean 2005. Reflections on the Origin and the Early History of Tīr. In: Wilfred Hugo van Soldt (ed.). Ethnicity in Ancient Mesopotamia. Papers Read at the 48th Rencontre Assyriologique Internationale, Leiden 1–4 July 2002. Leiden: Nederlands Instituut voor het Nabije Oosten (102): 356–371.

Tavernier, Jean 2018. The Origin of the Early History of Tīr. In: René Lebrun and Étienne Van Quickelberghe (eds.). Cosmogonie et Religion. Aspects particuliers des astres dans les Religions de l'Antiquité méditerranéenne. Actes du colloque organisé à Louvain-la-Neuve le 3 juin 2016. Turnhout: Brepols: 76–98.

Warburg, Aby 1932. Italienische Kunst und internationale Astrologie im Palazzo Schifanoja zu Ferrara. In: Aby Warburg. Gesammelte Schriften. Band 2. Die Erneuerung der heidnischen Antike. Leipzig: B. G. Teubner: 459–482, 627–644.

Yamamoto, Keiji and Charles Burnett 2000. Abū Ma'šar on Historical Astrology. The Book of Religions and Dynasties (On the Great Conjunctions). 2 vols. Leiden: Brill.

Yano, Michio 2004. Planet Worship in Ancient India. In: Charles Burnett, Jan P. Hogendjik, Kim Plofker and Michio Yano (eds.). Studies in the History of Exact Sciences in Honour of David Pingree. Leiden: Brill: 331–348.

Zaehner, Richard Charles 1955. Zurvan: A Zoroastrian Dilemma. Oxford: Clarendon Press (2nd ed., New York, 1972).
Acknowledgements
The final redaction of the present study has taken place in Berlin in the framework of a fellowship I have received by the Einstein Center Chronoi of the Freie Universität Berlin and the Max-Planck Institute in the months of December 2018 and July 2019. I thank for their support Prof. Eva Cancik-Kirschbaum and Dr. Irene Sibbing-Plantholt. I am very grateful to Dr. Sonja Brentjes (Max-Planck Institute for the History of Science, Dept. III, Berlin) for the discussions about many problems connected with the visualisation of the astral bodies in ancient iconography. I also thank Prof. Frantz Grenet (Collège de France, Paris), Prof. Michael Shenkar (Jerusalem University), Dr. Gian Pietro Basello (Università di Napoli, l'Orientale), Dr. Pavel Lurje (Hermitage Museun, St. Petersburg), and Dr. Ruben Nikoghosyan (Armenian University of Yerevan) for their numerous suggestions. A special thank goes to Dr. Lilla Russell-Smith (Curator of Central Asian Art, Staatliche Museen zu Berlin, Stiftung Preußischer Kulturbesitz, Süd‑, Südost- und Zentralasien), who shared with me many reflections about the Turfan and central Asiatic astral visual heritage and its possible interpretations.
Additional information
Publisher's Note
Springer Nature remains neutral with regard to jurisdictional claims in published maps and institutional affiliations.
About this article
Cite this article
Panaino, A. The Conceptual Image of the Planets in Ancient Iran and the Process of Their Demonization: Visual Materials and Models of Inclusion and Exclusion in Iranian History of Knowledge. N.T.M. 28, 359–389 (2020). https://doi.org/10.1007/s00048-020-00244-w
Keywords
exchange of knowledge

planetary iconology

planets

pre-Islamic Iranian cosmography

Zoroastrianism
Schlüsselwörter
Wissensaustausch

Planetenikonologie

vorislamisch

iranische Kosmographie

Zoroastrismus