Abstract
Dipeptidyl peptidase-4 is an integral membrane serine exopeptide catalyzing the deactivation of incretin hormones, which are important physiological substrates to release insulin from pancreatic beta cells and augmenting glucagon production, and thus, regulating postprandial hyperglycemia. Undescribed γ-pyrone enclosed macrocyclic poyketides ellipyrones A-B were purified from the crude solvent extract of marine cuttlefish, Sepia elliptica by repeated chromatographic fractionation. Ellipyrone A showed greater inhibition potential against dipeptidyl peptidase-4 (IC50 0.35 mM) than that demonstrated by ellipyrone B (IC50 0.48 mM), and was proportionate with those exhibited by reference dipeptidyl peptidase inhibitor diprotin A (IC50 0.29 mM). Ellipyrone A also recorded commensurate anti-carbolytic property against α-glucosidase (IC50 0.74 mM) and α-amylase (IC50 0.59 mM) when compared with anti-hyperglycemic agent acarbose. Greater structural descriptors of ellipyrone A (topological surface area of 116.2) in conjunction with permissible hydrophobic criterion (n-octanol-water partition ratio of 0.37) further attributed its prospective dipeptidyl peptidase attenuation property owing to the transcelluar mechanism involved in the antidiabetic drug action. These isolated γ-pyrone fused macrocyclic poyketides could be used as pharmaco-active food supplement against hyperglycemia-associated ailments.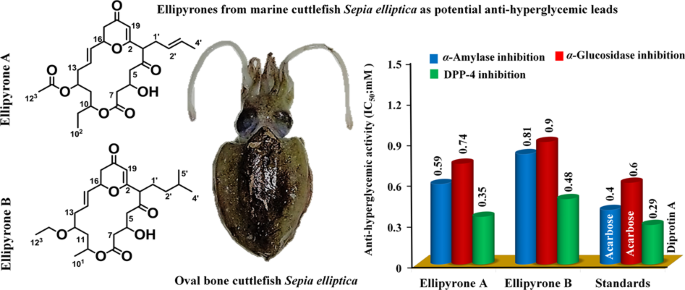 Access options
Buy single article
Instant access to the full article PDF.
USD 39.95
Price excludes VAT (USA)
Tax calculation will be finalised during checkout.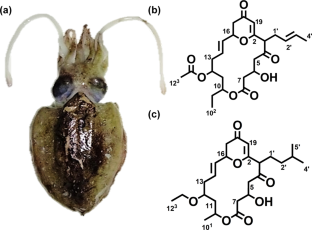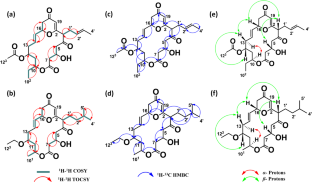 Data availability
The chromatographic and spectroscopic spectral data are included as supplementary information.
References
Baggio LL, Drucker DJ. Biology of incretins: GLP-1 and GIP. Gastroenterology. 2007;132:2131–57. https://doi.org/10.1053/j.gastro.2007.03.054.

Yazbeck R, Howarth GS, Abbott CA. Dipeptidyl peptidase inhibitors, an emerging drug class for inflammatory disease? Trends Pharmcol Sci. 2009;30:600–7. https://doi.org/10.1016/j.tips.2009.08.003.

Gilbert MP, Pratley RE. GLP-1 analogs and DPP-4 inhibitors in type 2 diabetes therapy: review of head-to-head clinical trials. Front Endocrinol (Lausanne). 2020;11:178. https://doi.org/10.3389/fendo.2020.00178.

Thornberry NA, Gallwitz B. Mechanism of action of inhibitors of dipeptidyl-peptidase-4 (DPP-4). Best Pract Res Clin Endocrinol Metab. 2009;23:479–86. https://doi.org/10.1016/j.beem.2009.03.004.

Singh AK. Dipeptidyl peptidase-4 inhibitors: novel mechanism of actions. Indian J Endocrinol Metab. 2014;18:753–9. https://doi.org/10.4103/2230-8210.141319.

Elya B, Handayani R, Sauriasari R, Azizahwati, Hasyyati US, Permana IT, et al. Anti-diabetic activity and phytochemical screening of extracts from Indonesian plants by inhibition of alpha amylase, alpha glucosidase and dipeptidyl peptidase IV. Pak J Biol Sci 2015;18:273–8. https://doi.org/10.3923/pjbs.2015.279.284.

Torres JP, Lin Z, Winter JM, Krug PJ, Schmidt EW. Animal biosynthesis of complex polyketides in a photosynthetic partnership. Nat Commun. 2020;11:2882. https://doi.org/10.1038/s41467-020-16376-5.

Montaser R, Luesch H. Marine natural products: a new wave of drugs? Future Med Chem. 2011;3:1475–89. https://doi.org/10.4155/fmc.11.118.

Driggers EM, Hale SP, Lee J, Terrett NK. The exploration of macrocycles for drug discovery-an underexploited structural class. Nat Rev Drug Discov. 2008;7:608–24. https://doi.org/10.1038/nrd2590.

Dougherty PG, Qian Z, Pei D. Macrocycles as protein-protein interaction inhibitors. Biochem J. 2017;474:1109–25. https://doi.org/10.1042/BCJ20160619.

Mallinson J, Collins I. Macrocycles in new drug discovery. Future Med Chem. 2012;4:1409–38. https://doi.org/10.4155/fmc.12.93.

Chakraborty K, Krishnan S, Joy M. Macrocyclic lactones from seafood Amphioctopus neglectus: newly described natural leads to attenuate angiotensin-II induced cardiac hypertrophy. Biomed Pharmacother. 2019;110:155–67. https://doi.org/10.1016/j.biopha.2018.11.034.

Salas S, Chakraborty K. Polyether macrocyclic polyketide from the muricid gastropod Chicoreus ramosus attenuates pro-inflammatory 5-lipoxygenase. Med Chem Res. 2020;29:1976–85. https://doi.org/10.1007/s00044-020-02614-4.

Krishnan S, Chakraborty K, Joy M. First report of chromenyl derivatives from spineless marine cuttlefish Sepiella inermis: Prospective antihyperglycemic agents attenuate serine protease dipeptidyl peptidase-IV. J Food Biochem. 2019;43:e12824. https://doi.org/10.1111/jfbc.12824.

Kim Y, Ogura H, Akasaka K, Oikawa T, Matsuura N, Imada C, et al. Nocapyrones: α- and γ-pyrones from a marine-derived Nocardiopsis sp. Mar Drugs. 2014;12:4110–25. https://doi.org/10.3390/md12074110.

Sugumar R, Sundaram S, Jaiswar AK, Lakshmanan R, Chakraborty SK, Kavungal V. An evaluation of economic impact on juvenile landings of cephalopods in Mumbai waters, North west coast of India. Curr World Environ. 2015;10:1004–10. https://doi.org/10.12944/CWE.10.3.32.

Gong J, Chen C, Mo S, Liu J, Wang W, Zang Y, et al. Fusaresters A-E, new γ-pyrone-containing polyketides from fungus Fusarium sp. Hungcl and structure revision of fusariumin D. Org Biomol Chem. 2019;17:5526–32. https://doi.org/10.1039/c9ob00534j.

Williamson DS, Smith RA, Nagel DL, Cohen SM. Phase-sensitive heteronuclear multiple-bond correlation in the presence of modest homonuclear coupling. Application to distamycin A. J Magn Reson. 1989;82:605. https://doi.org/10.1016/0022-2364(89)90223-0.

Araya-Maturana R, Gavín-Sazatornil JA, Heredia-Moya J, Pessoa-Mahana H, Weiss-López B. Long-range correlations (njC, H n > 3) in the HMBC spectra of 3-(4-oxo-4H-chromen-3-yl)-acrylic acid ethyl esters. J Braz Chem Soc. 2005;16:657–61. https://doi.org/10.1590/s0103-50532005000400028.

Bischoff H. Pharmacology of alpha-glucosidase inhibition. Eur J Clin Invest. 1994;24:3–10.

Huang D, Ou B, Prior RL. The chemistry behind antioxidant capacity assays. J Agric Food Chem. 2005;53:1841–56. https://doi.org/10.1021/jf030723c.

Francis P, Chakraborty K. Stomopnolides A-B from echinoidea sea urchin Stomopneustes variolaris: prospective natural anti-inflammatory leads attenuate pro-inflammatory 5-lipoxygenase. Nat Prod Res. 2021;35:4235–47. https://doi.org/10.1080/14786419.2019.1696332.

Kujawski J, Popielarska H, Myka A, Drabinska B, Bernard MK. The log P parameter as a molecular descriptor in the computer-aided drug design-an overview. CMST. 2012;18:81–8. https://doi.org/10.12921/cmst.2012.18.02.81-88.

Lipinski CA. Lead and drug-like compounds: the rule-of-five revolution. Drug Discov Today Technol. 2004;1:337–41. https://doi.org/10.1016/j.ddtec.2004.11.007.

Nicolaou KC, Pfefferkorn JA, Roecker AJ, Cao GQ, Barluenga S, Mitchell HJ. Natural product-like combinatorial libraries based on privileged structures.1.General principles and solid-phase synthesis of benzopyrans. J Am Chem Soc. 2000;122:9939–53. https://doi.org/10.1021/ja002033k.

Hamdan II, Afifi FU. Studies on the in vitro and in vivo hypoglycemic activities of some medicinal plants used in treatment of diabetes in Jordanian traditional medicine. J Ethnopharmacol. 2004;93:117–21. https://doi.org/10.1016/j.jep.2004.03.033.

Chakraborty K, Antony T. First report of antioxidative abeo-oleanenes from red seaweed Gracilaria salicornia as dual inhibitors of starch digestive enzymes. Med Chem Res. 2019;28:696–710. https://doi.org/10.1007/s00044-019-02328-2.

Kojima K, Hama T, Kato T, Nagatsu T. Rapid chromatographic purification of dipeptidyl peptidase IV in human submaxiallry gland. J Chromatogr. 1980;189:233–40. https://doi.org/10.1016/s0021-9673(00)81523-x.

Antony T, Chakraborty K. Pharmacological properties of seaweeds against progressive lifestyle diseases. J Aquat Food Prod T. 2019;28:1092–104. https://doi.org/10.1080/10498850.2019.1684407.

Le Lann K, Surget G, Couteau C, Coiffard L, Cérantola S, Gaillard F, et al. Sunscreen, antioxidant, and bactericide capacities ofphlorotannins from the brown macroalga Halidrys siliquosa. J Appl Phycol. 2016;28:3547–59. https://doi.org/10.1007/s10811-016-0853-0.

Odeleye T, Li Y, White WL, Nie S, Chen S, Wang J, et al. The antioxidant potential of the New Zealand surf clams. Food Chem. 2016;204:141–9. https://doi.org/10.1016/j.foodchem.2016.02.120.
Acknowledgements
The authors gratefully acknowledge the funding by the Indian Council of Agricultural Research (ICAR, New Delhi, India) under Central Marine Fisheries Research Institute (ICAR-CMFRI) project "Development of Bioactive Pharmacophores from Marine Organisms" (MBT/HLT/SUB23). The authors are grateful to the Director, ICAR-CMFRI, and Head, Marine Biotechnology Division of ICAR-CMFRI for facilitating the research activities. The authors are thankful to the Chairman, Department of Chemistry, Mangalore University (Karnataka, India) for providing with necessary support.
Author contributions
SKP and KC designed research, conducted experiments, and analyzed data. KC acquired funds and conceptualized the work. SKP drafted the manuscript. KC reviewed and edited the manuscript. All authors read and approved the manuscript.
Ethics declarations
Conflict of interest
The authors declare no competing interests.
Additional information
Publisher's note Springer Nature remains neutral with regard to jurisdictional claims in published maps and institutional affiliations.
Supplementary Information
About this article
Cite this article
Paulose, S.K., Chakraborty, K. Ellipyrones A-B, from oval bone cuttlefish Sepia elliptica: Antihyperglycemic γ-pyrone enclosed macrocyclic polyketides attenuate dipeptidyl peptidase-4 and carbolytic enzymes. Med Chem Res 31, 462–473 (2022). https://doi.org/10.1007/s00044-022-02846-6
Received:

Accepted:

Published:

Issue Date:

DOI: https://doi.org/10.1007/s00044-022-02846-6
Keywords
Sepia elliptica

Sepiidae

γ-pyrone enclosed macrocyclic polyketides

Ellipyrones A-B

Anti-hyperglycemic