Abstract
Macrocyclic compounds of multifaceted structural scaffolds are being increasingly reported from the marine environment, and gaining commercial importance due to their ability to inhibit the pro-inflammatory mediators. An unreported polyether macrocyclic polyketide characterized as 6-(butoxy)-13,15,22-trihydroxy-3,18-dioxatricyclo[18.3.1.011,16]tricosa-9,20-diene-4,8-dione was isolated from the marine gastropod mollusc Chicoreus ramosus (family Muricidae). The compound displayed potential anti-inflammatory property by inhibiting 5-lipoxygenase (IC50 0.42 mg mL−1), which was analogous to the nonsteroidal anti-inflammatory agent aspirin (IC50 0.38 mg mL−1) and superior to ibuprofen (IC50 0.90 mg mL−1). Free radical scavenging abilities of the purified compound against oxidative agents (IC50 0.22 mg mL−1) were comparable to the commercially available antioxidants (butylated hydroxyanisole, IC50 0.25 mg mL−1; butylated hydroxytoluene, IC50 0.27 mg mL−1), and greater than α-tocopherol (IC50 0.60 mg mL−1). Molecular docking studies of the studied polyketide analog against 5-lipoxygenase indicated that the docked ligand could potentially bind to the target site of the enzyme with a less binding energy (−9.33 kcal mol−1) and docking score (−10.23 kcal mol−1). The present study recognized the potential of macrocyclic polyketide possessing tricosa-9, 20-diene-4,8-dione framework isolated from C. ramosus as a potential antioxidant and anti-inflammatory lead that could find its use in medicinal formulations.
Access options
Buy single article
Instant access to the full article PDF.
USD 39.95
Price excludes VAT (USA)
Tax calculation will be finalised during checkout.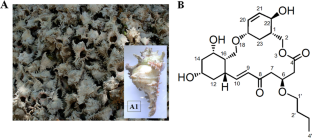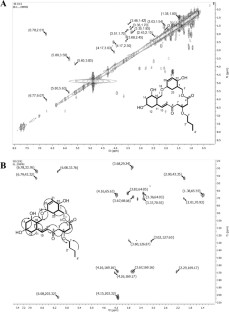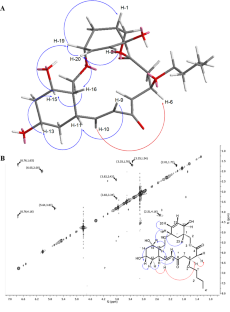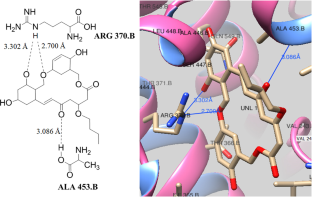 References
Baylac S, Racine P(2003) Inhibition of 5-lipoxygenase by essential oils and other natural fragment extracts Int J Aromather 13(2–3):138–142

Calabro P, Chang DW, Willerson JT, Yeh ET (2005) Release of C-reactive protein in response to inflammatory cytokines by human adipocytes: linking obesity to vascular inflammation. J Am Coll Cardiol 46(6):1112–1113

Chakraborty K, Joy M, Salas S (2019) First report of a lactonic disecosteroid from the buccinid gastropod Babylonia spirata. Steroids 143:41–48

Chakraborty K, Salas S, Joy M (2020) An unreported bis-abeo cembrane-type diterpenoid with antioxidative and anti-lipoxygenase activities from the muricid gastropod mollusc Chicoreus ramosus. Nat Prod Res. 34(12):1678–1686

Delorbe JE, Clements JH, Whiddon BB, Martin SF (2010) Thermodynamic and structural effects of macrocyclization as a constraining method in protein-ligand interactions. ACS Med Chem Lett 1(8):448–452

Driggers EM, Hale SP, Lee J, Terrett NK (2008) The exploration of macrocycles for drug discovery-an underexploited structural class. Nat Rev Drug Discov 7(7):608–624

Gilbert NC, Rui Z, Neau DB, Waight MT, Bartlett SG, Boeglin WE, Brash AR, Newcomer ME (2012) Conversion of human 5-lipoxygenase to a 15-lipoxygenase by a point mutation to mimic phosphorylation at Serine-663. FASEB J 26(8):3222–3229

Gregor MF, Hotamisligil GS (2011) Inflammatory mechanisms in obesity. Annu Rev Immunol 29:415–445

Joy M, Chakraborty K (2017a) Biogenic antioxidative and anti-inflammatory aryl polyketides from the venerid bivalve clam Paphia malabarica. Food Chem 237:169–180

Joy M, Chakraborty K (2017b) First report of two new antioxidative meroterpeno 2H-pyranoids from short-necked yellow-foot clam Paphia malabarica (family: Veneridae) with bioactivity against pro-inflammatory cyclooxygenases and lipoxygenase. Nat Prod Res 31(6):615–625

Joy M, Chakraborty K (2017c) Previously undescribed antioxidative and anti-inflammatory chromenyls bearing 3H-isochromenone and furanyl-2H-chromenyl skeletons from the venerid clam, Paphia malabarica. Med Chem Res 26(8):1708–1722

Liaskou E, Wilson DV, Oo YH (2012) Innate immune cells in liver inflammation. Mediators Inflamm 2012(2):949157

Mallinson J, Collins I (2012) Macrocycles in new drug discovery. Future Med Chem 4(11):1409–1438

Repetto MG, Llesuy SF (2002) Antioxidant properties of natural compounds used in popular medicine for gastric ulcers. Braz J Med Biol Res 35(5):523–534

Reuter S, Gupta S, Chaturvedi M, Aggarwal B (2010) Oxidative stress, inflammation, and cancer: how are they linked? Free Radic Biol Med 49(11):1603–1616

Salas S, Chakraborty K (2018a) First report of bioactive sterols from the muricid gastropod Chicoreus ramosus. Steroids 137:57–63

Salas S, Chakraborty K (2018c) An unreported polyether macrocyclic lactone with antioxidative and anti-lipoxygenase activities from the Babylonidae gastropod mollusc Babylonia spirata. Med Chem Res 27:2446–2453

Salas S, Chakraborty K, Sarada PT, Vijayagopal P (2018b) Nutritional qualities of branched murex Chicoreus ramosus (family Muricidae). Indian J Fish 65(4):102–108

Schenk S, Saberi M, Olefsky JM (2008) Insulin sensitivity: modulation by nutrients and inflammation. J Clin Invest 118(9):2992–3002

Silverstein RM, Bassler GC (1962) Spectrometric identification of organic compounds. J Chem Educ 39(11):546

Steer P, Millgård J, Sarabi DM, Basu S, Vessby B, Kahan T, Edner M, Lind L (2002) Cardiac and vascular structure and function are related to lipid peroxidation and metabolism. Lipids 37(3):231–236

Straub RH (2014) Insulin resistance, selfish brain, and selfish immune system: an evolutionarily positively selected program used in chronic inflammatory diseases. Arthritis Res Ther 16:S4

Terlau H, Olivera BM (2004) Conus venoms: a rich source of novel ion channel-targeted peptides. Physiol Rev 84(1):41–68

Wang W, Lee TG, Patil RS, Mun B, Yang I, Kim H, Hahn D, Won DH, Lee J, Lee Y, Choi H, Nam SJ, Kang H (2015) Monanchosterols A and B, bioactive bicyclo[4.3.1]steroids from a Korean sponge Monanchora sp. J Nat Prod 78(3):368–373
Acknowledgements
We are grateful to Indian Council of Agricultural Research (ICAR) funded Consortium Research Platform Project on "Health Food" (grant number ICAR/HF/2012-2017). We thank the Director, Central Marine Fisheries Research Institute for guidance and support. Thanks are due to the Head, Marine Biotechnology Division, Central Marine Fisheries Research Institute to facilitate the research activity.
Ethics declarations
Conflict of interest
The authors declare that they have no conflict of interest.
Additional information
Publisher's note Springer Nature remains neutral with regard to jurisdictional claims in published maps and institutional affiliations.
Supplementary information
About this article
Cite this article
Salas, S., Chakraborty, K. Polyether macrocyclic polyketide from the muricid gastropod Chicoreus ramosus attenuates pro-inflammatory 5-lipoxygenase. Med Chem Res 29, 1976–1985 (2020). https://doi.org/10.1007/s00044-020-02614-4
Received:

Accepted:

Published:

Issue Date:

DOI: https://doi.org/10.1007/s00044-020-02614-4
Keywords
Gastropod mollusc

Chicoreus ramosus

Polyether macrocyclic polyketide

Antioxidant

Anti-inflammatory

Pro-inflammatory 5-lipoxygenase