Abstract
The study investigated the anti-urease and cytotoxic activities of two major essential oil compounds; 1-Nitro-2-phenylehtane (NPE) and Nerolidol, isolated from the acetone extract of Dennettia tripetala (Pepper Fruit) seeds. Structural characterization of these compounds was performed by NMR, E1MS, and FT-IR spectroscopic techniques. Anti-urease activity of the compounds on Jack bean Urease was accessed by the indophenol method; molecular docking analysis using MOE 2015.010 program was performed to explain the possible mechanism of interaction between the compounds and urease enzyme. Cytotoxic activities of the compounds were also assayed on brine shrimp (Artemia salina L.) nauplii and 3T3 (mouse fibroblast cells). NPE and Nerolidol displayed significant inhibitory activities on Jack Bean urease with percentage inhibition of 82.4% and 78.6% and IC50 ± SD of 27.4 ± 1.80 and 34.9 ± 3.57 µM respectively. Molecular docking analysis of the interactions between these compounds and active site of the PDB of the enzyme displayed favorable conformational binding with docking scores of −5.3716 and −7.3547 and ligand efficiencies of −0.4883 and −0.4597 for NPE and Nerolidol, respectively. Both interactions were characterized by hydrogen bonding; NPE also displayed π-stacking and hydrophobic interactions. Cytotoxic activity evaluation of both compounds on brine shrimp and mouse fibroblasts revealed no toxicity for both compounds. Conclusively, NPE and Nerolidol could be employed in the treatment of infections engendered by ureolytic activity and could serve as templates in the rational design of functional derivatives that possess higher potencies than the isolated compounds with minimal toxicity.
This is a preview of subscription content, log in to check access.
Access options
Buy single article
Instant access to the full article PDF.
US$ 39.95
Price includes VAT for USA
Subscribe to journal
Immediate online access to all issues from 2019. Subscription will auto renew annually.
US$ 99
This is the net price. Taxes to be calculated in checkout.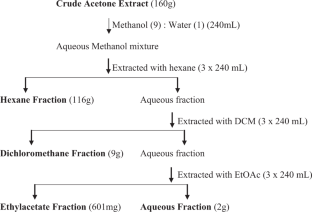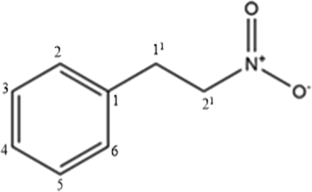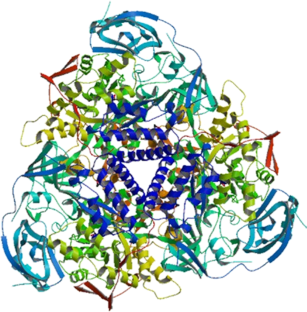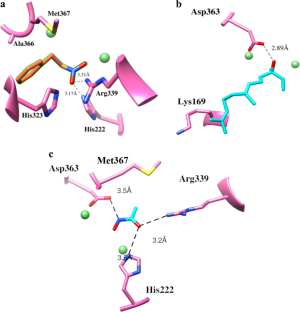 Abbreviations
NPE:

1-Nitro-2-phenylethane

AHA:

Acetohydroxamic acid

Hex:

Hexane

DCM:

Dichloromethane

EtAOc:

Ethyl acetate

MeOH:

Methanol

SF:

Sub-fraction

SG-CC:

Silica gel column chromatography

PDB:

Protein Data Bank

MOE:

Molecular operating environment
References
Akabueze KO, Idu M, Erhabor JO, Timothy O (2016) Antimicrobial and phytochemical attributes of Dennettia Tripetala F. Baker root and bark extracts. J Microbiol Biotech Food Sci 5:297–300

Amin M, Anwar F, Naz F, Mehmood T, Saari N (2013) Anti-Helicobacter pylori and urease inhibition activities of some traditional medicinal plants. Molecules 18:2135–2149

Amtul Z, Atta-ur-Rahman, Siddiqui RA, Choudhary MI (2002) Chemistry and Metabolism of Urease Inhibition. Curr Med Chem 9:1323–1348

Anosike CA, Okagu IU, Uchenna OK (2016) Phytoconstituents, acute toxicity study and protective effect of ethanol extract of Dennettia tripetala seed against aspirin-induced ulcer in rats. Int J Adv Sci Res 1:1–6

Benini S, Rypniewski WR, Wilson KS, Miletti S, Ciurli S, Mangani S (2000) The complex of Bacillus pasteuri urease with acetohydroxamate anion form X-ray data at 1.55 Å resolution. J Bio Inorg Chem 5:110–118

Brito TS, Lima FJ, Aragão KS, de Siqueira RJ, Sousa JC, Maia GS, Filho JD, Lahlou S, Magalhães JC (2013) The vasorelaxant effects of 1-nitro-2-phenylethane involve stimulation of the soluble guanylate cyclase-cGMP pathway. Biochem Pharm 85:780–788

Callahan BP, Yuan Y, Wolfenden R (2005) The burden borne by urease. J Am Chem Soc 127:10828–10829

Chan W, Tan LT, Chan K, Lee L, Goh B (2016) Nerolidol: a sesquiterpene alcohol with multi-faceted pharmacological and biological activities. Molecules 21:529–568

de Siqueira RJ, Macedo FI, Intraminense LdeF, Duarte GP, Magalhaes PJ, Brito TS, da Siva JK, Maia JG, Sousa PJ, Leal-Cardoso JH, Lahlou S (2010) 1-Nitro-2-phenylethane, the main constituent of the essential oil of Aniba canelilla, elicits a vago vagal bradycardiac and depressor reflex in normotensive rats. Eur J Pharm 638:90–98

Dunn BE, Phadnis SH (1998) Structure, function and localization of Helicobacter pylori urease. Yale J Biol Med 71:63–73

Egharevba HO, Idah EA (2015) Major compounds from the essential oil of the fruit and comparative phytochemical studies of the fruits and leaves of Dennettia tripetala barker F. Found in North Central Nigeria. Int J Pharm Phytochem Res 7:1262–1266

Ejechi BO, Akpomedaye DE (2005) Activity of essential oil and phenolic acid extracts of pepperfruit (Dennetia tripetala G. Barker; Anonaceae) against some food-borne microorganisms. Afr J Biotechnol 4:258–261

Ekundayo O, Ajaiyeoba E, Aiyelaagbe O, Stahl-Biskup E (1992) Volatile oil constituents of Dennettia tripetala. Planta Med 58:386–387

Follmer C, Real‐Guerra R, Wasserman GE, Olivera‐Severo D, Carlini CR (2004) Jackbean, soybean and Bacillus pasteurii ureases: biological effects unrelated to ureolytic activity. Eur J Biochem 271:1357–1363

Golbabaei S, Bazl R, Golestanian S, Nabati F, Omrany ZB, Yousefi B, Hajiaghaee R, Rezazadeh S, Amanlou M (2013) Urease inhibitory activities of β-boswellic acid derivatives. DARU J Pharm Sci 21:1–6

Halgren TA (1996) Merck molecular force field. I. Basis, form, scope, parameterization, and performance of MMFF94. J Comput Chem 17:490–519

Hamidi MR, Jovanova B, Panovska TK (2014) Toxicological evaluation of the plant products using Brine Shrimp (Artemia salina L.) model. Macedonian Pharm Bull 60:9–18

Hamif M, Shoaib K, Saleem M, Rama NH, Zaib S, Iqbal J (2012) Synthesis, urease inhibition and molecular docking studies of 1,3,4-oxadiazole derivatives. ISRN Pharmacol 928901:1–9

Iseghohi SO (2015) A review of the uses and medicinal properties of Dennettia tripetala (Pepperfruit). Med Sci 3:104–111

Kappaun K, Piovesan AR, Carlini CR, Ligabue-Braun R (2018) Ureases: historical aspects, catalytic and non-catalytic properties—a review. J Adv Res 13:3–17

Khan MA, Khan H, Tariq SA, Pervez S (2014) Urease inihibitory activity of aerial parts of Artemisia scoparia: exploration in an In vitro study. Ulcers 184726:1–5

Klopell FC, Lemos M, Sousa JPB, Comunello E, Maistro EL, Bastos JK, Andrade SFD (2007) Nerolidol, antiulcer constituent Essent oil Baccharis dracunculifolia DC (Asteraceae) Z Naturforsch C 62:537–542

Konieczna I, Zarnowiec P, Kwinkowski M, Kolesinska B, Fraczyk J, Kaminski Z, Kaca W (2012) Bacterial urease and its role in long-lasting human diseases. Curr Prot Pep Sci 13:789–806

Kupchan SM, Tsou G (1973) Tumor inhibitors: a new antileukemic simaroubolide from Brucea antidysenterica. J Org Chem 38:178–179

Lapczynski A, Bhatia SP, Letizia CS, Api AM (2008) Fragrance material review on nerolidol (isomer unspecified). Food Chem Toxicol 46:S247–S250

Marques AM, Barreto ALS, Curvelo JadR, Romanos MTV, Soares RmdA, Kaplan MAC (2011) Antileishmanial activity of nerolidol-rich essential oil from Piper claussenianum. Rev Bras Farmacogn 21:908–914

Mayer BN, Ferrigni NR, Putnam JE, Jacobsen LB, Nicholas PE, McLaughin JL (1982) Brine Shrimp: a convenient general bioassay for active plant constituents. Planta Med 45:31–34

Mendanha SA, Moura SS, Anjos JLV, Valadares MC, Alonso A (2013) Toxicity of terpenes on fibroblast cells compared to their hemolytic potential and increase in erythrocyte membrane fluidity. Toxicol Vitr 27:323–329

Mobley HLT, Island MD, Hausinger RP (1995) Molecular biology of microbial ureases. Microbiol Rev 59:451–480

Mosmann T (1983) Rapid colorimetric assay for cellular growth and survival: application to proliferation and cytotoxicity assays. J Immunol Methods 65:55–63

Olivera FdA, Andrade LN, de Sousa EBV, de Sousa DP (2014) Anti-ulcer activity of essential oil constituents. Molecules 19:5717–5747

Omage SO, Orhue NE, Omage K (2019) Evaluation of the phytochemical content, in vitro antioxidant capacity, biochemical and histological effects of Dennettia tripetala fruits in healthy rats. Food Sci Nutr 7:65–75

Oyemitan IA, Elusiyan CA, Akanmu MA, Olugbade TA (2013) Hypnotic, anticonvulsant and anxiolytic effects of 1-nitro-2-phenylethane isolated from the essential oil of Dennettia tripetala in mice. Phytomedicine 20:1315–1322

Pettersen EF, Goddard TD, Huang CC, Couch GS, Greenblatt DM, Meng EC, Ferrin TE (2004) UCSF Chimera—a visualization system for exploratory research and analysis. J Comput Chem 25:1605–1612

Reynolds CH (2015) Ligand efficiency metrics: why all the fuss? Future Med Chem 7:1363–1365

Salentin S, Schreiber S, Haupt VJ, Adasme MF, Schroeder M (2015) PLIP: fully automated protein-ligand interaction profiler. Nucl Acids Res 43:W443–W447

Shabana S, Kawai A, Kai K, Akiyama K, Hayashi H (2010) Inhibitory activity against urease of quercetin glycosides isolated from Allium cepa and Psidium guajava. Biosci Biotechnol Biochem 74:878–880

Togashi N, Hamashima H, Shiraishi A, Inoue Y, Takano A (2010) Antibacterial activities against Staphylococcus aureus of terpene alcohols with aliphatic carbon chains. J Ess Oil Res 22:263–269

Uesato S, Hashimoto Y, Nishino M, Nagaoka Y, Kuwajima H (2002) N-substituted hydroxyureas as urease inhibitors. Chem Pharm Bull 50:1280–1282

Ukeh DA, Oku EE, Udo IA, Nta AI, Ukeh JA (2012) Insecticidal effect of fruit extracts from Xylopia aethiopica and Dennettia tripetala (Annonaceae) against Sitophilus oryzae (Coleoptera: Curculionidae). Chilean J Agric Res 72:195–200

Ulrich EL, Akutsu H, Doreleijers JF, Harano Y, Ioannidis YE, Lin J, Livny M, Mading S, Maziuk D, Miller Z, Nakatani E, Schulte CF, Tolmie DE, Wenger RK, Yao H, Markley JL (2008) Biological magnetic resonance data bank. Nucl Acids Res 36:D402–D408

Weatherburn MW (1967) Phenol-hypochlorite reaction for determination of ammonia. Anal Chem 39:971–974

Xiao ZP, Shi DH, Li HQ, Zhang LN, Xu C, Zhu HL (2007) Polyphenols based on isoflavones as inhibitors of Helicobacter pylori urease. Bioorg Med Chem 15:3703–3710
Acknowledgements
The authors are grateful to The World Academy of Sciences (TWAS) and International Centre for Chemical and Biological Sciences (ICCBS), University of Karachi, Karachi, Pakistan for a Postgraduate Fellowship Award to Ugheighele Samuel Edosewele. The interest and support of Professor (Mrs.) E.S. Omoregie of the Department of Biochemistry, University of Benin, is gratefully acknowledged.
Ethics declarations
Conflict of interest
The authors declare that they have no conflict of interest.
Additional information
Publisher's note Springer Nature remains neutral with regard to jurisdictional claims in published maps and institutional affiliations.
Supplementary information
About this article
Cite this article
Ugheighele, S.E., Imafidon, K.E., Choudhary, M.I. et al. Anti-urease and cytotoxic activity of 1-Nitro-2-phenylethane and Nerolidol; two major compounds isolated from the seeds of Dennettia tripetala. Med Chem Res (2020). https://doi.org/10.1007/s00044-020-02607-3
Received:

Accepted:

Published:
Keywords
Dennettia tripetala

1-Nitro-2-phenylethane

Nerolidol

Urease

Docking

Cytotoxicity