Abstract
The 7-azaindole scaffold attracts attention due to its value in the design of inhibitors of diseases related protein kinases. However, this scaffold has not been evaluated against Haploid germ cell-specific nuclear protein kinase (Haspin). Herein, we report the synthesis of a select set of 7-azaindole derivatives and their evaluation against Haspin. The compounds were also evaluated against CDK9/Cyclin T kinase. The synthesis of 7-azaindole derivatives was achieved through Suzuki coupling using appropriate halogenated 7-azaindole and boronic acids. Seven of the screened compounds exhibited activity as CDK9/Cyclin T and/or Haspin inhibitors in a nanomolar to low micromolar range. The most promising dual inhibiting compound 18c, exhibited an inhibitory potential of 0.206 µM against CDK9/Cyclin T and 0.118 µM against Haspin. The dual inhibition of CDK9/Cyclin T and Haspin could afford a potentially potent antimitotic agent of value in further anticancer studies.
Access options
Buy single article
Instant access to the full article PDF.
US$ 39.95
Tax calculation will be finalised during checkout.
Subscribe to journal
Immediate online access to all issues from 2019. Subscription will auto renew annually.
US$ 79
Tax calculation will be finalised during checkout.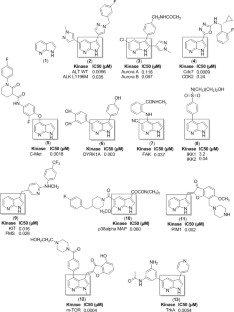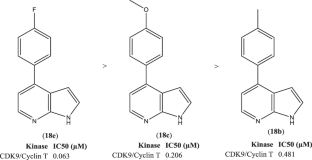 References
Allegretti M, Arcadi A, Marinelli F, Nicolini L (2001) Palladium-catalysed functionalisation at 4-and 6-position of the 7-azaindole system. Synlett 5:0609–0612

Amoussou NG, Bigot A, Roussakis C, Robert J-MH (2018) Haspin: a promising target for the design of inhibitors as potent anticancer drugs. Drug Discov Today 23:409–415

Arnold LD, Chen X, Dong H, Garton A., Mulvihill MJ, Smith CPS, Thomas GH, Krulle TM, Wang J. (2007) Fused heterobicyclic kinase inhibitors. US20070208053A1. Accessed from https://patents.google.com/patent/US20070208053A1/en on 06/05/2020

Bavetsias V, Faisal A, Crumpler S, Brown N, Kosmopoulou M, Joshi A, Atrash B, Pérez-Fuertes Y, Schmitt JA, Boxall KJ (2013) Aurora isoform selectivity: design and synthesis of imidazo [4, 5-b] pyridine derivatives as highly selective inhibitors of Aurora-A kinase in cells. J Med Chem 56:9122–9135

Cohen P (2002) Protein kinases—the major drug targets of the twenty-first century? Nat Rev Drug Discov 1:309–315

Dai J, Sultan S, Taylor SS, Higgins JM (2005) The kinase haspin is required for mitotic histone H3 Thr 3 phosphorylation and normal metaphase chromosome alignment. Genes Dev 19:472–488

Dai J, Sullivan BA, Higgins JM (2006) Regulation of mitotic chromosome cohesion by Haspin and Aurora B. Dev Cell 11:741–750

de Cárcer G, Perez de Castro I, Malumbres M (2007) Targeting cell cycle kinases for cancer therapy. Curr Med Chem 14:969–985

Duong‐Ly KC, Peterson JR (2013) The human kinome and kinase inhibition. Curr Protoc Pharmacol 60:2.9. 1–2.9. 14

Fedorov O, Müller S, Knapp S (2010) The (un) targeted cancer kinome. Nat Chem Biol 6:166–169

Flight MH (2013) Neurodegenerative diseases: new kinase targets for Alzheimer's disease. Nat Rev Drug Discov 12:739

Gourdain SP, Dairou J, Denhez Cm, Bui LC, Rodrigues-Lima F, Janel N, Delabar JM, Cariou K, Dodd RH (2013) Development of DANDYs, new 3, 5-diaryl-7-azaindoles demonstrating potent DYRK1A kinase inhibitory activity. J Med Chem 56:9569–9585

Gummadi VR, Rajagopalan S, Looi C-Y, Paydar M, Renukappa GA, Ainan BR, Krishnamurthy NR, Panigrahi SK, Mahasweta K, Raghuramachandran S (2013) Discovery of 7-azaindole based anaplastic lymphoma kinase (ALK) inhibitors: wild type and mutant (L1196M) active compounds with unique binding mode. Bioorg Med Chem Lett 23:4911–4918

Hanks SK, Hunter T (1995) Protein kinases 6. The eukaryotic protein kinase superfamily: kinase (catalytic) domain structure and classification. The FASEB J 9:576–596

Harrington PE, Bourbeau MP, Fotsch C, Frohn M, Pickrell AJ, Reichelt A, Sham K, Siegmund AC, Bailis JM, Bush T (2013) The optimization of aminooxadiazoles as orally active inhibitors of Cdc7. Bioorg Med Chem Lett 23:6396–6400

Heinrich T, Seenisamy J, Emmanuvel L, Kulkarni SS, Bomke Jr, Rohdich F, Greiner H, Esdar C, Krier M, Grädler U (2013) Fragment-based discovery of new highly substituted 1 H-pyrrolo [2, 3-b]-and 3 H-imidazolo [4, 5-b]-pyridines as focal adhesion kinase inhibitors. J Med Chem 56:1160–1170

Higgins J (2003) Structure, function and evolution of haspin and haspinrelated proteins, a distinctive group of eukaryotic protein kinases. CMLS 60:446–462

Higgins JM (2001a) The Haspin gene: location in an intron of the Integrin αE gene, associated transcription of an Integrin αE-derived RNA and expression in diploid as well as haploid cells. Gene 267:55–69

Higgins JM (2001b) Haspin‐like proteins: a new family of evolutionarily conserved putative eukaryotic protein kinases. Protein Sci 10:1677–1684

Higgins JM (2010) Haspin: a newly discovered regulator of mitotic chromosome behavior. Chromosoma 119:137–147

Hong S, Kim J, Seo JH, Jung KH, Hong S-S, Hong S (2012) Design, synthesis, and evaluation of 3, 5-disubstituted 7-azaindoles as Trk inhibitors with anticancer and antiangiogenic activities. J Med Chem 55:5337–5349

Huang Z, Tremblay MS, Wu TY-H, Ding Q, Hao X, Baaten J, Hill R, Liu B, Meeusen S, Zou Y (2019) Discovery of 5-(3, 4-Difluorophenyl)-3-(pyrazol-4-yl)-7-azaindole (GNF3809) for β-Cell Survival in Type 1 Diabetes. ACS Omega 4:3571–3581

Huertas D, Soler M, Moreto J, Villanueva A, Martinez A, Vidal A, Charlton M, Moffat D, Patel S, McDermott J (2012) Antitumor activity of a small-molecule inhibitor of the histone kinase Haspin. Oncogene 31:1408–1418

Hunter T (1995) Protein kinases and phosphatases: the yin and yang of protein phosphorylation and signaling. Cell 80:225–236

Huse M, Kuriyan J (2002) The conformational plasticity of protein kinases. Cell 109:275–282

Ibrahim PN, Artis DR, Bremer R, Habets G, Mamo S, Nespi M, Zhang C, Zhang J, Zhu Y, Zuckerman R (2007) Pyrrolo [2, 3-b] pyridine derivatives as protein kinase inhibitors. Int. Pat. Appl. Accessed from https://patents.google.com/patent/EP2395004A2/ko on 06/05/2020

Irie T, Sawa M (2018) 7-Azaindole: a versatile scaffold for developing kinase inhibitors. Chem Pharm Bull 66:29–36

Kannan N, Taylor SS, Zhai Y, Venter JC, Manning G (2007) Oceanic metagenomics: structural and functional diversity of the microbial kinome. PLoS Biol 5:e17

Kim KS, Zhang L, Schmidt R, Cai Z-W, Wei D, Williams DK, Lombardo LJ, Trainor GL, Xie D, Zhang Y (2008) Discovery of pyrrolopyridine—pyridone based inhibitors of Met kinase: Synthesis, X-ray crystallographic analysis, and biological activities. J Med Chem 51:5330–5341

Kim S-W, Kim M, Lee WY, Hyeon T (2002) Fabrication of hollow palladium spheres and their successful application to the recyclable heterogeneous catalyst for Suzuki coupling reactions. J Am Chem Soc 124:7642–7643

Lagunin AA, Dubovskaja VI, Rudik AV, Pogodin PV, Druzhilovskiy DS, Gloriozova TA, Filimonov DA, Sastry NG, Poroikov VV (2018) CLC-Pred: a freely available web-service for in silico prediction of human cell line cytotoxicity for drug-like compounds. PLoS One 13:e019183

Lawson M, Rodrigo J, Baratte B, Robert T, Delehouzé C, Lozach O, Ruchaud S, Bach S, Brion J-D, Alami M (2016) Synthesis, biological evaluation and molecular modeling studies of imidazo [1, 2-a] pyridines derivatives as protein kinase inhibitors. Eur J Med Chem 123:105–114

Ledeboer MW, Wannamaker M, Farmer L (2006). Pyrrolopyridines useful as inhibitors of protein kinase and their preparation, pharmaceutical compositions. and use in the treatment of various diseases, WO2006127587A1

Liao JJ-L (2007) Molecular recognition of protein kinase binding pockets for design of potent and selective kinase inhibitors. J Med Chem 50:409–424

Liddle J, Bamborough P, Barker MD, Campos S, Cousins RP, Cutler GJ, Hobbs H, Holmes DS, Ioannou C, Mellor GW (2009) 4-Phenyl-7-azaindoles as potent and selective IKK2 inhibitors. Bioorg Med Chem Lett 19:2504–2508

Littke AF, Fu GC (2002) Palladium‐catalyzed coupling reactions of aryl chlorides. Angew Chem Int Ed 41:4176–4211

Liu B, Yuan X, Xu B, Zhang H, Li R, Wang X, Ge Z, Li R (2019) Synthesis of novel 7-azaindole derivatives containing pyridin-3-ylmethyl dithiocarbamate moiety as potent PKM2 activators and PKM2 nucleus translocation inhibitors. Eur J Med Chem 170:1–15

Manning G, Whyte DB, Martinez R, Hunter T, Sudarsanam S (2002) The protein kinase complement of the human genome. Science 298:1912–1934

Mavunkel BJ, Perumattam JJ, Tan X, Luedtke GR, Lu Q, Lim D, Kizer D, Dugar S, Chakravarty S, Xu Y-j (2010) Piperidine-based heterocyclic oxalyl amides as potent p38α MAP kinase inhibitors. Bioorg Med Chem Lett 20:1059–1062

Mérour J-Y, Buron F, Plé K, Bonnet P, Routier S (2014) The azaindole framework in the design of kinase inhibitors. Molecules 19:19935–19979

Metz JT, Johnson EF, Soni NB, Merta PJ, Kifle L, Hajduk PJ (2011) Navigating the kinome. Nat Chem Biol 7:200–202

Nakano H, Saito N, Parker L, Tada Y, Abe M, Tsuganezawa K, Yokoyama S, Tanaka A, Kojima H, Okabe T (2012) Rational evolution of a novel type of potent and selective proviral integration site in Moloney murine leukemia virus kinase 1 (PIM1) inhibitor from a screening-hit compound. J Med Chem 55:5151–5164

Nguyen T-N-D, Feizbakhsh O, Sfecci E, Baratte B, Delehouzé C, Garcia A, Moulin C, Colas P, Ruchaud S, Mehiri M (2019) Kinase-based screening of marine natural extracts leads to the identification of a cytotoxic high molecular weight metabolite from the mediterranean sponge crambe tailliezi. Mar Drugs 17:e569

Noh H, King G (2007) The role of protein kinase C activation in diabetic nephropathy. Kidney Int Suppl 72:S49–S53

Schmidt M, Bastians H (2007) Mitotic drug targets and the development of novel anti-mitotic anticancer drugs. Drug Resist Updat 10:162–181

Tsou H-R, MacEwan G, Birnberg G, Grosu G, Bursavich MG, Bard J, Brooijmans N, Toral-Barza L, Hollander I, Mansour TS (2010) Discovery and optimization of 2-(4-substituted-pyrrolo [2, 3-b] pyridin-3-yl) methylene-4-hydroxybenzofuran-3 (2H)-ones as potent and selective ATP-competitive inhibitors of the mammalian target of rapamycin (mTOR). Bioorg Med Chem Lett 20:2321–2325

Walsby E, Pratt G, Shao H, Abbas AY, Fischer PM, Bradshaw TD, Brennan P, Fegan C, Wang S, Pepper C (2014) A novel Cdk9 inhibitor preferentially targets tumor cells and synergizes with fludarabine. Oncotarget 5:375–385

Wolfe JP, Buchwald SL (1999) A highly active catalyst for the room‐temperature amination and Suzuki coupling of aryl chlorides. Angew Chem Int Ed 38:2413–2416

Zhang C, Ibrahim PN, Zhang J, Burton EA, Habets G, Zhang Y, Powell B, West BL, Matusow B, Tsang G (2013) Design and pharmacology of a highly specific dual FMS and KIT kinase inhibitor. PNAS 110:5689–5694

Zuccotto F, Ardini E, Casale E, Angiolini M (2009) Through the "gatekeeper door": exploiting the active kinase conformation. J Med Chem 53:2681–2694
Acknowledgements
The authors are grateful to Dr. D.Otto and Dr. J.Jordaan of the SASOL Centre for Chemistry, North-West University, for recording the MS and NMR spectra, respectively. The authors thank the "Ligue contre le Cancer du Grand-Ouest" comity, (districts: 29, 22, 56, 35, 45, and 79), Cancéropôle Grand Ouest (axis: natural sea products in cancer treatment network), IBiSA (French Infrastructures en sciences du vivant: biologie, santé et agronomie) and Biogenouest (Western France life science and environment core facility network) for supporting the KISSf screening facility (FR2424, CNRS and Sorbonne Université), Roscoff, France.
Ethics declarations
Conflict of interest
Stéphane Bach is a founder and member of the SAB of SeaBeLife Biotech (Roscoff, France). This company is developing novel therapies for treating liver and kidney acute disorders. This work was conducted in the absence of any commercial or financial relationships that could be construed as a potential conflict of interest. The authors declare that they have no conflict of interest
Additional information
Publisher's note Springer Nature remains neutral with regard to jurisdictional claims in published maps and institutional affiliations.
Supplementary information
About this article
Cite this article
Pieterse, L., Legoabe, L.J., Beteck, R.M. et al. Synthesis and biological evaluation of selected 7-azaindole derivatives as CDK9/Cyclin T and Haspin inhibitors. Med Chem Res 29, 1449–1462 (2020). https://doi.org/10.1007/s00044-020-02560-1
Received:

Accepted:

Published:

Issue Date:
Keywords
Protein kinases

7-Azaindole

anticancer

CDK9/ Cyclin T

Haspin