Abstract
A series of sulphonyl acetamide analogues were generated on the quinazoline ring through a multistep reaction starting from 2-mercapto-3H-quinazolin-4-one. The library of synthesised analogues was screened for in vitro cytotoxic activity against various human cancer cell lines such as HCT-1 and HT-15 (colon), MCF-7(Breast), PC-3 (Prostrate), SF268 (CNS) using MTT method. From the bioassay results, it was observed that even though most of the synthesised derivatives exhibited a good potency against various screened cancer cell lines, but compound 10d, 10k, and 10n were found to show very potent anticancer activity on all tested cancer cell lines with compound 10d showing IC50 value of 0.08, 0.3 and 0.55 µM on HT-29, MCF-7 and PC-3 cell lines, respectively, compound 10k showing IC50 value of 0.12, 0.03 and 0.08 µM on HCT-15, HT-29 and PC-3 cell lines, respectively, and compound 10n showing IC50 values of 0.1, 0.34, 0.52 and 0.26 on HCT-15, HT-29, MCF-7 and PC-3 cell lines, respectively.
Access options
Buy single article
Instant access to the full article PDF.
US$ 39.95
Tax calculation will be finalised during checkout.
Subscribe to journal
Immediate online access to all issues from 2019. Subscription will auto renew annually.
US$ 79
Tax calculation will be finalised during checkout.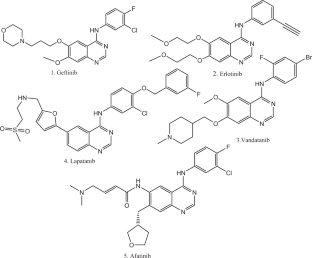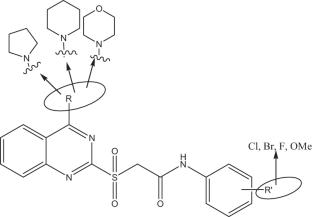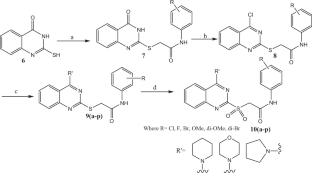 References
Ahmad I (2017) An insight into the therapeutic potential of quinazoline derivatives as anticancer agents. MedChemComm 8(5):871–885

Alaa A-M, Abou-Zeid LA, El Tahir KEH, Mohamed MA, El-Enin MAA, El-Azab AS (2016) Design, synthesis of 2, 3-disubstitued 4 (3H)-quinazolinone derivatives as anti-inflammatory and analgesic agents: COX-1/2 inhibitory activities and molecular docking studies. Bioorg Med Chem 24(16):3818–3828

Al-Rashood ST, Aboldahab IA, Nagi MN, Abouzeid LA, Abdel-Aziz AA, Abdel-hamide SG et al. (2006) Synthesis, dihydrofolate reductase inhibition, antitumor testing, and molecular modeling study of some new 4(3H)-quinazolinone analogs. Bioorg Med Chem 14(24):8608–8621

Atul T (2016) A study on biological importance of nitrogenous based heterocyclic compounds. Int J Theort Appl Sci 8(1):53–54

Bhattacharjee AK, Hartell MG, Nichols DA, Hicks RP, Stanton B, Van Hamont JE et al. (2004) Structure activity relationship study of antimalarial indolo [2, 1-b] quinazoline-6, 12-diones (tryptanthrins). Three dimensional pharmacophore modeling and identification of new antimalarial candidates. Eur J Med Chem 39(1):59–67

Christiana C (2017) MPH. What you need to know about chemotherapy. https://www.medicalnewstoday.com/articles/158401.php

Cruz-Lopez O, Conejo-García A, Nunez MC, Kimatrai M, Garcia-Rubino ME, Morales F et al. (2011) Novel substituted quinazolines for potent EGFR tyrosine kinase inhibitors. Curr Med Chem 18(7):943–963

Davoll J, Johnson AM (1970) Quinazoline analogues of folic acid. J Chem Soc 8:997–1002

Dempcy RO, Skibo EB (1991) Rational design of quinazoline-based irreversible inhibitors of human erythrocyte purine nucleoside phosphorylase. Biochemistry 30:8480–8487

Giovanni M, Adriano G, Adriana C (2012) Quinazoline derivatives as potential anticancer agents: a patent review (2007–2010). Expert Opin Ther Pat 22 (3):223–252

Kamal A, Bharathi EV, Reddy JS, Ramaiah MJ, Dastagiri D, Reddy MK et al. (2011) Synthesis and biological evaluation of 3,5-diaryl isoxazoline/isoxazole linked 2,3-dihydro quinazolinone hybrids as anticancer agents. Eur J Med Chem 46(2):691–703

Kamal A, Reddy BS, Sridevi B, Ravikumar A, Venkateswarlu A, Sravanthi G et al. (2015) Synthesis and biological evaluation of phaitanthrin congeners as anti-mycobacterial agents. Bioorg Med Chem Lett 25(18):3867–3872

Kamal A, Shaik TB, Malik MS (2015) Embracing synthetic lethality of novel anticancer therapies. Exp Opin Drug Discov 10:1119–1132

Khazir J, Hyder I, Gayatri JL, Gayatri LP, Yandrati LP, Nalla N, Chashoo G, Mahajan A, Saxena AK, Alam MS, Qazi GN, Kumar HMS (2014) Design and synthesis of novel 1,2,3-triazole derivatives of coronopilin as anti-cancer compounds. Eur J Med Chem 82:255–262

Khazir J, Singh PP, Reddy DM, Hyder I, Shafi S, Sawant SD, Chashoo G, Mahajan A, Alam MS, Saxena AK, Aravinda S, Gupta BD, Kumar HMS (2013) Synthesis and anticancer activity of novel spiro-isoxazoline and spiro-isoxazolidine derivatives of α-santonin. Eur J Med Chem 83:279–289

Manuel A, Vilaboa N, Gutierrez BS, Lambea J, Tres A, Valladares M, Fernández ÁG (2011) Assessment of the evolution of cancer treatment therapies. Cancers 3:3279

Martin GJ, Moss J, Avakian S (1947) Folic acid activity of N-(4-(4-quinazoline)-benzoyl) glutamic acid. J Biol Chem 167:737

Matthews TP, Jones AM, Collins I (2013) Structure-based design, discovery and development of checkpoint kinase inhibitors as potential anticancer therapies. Expert Opin Drug Discov 8(6):621–640

Moulder SL, Yakes FM, Muthuswamy SK et al. (2001) Epidermal growth factor receptor (HER1) tyrosine kinase inhibitor ZD1839 (Iressa) inhibits HER2/neu (erbB2)-overexpressing breast cancer cells in vitro and in vivo. Cancer Res 61:8887–8895

Mulla AI (2017) A review: biological importance of heterocyclic compounds. Der Pharma Chem 9:141

Oatis Jr JE, Hynes JB (1977) Synthesis of quinazoline analogues of folic acid modified at position 10. J Med Chem 20:1393–1396

Pragi A, Arora V, Lamba HS, Wadhwa D (2012) Importance of heterocyclic chemistry: a review. IJPSR 3:2947

Ryu CK, Kim YH, Im HA, Kim JY, Yoon JH, Kim A (2012) Synthesis and antifungal activity of 6, 7 bis(arylthio)-quinazoline-5,8-diones and furo[2, 3f]quinazolin-5-ols. Bioorg Med Chem Lett 22 (1):500–503

Saurav K, Garima M, Pradeep S, Jha KK, Khosa RL, Gupta SK (2011) Quinazoline-4-one a highly important hetrocycle with diverse biological activities. Der Chem Sin 2/4:36–58

Scanlon KJ, Moroson BA, Bertino JR, Hynes JB (1979) Quinazoline analogues of folic acid as inhibitors of thymidylate synthetase from bacterial and mammalian sources. Mol Pharmacol 16:261–269

Skelton LA, Ormerod MG, Titley J et al. (1999) A novel class of lipophilic quinazoline-based folic acid analogues: cytotoxic agents with a folate-independent locus. Br J Cancer 79:1692–1701

Taliani S, Pugliesi I, Barresi E, Salerno S, Marchand C, Agama K et al. (2013) Phenylpyrazolo[1,5a]quinazolin-5(4H)-one: a suitable scaffold for the development of noncamptothecin topoisomerase I (Top1) inhibitors. J Med Chem 56(18):7458–7462

Tiwary BK, Pradhan K, Nanda AK, Chakraborty R (2015) Implication of quinazoline-4 (3H)-ones in medicinal chemistry: a brief review. J Chem Biol Ther 1:104

Wang Z, Wang M, Yao X, Li Y, Tan J, Wang L et al. (2012) Design, synthesis and antiviral activity of novel quinazolinones. Eur J Med Chem 53:275–282

Zahedifard M, Faraj FL, Paydar M, Yeng LC, Hajrezaei M, Hasanpourghadi M et al. (2015) Synthesis, characterization and apoptotic activity of quinazolinone Schiff base derivatives toward MCF-7 cells via intrinsic and extrinsic apoptosis pathways. Sci Rep 5:11544
Acknowledgements
Authors thank University of Pretoria for providing postdoctoral fellowship to JK. We also thank Department of Biotechnology, Govt. of India, New Delhi for Providing Energy Bioscience Overseas Fellowship to BAM.
Ethics declarations
Conflict of interest
The authors declare that they have no conflict of interest.
Additional information
Publisher's note Springer Nature remains neutral with regard to jurisdictional claims in published maps and institutional affiliations.
About this article
Cite this article
Khazir, J., Mir, B.A., Pandita, M. et al. Design and synthesis of sulphonyl acetamide analogues of quinazoline as anticancer agents. Med Chem Res 29, 916–925 (2020). https://doi.org/10.1007/s00044-020-02533-4
Received:

Accepted:

Published:

Issue Date:
Keywords
Quinazoline

Anticancer

Sulphonyl

Acetamide

Derivatives