Abstract
Three category of N1-phenyl pyrazoline (5a–e), N1-phenyl-sulfonyl pyrazoline (6a–e), and pyridine analogs (8a–d) of combretastatin-A4 were synthesized. The structures of compounds were verified by spectroscopic techniques. All the compounds were screened for their anticancer activity against MCF-7 cell line, antioxidant (DPPH, NO, SOR and H2O2), and anti-inflammatory activity while compounds (8a–d) additionally tested against K562 cell line. Compounds 8a and 8b showed substantial anticancer activity against MCF-7 cell line (GI50 = 5.59 and 11.70 µM), although not comparable with adriamycin (GI50 ⩽ 0.1 µM). However, none of the compound was active against the K562 cell line. Nevertheless, compound 8a displayed better cytostatic activity (TGI = 69.2 µM) than the standard drug adriamycin (TGI = 75.8 µM). Most of the compounds 5a, 5b, 5c, 5e, 6a, 6b, 6c, 6d, 6e 8a, and 8b have excellently inhibited all of the free radicals better than standard drug ascorbic acid, whereas compound 5c and 5b demonstrated significant anti-inflammatory activity comparable with diclofenac sodium, a standard anti-inflammatory drug.
Access options
Buy single article
Instant access to the full article PDF.
US$ 39.95
Tax calculation will be finalised during checkout.
Subscribe to journal
Immediate online access to all issues from 2019. Subscription will auto renew annually.
US$ 79
Tax calculation will be finalised during checkout.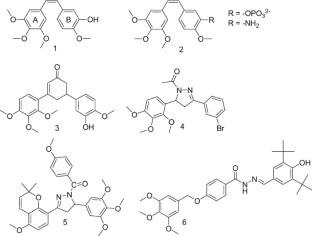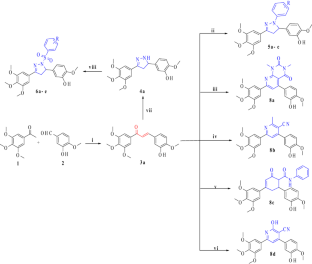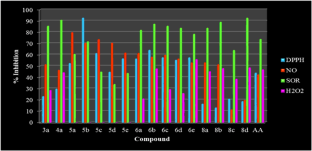 References
Bandgar BP, Jalde SS, Korbad BL, Patil SA, Chavan HV, Kinkar SN, Adsul LK, Shringare SN, Nile SH (2012) Synthesis and antioxidant, cytotoxicity and antimicrobial activities of novel curcumin mimics J Enzyme Inhib Med Chem 27:267–274

Bhookya S, Pochampally J, Valeru A, Angajala KK, Balabadra S, Kudle K (2017) Synthesis and biological evaluation of new 2-(6-alkyl-pyrazin-2-yl)-1H-benz[d]imidazoles as potent anti-inflammatory and antioxidant agents. Med Chem Res 26:1835–1846

Braughler JM, Duncan LA, Chase RL (1986) The involvement of iron in lipid peroxidation, importance of ferric to ferrous ratios in initiation. J Biol Chem 261:10282–10289

Chaplin DJ, Pettit GR, Hill SA (1999) Anti-vascular approaches to solid tumor therapy: evaluation of combretastatin A4 phosphate. Anticancer Res 19:189–195

Congiu C, Onnis V, Vescil L, Castorina M, Pisano C (2010) Synthesis and in vitro antitumor activity of new 4,5-dihydropyrazole derivatives. Bioorg Med Chem 18:6238–6248

Coussens LM, Werb Z (2002) Inflammation and cancer. Nature 420:860–867

Cox C, Breslin M, Mariano B, Coleman P, Buser C, Walsh E, Hamilton K, Huber H, Kohl N, Torrent M, Yan Y, Kuo L, Hartman (2011) Kinesin spindle protein (KSP) inhibitors. Part 1: The discovery of 3,5-diaryl-4,5-dihydropyrazoles as potent and selective inhibitors of the mitotic kinesin KSP. Bioorg Med Chem Lett 15:2041–2045

Ducki S, Forrest R, Hadfield JA, Kendall A, Lawrence NJ, McGown AT, Rennison D (1998) Potent antimitotic and cell growth inhibitory properties of substituted chalcones. Bioorg Med Chem Lett 8:1051–1056

El-Gazzar ABA, Youssef MM, Youssef AMS, Abu-Hashem AA, Badria FA (2009) Design and synthesis of azolopyrimidoquinolines, pyrimidoquinazolines as anti-oxidant, anti-inflammatory and analgesic activities. Eur J Med Chem 44:609–624

Federico A, Morgillo F, Tuccillo C, Ciardiello F, Loguercio C (2007) Chronic inflammation and oxidative stress in human carcinogenesis. Int J Cancer 121:2381–2386

Galbraith SM, Maxwel RJ, Lodge MA, Tozer GM, Wilson J, Taylor NJ, Stirling JJ, Sena L, Padhani AR, Rustin GSJ (2003) Combretastatin A4 phosphate has tumor antivascular activity in rat and man as demonstrated by dynamic magnetic resonance imaging. Clin Oncol 15:2831–2842

Geronikaki AA, Gavalas AM (2006) Antioxidants and inflammatory disease: synthetic and natural antioxidants with anti-inflammatory activity. Comb Chem High Throughput Screen 9:425–442

Gupton JT, Burham BS, Krumpe K, Du K, Sikorski JA, Warren AE, Barnes CR, Hall IH (2000) Synthesis and cytotoxicity of 2,4-disubstituted and 2,3,4-trisubstituted brominated pyrroles in murine and human cultured tumor cells. Arch Pharm 333:3–9

Hussain SP, Harris CC (2007) Inflammation and cancer: an ancient link with novel potentials. Int J Cancer 121:2373–2380

Hussain SP, Hofseth LJ, Harris CC (2003) Radical causes of cancer. Nat Rev Cancer 3:276–285

Ilhami GI, Haci AA, Mehmet C (2005) Determination of in vitro antioxidant and radical scavenging activities of propofol. Chem Pharm Bull 53:281–285

Jeong T-S, Kim K-S, Kim J-R, Cho K-H, Lee S, Lee W (2004) Synthesis and preliminary evaluation of new 1- and 3-[1-(2-hydroxy-3-phenoxypropyl)] xanthines from 2-amino-2-oxazolines as potential A1 and A2A adenosine receptor antagonists. Bioorg Med Chem Lett 14:2697–2719

Jiqiang H, Liang M, Zhe W, Jun Z, Fei P, Mingfeng S, Lei L, Lin H, Minghai T, Linhong H, Yuzhe W, Lijuan C (2015) Synthesis and biological evaluation of novel pyrazoline derivatives as potent anti-inflammatory agents. Bioorg Med Chem Lett 25:2429–2433

Johnson M, Younglove B, Lee L, LeBlanc R, Holt Jr H, Hills P, Mackay H, Brown T, Mooberry SL, Lee M (2007) Design, synthesis, and biological testing of pyrazoline derivatives of combretastatin-A4. Bioorg Med Chem Lett 17:5897–5901

Kareem HS, Ariffin A, Nordin N, Heidelberg T, Abdul-Aziz A, Kong KW, Yehye WA (2015) Correlation of antioxidant activities with theoretical studies for new hydrazone compounds bearing a 3,4,5-trimethoxy benzyl moiety. Eur J Med Chem 103:497–505

Keche AP, Hatnapure GD, Tale RH, Rodge AH, Kamble VM (2012) Synthesis, anti-inflammatory and antimicrobial evaluation of novel 1-acetyl-3,5-diaryl-4,5-dihydro (1H) pyrazole derivatives bearing urea, thiourea and sulfonamide moieties. Bioorg Med Chem Lett 22:6611–6615

Kong Y, Wang K, Edler M, Hamel E, Susan L, Mooberry S, Paige M, Milton L, Brown M (2010) A boronic acid chalcone analog of combretastatin A-4 as a potent anti-proliferation agent. Bioorg Med Chem 18:971–977

Kumar RS, Sivakumar T, Sundaram RS, Sivakumar P, Nethaji R, Gupta M, Mazumdar UK (2006) Antimicrobial and antioxidant activities of Careya arborea Roxb Stem bark. Iran J Pharmacol Ther 5:35–41

Lin CM, Singh SB, Chu PS, Dempcy RO, Schmidt JM, Pettit GR, Hame E (1988) Interactions of tubulin with potent natural and synthetic analogs of the antimitotic agent combretastatin: a structure activity study. Mol Pharmacol 34:200–208

Liou J-P, Chang Y-L, Kuo F-M, Chang C-W, Tseng H-Y, Wang C-C, Yang Y-N, Chang J-Y, Lee S-J, Hsieh H-P (2004) Concise synthesis and structure-activity relationships of Combretastatin A-4 analogues, 1-Aroylindoles and 3-Aroylindoles as novel classes of potent antitubulin agents. J Med Chem 47:4247–4257

Ohsumi K, Nakagawa R, Fukuda Y, Hatanaka T, Morinaga Y, Nihei Y, Ohishi K, Suga Y, Akiyama Y, Tsuji T (1998) Novel combretastatin analogues effective against murine solid tumors: design and structure- activity relationships. J Med Chem 41:3022–3032

Pettit GR, Singh SB, Niven ML, Hamel E, Schmidt JM (1987) Isolation, structure, and synthesis of combretastatins A-1 and B-1, potent new inhibitors of microtubule assembly, derived from Combretum caffrum. J Nat Prod 50:119–131

Rekka EA, Psarras N, Kourounakis PN (1995) The involvement of tolfenamic acid, mefenamic acid and nimesulide in free radical processes. Pharma Sci 1:483–486

Robak J, Gryglewski RJ (1988) Flavonoids are scavengers of superoxide anions. Biochem Pharmacol 37:837–841

Ruprich J, Prout A, Dickson J, Johnson M, Younglove B, Lawerance N, Khyati B, LeBlanc R, Forrest L, Patric H, Holt Jr. H, Hills P, Mackay H, Brown T, Mooberry SL, Lee M (2007) Design, synthesis, and biological testing of Cylohexenone derivatives of combretastatin-A4. Lett Drug Des Discov 4:144–148

Mukarram S, Bandgar BP, Shaikh RU, Ganapure SD, Chavan HV (2017) Synthesis of novel α,α-difluoro-β-hydroxycarbonyl pyrazole derivatives as antioxidant, anti-inflammatory and anticancer agents. Med Chem Res 26:262–273

Shenvi S, Kumar K, Hatti KS, Rijesh K, Diwakar L, Reddy GC (2013) Synthesis, anticancer and antioxidant activities of 2,4,5-trimethoxy chalcones and analogues from asaronaldehyde: structure activity relationship. Eur J Med Chem 62:435–442

Shringare SN, Chavan HV, Bhale SB, Dongare SB, Mule YB, Lendve MP, Todkari I, Bandgar BP (2017) Synthesis and pharmacological evaluation of substituted pyrazoline derivatives bearing 3,4,5-trimethoxyphenyl moiety as anticancer, anti-inflammatory and antioxidant agents. Der Pharma Chem 9:32–37

Skehan P, Storeng R, Scudiero D, Monks A, Mcmohan J, Vistica D, Warren T, Bokesch H, Kenney S, Boyd M (1990) New colorimetric cytotoxcity assay for anticancer-drug. Screen J Nati Cancer Inst 82:1107–1112

Valiron O, Caudron N, Job D (2001) Microtubule dynamics. Cell Mol Life Sci 58:2069–2084

Woods JA, Hadfield JA, Pettit GR, Fox BW, McGown AT (1995) The interaction with tubulin of a series of stilbenes based on combretastatin A-4. Br J Cancer 71:705–711
Acknowledgements
We are very thankful to school of Chemical Sciences, Solapur University, Solapur for providing laboratory facilities and thankful to ACTREC Mumbai for providing Anticancer activity determinations. We also thank to Instrumentation Department of Solapur University for providing us the wonderful facility of spectral analysis.
Ethics declarations
Conflict of interest
The authors declare that they have no conflict of interest.
Electronic supplementary material
About this article
Cite this article
Shringare, S.N., Chavan, H.V., Bhale, P.S. et al. Synthesis and pharmacological evaluation of combretastatin-A4 analogs of pyrazoline and pyridine derivatives as anticancer, anti-inflammatory and antioxidant agents. Med Chem Res 27, 1226–1237 (2018). https://doi.org/10.1007/s00044-018-2142-8
Received:

Accepted:

Published:

Issue Date:
Keywords
Anticancer

antioxidant

pyrazoline

combretastatin