Abstract
Chromone, imidazolidinedione, thiohydantoin and 2,4-thiazolidinedione structures are known to be cytotoxic to cancer cells. In this study, biological activities of previously synthesized 18 chromonyl-2,4-thiazolidinediones/imidazolidinediones/thiohydantoins were tested by sulforhodamine B assay in five liver and one breast cancer cell lines. It was shown that a hybrid chromonyl thiohydantoin derivative C9 was able to significantly suppress the proliferation of the liver cancer cell lines which are very resistant to anticancer drugs. According to 50% growth inhibition concentrations of C9, well differentiated hepatocellular carcinoma cell line Huh7 and breast adenocarcinoma cell line Mcf7 cells are found to be highly sensitive to C9 with IC50 values between 4.9–5.2 µM. Poorly differentiated human liver cancer cell line Snu449 is found to be the most resistant to C9. Further studies show that C9 causes morphological changes in Snu449 cells. However, it does not induce significant senescence response or cell cycle arrest. On the other hand, Huh7 cells are found to be arrested in G2/M phase of the cell cycle after 24 and 72 h treatment. In conclusion, a novel chromonyl thiohydantoin hybrid molecule effectively stops or slows down the proliferation of well-differentiated hepatocellular carcinoma cells that exist in primary tumors.
This is a preview of subscription content, log in to check access.
Access options
Buy single article
Instant access to the full article PDF.
US$ 39.95
Price includes VAT for USA
Subscribe to journal
Immediate online access to all issues from 2019. Subscription will auto renew annually.
US$ 99
This is the net price. Taxes to be calculated in checkout.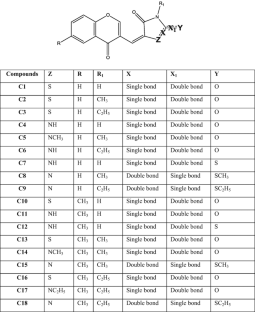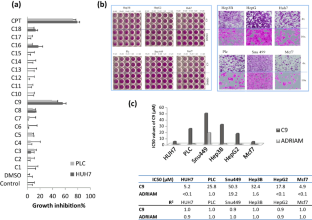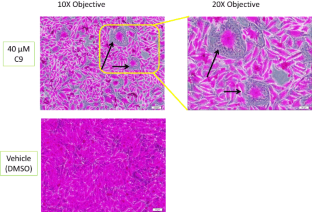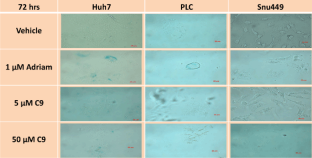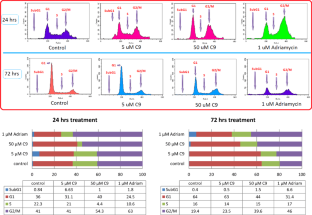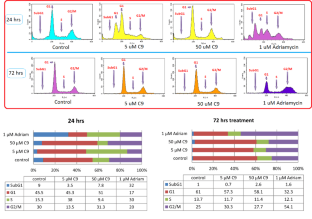 References
AbuHammad S, Zihlif M (2013) Gene expression alterations in doxorubicin resistant MCF7 breast cancer cell line. Genomics 101(4):213–220

Abul Kashem Liton M, Salma U, Chandra Bhowmick A (2014) Cytotoxicity and 2D-QSAR study of some heterocyclic compounds. Arabian J Chem 7:639–646

Azizmohammadi M, Khoobi M, Ramazani A, Emami S, Zarrin A, Firuzi O, Miri R, Shafiee A (2013) 2H-chromene derivatives bearing thiazolidine-2,4-dione, rhodanine or hydantoin moieties as potential anticancer agents. Eur J Med Chem 59:15–22

Bae MA, Rhee H, Song BJ (2003) Troglitazone but not rosiglitazone induces G1 cell cycle arrest and apoptosis in human and rat hepatoma cell lines. Toxicol Lett 139(1):67–75

Ceylan-Unlusoy M, Verspohl EJ, Ertan R (2010) Synthesis and antidiabetic activity of some new chromonyl-2,4-thiazolidinediones. J Enzyme Inhib Med Chem 25(6):784–789

Ceylan-Unlusoy M, Kazak C, Bayro O, Verspohl EJ, Ertan R, Bozdag-Dundar O (2013) Synthesis and antidiabetic activity of 2,4-thiazolidinedione, imidazolidinedione and 2-thioxo-imidazolidine-4-one derivatives bearing 6-methyl chromonyl pharmacophore. J Enzyme Inhib Med Chem 28(6):1205–1210

Cragg GM, Grothaus PG, Newman DJ (2009) Impact of natural products on developing new anti-cancer agents. Chem Rev 109:3012–3043

De Luca P, De Siervi A (2016) Critical role for BRCA1 expression as a marker of chemosensitivity response and prognosis. Front Biosci (Elite Ed) 1(8):72–83

Di Braccio M, Grossi G, Roma G, Marzano C, Baccichetti F, Simonato M, Bordin F (2003) Pyran derivatives: part XXI. Antiproliferative and cytotoxic properties of novel N-substituted 4-aminocoumarins, their benzo-fused derivatives, and some related 2-aminochromones. II Farmaco 58:1083–1097

Dimri GP, Lee X, Basile G, Acosta M, Scott G, Roskelley C, Medrano EE, Linskens M, Rubelj I, Pereira-Smith O (1995) A biomarker that identifies senescent human cells in culture and in aging skin in vivo. Proc Natl Acad Sci USA 92(20):9363–9367

El-Serag HB (2011) Hepatocellular carcinoma. N Engl J Med 365(12):1118–1127

Forner A, Gilabert M, Bruix J, Raoul JL (2014) Treatment of intermediate-stage hepatocellular carcinoma. Nat Rev Clin Oncol 11(9):525–535

Germano D, Daniele B (2014) Systemic therapy of hepatocellular carcinoma: current status and future perspectives. World J Gastroenterol 20(12):3087–3099

Germano D, Tinessa V, Barletta E, Cannella L, Daniele B (2013) Medical treatment of hepatocellular carcinoma. Minerva Med 104(5):545–561

Keri RS, Budagumpi S, Pai RK, Balakrishna RG (2014) Chromones as a privileged scaffold in drug discovery: a review. Eur J Med Chem 78:340–374

Koga H, Harada M, Ohtsubo M, Shishido S, Kumemura H, Hanada S, Taniguchi E, Yamashita K, Kumashiro R, Ueno T, Sata M (2003) Troglitazone induces p27Kip1-associated cell-cycle arrest through down-regulating Skp2 in human hepatoma cells. Hepatology 37(5):1086–1096

Martens S, Mithofer A (2005) Flavones and flavone synthases. Phytochemistry 66:2399–2407

Middleton Jr E, Kandaswami C, Theoharides TC (2000) The effects of plant flavonoids on mammalian cells: Implications for inflammation, heart disease and cancer. Pharmacol Rev 52:673–751

Parveen M, Malla AM, Yaseen Z, Ali A, Alam M (2014) Synthesis, characterization, DNA-binding studies and acetylcholinesterase inhibition activity of new 3-formyl chromone derivatives. J Photochem Photobiol B 130:179–187

Rodier F, Campisi J (2011) Four faces of cellular senescence. J Cell Biol 192(4):547–556

Shen Y-C, Hsu C, Chen J-Y, Cheng A-L (2004) Lack of efficacy of troglitazone at clinically achievable concentrations, with or without 9-cis retinoic acid or cytotoxic agents, for hepatocellular carcinoma cell lines. Br J Cancer 91(8):1561–1565

Thun MJ, DeLancey JO, Center MM, Jemal A, Ward EM (2010) The global burden of cancer: priorities for prevention. Carcinogenesis 31(1):100–110

Vichai V, Kirtikara K (2006) Sulforhodamine B colorimetric assay for cytotoxicity screening. Nat Protoc 1(3):1112–1116

Villanueva A, Hernandez-Gea V, Llovet JM (2013) Medical therapies for hepatocellular carcinoma: a critical view of the evidence. Nat Rev Gastroenterol Hepatol 10(1):34–42

Wörns MA, Galle PR (2010) Novel inhibitors in development for hepatocellular carcinoma. Expert Opin Investig Drugs 19(5):615–629

Yuzugullu H, Benhaj K, Ozturk N, Senturk S, Celik E, Toylu A, Tasdemir N, Yilmaz M, Erdal E, Akcali KC, Atabey N, Ozturk M (2009) Canonical Wnt signaling is antagonized by noncanonical Wnt5a in hepatocellular carcinoma cells. Mol Cancer 8:90

Zhu AX (2012) Molecularly targeted therapy for advanced hepatocellular carcinoma in 2012: current status and future perspectives. Semin Oncol 39(4):493–502
Acknowledgements
This work was supported by Research Organization of Ankara University, Turkey (No: 09B3336003 and 12B3336003). One of the authors was supported by TUBA DSAP program. Biological part of the study was supported by the Scientific and Technological Research Council of Turkey with project 113S389.
Ethics declarations
Conflict of interest
The authors declare that they have no competing interests.
About this article
Cite this article
Ozen, C., Ceylan-Unlusoy, M., Ozturk, M. et al. A novel chromonyl thiohydantoin with anti-proliferative action on primary hepatocellular carcinoma cells. Med Chem Res 27, 153–160 (2018). https://doi.org/10.1007/s00044-017-2037-0
Received:

Accepted:

Published:

Issue Date:
Keywords
Antiproliferative

Hepatocellular carcinoma

Liver cancer

Chromonyl-2,4-thiazolidinediones

Imidazolidinedione

Thiohydantoin