Abstract
Interaction of some cyclic chalcone analogs, (E)-2-(4′-X-benzylidene)-1-benzosuberone derivatives, with calf thymus DNA has been investigated using thin-layer chromatographic and UV–Vis spectroscopic methods. Interaction of the compounds with calf thymus DNA exhibited relatively high intrinsic binding constants in the range of 3.1 × 104–1.0 × 105 M−1. The results indicate existence of weak, non-covalent interactions between the investigated chalcones with calf thymus DNA. Furthermore, the DNA cleavage activity of the compounds was studied by means of agarose gel electrophoresis. Each compound showed a slight DNA cleavage activity with pBR322. The obtained results provide additional knowledge on the previously documented cytotoxicity against several tumor cell lines of the cyclic chalcone analogs.
Access options
Buy single article
Instant access to the full article PDF.
US$ 39.95
Tax calculation will be finalised during checkout.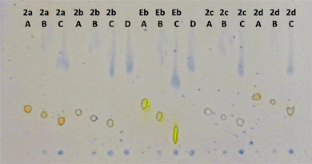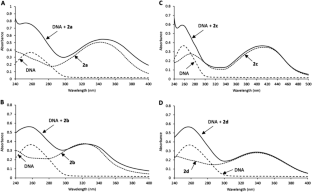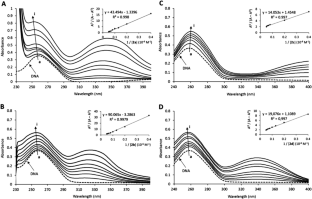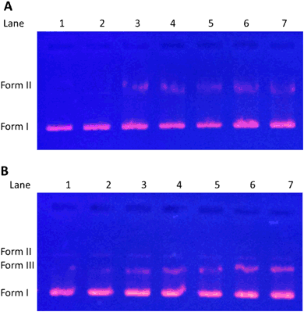 References
Agarwal S, Jangir DK, Mehrotra R (2013) Spectroscopic studies of the effects of anticancer drug mitoxantrone interaction with calf-thymus DNA. J Photochem Photobiol B 120:177–182

Ali AQ, Teoh SG, Salhin A, Eltayeb NE, Khadeer Ahamed MB, Abdul Majid AMS (2014a) Synthesis of isatin thiosemicarbazones derivatives: in vitro anti-cancer, DNA binding and cleavage activities. Spectrochim Acta A 125:440–448

Ali AQ, Teoh SG, Eltayeb NE, Ahamed MBK, Majid AMSA (2014b) Synthesis of copper (II) complexes of isatin thiosemicarbazone derivatives: in vitro anti-cancer, DNA binding, and cleavage activities. Polyhedron 74:6–15. doi:10.1016/j.poly.2014.02.025

Anitha P, Chitrapriya N, Jang YJ, Viswanathamuthi P (2013) Synthesis, characterization, DNA interaction, antioxidant and anticancer activity of new ruthenium(II) complexes of thiosemicarbazone/semicarbazone bearing 9,10-phenanthrenequinone. J Photochem Photobiol B 129:17–26

Bindu PJ, Mahadevan KM, Ravikumar Naik TR (2012) An efficient one-pot synthesis and photoinduced DNA cleavage studies of 2-chloro-3-(5-aryl-4,5-dihydroisoxazol-3-yl)quinolines. Bioorg Med Chem Lett 22:6095–6098

Da Silva JG, Despaigne AAR, Louro SRW, Bandeira CC, Souza-Fagundes EM, Beraldo H (2013) Cytotoxic activity, albumin and DNA binding of new copper(II) complexes with chalcone-derived thiosemicarbazones. Eur J Med Chem 65:415–426

Dimmock JR, Elias DW, Beazely MA, Kandepu NM (1999a) Bioactivities of chalcones. Curr Med Chem 6:1125–1149

Dimmock JR, Kandepu NM, Nazarali AJ, Kowalchuk TP, Motaganahalli N, Quail JW, Mykiytiuk PA, Audette GF, Prasad L, Perjési P, Allen TM, Santos CL, Szydlowski J, De Clercq E, Balzarini J (1999b) Conformational and quantitative structure−activity relationship study of cytotoxic 2-arylidenebenzocycloalkanones. J Med Chem 42:1358–1366

Dimmock JR, Zello GA, Oloo EO, Quail JW, Kraatz HB, Perjési P, Aradi F, Takács-Novák K, Allen TM, Santos CL, Balzarini J, De Clercq E, Stables JP (2002) Correlations between cytotoxicity and topography of some 2-arylidenebenzocycloalkanones determined by X-ray crystallography. J Med Chem 45:3103–3111

El-Ayaan U, Abdel-Aziz AAM, Al-Shihry S (2007) Solvatochromism, DNA binding, antitumor activity and molecular modeling study of mixed-ligand copper(II) complexes containing the bulky ligand: Bis[N-(p-tolyl)imino]acenaphthene. Eur J Med Chem 42:1325–1333

Faidallah HM, Rostom SAF (2013) Synthesis, in vitro antitumor evaluation and DNA-binding study of novel tetrahydroquinolines and some derived tricyclic and tetracyclic ring systems. Eur J Med Chem 63:133–143

Fodor K, Tomescova V, Kőszegi T, Kron I, Perjési P (2011) E)-2-Benzylidenecyclanones: part VI. Solvent effect on the UV and fluorescence properties of some chalcones and their cyclic analogues. Interaction of 4-dimethylaminochalcones with bovine and human serum albumin: a UV–Vis study. Monatsh Chem 142:463–468

Gaur R, Khan RA, Tabassum S, Shah P, Siddiqi MI, Mishra L (2011) Interaction of a ruthenium(II)–chalcone complex with double stranded DNA: spectroscopic, molecular docking and nuclease properties. J Photochem Photobiol A 220:145–152

Go ML, Wu X, Liu XL (2005) Chalcones: an update on cytotoxic and chemoprotective properties. Curr Med Chem 12:483–499

Gowda S, Mathew BB, Sudhamani CM, Bhojya Naik HS (2014) Mechanism of DNA binding and cleavage. Biomed Biotechnol 2:1–9

Hussain RA, Badshah A, Sohail M, Lal B, Akbar K (2013) Synthesis, chemical characterization, DNA binding and antioxidant studies of ferrocene incorporated selenoure. J Mol Struct 1048:367–374

Ihmels H, Otto D (2005) Intercalation of organic dye molecules into double-stranded DNA general principles and recent developments. Top Curr Chem 258:161–204

Kanakis CD, Tarantilis PA, Polissiou MG, Diamantoglou S, Tajmir-Riahi HA (2005) DNA interaction with naturally occurring antioxidant flavonoids quercetin, kaempferol, and delphinidin. J Biomol Struct Dyn 22:719–724

Kubalkova J, Tomeskova V, Perjési P, Guzy J (2009) Assessment of the effect of cyclic chalcone analogues on mitochondrial membrane and DNA. Central Eur J Biol 4:90–96

Mahapatra DK, Bharti SK, Asati V (2015a) Chalcone scaffolds as anti-infective agents: structural and molecular target perspectives. Eur J Med Chem 101:496–524

Mahapatra DK, Bharti SK, Asati V (2015b) Anti-cancer chalcones: structural and molecular target perspectives. Eur J Med Chem 98:69–114

Markovic V, Debeljak N, Stanojkovic T, Kolundzija B, Sladic D, Vujcic M, Janovic B, Tanic N, Perovic M, Tesic V, Antic J, Joksovic MD (2015) Anthraquinone–chalcone hybrids: synthesis, preliminary antiproliferative evaluation and DNA-interaction studies. Eur J Med Chem 89:401–410

Marmur J (1961) A procedure for isolation of deoxyribonucleic acid from micro-organisms. J Mol Biol 3:208–218

Ni L, Meng CQ, Sikorski JA (2004) Recent advances in therapeutic chalcones. Expert Opin Ther Pat 14:1669–1691

Nowakowska Z (2007) A review of anti-infective and anti-inflammatory chalcones. Eur J Med Chem 42:125–137

Palchaudhuri R, Hergenrother PJ (2007) DNA as a target for anticancer compounds: methods to determine the mode of binding and the mechanism of action. Curr Opin Biotechnol 18:497–503

Perjési P, Nusser T, Tarczay Gy, Sohár P (1999) E-2-benzylidenebenzocycloalkanones. Stereostructure and NMR spectroscopic investigation. J Mol Struct 479:13–19

Perjési P, Perjéssy A, Kolehmainen E, Ősz E, Samalikova M, Linnato J, Virtanen E (2004) E-2-Benzylidenebenzocycloalkanones III. Studies on transmission of substituent effects on IR carbonyl stretching frequencies and 13C NMR chemical shifts of E-2-(X-benzylidene)-1-indanones. Comparison with the IR data of E-2-(X-benzylidene)-1-indanones, -tetralones, and -benzosuberones. J Mol Struct 697:41–47

Perjési P, Linnato J, Kolehmainen E, Ősz E, Virtanen E (2005) E-2-Benzylidenebenzocycloalkanones. IV. Studies on transmission of substituent effects on 13C NMR chemical shifts of E-2-(X-benzylidene)-1-tetralones, and -benzosuberones. Comparison with the 13C NMR data of chalcones and E-2-(X-benzylidene)-1-indanones. J Mol Struct 740:81–89

Perjési P, Kubalkova J, Chovanova Z, Marekova M, Rozmer Zs, Fodor K, Chavkova Z, Tomecková V, Guzy J (2008a) Comparison of effects of some cyclic chalcone analogues on selected mitochondrial functions. Pharmazie 63:899–903

Perjési P, Das U, De Clercq E, Balzarini J, Kawase M, Sakagami H, Stables JP, Lóránd T, Rozmer Zs, Dimmock JR (2008b) Design, synthesis and antiproliferative activity of some 3-benzylidene-2,3-dihydro-1-benzopyran-4-ones which display selective toxicity for malignant cells. Eur J Med Chem 43:839–845

Perjési P (2015) (E)-2-Benzylidenebenzocyclanones: part XIII. Light-induced in solution (E)/(Z) isomerization of some cyclic chalcone analogues. Effect of ring size on lipophilicity of geometric isomers. Monatsh Chem 146:1275–1281

Pezzuto JM, Che CT, McPherson DD, Zhu JP, Topcu G, Erdelmeier CAJ, Cordell GA (1991) DNA as an affinity probe useful in the detection and isolation of biologically active natural products. J Nat Prod 54:1522–1530

Pilatova M, Varinska L, Perjési P, Sarissky M, Mirossay L, Solar P, Ostro A, Mojzis J (2010) In vitro antiproliferative and antiangiogenic effects of synthetic chalcone analogues. Toxicol in Vitro 24:1347–1355

Ragheb MA, Eldesouki MA, Mohamed MS (2015) DNA binding, photo-induced DNA cleavage and cytotoxicity studies of lomefloxacin and its transition metal complexes. Spectrochim Acta A 138:585–595

Rahban M, Divsalar A, Saboury AA, Golestani A (2010) Nanotoxicity and spectroscopy studies of silver nanoparticle: calf thymus DNA and K562 as targets. J Phys Chem C 114:5798–5803

Rauf S, Gooding JJ, Akhtar K, Ghauri MA, Rahman M, Anwar MA, Khalid AM (2005) Electrochemical approach of anticancer drugs–DNA interaction. J Pharm Biomed Anal 37:205–217

Rehman SU, Sarwar T, Husain MA, Ishqi HM, Tabish M (2015) Studying non-covalent drug-DNA interactions. Arch Biochem Biophys 576:49–60

Reichmann ME, Rice SA, Thomas CA, Doty P (1954) A further examination of the molecular weight and size of desoxypentose nucleic acid. J Am Chem Soc 76:3047–3053

Rozmer Zs, Perjési P (2016) Naturally occurring chalcones and their biological activities. Phytochem Rev 15:87–120

Rozmer Zs, Berki T, Perjési P (2006) Different effects of two cyclic chalcone analogues on cell cycle of Jurkat T cells. Toxicol in Vitro 20:1354–1362

Sarwar T, Rehman SU, Husain MA, Ishqi HM, Tabish M (2015) Interaction of coumarin with calf thymus DNA: Deciphering the mode of binding by in vitro studies. Int J Biol Macromol 73:9–16

Shahabadi N, Heidari L (2012) Binding studies of the antidiabetic drug, metformin to calf thymus DNA using multispectroscopic methods. Spectrochim Acta A 97:406–410

Sirajuddin M, Ali S, Badshah A (2013) Drug–DNA interactions and their study by UV–Visible, fluorescence spectroscopies and cyclic voltametry. J Photochem Photobiol B 124:1–19

Stefanisinova M, Tomeckova V, Kozurkova M, Ostro A, Marekova M (2011) Study of DNA interactions with cyclic chalcone derivatives by spectroscopic techniques. Spectrochim Acta A 81:666–671

Tabassum Z, Muddassir M, Sulaiman O, Arjmand F (2012) In-vitro DNA binding and cleavage studies with pBR322 of N,N-Bis(3β-acetoxy-5α-cholest-6-yl-idene)hydrazine. J Lumin 132:2178–2181

Tarczay Gy, Vékey K, Ludányi K, Perjési P, Sohár P (2000) E-2-benzylidenebenzocyclanones. II. IR and mass spectrometric investigations. J Mol Struct 520:97–102

Tomeckova V, Perjési P, Guzy J, Kusnír J, Chovanova Z, Chavkova Z, Marekova M (2004) Comparison of effect of selected synthetic chalcone analogues on mitochondrial outer membrane determined by fluorescence spectroscopy. J Biochem Biophys Methods 61:135–141

Tomeckova V, Stefanisinova M, Velika B, Fodor K, Perjési P, Stupak M, Guzy J, Tóth S, Pekarova T (2013) Investigation of interaction of some chalcones and cyclic chalcone analogues with outer mitochondrial membrane by UV–Vis and fluorescence spectroscopy. Spectr Anal Rev 1:1–9

Velika B, Tomeckova V, Fodor K, Kron I, Perjési P (2015) (E)-2-Benzylidenecycloalkanones XII. Kinetic measurement of bovine and human serum albumine interaction with selected chalcones and their cyclic chalcone analogues by UV spectrophotometry. Spectr Anal Rev 3:1–8

Yin BT, Yan CY, Peng XM, Zhang SL, Rasheed S, Geng RX, Zhou CH (2014) Synthesis and biological evaluation of α-triazolyl chalcones as a new type of potential antimicrobial agents and their interaction with calf thymus DNA and human serum albumin. Eur J Med Chem 71:148–159
Acknowledgements
The present scientific contribution is dedicated to the 650th anniversary of the foundation of the University of Pécs, Hungary. This study was supported by the University of Pécs, Faculty of Medicine Research Fund (AOK-KA-2013/20 and ÁOK-Post-Doc 2014).
Ethics declarations
Conflict of interest
The authors declare that they have no competing interests.
About this article
Cite this article
Rozmer, Z., Marton, E. & Perjési, P. (E)-2-Benzylidenecyclanones: part XIV. Study on interaction of some (E)-2-benzylidenebenzosuberone derivatives with calf thymus DNA by TLC and UV–Vis methods, a DNA cleavage study. Med Chem Res 26, 2172–2179 (2017). https://doi.org/10.1007/s00044-017-1924-8
Received:

Accepted:

Published:

Issue Date:
Keywords
Chalcones

Enones

DNA binding

UV/Vis spectroscopy

DNA cleavage