Abstract
Antimicrobial resistance to antibiotics is a global concern. Without urgent and coordinated action, the world is moving towards a post-antibiotic era, in which normal infections or minor injuries may become fatal. In an effort to find new agents to combat this resistance, we report the synthesis and antimicrobial activities of 1,3-diphenyl pyrazole derivatives. Several compounds have shown growth inhibition up to 24 mm in size against Staphylococcus aureus inhibition studies. We tested the active compounds against methicillin-resistant Staphylococcus aureus in minimum inhibitory concentration tests and found activity as low as 16 μg/mL.

Access options
Buy single article
Instant access to the full article PDF.
USD 39.95
Price includes VAT (USA)
Tax calculation will be finalised during checkout.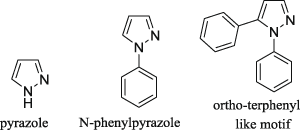 References
Baraldi PG, Tabrizi MA, Preti D, Bovero A, Fruttarolo F, Romagnoli R, Zaid NA, Moorman AR, Varani K, Borea PA (2005) New 2-arylpyrazolo[4,3-c]quinoline derivatives as potent and selective human A(3) adenosine receptor antagonists. J Med Chem 48:5001–5008

CDCP, Centers for Disease Control and Prevention (2015) About Antimicrobial Resistance. http://www.cdc.gov/drugresistance/about.html Accessed 08 September 2015

Drummond AJ, Waigh RD (2000) The development of microbiological methods for phytochemical screening. Recent Res Dev Phytochem 4:143–152

Fischbach MA, Walsh CT (2009) Antibiotics for emerging pathogens. Science 325:1089–1093

Keri RS, Chand K, Ramakrishnappa T, Nagaraja BM (2015) Recent progress on pyrazole scaffold-based antimycobacterial agents. Arch Pharm Chem Life Sci 348:299–314

Kira MA, Abdel-Rahman MO, Gadalla KZ (1969) Vilsmeier-Haack reaction. III. Cyclization of hydrazones to pyrazoles. Tetrahedron Lett 10:109–110

Kramer CS (2015) Privileged scaffolds in medicinal chemistry: design, synthesis, evaluation. Royal Society of Chemisty, London, 115–131

Kucukguzel SG, Senkardes S (2015) Recent advances in bioactive pyrazoles. Eur J Med Chem 97:786–815

Methods for Dilution Antimicrobial Susceptibility Tests for Bacteria That Grow Aerobically; Approved Standard—Ninth Edition (2012) Clinical and Laboratory Standards Institute, Wayne

Mohammad H, Mayhoub AS, Ghafoor A, Soofi M, Alajlouni RA, Cushman M, Seleem MN (2014) Discovery and characterization of potent thiazoles versus methicillin- and vancomycin-resistant Staphylococcus aureus. J Med Chem 57:1609–1615

National Institute of Allergy and Infectious Diseases (2015) Methicillin-Resistant Staphylococcus aureus (MRSA). http://www.niaid.nih.gov/topics/antimicrobialresistance/examples/mrsa/pages/default.aspx. Accessed 24 December 2015

Ragab FA, Abdel GNM, Georgey HH, Said MF (2013) Synthesis of novel 1,3,4-trisubstituted pyrazoles as anti-inflammatory and analgesic agents. Eur J Med Chem 63:645–654

Rathelot P, Azas N, El-Kashef H, Delmas F, Di Giorgio C, Timon-David P, Maldonado J, Vanelle P (2002) 1,3-Diphenylpyrazoles: synthesis and antiparasitic activities of azomethine derivatives. Eur J Med Chem 37:671–679

Sarker SD, Nahar L, Kumarasamy Y (2007) Microtitre plate-based antibacterial assay incorporating resazurin as an indicator of cell growth, and its application in the in vitro antibacterial screening of phytochemicals. Methods 42:321–324

WHO (2015) Antimicrobial resistance. http://www.who.int/mediacentre/factsheets/fs194/en/. Accessed 05 January 2015
Acknowledgements
This work was supported by College of Science and Mathematics Arkansas State University, Jonesboro. Arkansas Statewide MS facility, Grant Number P30 GM103450 from the National Institute of General Medical Sciences of the National Institutes of Health (NIH) for recording mass spectra. This publication was made possible by the Arkansas INBRE program, supported by grant funding from the National Institutes of Health (NIH) National Institute of General Medical Sciences (NIGMS; P20 GM103429; formerly P20RR016460). Arkansas Biosciences Institute—Arkansas State University (ABI-A-state) start-up fund helped to complete this project. Anti-MRSA screening was performed by CO-ADD (The Community for Antimicrobial Drug Discovery), funded by the Welcome Trust (UK) and the University of Queensland (Australia).
Ethics declarations
Conflict of interest
The authors declare that they have no conflict of interests.
Electronic supplementary material
About this article
Cite this article
Brider, J., Rowe, T., Gibler, D.J. et al. Synthesis and antimicrobial studies of azomethine and N-arylamine derivatives of 4-(4-formyl-3-phenyl-1H-pyrazol-1-yl)benzoic acid as potent anti-methicillin-resistant Staphylococcus aureus agents. Med Chem Res 25, 2691–2697 (2016). https://doi.org/10.1007/s00044-016-1678-8
Received:

Accepted:

Published:

Issue Date:
Keywords
Pyrazole

Antimicrobials

Resistant

Imines

N-aryl amines

Antibacterial

Staphylococcus

Methicillin-resistant