Abstract
A series of N′-((1-(substituted)-1H-indol-3-yl)methylene)hydrazides were synthesized and evaluated for their in vitro antiproliferative activities against various cancer cell lines. Formation of indole hydrazide–hydrazones was accomplished by the reaction of indole 3-carboxaldehyde with aryl/alkyl hydrazides in the presence of acetic acid. Out of synthesized twenty-two compounds, some of the analogs exhibited specificity toward breast (18b, 18d, 18f and 18j) and prostate (18t and 18v) cancer cells. Among the prepared derivatives, compounds 18b, 18d and 18j were most cytotoxic (IC50 = 0.9, 0.4 and 0.8 µM, respectively) against the screened cancer cell lines. Exposure of PC3 cells to either 18d or 18j resulted in increased levels of cleaved PARP1, indicating that indolyl hydrazide–hydrazones induce apoptosis in PC3 cells.
Access options
Buy single article
Instant access to the full article PDF.
USD 39.95
Price excludes VAT (USA)
Tax calculation will be finalised during checkout.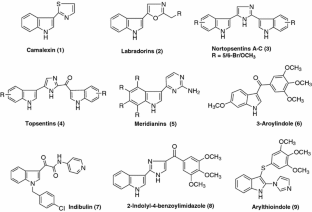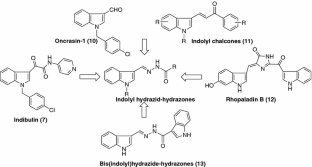 References
Adam JM et al (2010) Design, synthesis, and structure–activity relationships of indole-3-carboxamides as novel water soluble cannabinoid CB1 receptor agonists. MedChemComm 1:54–60

Brancale A, Silvestri R (2007) Indole, a core nucleus for potent inhibitors of tubulin polymerization. Med Res Rev 27:209–238

Chen J, Ahn S, Wang J, Lu Y, Dalton JT, Miller DD, Li W (2012) Discovery of novel 2-aryl-4-benzoyl-imidazole (ABI-III) analogues targeting tubulin polymerization as antiproliferative agents. J Med Chem 55:7285–7289

Choppara P et al (2015) Design, synthesis of novel N prenylated indole-3-carbazones and evaluation of in vitro cytotoxity and 5-LOX inhibition activities. Arabian J Chem. doi:10.1016/j.arabjc.2015.02.006

Diana P, Carbone A, Barraja P, Kelter G, Fiebig H-H, Cirrincione G (2010) Synthesis and antitumor activity of 2, 5-bis (3′-indolyl)-furans and 3, 5-bis (3′-indolyl)-isoxazoles, nortopsentin analogues. Bioorg Med Chem 18:4524–4529

El-Sayed NS et al (2014) Synthesis of 4-aryl-6-indolylpyridine-3-carbonitriles and evaluation of their antiproliferative activity. Tetrahedron Lett 55:1154–1158

Gupta L, Talwar A, Palne S, Gupta S, Chauhan P (2007) Synthesis of marine alkaloid: 8, 9-dihydrocoscinamide B and its analogues as novel class of antileishmanial agents. Bioorg Med Chem Lett 17:4075–4079

James PN, Snyder H (1959) Indole-3-Aldehyde. Org Synth 39:30–30

Kamal A et al (2012) Synthesis, anticancer activity and apoptosis inducing ability of bisindole linked pyrrolo [2, 1-c][1, 4] benzodiazepine conjugates. Bioorg Med Chem Lett 22:571–578

Knaack M, Emig P, Bats JW, Kiesel M, Müller A, Günther E (2001) Synthesis and characterization of the biologically active 2-[1-(4-Chlorobenzyl)-1H-indol-3-yl]-2-oxo-N-pyridin-4-yl acetamide. Eur J Org Chem 2001:3843–3847

Kumar D, Sundaree S, Johnson EO, Shah K (2009) An efficient synthesis and biological study of novel indolyl-1, 3, 4-oxadiazoles as potent anticancer agents. Bioorg Med Chem Lett 19:4492–4494

Kumar D, Kumar NM, Akamatsu K, Kusaka E, Harada H, Ito T (2010a) Synthesis and biological evaluation of indolyl chalcones as antitumor agents. Bioorg Med Chem Lett 20:3916–3919

Kumar D, Maruthi Kumar N, Chang K-H, Shah K (2010b) Synthesis and anticancer activity of 5-(3-indolyl)-1, 3, 4-thiadiazoles. Eur J Med Chem 45:4664–4668

Kumar D, Narayanam MK, Chang KH, Shah K (2011) Synthesis of novel Indolyl-1, 2, 4-triazoles as Potent and selective anticancer agents. Chem Biol Drug Des 77:182–188

Kumar D, Kumar NM, Noel B, Shah K (2012a) A series of 2-arylamino-5-(indolyl)-1, 3, 4-thiadiazoles as potent cytotoxic agents. Eur J Med Chem 55:432–438

Kumar D, Maruthi Kumar N, Ghosh S, Shah K (2012b) Novel bis (indolyl) hydrazide–hydrazones as potent cytotoxic agents. Bioorg Med Chem Lett 22:212–215

Kumar D, Kumar NM, Tantak MP, Ogura M, Kusaka E, Ito T (2014) Synthesis and identification of α-cyano bis(indolyl)chalcones as novel anticancer agents. Bioorg Med Chem Lett 24:5170–5174

La Regina G et al (2012) Toward highly potent cancer agents by modulating the C-2 group of the arylthioindole class of tubulin polymerization inhibitors. J Med Chem 56:123–149. doi:10.1021/jm3013097

Nasr T, Bondock S, Youns M (2014) Anticancer activity of new coumarin substituted hydrazide–hydrazone derivatives. Eur J Med Chem 76:539–548

Negi AS et al (2015) Natural antitubulin agents: importance of 3, 4, 5-trimethoxyphenyl fragment. Bioorg Med Chem 23:373–389

Palace-Berl F et al (2013) 5-Nitro-2-furfuriliden derivatives as potential anti-Trypanosoma cruzi agents: design, synthesis, bioactivity evaluation, cytotoxicity and exploratory data analysis. Bioorg Med Chem 21:5395–5406

Panathur N, Dalimba U, Koushik PV, Alvala M, Yogeeswari P, Sriram D, Kumar V (2013) Identification and characterization of novel indole based small molecules as anticancer agents through SIRT1 inhibition. Eur J Med Chem 69:125–138

Pettit GR, Knight JC, Herald DL, Davenport R, Pettit RK, Tucker BE, Schmidt JM (2002) Isolation of Labradorins 1 and 2 from Pseudomonas syringae pv. coronafaciens 1. J Nat Prod 65:1793–1797

Roy S, Eastman A, Gribble GW (2006) Synthesis of N-alkyl substituted bioactive indolocarbazoles related to Gö6976. Tetrahedron 62:7838–7845

Sadek B, Schwed JS, Subramanian D, Weizel L, Walter M, Adem A, Stark H (2014) Non-imidazole histamine H 3 receptor ligands incorporating antiepileptic moieties. Eur J Med Chem 77:269–279

Salum LB et al (2015) N-(1′-naphthyl)-3, 4, 5-trimethoxybenzohydrazide as microtubule destabilizer: synthesis, cytotoxicity, inhibition of cell migration and in vivo activity against acute lymphoblastic leukemia. Eur J Med Chem 96:504–518

Sato H, Tsuda M, Watanabe K, Ji Kobayashi (1998) Rhopaladins A ∼ D, new indole alkaloids from marine tunicate Rhopalaea sp. Tetrahedron 54:8687–8690

Singh P, Kaur M, Verma P (2009) Design, synthesis and anticancer activities of hybrids of indole and barbituric acids—Identification of highly promising leads. Bioorg Med Chem Lett 19:3054–3058

Tantak MP, Kumar A, Noel B, Shah K, Kumar D (2013) Synthesis and biological evaluation of 2-Arylamino-5-(3′-Indolyl)-1, 3, 4-Oxadiazoles as potent cytotoxic agents. ChemMedChem 8:1468–1474

Wienecke A, Bacher G (2009) Indibulin, a novel microtubule inhibitor, discriminates between mature neuronal and nonneuronal tubulin. Cancer Res 69:171–177

Wu S, Wang L, Guo W, Liu X, Liu J, Wei X, Fang B (2011) Analogues and derivatives of oncrasin-1, a novel inhibitor of the C-terminal domain of RNA polymerase II and their antitumor activities. J Med Chem 54:2668–2679

Yu P-F et al (2008) Design, synthesis and cytotoxicity of novel podophyllotoxin derivatives. Chem Pharm Bull 56:831–834

Zhang M-Z, Chen Q, Yang G-F (2015) A review on recent developments of indole-containing antiviral agents. Eur J Med Chem 89:421–441
Acknowledgments
We are grateful to CSIR and UGC, New Delhi, for financial support to perform the research work. This work was performed during the association of Swapna Sundaree and Buchi Reddy Vaddula with Birla Institute of Technology and Science, Pilani, India.
About this article
Cite this article
Sundaree, S., Vaddula, B.R., Tantak, M.P. et al. Synthesis and anticancer activity study of indolyl hydrazide–hydrazones. Med Chem Res 25, 941–950 (2016). https://doi.org/10.1007/s00044-016-1522-1
Received:

Accepted:

Published:

Issue Date:

DOI: https://doi.org/10.1007/s00044-016-1522-1
Keywords