Ritodrine inhibits neuronal nitric oxide synthase, a potential link between tocolysis and autism
Abstract
Statistical association between congenital autism and prenatal exposure to ritodrine (4-(2-((1R,2S)-1-hydroxy-1-(4-hydroxyphenyl)propan-2-ylamino)ethyl)phenol) as a tocolytic agent was a matter of concern. Moreover, neuronal nitric oxide momentous role in various behavioral and cognitive functions was reported. In this context, a correlation between prenatal exposures to ritodrine, neuronal nitric oxide level and autism occurrence must be investigated. For this reason, we proposed possible inhibition of neuronal nitric oxide synthase (nNOS) by ritodrine. An insight toward our hypothesis approval was done through docking ritodrine into the catalytic pocket of nNOS. Apparently, ritodrine shared at least five critical binding interactions with a potent nNOS inhibitor (PDB code: JI7). Subsequent in vitro experiment pointed out that ritodrine indeed inhibited the enzymatic activity of nNOS at low micromolar level. As a conclusion, ritodrine should not be used as a tocolytic agent but as a novel non peptidomimetic nNOS inhibitor lead scaffold for future optimization.
Graphical Abstract
(A) Ritodrine chemical structure (B) Docked pose of ritodrine into nNOS-binding pocket (PDB code: 3B3P, resolution 2.6 Ǻ) (C) Docked pose of inhibitor
JI7
(green) as produced by docking simulation and the crystallographic structure of this inhibitor within nNOS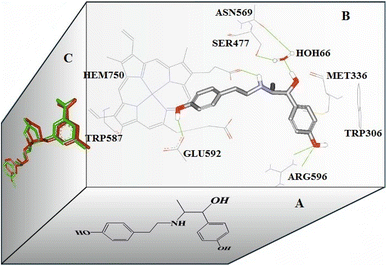 Keywords
Autism 
Molecular docking 
In vitro evaluation 
Neuronal nitric oxide synthase 
Tocolysis 
Notes
Acknowledgments
The authors would like to acknowledge the Deanship of the Scientific Research, The University of Jordan (Grant number 1444) and Hamdi Mango Center for Scientific Research and Sandeep Khosla (King's College London) for help with in vitro assays.
Copyright information
© Springer Science+Business Media New York 2014