Abstract
A library of 20 novel benzoxazolinone-based 1,2,4-triazoles has been synthesised and screened for their in vivo anti-inflammatory and antinociceptive activities. The compound 18e exhibited potent anti-inflammatory activity with 68.75 and 55.20 % inhibition in comparison to indomethacin which showed 65.62 and 60.41 % inhibition after 3 and 5 h, respectively. The five active compounds, i.e. 2a and 17e–20e showing significant in vivo anti-inflammatory activity have been screened for their in vivo COX-2, TNF-α, IL-1β and NO inhibitory activities. The COX-2 selectivity index of 17e was found to be 42.30 and thereby showing a high selectivity towards COX-2 inhibition. In silico molecular docking studies have been done in order to get an insight into the binding modes of these molecules with TNF-α protein. The compound 20e exhibited potent antinociceptive activity with 56.70 % inhibition of analgesia. The compounds 2a and 17e–20e did not exhibit any gastric ulceration.
Access options
Buy single article
Instant access to the full article PDF.
USD 39.95
Price includes VAT (USA)
Tax calculation will be finalised during checkout.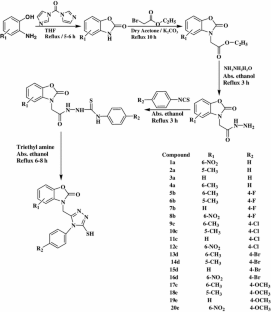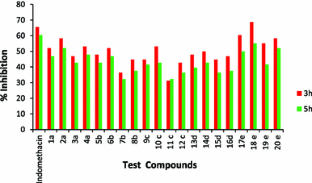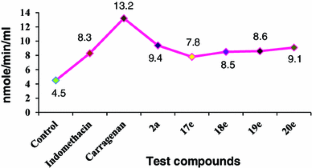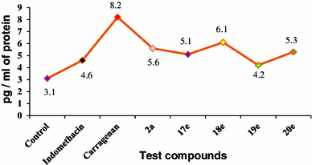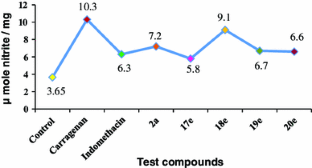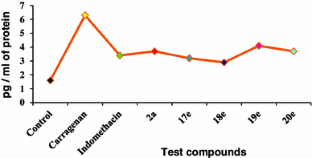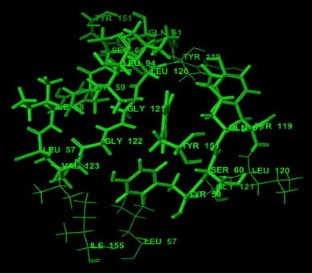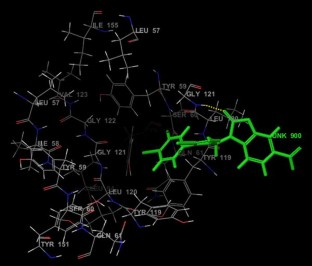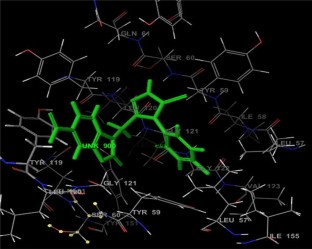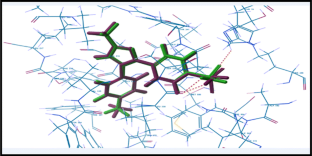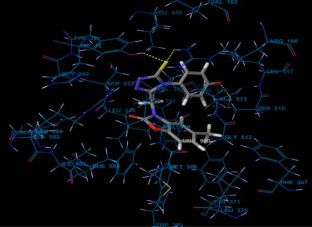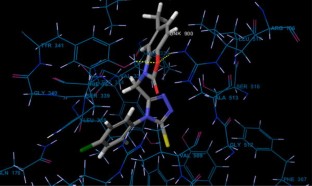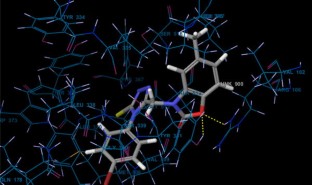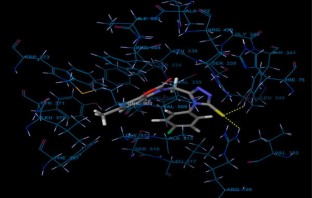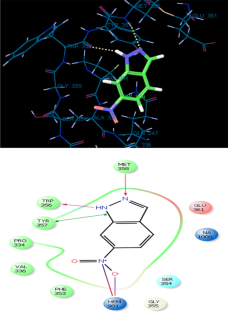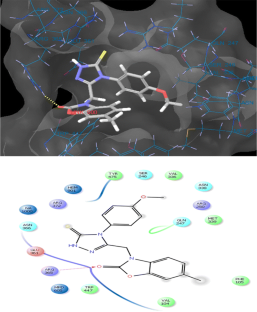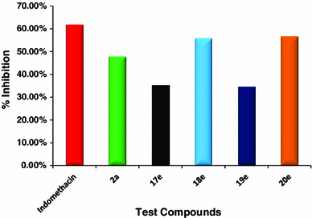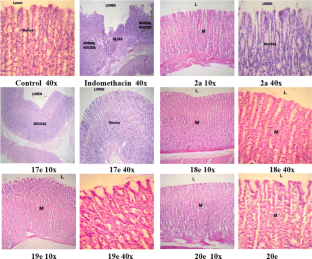 References
Abdel-Mageeb AM, Abdel-Rahman HM, Alkaramany GE, El-Gendy MA (2009) Design, synthesis and molecular modeling study of acylated 1,2,4-triazole-3-acetates with potential anti-inflammatory activity. Eur J Med Chem 44:17–123

Agrahari AK, Khaliquzzama M, Panda SK (2010) Evaluation of analgesic activity of methanolic extract of Trapa natans L.var.bispinosa Roxb roots. J Curr Pharm Res 1:8–11

Allison MC, Howatson AG, Torrance CJ, Lee FD, Russell RI (1992) Gastrointestinal damage associated with the use of nonsteroidal antiinflammatory drugs. N Engl J Med 327:749–754

Alsarra IA, Ahmed MO, Alanazi FK, ElTahir KE, Alshiekh MA, Neau HS (2010) Influence of cyclodextrin complexation with NSAIDs on NSAID/cold stress-induced gastric ulceration in rats. Int J Med Sci 7:232–239

Bayrak H, Demirbas A, Karaoglu SA, Demirbas N (2009) Synthesis of some new 1,2,4- triazoles, their Mannich and Schiff bases and evaluation of their antimicrobial activities. Eur J Med Chem 44:1057–1066

Bonte JP, Lesieur D, Lespagnol C, Cazin JC (1974) Acyl-6-benzoxazolinones. Eur J Med Chem 9:491–496

Bonte JP, Piancastelli MC, Lesieur I, Lamar JC, Beaughard M, Dureng G (1990) Amino ketone and amino alcohol derivatives of benzoxazolinone: synthesis, adrenergic and antihypertensive properties. Eur J Med Chem 25:361–368

Crofford LJ, Wilder RL, Ristimaki AP, Sano H, Remmers EF, Epps HR, Hla T (1994) Cyclooxygenase-1 and -2 expression in rheumatoid synovial tissues. Effects of interleukin-1 beta, phorbol ester and corticosteroids. J Clin Invest 93:1095–1101

di Stasi LC, Costa M, Mendacolli SL, Kirzawa M, Gomes C, Trolin G (1988) Screening in mice of some medicinal plants used for analgesic purposes in the state of São Paulo. J Ethnopharmacol 24:205–211

Ferreira SH (1979) A new method for measuring the variations of rat paw volume. J Pharm Pharmacol 31:648

Ghorab M, El-Sharief AMSh, Ammar Y, Mohamed ShI (2001) Synthesis and antifungal activity of some new miscellaneous S-triazoles. Phosphorus Silicon Relat Elem 173:223–233

Haider S, Nazreen S, Alam MM, Hamid H, Alam MS (2012) Anti-inflammatory and anti-nociceptive activities of Platanus orientalis Linn. and its ulcerogenic risk evaluation. J Ethnopharmacol 143:236–240

Hansch C, Sammes GP, Taylor JB (1990) Comprehensive medicinal chemistry. Drug Compendium, vol 6. Pergamon Press, Oxford, pp 961–964

He MM, Smith AS, Oslob JD, Flanagan WM, Braisted AC, Whitty A, Cancilla MT, Wang J, Lugovskoy AA, Yoburn JC, Fung AD, Farrington G, Eldredge JK, Day ES, Cruz LA, Cachero TG, Miller SK, Friedman JE, Choong IC, Cunningham BC (2005) Small-molecule inhibition of TNF-alpha. Science 310:1022–1025

Karima R, Matsumoto S, Higashi H, Matsushima K (1999) The molecular pathogenesis of endotoxic shock and organ failure. Mol Med Today 5:123–132

Katsura Y, Nishio S, Takasugi H (1991) Studies on antiulcer drugs. I. Synthesis and antiulcer activities of imidazo[1,2-alpha] pyridinyl-2-oxobenzoxazolidines-3-oxo-2H-1,4-benzoxazines and related compounds. Chem Pharm Bull 39(11):2937–2943

Koster R, Anderson M, de Beer EJ (1959) Acetic acid for analgesic screening. Fed Proc 18:412–416

Kumar D, Jacob MR, Reynolds MB, Kerwin SM (2002) Synthesis and evaluation of anticancer benzoxazoles and benzamidazoles related to UK-1. Bioorg Med Chem 10:3997–4004

Kumar H, Javed SA, Khan SA, Amir M (2008) 1,3,4-Oxadiazole/thiadiazole and 1,2,4-triazole derivatives of biphenyl-4-yloxy acetic acid: synthesis and preliminary evaluation of biological properties. Eur J Med Chem 43:2688–2698

Mertens A, Muller-Beckmann B, Kampe W, Holck JP, von der Saal W (1987) 2-Pyridyl-6,7-dihydro-3H,5H-pyrrolo[2,3-f]benzimidazol-6-ones, a novel class of cardiotonic agents. J Med Chem 30:1279–1287

Milcent R, Akhnazarian A, Lensen N (1996) Synthesis of 1-(2-hydroxyphenyl)-2,4-imidazolidinedione derivatives through cyclic transformations of ethyl 2-oxo-3(2H)-benzoxazoleacetate derivatives. J Heterocycl Chem 33:1829–1833

Nachman RJ (1982) Convenient preparation of 2-benzoxazolinones with 1,1-carbonyldiimidazole. J Heterocycl Chem 19:1545–1547

Ramalingan C, Balasubramanian S, Kabilan S, Vasudevan M (2004) Synthesis and Study of antibacterial and antifungal activities of novel1-[2-(benzoxazol-2-yl)ethoxy]-2,6-diarylpiperidin-4-ones. Eur J Med Chem 39:527–533

Ruiz JG, Lowenthal DT (1997) NSAIDS and nephrotoxicity in the elderly. Geriatr Nephrol Urol 7:51–57

Salgin-Goksen U, Gokhan-Kelekci N, Goktas O, Koysal Y, Kilic E, Isik S, Gonkur Aktay G, Ozalp M (2007) 1-Acylthiosemicarbazides, 1,2,4-triazole-5(4H)-thiones, 1,3,4-thiadiazoles and hydrazones containing 5-methyl-2-benzoxazolinones: synthesis, analgesic-anti-inflammatory and antimicrobial activities. Bioorg Med Chem 15:5738–5751

Schrödinger, ConfGen (2011) Version 2.3, LLC, New York

Schrödinger Maestro (2011) Version 9.2, LLC, New York

Sharma S, Gangal S, Rauf A, Zahin M (2008) Synthesis, antibacterial and antifungal activity of some novel 3,5-disubstituted-1H-1,2,4-triazoles. Arch Pharm 341:714–720

Sondhi SM, Singh N, Kumar A, Lozach O, Meijer L (2006) Synthesis, anti-inflammatory, analgesic and kinase (CDK-1, CDK-5 and GSK-3) inhibition activity evaluation of benzimidazole/benzoxazole derivatives and some Schiff's bases. Bioorg Med Chem 16:758–3765

Tan HH, Ong WM, Lai SH, Chow WC (2007) Nimesulide-induced hepatotoxicity and fatal hepatic failure. Singap Med J 48:582–585

Umar S, Zargan J, Umar K, Ahmad S, Katiyar CK, Khan HA (2012) Modulation of the oxidative stress and inflammatory cytokine response by thymoquinone in the collagen induced arthritis in Wistar rats. Chem Biol Interact 197:40–46

Umar S, Golam Sarwar AH, Umar K, Ahmad N, Sajad M, Ahmad S, Katiyar CK, Khan HA (2013) Piperine ameliorates oxidative stress, inflammation and histological outcome in collagen induced arthritis. Cell Immunol 284:51–59

Wanga HX, Ng TB (2002) Demonstration of antifungal and anti-human immunodeficiency virus reverse transcriptase activities of 6-methoxy-2-benzoxazolinone and antibacterial activity of the pineal indole 5-methoxyindole-3-acetic acid. Comp Biochem Physiol C Toxicol Pharmacol 132:261–268

Weinstok J, Gaitanopoulos DE, Stringer OD, Franz RG, Hieble JP, Kinter LB, Mann WA, Flaim KE, Gessner G (1987) Synthesis and evaluation of non-catechol D-1 and D-2 dopamine receptor agonists: benzimidazol-2-one,benzoxazol-2-one, and the highly potent: benzothiazol-2-one-7-ethylamines. J Med Chem 30:1166–1176

Winter CA, Risley EA, Nuss GW (1962) Carrageenan-induced edema in hind paw of rat as an assay for anti-inflammatory drugs. Proc Soc Exp Biol Med 111:544–547

Wolfe MM, Lichtenstein DR, Singh G (1999) Gastrointestinal toxicity of nonsteroidal anti-inflammatory drugs. N Engl J Med 340:1888–1899

Zamani K, Faghihi K, Sangi MR, Zolgharnein J (2003) Synthesis of some new substituted 1,2,4-triazole and 1,3,4-thiadiazole and their derivatives. Turk J Chem 27:119–125

Zhongyi W, Haoxin S, Haijian S (2001) Synthesis of chiral fused heterocyclic compounds containing 1,2,4-triazole ring. J Heterocycl Chem 38:355–357
Acknowledgments
The authors thank Dr. G. N. Qazi, Vice-Chancellor, Jamia Hamdard for providing necessary facilities to the Department of Chemistry. One of the authors (SH) is also thankful to CSIR for awarding the senior research fellowship.
Conflict of interest
The authors report no conflict of interest.
Electronic supplementary material
Below is the link to the electronic supplementary material.
About this article
Cite this article
Haider, S., Alam, M.S., Hamid, H. et al. Design, synthesis and docking studies of 2-benzoxazolinone-based 1,2,4-triazoles as proinflammatory cytokine inhibitors. Med Chem Res 23, 4250–4268 (2014). https://doi.org/10.1007/s00044-014-0989-x
Received:

Accepted:

Published:

Issue Date:
Keywords
Cyclooxygenase

Molecular docking

Antinociceptive

2AZ5 ligand