Abstract
The side effects of non-steroidal anti-inflammatory drugs (NSAIDs) concern the public, the government, and pharmaceutical companies. NSAIDs act as inhibitors of cyclooxygenases which are the major cause of pain and inflammation in our body. However, the inhibition of cyclooxygenases could divert arachidonic acid metabolism toward the lipoxygenase pathway leading to other forms of inflammation and tissue damage. Hence a common inhibitor that could block the action of both cyclooxygenases and lipoxygenase is of interest in medicinal chemistry research. Further, the inhibition of both cyclooxygenases-1 and 2 would result in more side effects, since blocking the action of cyclooxygenase-1 would cause gastrointestinal disturbance. Therefore, there is a need to find an inhibitor that acts on cyclooxygenase-2 and lipoxygenase without disturbing the action of cyclooxygenase-1. A molecular docking study with eight lipid ligands was conducted to find the common and selective inhibitors of these three enzymes. Docking with extra precision mode and standard precision mode was performed to find the suitable docking method using the Glide software tool. Docking with extra precision mode yielded better results than with standard precision mode. The docking results are validated using a receiver operator characteristic curve. Further, molecular dynamic simulations were performed for the docked complexes of lowest binding energies. The confirmations obtained from molecular dynamic simulations are more stable and credible than the docked confirmations. Docosahexaenoic acid, eicosapentaenoic acid, 2-arachidonyl glycerol, and anandamide are identified as dual inhibitors of cyclooxygenases and lipoxygenase. α-Tocotrienols are shown to be selective inhibitors of cyclooxygenase-2 and lipoxygenase.
Access options
Buy single article
Instant access to the full article PDF.
USD 39.95
Price includes VAT (USA)
Tax calculation will be finalised during checkout.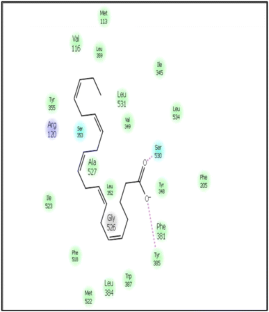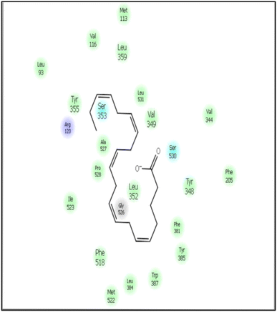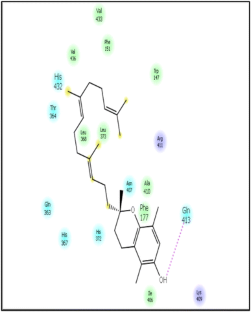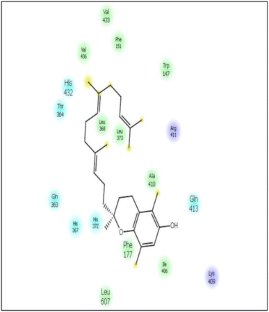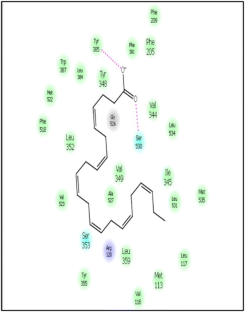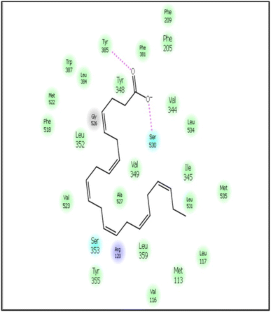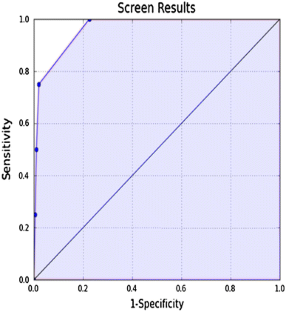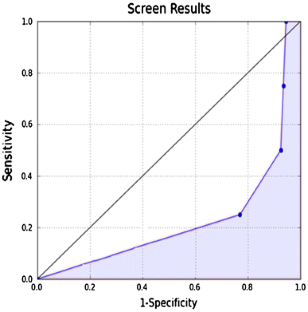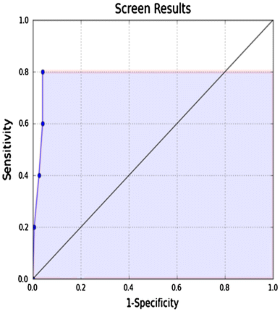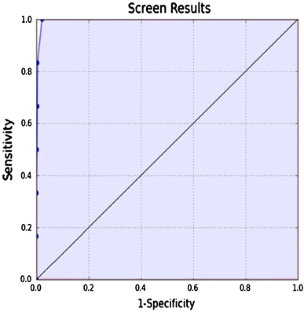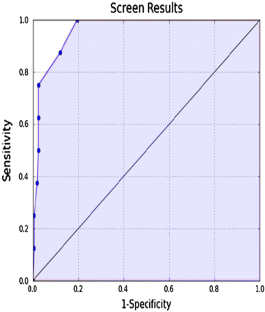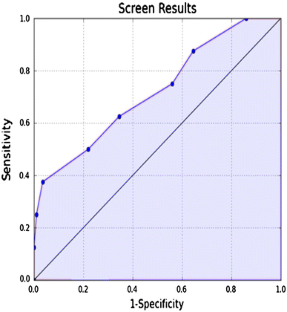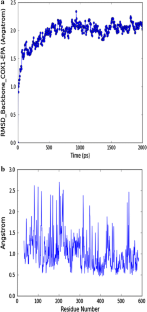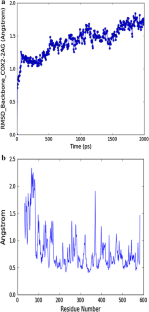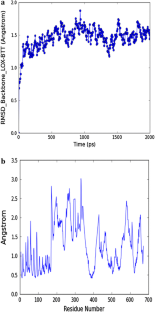 References
Aggarwal BB, Sundaram C, Prasad S, Kannappan R (2010) Tocotrienols, the vitamin E of the 21st century: its potential against cancer and other chronic diseases. Biochem Pharmacol 80:1613–1631. doi:10.1016/j.bcp.2010.07.043

Balvers MG, Verhoeckx KC, Plastina P, Wortelboer HM, Meijerink J, Witkamp RF (2010) Docosahexaenoic acid and eicosapentaenoic acid are converted by 3T3-L1 adipocytes to N-acyl ethanolamines with anti-inflammatory properties. Biochim Biophys Acta 10:1107–1114. doi:10.1016/j.bbalip.2010.06.006

Brash AR (1999) Lipoxygenases: occurrence, functions, catalysis, and acquisition of substrate. J Biol Chem 274:23679–23682. doi:10.1074/jbc.274.34.23679

Brown JR, DuBois RN (2005) COX-2: a molecular target for colorectal cancer prevention. J Clin Oncol 23:2840–2855. doi:10.1200/JCO.2005.09.051

Burnett BP, Levy RM (2012) 5-Lipoxygenase metabolic contributions to NSAID-induced organ toxicity. Adv Ther. doi:10.1007/s12325-011-0100-7

Deng W, Verlinde CL (2008) Evaluation of different virtual screening programs for docking in a charged binding pocket. J Chem Inf Model 48:2010–2020. doi:10.1021/ci800154w

Desmond Molecular Dynamics System version 3.1, D. E. Shaw Research, New York, NY, 2012. Maestro-Desmond Interoperability Tools, version 3.1, Schrödinger, New York, NY, 2012

DeWitt DL (1999) Cox-2-selective inhibitors: the new super aspirins. Mol Pharmacol 55:625–631

Ding XZ, Hennig R, Adrian TE (2003) Lipoxygenase and cyclooxygenase metabolism: new insights in treatment and chemoprevention of pancreatic cancer. Mol Cancer 2:10. doi:10.1186/1476-4598-2-10

Friesner RA, Murphy RB, Repasky MP, Frye LL, Greenwood JR, Halgren TA, Sanschagrin PC, Mainz DT (2006) Extra precision Glide: docking and scoring incorporating a model of hydrophobic enclosure for protein–ligand complexes. J Med Chem 49:6177–6196

Gan TJ (2010) Diclofenac: an update on its mechanism of action and safety profile. Curr Med Res Opin 26:1715–1731. doi:10.1185/03007995.2010.486301

Glide (2011) Version 5.7. Schrödinger, LLC, New York

Goodsell DS (2005) The molecular perspective: cyclooxygenase-2. Oncologist 5:169–171

Hayes JM, Skamnaki VT, Archontis G, Lamprakis C, Sarrou J (2011) Kinetics, in silico docking, molecular dynamics, and MM-GBSA binding studies on prototype indirubins, KT5720, and staurosporine as phosphorylase kinase ATP-binding site inhibitors: the role of water molecules examined. Proteins 79:703–719

Huang N, Shoichet BK, Irwin JJ (2006) Benchmarking sets for molecular docking. J Med Chem 49:6789–6801. doi:10.1021/jm0608356

Hudson N, Balsitis M, Everitt S, Hawkey CJ (1993) Enhanced gastric mucosal leukotriene B4 synthesis in patients taking non-steroidal anti-inflammatory drugs. Gut 34:742–747

Impref (2011) Impactversion 5.7. Schrodinger, LLC, New York

Jonsson KO, Holt S, Fowler CJ (2006) The endocannabinoid system: current pharmacological research and therapeutic possibilities. Basic Clin Pharmacol Toxicol 2:124–134

Kalva S, Vadivelan S, Jagarlapudi SARP (2011) Pharmacophore design, homology and docking studies on 5-lipoxygenase inhibitors. International Conference on Bioscience, Biochemistry and Bioinformatics, 2011, Singapore

Kellenberger E, Rodrigo J, Muller P, Rognan D (2004) Comparative evaluation of eight docking tools for docking and virtual screening accuracy. Proteins 2:225–242

Kronke G, Katzenbeisser J, Uderhardt S, Zaiss MM, Scholtysek C, Schabbauer G, Zarbock A, Koenders MI, Axmann R, Zwerina J, Baenckler HW, van den Berg W, Voll RE, Kühn H, Joosten LA, Schett G (2009) 12/15-Lipoxygenase counteracts inflammation and tissue damage in arthritis. J Immunol 183:3383–3389. doi:10.4049/jimmunol.0900327

Kuhn H (2005) Biologic relevance of lipoxygenase isoforms in atherogenesis. Expert Rev Cardiovasc Ther 3:1099–1110. doi:10.1586/14779072.3.6.1099

Laufer S (2001) Discovery and development of ML 3000. Inflammopharmacology 9:101–112

Leval XD, Julemont F, Delarge J, Pirotte B, Dogne JM (2002) New trends in dual 5-LOX/COX inhibition. Curr Med Chem 9:941–962

LigPrep (2011) Version 2.5. Schrödinger, LLC, New York, NY

Maestro (2011) Version 9.2. Schrödinger, LLC, New York, NY

Matsuyama M, Yoshimura R (2009) Arachidonic acid pathway: a molecular target in human testicular cancer (review). Mol Med Rep 2:527–531. doi:10.3892/mmr_00000131

Perola E, Walters WP, Charifson PS (2004) A detailed comparison of current docking and scoring methods on systems of pharmaceutical relevance. Proteins 2:235–249

Rainsford KD (1987) The effects of 5-lipoxygenase inhibitors and leukotriene antagonists on the development of gastric lesions induced by nonsteroidal antiinflammatory drugs in mice. Agents Actions 21:316–319

Rainsford KD (1999a) Leukotrienes in the pathogenesis of NSAID-induced gastric and intestinal mucosal damage. Agents Actions 39:24–26

Rainsford KD (1999b) Profile and mechanisms of gastrointestinal and other side effects of nonsteroidal anti-inflammatory drugs (NSAIDs). Am J Med 107:27–35. doi:10.1016/S0002-9343(99)00365-4

Randy CM, Don WP (2001) Cyclooxygenases. Med Pub. http://www.medpubinc.com/newsletters/RPL.pdf. Accessed 15 Nov 2012

Shu M, Lin Z, Zhang Y, Wu Y, Mei H et al (2011) Molecular dynamicssimulation of oseltamivir resistance in neuraminidase of avian influenza H5N1 virus. J Mol Model 17:587–592

Shureiqi I, Lippman SM (2001) Lipoxygenase modulation to reverse carcinogenesis. Cancer Res 61:6307–6312

Shureiqi I, Chen D, Lee JJ, Yang P, Newman RA, Brenner DE, Lotan R, Fischer SM, Lippman SM (2012) 15-LOX-1: a novel molecular target of nonsteroidal anti-inflammatory drug-induced apoptosis in colorectal cancer cells. J Natl Cancer Inst 92:1136–1142

Sidhu RS, Lee JY, Yuan C, Smith WL (2010) Comparison of cyclooxygenase-1 crystal structures: cross-talk between monomers comprising cyclooxygenase-1 homodimers. Biochemistry 33:7069–7079. doi:10.1021/bi1003298

Smith WL, DeWitt DL, Garavito RM (2000) Cyclooxygenases: structural, cellular, and molecular biology. Annu Rev Biochem 69:145–182. doi:10.1146/annurev.biochem.69.1.145

Subbaramaiah K, Dannenberg AJ (2003) Cyclooxygenase 2: a molecular target for cancer prevention and treatment. Trends Pharmacol Sci 24:96–102. doi:10.1016/S0165-6147(02)00043-3

Sun Y, Bennett A (2007) Cannabinoids: a new group of agonists of PPARs. PPAR Res 2007. doi:10.1155/2007/23513

Vane JR, Bakhle YS, Botting RM (1998) Cyclooxygenases 1 and 2. Annu Rev Pharm Toxicol 38:97–120. doi:10.1146/annurev.pharmtox.38.1.97

Wei D, Christophe LMJV (2008) Evaluation of different virtual screening programs for docking in a charged binding pocket. J Chem Inf Model 48:2010–2020. doi:10.1021/ci800154w

Zheng M, Zhang Z, Zhu W, Liu H, Luo X, Chen K, Jiang H (2006) Essential structural profile of a dual functional inhibitor against cyclooxygenase-2 (COX-2) and 5-lipoxygenase (5-LOX): molecular docking and 3D-QSAR analyses on DHDMBF analogues. Bioorg Med Chem 14:3428–3437. doi:10.1016/j.bbr.2011.03.031
Acknowledgments
The authors would like to thank Victoria University and Bharathidasan University for providing the facilities needed for the study. We would like to thank Abdulrahman Hadbah for the technical support provided.
About this article
Cite this article
Gaddipati, R.S., Raikundalia, G.K. & Mathai, M.L. Dual and selective lipid inhibitors of cyclooxygenases and lipoxygenase: a molecular docking study. Med Chem Res 23, 3389–3402 (2014). https://doi.org/10.1007/s00044-014-0919-y
Received:

Accepted:

Published:

Issue Date:
Keywords
COX-1

COX-2

LOX

Glide docking

ROC curve

Molecular dynamics simulation