Abstract
Convenient and efficient synthesis of novel N-(4-acetyl-4,5-dihydro-5-(7,8,9-substituted-tetrazolo[1,5-a]-quinolin-4-yl)-1,3,4-thiadiazol-2-yl)acetamides 4a–j and their in vitro anticancer activity against two cell lines viz., human breast cancer cell line MCF7 and human cervix cancer cell line HeLa were carried out. GI50, LC50, TGI values were evaluated. Two of the compounds 4e and 4i with halogen substituent at 7th position of the target molecules have shown potent activity against human cervix cancer cell line HeLa. DNA cleavage studies revealed that most of these compounds show partial cleavage and few of them show complete cleavage of DNA.
Access options
Buy single article
Instant access to the full article PDF.
US$ 39.95
Tax calculation will be finalised during checkout.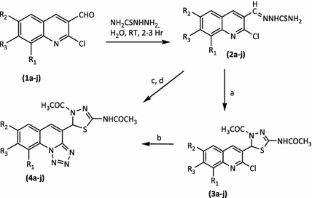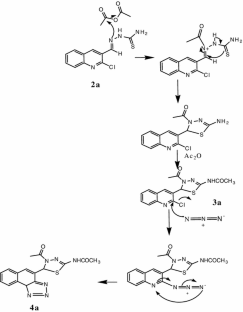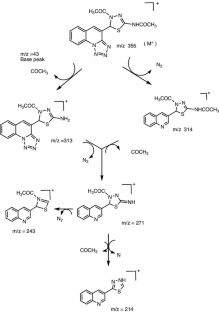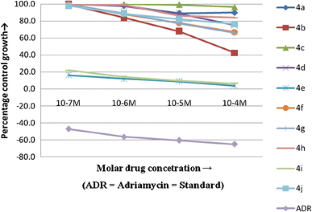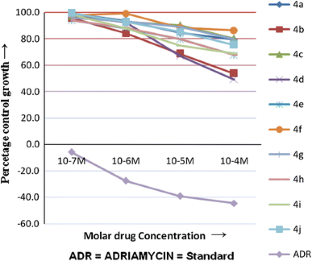 References
Abeer A, Daneshtalab M (2011) Nonclassical biological activities of quinolone derivatives. J Pharm Pharm Sci 15(1):52–72

Adnan A, Bekhit OA, El-Sayed, El-Sayed A, JiYoung PC (2004) Tetrazolo[1,5-a] quinoline as a potential promising new scaffold for the synthesis of novel anti-inflammatory and antibacterial agents. Eur J Med Chem 39:249–255

Brian H, Gunjan G, Keshar P, Duy HH, Thu AN (2010) Second generation substituted quinolines as anticancer drugs for breast cancer. Anticancer Res 30:3927–3932

Chebolu NS, Sai PK, Dusmant KP, Amlipur S, Anil Kumar K, Balasubramanian S, Vaidya JR (2011) Synthesis and biological evaluation of tetrazole containing compounds as possible anticancer agents. Med Chem Commun 2:486–492

El-Sayed OA, Al-Turki TM, Al-Daffiri HM, Al-Bassam BA, Hussein ME (2004) Tetrazolo[1,5-a] quinoline derivatives as anti-inflammatory and antimicrobial agents. Boll Chimico Farmaceutico 143:227–238

Malleshappa NN, Harun MP, Navjot S, Andanappa KG, Swaranjit SC, Arvind B (2011) Synthesis and anticancer evaluation of novel 2-cyclopropylimidazo[2,1-b][1,3,4]-thiadiazole derivatives. Eur J Med Chem 46:4411–4418

Meth-Cohn Otto, Brahma N, Brian T (1981) A versatile new synthesis and related fused pyridines. Part 5: the synthesis of 2-chloroquinoline-3-carbaldehydes. Perkin Trans J Chem Soc 1:1520–1530

Sambrook J, Fritsch EF, Maniatis T (1989) Molecular cloning, a laboratory manual, 2nd edn. Cold Spring Harbor Laboratory, New York

Sheetal BM, Ravindra RK, Tasneem T, Mahadevappa YK (2012) An efficient one-pot cyclization of quinoline thiosemicarbazones to quinolines derivatized with 1,3,4-thiadiazole as anticancer and anti-tubercular agents. Med Chem Res 21:185–191

Skehan P, Storeng R et al (1990) New colorimetric cytotoxicity assay for anticancer-drug screening. J Natl Cancer Inst 82:1107–1112

Tashfeen A, Shahid H, Najim A, Al-Masoudi RobertaL P, Colla La (2008) In vitro antitumor and antiviral activities of new benzothiazole and 1,3,4-oxadiazole-2-thione derivatives. Acta Pharm 58:135–149

Wiles DM, Gingras BA, Suprunchuk T (1907) The C=S stretching vibration in the infrared spectra of some thiosemicarbazones. Can J Chem 45:469–473

Yang Y, Shi L, Zhou Y, Zhu ZW, Li HQ, Zhu HL (2010) Design, synthesis and biological evaluation of quinoline amide derivatives as novel VEGFR-2 inhibitors. Bioorg Med Chem Lett 20:6653–6656

Zarubaev VV, Golod EL, Anfimov PM, Shtro AA, Saraev VV, Gavrilov AS, Logvinov AV, Kiselev OI (2010) Synthesis and anti-viral activity of azolo-adamantanes against influenza A virus. Bioorg Med Chem 18:839–848
Acknowledgments
The authors thank ACTREC, Mumbai and Biogenics, Hubballi, for assistance in conducting pharmacological assay and USIC, Karnatak University Dharwad—580003 for spectral characterization.
Electronic supplementary material
Below is the link to the electronic supplementary material.
About this article
Cite this article
Marganakop, S.B., Kamble, R.R., Hoskeri, J. et al. Facile synthesis of novel quinoline derivatives as anticancer agents. Med Chem Res 23, 2727–2735 (2014). https://doi.org/10.1007/s00044-013-0855-2
Received:

Accepted:

Published:

Issue Date:
Keywords
Anticancer activity

Breast cancer cell line MCF7

Cervix cancer cell line HeLa

DNA cleavage

Quinoline