Abstract
9,10-Dihydroanthracene-9,10-α,β-succinimide derivatives 4a–e and bis-succinimide derivatives 6a–e have been synthesized by grinding 9,10-dihydroanthracene-9,10-α,β-succinic anhydride 2 with various mono 3a–e and diamines 5a–e in quantitative yields. All the target compounds were fully characterized by spectrometric and spectroscopic means. Compounds 4a–e, 6a–e and recently reported compounds 4f–p were screened for anti-inflammatory and for cytotoxicity against five human cancer cell lines: T47D, NCI H-522, HCT-15, PA1, and HepG-2. Compounds 4e, 4i, 4j, and 4p exhibited good anti-inflammatory activity and compounds with interesting cytotoxic profile were 4c, 6e (T47D); 4e, 4o (NCI H-522); 4n (HCT-15); 4e, 4h, 4o (PA1); and 4a, 4e, 4f, 4i, 4o (HepG-2).
Access options
Buy single article
Instant access to the full article PDF.
US$ 39.95
Tax calculation will be finalised during checkout.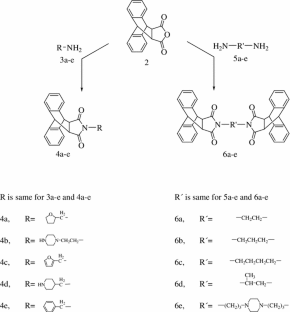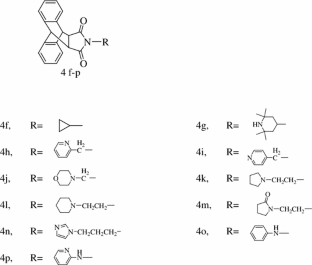 References
Abdel-Aziz AAM, ElTahir KEH, Asiri YA (2011) Synthesis, anti-inflammatory activity and COX-1/COX-2 inhibition of novel substituted cyclic imides. Part 1: molecular docking study. Eur J Med Chem 46:1648–1655

Amr AEGE, Sabry NM, Abdulla MM (2007) Synthesis, reactions and anti-inflammatory activity of heterocyclic systems fused to a thiophene moiety using citrazinic acid as synthon. Monatsh Chem 138:699–707

Anizon F, Belin L, Moreau P, Sancelme M, Voldoire A, Prudhomme M, Ollier M, Severe D, Riou JF, Bailly C, Fabbro D, Thomas M (1997) Syntheses and biological activities (topoisomerase inhibition and antitumor and antimicrobial properties) of rebeccamycin analogues bearing modified sugar moieties and substituted on the imide nitrogen with a methyl group. J Med Chem 40:3456–3465

Atwell GJ, Rewcastle GW, Baguley BC, Denny WA (1987) Potential antitumor agents. 50. In vivo solid-tumour activity of derivatives of N-[2-d(imethy1amino)ethyl]acridine-4-carboxamid. J Med Chem 30:664–669

Bousquet PF, Brana MF, Conlon D, Fitzgerald KM, Perron D, Cocchiaro C, Miller R, Moran M, George J, Qian XD (1995) Preclinical evaluation of LU 79553: a novel bis-naphthalimide with potent antitumor activity. Cancer Res 55:1176–1180

Brana MF, Ramos A (2001) Naphthalimides as anti-cancer agents: synthesis and biological activity. Curr Med Chem: Anti-Cancer Agents 1:237–255

Brana MF, Castellano JM, Moran M, Perez de Vega MJ, Perron D, Conlon D, Bousquet PF, Romerdahl CA, Robinson SP (1996) Bis-naphthalimides 3: synthesis and antitumor activity of N,N'-bis[2-(1,8-naphthalimido)-ethyl] alkanediamines. Anti-Cancer Drug Des 11:297–309

Cholody WM, Hernandez L, Hassner L, Scudiero DA, Djurickovic DB, Michejda CJ (1995) Bisimidazoacridones and related compounds: new antineoplastic agents with high selectivity against colon tumours. J Med Chem 38:3043–3052

Dorr SRT, Solyom AM, Alberts DS, Iyengar BS, Remers WA (1996) 6- and 7-substituted2-[2¢-(dimethylamino)ethyl]-1,2-dihydro-3H-dibenz[de, h]isoquinoline-1,3-diones: synthesis, nucleophilic displacements, antitumor activity, and quantitative structure-activity relationships. J Med Chem 39:1609–1618

Gamage SA, Spicer JA, Finlay GJ, Stewart AJ, Charlton P, Baguley BC, Denny WA (2001) Dicationic bis(9-methylphenazine-1-carboxamides): relationships between biological activity and linker chain structure for a series of potent topoisomerase targeted anticancer drugs. J Med Chem 44:1407–1415

Hernandez L, Cholody WM, Hudson EA, Resau JH, Pauly G, Michejda CJ (1995) Mechanism of action of bisimidazoacridones, new drugs with potent, selective activity against colon cancer. Cancer Res 55:2338–2345

Ingrassia L, Lefranc F, Kiss R, Mijatovic T (2009) Naphthalimides and azonafides as promising anti-cancer agents. Curr Med Chem 16:1192–1213

Kennedy EL, Tchao R, Harvison PJ (2003) Nephrotoxic and hepatotoxic potential of imidazolidinedione-, oxazolidinedione- and thiazolidinedione-containing analogues of N-(3,5-dichlorophenyl)succinimide (NDPS) in Fischer 344 rats. Toxicology 186:79–91

Khalil AM, Berghot MA, Gouda MA (2010) Synthesis and study of some new 1,3-isoindole dione derivatives as potential antibacterial agents. Eur J Med Chem 45:1552–1559

Kitahonoki K, Kido R (1970) Antispasmodic N,N-alkylenebis [benzobicyclo[2.2.2]octano pyrrolidines]. US 3513174A 19700519

Leng FF, Priebe W, Chaires JB (1998) Ultratight DNA binding of a new bisintercalating anthracycline antibiotic. Biochemistry 37:1743–1753

McRipley RJ, Burns-Horwitz PE, Czerniak PM, Diamond RJ, Diamond MA, Miller JLD, Page FJ, Dexter DL, Chen SF (1994) Efficacy of DMP 840: a novel bis-naphthalimide cytotoxic agent with human solid tumour xenograft selectivity. Cancer Res 54:159–164

Monks A, Scudiero D, Skehan P, Shoemaker R, Paull K, Vistica D, Hose C, Langley J, Cronise P (1991) Feasibility of a high-flux anticancer drug screen using a diverse panel of cultured human tumor cell lines. J Natl Cancer Inst 83:757–766

Nitiss JL, Zhou JF, Rose A, Hsiung YC, Gale KC, Osheroff N (1998) The bis(naphthalimide) DMP-840 causes cytotoxicity by its action against eukaryotic topoisomerase II. Biochemistry 37:3078–3085

Rani R, Arya S, Kilaru P, Sondhi SM (2012) An expeditious, highly efficient, catalyst-free and solvent-free synthesis of 9,10-dihydro-anthracene-9,10-α,β-succiniimide derivatives. Green Chem Lett Rev 5:545–575

Schumann EL, Roberts EM, Claxton GP (1964) 9,10-Dihydroanthracene-9,10-endo-3′,4′-pyrrolidines. US 3123618 19640303

Skehan P, Storeng R, Scudiero D, Monks A, McMahon J, Vistica D, Warren JT, Bokesch H, Kenney S, Boyd MR (1990) New colorimetric cytotoxicity assay for anticancer-drug screening. J Natl Cancer Inst 82:1107–1112

Sondhi SM, Rani R, Roy P, Agrawal SK, Saxena AK (2009a) Microwave-assisted synthesis of N-substituted cyclic imides and their evaluation for anticancer and anti-inflammatory activities. Bioorg Med Chem Lett 19:1534–1538

Sondhi SM, Singh J, Kumar A, Jamal H, Gupta PP (2009b) Synthesis of amidine and amide derivatives and their evaluation for anti-inflammatory and analgesic activities. Eur J Med Chem 44:1010–1015

Sondhi SM, Rani R, Roy P, Agrawal SK, Saxena AK (2010a) Conventional and microwave assisted synthesis of small molecule based biologically active heterocyclic amidine derivatives. Eur J Med Chem 45:902–908

Sondhi SM, Rani R, Singh J, Roy P, Agrawal SK, Saxena AK (2010b) Solvent free synthesis, anti-inflammatory and anticancer activity evaluation of tricyclic and tetracyclic benzimidazole derivatives. Bioorg Med Chem Lett 20:2306–2310

Sondhi SM, Singh J, Roy P, Agrawal SK, Saxena AK (2011) Conventional and microwave-assisted synthesis of imidazole and guanidine derivatives and their biological evaluation. Med Chem Res 20:887–897

Sondhi SM, Kumar S, Kumar N, Roy P (2012a) Synthesis anti-inflammatory and anticancer activity evaluation of some pyrazole and oxadiazole derivatives. Med Chem Res 21:3043–3052

Sondhi SM, Arya S, Rani R, Kumar N, Roy P (2012b) Synthesis, anti-inflammatory and anticancer activity evaluation of some mono- and bis-Schiff's bases. Med Chem Res 21:3620–3628

Tumiatti V, Milelli A, Minarini A, Micco M, Campani AG, Roncuzzi L, Baiocchi D, Marinello J, Capranico G, Zini M, Stefanelli C, Melchiorre C (2009) Design, synthesis and biological evaluation of substituted naphthalene imides and diimides as anticancer agent. J Med Chem 52:7873–7877

Vogel AI (1968) A text book of practical organic chemistry. ELBS, London, p 943

Winter CA, Risley EA, Nuss GW (1962) Carrageenan-induced edema in hind paw of rat as an assay for anti-inflammatory drugs. Proc Soc Exp Biol Med 111:544–547
Acknowledgments
We are thankful to technical staff of the Chemistry Department, I. I. T. Roorkee, for spectroscopic studies and elemental analysis. Thanks also due to Head I. I. C. for providing NMR facility. We are thankful to Prof. G. Bhattacharjee and Prof. Ravi Bhushan of the Chemistry Department, I. I. T. Roorkee for helpful discussion. Ms. Surbhi Arya (SRF) and Reshma Rani are thankful to CSIR, New Delhi, and Mr. Sandeep Kumar to MHRD, New Delhi for financial assistance.
About this article
Cite this article
Arya, S., Kumar, S., Rani, R. et al. Synthesis, anti-inflammatory, and cytotoxicity evaluation of 9,10-dihydroanthracene-9,10-α,β-succinimide and bis-succinimide derivatives. Med Chem Res 22, 4278–4285 (2013). https://doi.org/10.1007/s00044-012-0439-6
Received:

Accepted:

Published:

Issue Date:
Keywords
Succinimide derivatives

Green method

Anti-inflammatory

Cytotoxicity