Abstract
Peltophorum pterocarpum (DC.) Baker ex. K. Heyne (Caesalpiniaceae) is an ornamental tree distributed in the tropical regions of the world; it is attributed to have several medicinal properties. The bark of the tree is used to treat dysentery, for gargling, and as tooth powder; it is applied externally to treat eye diseases, muscular pains, and sores. Flowers possess antibacterial activity; they are used to treat insomnia and to induce good sleep. The cinnamic acid derived bisamide alkaloid (E, E)-terrestribisamide was isolated for the first time from the methanolic extract of the flower of P. pterocarpum. It was also quantified by HPLC and was shown to be the second major constituent (0.145 %) next to the coumarin bergenin (0.399 %). Terrestribisamide showed moderate antimicrobial activity against tested strains and exhibited potent antioxidant activity at 1 mg/mL concentration. The compound showed prominent cytotoxic activity in vitro against COLO320 colorectal adenocarcinoma cell line. It showed 83.22 % activity at the dose of 200 μg/mL with an IC50 value of 50 μg/mL. Terrestribisamide can be probed further for its cytotoxic effect. This is the first report of the antibacterial, antifungal, antioxidant, and cytotoxic properties of terrestribisamide from this plant.
Graphical Abstract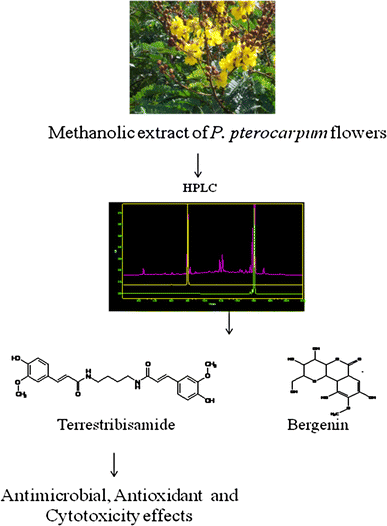 .
Access options
Buy single article
Instant access to the full article PDF.
US$ 39.95
Tax calculation will be finalised during checkout.
Subscribe to journal
Immediate online access to all issues from 2019. Subscription will auto renew annually.
US$ 79
Tax calculation will be finalised during checkout.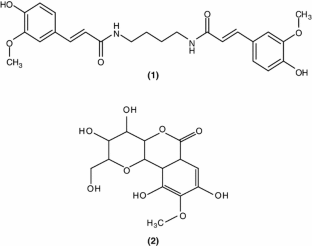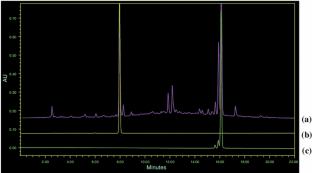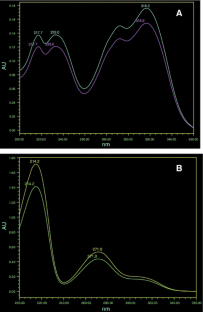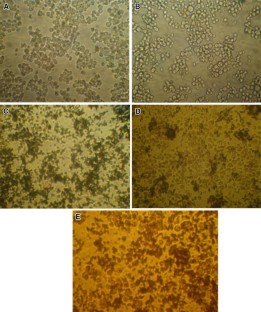 References
Ali MS, Azhar I, Ahmad VU, Usmanghani K (2001) Antimicrobial screening of Mimoceous plants. Pharm Biol 39:43–46

Bhemachari J, Ashok K, Suresh DK, Gupta VRM, Narsimhachar J (2005) Effect of Arq Gauzaban a Unanipathy product on the isolated frog heart. Acta Pharmaceutica Turica 47:159–164

Clinical and Laboratory Standards Institute (CLSI) (2008a) Reference method for Broth dilution antifungal susceptibility testing of filamentous fungi, 2nd edn. CLSI document M38-A2 (ISBN 1-56238-668-9). Clinical and Laboratory Standards Institute, Wayne

Clinical and Laboratory Standards Institute (CLSI) (2008b) Methods for antimicrobial susceptibility testing of aerobic bacteria approved standard M07-A8, ninth end 2008. National Committee for Clinical Laboratory Standards, Wayne

Duganath N, Reddy KN, Nagasowjanya J, Sridhar S, Jayaveera KN (2010) Evaluation of phytochemical and in vitro antioxidant activity of Filicium decipiens. Ann Biol Res 1(1):134–140

Duraipandiyan V, Ignacimuthu S (2009) Antibacterial and antifungal activity of Flindersine isolated from the traditional medicinal plant, Toddalia asiatica (L.) Lam. J Ethnopharmacol 123(3):494–498

Duraipandiyan V, Ayyanar M, Ignacimuthu S (2006) Antimicrobial activity of some ethnomedicinal plants used by Paliyar tribe from Tamil Nadu, India. BMC Complem Altern Med 6:35

Gao X, Björk L, Trajkovski V, Uggla M (2000) Evaluation of antioxidant activities of rosehip ethanol extracts in different test systems. J Sci Food Agric 80:2021–2027

Halvorsen BL, Holte K, Myhrstad MCW, Barikmo I, Hvattum E, Remberg SF et al (2002) A systematic screening of total antioxidants in dietary plants. J Nutr 132(3):461–471

Hayashi N, Lee K, Hall IH, McPhail AT, Huang H (1982) Structure and stereochemistry of (−)-odorinol, an antileukemic diamide from Aglaia odorata. Phytochemistry 21:2371–2373

Jagessar RC, Mohamed A, Gomes G (2007) Antibacterial and antifungal activity of leaf extracts of Luffa operculata, vs Peltophorum pterocarpum, against Candida albicans, Staphylococcus aureus and Escherichia coli. Nat Sci 5(4):5

Jain SC, Pancholi B, Jain R (2011) Peltophorum pterocarpum (DC.) Baker ex. K. Heyne flowers: antimicrobial and antioxidant efficacies, research. J Med Plant 5:274–280

Joshi BS, Kamat VN (1969) Identity of peltophorin with bergenin. Naturwissenschaften 56(2):89

Kubola J, Siriamornpun S (2011) Phytochemicals and antioxidant activity of different fruit fractions (Peel, pulp, aril and seed) of Thai gac (Momordica cochinchinensis Spreng). Food Chem 127:1138–1145

Meng J, Fang Y, Zhang A, Chen S, Xu T et al (2011) Phenolic content and antioxidant capacity of Chinese raisins produced in Xinjiang Province. Food Res Int 44(9):2830–2836

Mossman T (1983) Rapid colorimetric assay for cellular growth and survival application to proliferation and cytotoxicity assays. J Immunol Methods 65:55–63

Nathan VK, Antonisamy JM, Gnanaraj WE, Subramanian KM (2012) Phytochemical and bio-efficacy studies on methanolic flower extracts of Peltophorum pterocarpum (DC.) Baker ex Heyne. Asian Pac J Trop Biomed 1:1–5

National Committee for Clinical Laboratory Standards (NCCLS) (2002) Reference method for broth dilution antifungal susceptibility testing of yeasts: proposed standard M27–A2. J Clin Microbiol 33:3154–3158

Rahman W, Ilyas M, Hameed MN (1969) Flower pigment flavonoids glycosides from Peltophorum inermis. J Indian Chem Soc 46:278

Raju B, Vijaya C, Ramu A (2011) Evalution of cardiotonic activity of Peltophorum pterocarpum. Int J Phytopharmacol 2(1):1–6

Rao DS (1965) Chemical investigation of Peltophorum inermis. Naturwissenschaften 52:262

Schlesier K, Harwat M, Böhm V, Bitsch R (2002) Assessment of antioxidant activity by using different in vitro methods. Free Radical Res 36(2):177–178

Scott DA, Aquila BM, Bebernitz GA, Cook DJ, Dakin LA, Deegan TL, Hattersley MM, Ioannidis S, Lyne PD, Omer CA, Ye M, Zheng X (2008) Pyridyl and thiazolyl bisamide CSF-1R inhibitors for the treatment of cancer. Bioorg Med Chem Lett 18:4794–4797

Sethuraman M, Sulochana N, Kameswaran L (1984) Antiinflammatory and antibacterial activity of Peltophorum pterocarpum flowers. Fitoterapia 55(3):177–179

Varshney IP, Dubey NK (1969) Chemical examination of flowers of Peltophorum inermis Roxb. J Indian Chem Soc 46:805–806

Wang X, Li X (2011) Evaluation of antioxidant activity of isoferulic acid in vitro. Nat Prod Commun 6:1285–1288

Wu TS, Shi LS, Kuo SC (1999) Alkaloids and other constituents from Tribulus terrestris. Phytochemistry 50:1411–1415
Acknowledgments
We are grateful to the Entomology Research Institute for financial assistance. One of the authors, M. K., thanks Orchid Chemicals & Pharmaceuticals Ltd. Chennai, for providing the analytical facility. Authors also wish to thank Dr. K. Balakrishna, Entomology Research Institute, Loyola College, Chennai, for helpful discussions.
About this article
Cite this article
Karunai Raj, M., Balachandran, C., Duraipandiyan, V. et al. Isolation of terrestribisamide from Peltophorum pterocarpum (DC.) Baker ex. K. Heyne and its antimicrobial, antioxidant, and cytotoxic activities. Med Chem Res 22, 3823–3830 (2013). https://doi.org/10.1007/s00044-012-0393-3
Received:

Accepted:

Published:

Issue Date:
Keywords
Antimicrobial

Antioxidant

Peltophorum pterocarpum

Terrestribisamide

COLO320 cell line