Abstract
Coumarin is a naturally occurring oxygen heterocyclic having multifarious medicinal properties, hence used as a lead compound for designing new potent analogs. Based on the X-ray crystal structure of complexes of inhibitors containing coumarin nucleus with human NAD(P)H:quinone oxidoreductase-1 and human phosphodiesterase 4B enzymes, some novel coumarin derivatives have been designed as probable inhibitors specifically for pancreatic cancer. These two enzymes are overexpressed in various tumors, the former specifically in pancreatic cancer. The computational analysis by e-pharmacophore and docking studies suggested that specific groups at position 8 of 4-methyl-7-hydroxycoumarin have anticancer activity against skin cancer in mice and can enhance the anti-tumor activity. The chemical syntheses of 4-methyl-7-hydroxycoumarin and its 8-formyl derivative were carried out using Pechmann's condensation followed by Duffs reaction. Treatment of the 8-formyl derivative with nine different N,N-di substituted cyanoacetamides in the presence of piperidine afforded the corresponding nine new 8-substituted-4-methyl-7-hydroxycoumarin derivatives. These compounds were characterized by IR, 1H, 13C NMR, mass spectra and elemental analysis. Intriguingly, molecular docking suggested a remarkable binding pose for all the nine coumarin derivatives vis-a-vis coumarin itself, opening further options for designing inhibitors for tumor suppression. From the docking simulation study, it was concluded that the derived coumarin derivatives are active against more than one proteins and most importantly addition of substituents at the 8th position of 4-methyl-7-hydroxycoumarin support the possibility of new coumarin derivatives having comparatively higher binding affinity and therefore more potent inhibitors.
Access options
Buy single article
Instant access to the full article PDF.
US$ 39.95
Tax calculation will be finalised during checkout.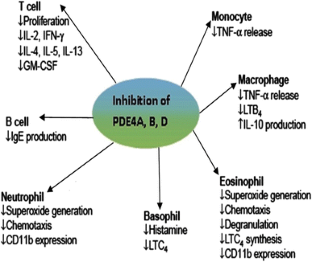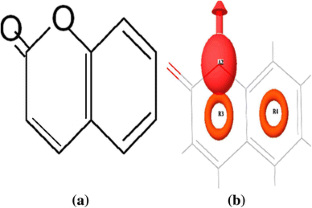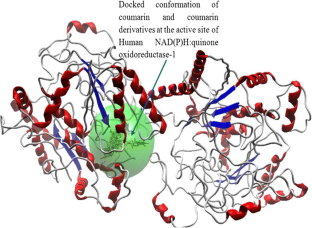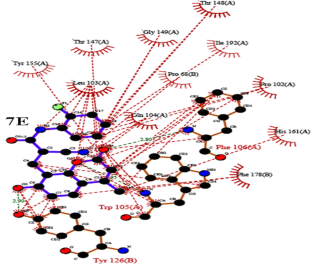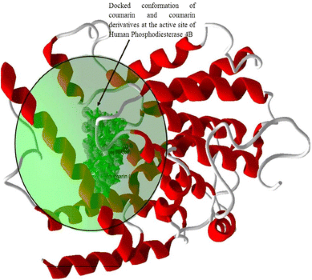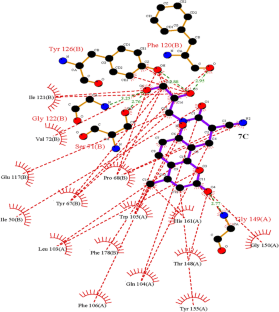 References
Agarwal R (2000) Synthesis & biological screening of some novel coumarin derivatives. Biochem Pharmacol 6:1042–1051

Albers HMHG, Hendrickx LJD, Van Tol RJP, Hausmann J, Perrakis A, Ovaa H (2011) Structure-based design of novel boronic acid-based inhibitors of autotoxin. J Med Chem 54:4619–4626

Banner KH, Trevethick MA (2004) PDE4 inhibition: a novel approach for the treatment of inflammatory bowel disease. Trends Pharmacol Sci 25(8):430–436

Bhattacharyya SS, Sushil SPK, Antara MB, Naoual B, Anisur RKB (2009) A synthetic coumarin (4-methyl-7 hydroxycoumarin) has anti-cancer potentials against DMBA-induced skin cancer in mice. Eur J Phram 614:128–136

Chung KF (2006) Review phosphodiesterase inhibitors in airways disease. Eur J Phram 533:110–117

Conti M, Nemoz G, Sette C, Vicini E (1995) Recent progress in understanding the hormonal regulation of phosphodiesterases. Endocr Rev 16:370–389

Dutta S, Burkhardt K, Swaminathan GJ, Kosada T, Henrick K, Nakamura H, Berman HM (2009) Data deposition and annotation at the worldwide protein data bank. Mol Biotechnol 42:1–13

Friesner RA, Murphy RB, Repasky MP, Frye LL, Greenwood JR, Halgren TA, Sanschagrin PC, Mainz DT (2006) Extra precision glide: docking and scoring incorporating a model of hydrophobic enclosure for protein-ligand complexes. J Med Chem 49:6177–6196

Govek SP, Oshiro G, Anzola JV, Beauregard C, Chen J, Coyle AR, Gamache DA, Hellberg MR, Hsien JN, Lerch JM, Liao JC, Malecha JW, Staszewski LM, Thomas DJ, Yanni JM, Noble SA, Shiau AK (2010) Water-soluble Pde4 inhibitors for the treatment of dry eye. Bioorg Med Chem Lett 20:2928–2932

Jacobson MP, Pincus DL, Rapp CS, Day TJ, Honig B, Shaw DE, Friesner RA (2004) A hierarchical approach to all-atom protein loop prediction. Proteins 55:351–367

Jain PK, Joshi H (2012) Coumarin: chemical and pharmacological profile. J Appl Pharm Sci 02(06):236–240

Kennedy RO, Thornes RD (1997) Coumarins: biology, applications and mode of action. Wiley, New York

Khan KM, Saify ZS, Hayat S, Khan MZ, Noor F, Makhmoor T, Chaudhari MI, Ullah Z, Perveen S (2002) Synthesis, antioxidant and insecticidal activities of some coumarin derivatives. J Chem Soc Pak 24(3):226–231

Lamani KSS, Kotresh O, Phaniband MSA, Kadakol JC (2009) Synthesis, characterization and anti microbial properties of Schiff Base derived from condensation of 8-formyl-7-hydroxy-4-methylcoumarin and substituted triazole derivatives. E-J Chem 6:239–246

Manolov I, Danchev ND (1995) Synthesis, toxicological and pharmacological assessment of some 4-hydroxycoumarin. Eur J Med Chem 30:531–536

Marshall ME, Butler K, Hermansen D (1990) Structural modification of coumarin for increased anti-coagulation potency. Prostate 17:95–108

McChuskey A, Robinson PJ, Hill T, Scott JL, Edwards JK (2002) Green chemistry approaches to the Knoevenagel condensation: comparison of ethanol, water and solvent free (dry grind) approaches. Tettrahedron Lett 43(17):3117–3120

Nofal ZM, El-Zahar MI, Abd El-Karim SS (2000) Novel coumarin derivatives with expected biological activity. Molecules 5(2):99–113

Nolan KA, Doncaster JR, Dunstan MS, Scott KA, Frenkel AD, Siegel D, Ross D, Barnes J, Levy C, Leys D, Whitehead RC, Stratford IJ, Bryce RA (2009) Synthesis and biological evaluation of coumarin-based inhibitors of NAD(P)H: quinone oxidoreductase-1 (NQO1). J Med Chem 52(22):7142–7156

Patel AD, Sharma MS, Vora JJ, Joshi JD (1997) Synthesis, characterization and antimicrobial activities of binary and ternary complexes of UO2II and ThIV complexes with 5-hydroxymethyl-8-quinolinol and 8-formyl-7-hydroxy-4-methyl-2H-1-benzopyran-2-one with aniline. J Indian Chem Soc 74:287–288

Pechmann VH, Duisberg CB (1883) Synthesis of coumarins by condensation of phenols with β-keto esters in the presence of Lewis acid catalysts. Dtsch Chem Ges 16:2119–2128

Salam NK, Nuti R, Sherman W (2009) Novel method for generating structure-based pharmacophores using energetic analysis. J Chem Inf Model 49:2356–2368

Thaisrivongs S, Janakiraman MN, Chong KT, Tomich PK, Dolak LA, Turner SR, Strohbach JW, Lynn JC, Horng MM, Hinshaw RR, Watenpaugh KD (1996) Structure-based design of novel HIV protease inhibitors: sulfonamide-containing 4-hydroxycoumarins and 4-hydroxy-2-pyrones as potent non-peptidic inhibitors. J Med Chem 39(12):2400–2410

Thomsen R, Christensen MH (2006) MolDock: a new technique for high-accuracy molecular docking. J Med Chem 49:3315–3321

Tsvetkov P, Asher G, Reiss V, Shaul Y, Sachs L, Lotem J (2005) Inhibition of NAD(P)H:quinone oxidoreductase 1 activity and induction of p53 degradation by the natural phenolic compound curcumin. Proc Natl Acad Sci USA 102(15):5535–5540

Wallace AC, Laskowski RA, Thornton JM (1996) LIGPLOT: a program to generate schematic diagrams of protein-ligand interactions. Protein Eng 8(2):127–134

Wang K, Nguyen K, Huang Y, Domling A (2009) Cyanoacetamide multicomponent reaction (I): parallel synthesis of cyanoacetamides. J Comb Chem 11(5):920–927
Acknowledgments
The author [RKK] wishes to express his grateful thanks to director IIIT, Allahabad for providing necessary facilities to carry out computational work smoothly and [DMM] expresses his grateful thanks to Prof. C.S. Reddy, Department of Chemistry, Sri Venkateswara University, Tirupati, for his helpful discussions.
About this article
Cite this article
Manidhar, D.M., Kesharwani, R.K., Reddy, N.B. et al. Designing, synthesis, and characterization of some novel coumarin derivatives as probable anticancer drugs. Med Chem Res 22, 4146–4157 (2013). https://doi.org/10.1007/s00044-012-0299-0
Received:

Accepted:

Published:

Issue Date:
Keywords
Coumarin

Docking

E-pharmacophore

Human NAD(P)H:quinone oxidoreductase-1

Human phosphodiesterase 4Bl

Cancer