Abstract
Acridine derivatives represent a well-known class of anticancer agents that generally interfere with DNA synthesis and inhibit topoisomerase II. A series of eight new 3-acridin-9-ylmethyl-thiazolidine-2,4-dione and 3-acridin-9-ylmethyl-5-arylidene-thiazolidine-2,4-dione derivatives were synthesized. All the compounds were evaluated for their cell antiproliferation activity with the 3-(4,5-dimethyl-2-thiozolyl)-2,5-diphenyl-2H-tetrazolium bromide, MTT assay. The antiproliferative effects of the synthesized compounds were tested against several tumoral cell lines, namely SF-295 (central nervous system), HCT-8 (colon carcinoma), and MDA-MB-435 (melanoma) cells using doxorubicin as a positive control. Among the synthesized compounds, 3-acridin-9-ylmethyl-5-acridin-9-ylmethylene-thiazolidine-2,4-dione, 3-acridin-9-ylmethyl-5-(4-methoxy-benzylidene)-thiazolidine-2,4-dione, and 3-acridin-9-ylmethyl-5-(4-bromo-benzylidene)-thiazolidine-2,4-dione exhibited the most potent anticancer activity against the HCT-8 and MDA-MB-435 cell lines. After a detailed analysis of the structure of the thiazacridine molecules, we revealed the main possible interactions using the compound 3-acridin-9-ylmethyl-5-acridin-9-ylmethylene-thiazolidine-2,4-dione as an example. The benefits of these compounds, regardless of the pharmacological target are the presence of two aromatic rings (pi systems), significant planarity (intercalating ability) and the presence of three hydrogen-bond acceptors, two of which are stronger (oxygen atoms) than the other (sulfur atom).
Access options
Buy single article
Instant access to the full article PDF.
USD 39.95
Price includes VAT (USA)
Tax calculation will be finalised during checkout.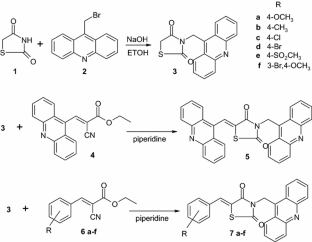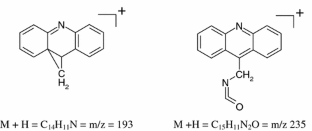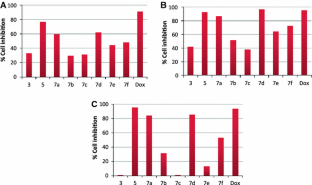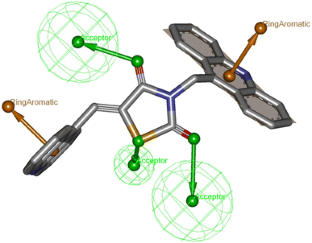 References
Antonini I, Polucci P, Magnano A, Gatto B, Palumbo M, Menta E, Pescalli N, Martelli S (2003) Design, synthesis, and biological properties of new bis(acridine-4-carboxamides) as anticancer agents. J Med Chem 46:3109–3115. doi:10.1021/jm030820x

Belmont P, Bosson J, Godet T, Tiano M (2007) Acridine and acridone derivatives, anticancer properties and synthetic methods: where are we now? Anticancer Agents Med Chem 7:139–169. doi:10.2174/187152007780058669

Bernardino AMR, Castro HC, Frugulhetti ICPP, Loureiro NIV, Azevedo AR, Pinheiro LCS, Souza TML, Giongo V, Passamani F, Magalhães UO, Albuquerque MG, Cabral LM, Rodrigues CR (2008) SAR of a series of anti-HSV-1 acridone derivatives, and a rational acridone-based design of a new anti-HSV-1 3H-benzo[b]pyrazolo[3,4-h]-1,6-naphthyridine series. Bioorg Med Chem 16:313–321. doi:10.1016/j.bmc.2007.09.03

BioMedCAChe version 6.1, 2000–2003 Fujitsu Limited, http://www.cache.fujitsu.com/biomedcache. Accessed 25 Nov 2011

Brana MF, Cacho M, Gradillas A, de Pascual-Teresa B, Ramos A (2001) Intercalators as anticancer drugs. Curr Pharm Des 7:1745–1780. doi:10.2174/1381612013397113

Bytheway I, Darley MG, Popelier PLA (2008) The calculation of polar surface area from first principles: an application of quantum chemical topology to drug design. Chem Med Chem 3:445–453. doi:10.1002/cmdc.200700262

Campos VR, Abreu PA, Castro HC, Rodrigues CR, Jordão AK, Ferreira VF, Souza MCBV, Santos FC, Moura LA, Domingos TS, Carvalho C, Sanchez EF, Fuly AL, Cunha AC (2009) Synthesis, biological, and theoretical evaluations of new 1,2,3-triazoles against the hemolytic profile of the Lachesis muta snake venom. Bioorg Med Chem 17:7429–7434. doi:10.1016/j.bmc.2009.09.031

Champoux JJ (2001) DNA topoisomerases: structure, function, and mechanism. Annu Rev Biochem 70:369–413. doi:10.1146/annurev.biochem.70.1.369

Chatellier G, Lacomblez L (1990) Tacrine (tetrahydroaminoacridine; THA) and lecithin in senile dementia of the Alzheimer type: a multicentre trial. Groupe Francais d'Etude de la Tetrahydroaminoacridine. BMJ 300:495–499. doi:10.1136/bmj.300.6723.495

Chilin A, Marzaro G, Marzano C, Dalla Via L, Ferlin MG, Pastorini G, Guiotto A (2009) Synthesis and antitumor activity of novel amsacrine analogs: the critical role of the acridine moiety in determining their biological activity. Bioorg Med Chem 17:523–529. doi:10.1016/j.bmc.2008.11.072

Corbett AH, Osheroff N (1993) When good enzymes go bad: conversion of topoisomerase II to a cellular toxin by antineoplastic drugs. Chem Res Toxicol 6:585–597. doi:10.1021/tx00035a001

Cummings J, Smyth JF (1993) DNA topoisomerase I and II as targets for rational design of new anticancer drugs. Ann Oncol 4:533–543

Demeunynck M, Charmantray F, Martelli A (2001) Interest of acridine derivatives in the anticancer chemotherapy. Curr Pharm Des 7:1703–1724. doi:10.2174/1381612013397131

Denizot F, Lang R (1986) Rapid colorimetric assay for cell growth and survival. Modifications to the tetrazolium dye procedure giving improved sensitivity and reliability. J Immunol Methods 89:271–277. doi:10.1016/0022-1759(86)90368-6

Denny WA (2002) Acridine derivatives as chemotherapeutic agents. Curr Med Chem 9:1655–1665. doi:10.2174/0929867023369277

Dewar MJS, Zoebisch EG, Healy EF, Stewart JJP (1985) Development and use of quantum mechanical molecular models. 76. AM1: a new general purpose quantum mechanical molecular model. J Am Chem Soc 107:3902–3909. doi:10.1021/ja00299a024

Discovery Studio Visualizer v2.5.1.9167, Copyright © 2005–09. Accelrys Software Inc., San Diego

Ertl P, Rohde B, Selzer P (2000) Fast calculation of molecular polar surface area as a sum of fragment-based contributions and its application to the prediction of drug transport properties. J Med Chem 43:3714–3717. doi:10.1021/jm000942e

Ferguson LR, Denny WA (2007) Genotoxicity of non-covalent interactions: DNA intercalators. Mutat Res 623:14–23. doi:10.1016/j.mrfmmm.2007.03.014

Fernandez MJ, Wilson B, Palacios M, Rodrigo MM, Grant KB, Lorente A (2007) Copper-activated DNA photocleavage by a pyridine-linked bis-acridine intercalator. Bioconjug Chem 18:121–129. doi:10.1021/bc0601828

Georghiou S (1977) Interaction of acridine drugs with DNA and nucleotides. Photochem Photobiol 26:59–68. doi:10.1111/j.1751-1097.1977.tb07450.x

Ghosh R, Bhowmik S, Bagchi A, Das D, Ghosh S (2010) Chemotherapeutic potential of 9-phenyl acridine: biophysical studies on its binding to DNA. Eur Biophys J 39:1243–1249. doi:10.1007/s00249-010-0577-z

Ghosh R, Bhowmik S, Guha D (2012) 9-Phenyl acridine exhibits antitumour activity by inducing apoptosis in A375 cells. Moll Cell Biochem 361:55–66. doi:10.1007/s11010-011-1088-7

Hou TJ, Xu XJ (2003) ADME evaluation in drug discovery. 3. Modeling blood-brain barrier partitioning using simple molecular descriptors. J Chem Inf Model 43:2137–2152. doi:10.1021/ci034134i

Leite LFC, Mourao RHV, Lima MCA, Galdino SL, Hernandes MZ, Neves ARF, Vidal S, Barbe J, Pitta IR (2007) Synthesis, biological evaluation and molecular modeling studies of arylidene-thiazolidinediones with potential hypoglycemic and hypolipidemic activities. Eur J Med Chem 42:1263–1271. doi:10.1016/j.ejmech.2007.02.015

Lipinski CA, Lombardo F, Dominy BW, Feeney PJ (1997) Experimental and computational approaches to estimate solubility and permeability in drug discovery and development settings. Adv Drug Deliv Rev 23:4–25. doi:10.1016/S0169-409X(96)00423-1

Martinez R, Chacon-Garcia L (2005) The search of DNA-intercalators as antitumoral drugs: what it worked and what did not work. Curr Med Chem 12:127–151. doi:10.2174/0929867053363414

Molinspiration online tool. http://www.molinspiration.com/cgi-bin/properties. Accessed 5 Feb 2011

Mosmann T (1983) Rapid colorimetric assay for cellular growth and survival: application to proliferation and cytotoxicity assays. J Immunol Methods 65:55–63. doi:10.1016/0022-1759(83)90303-4

Mourao RH, Silva TG, Soares AL, Vieira ES, Santos JN, Lima MCA, Lima VL, Galdino SL, Barbe J, Pitta IR (2005) Synthesis and biological activity of novel acridinylidene and benzylidene thiazolidinediones. Eur J Med Chem 40:1129–1133. doi:10.1016/j.ejmech.2005.06.002

Nitiss JL (1998) Investigating the biological functions of DNA topoisomerases in eukaryotic cells. Biochim Biophys Acta 1400:63–81. doi:10.1016/S0167-4781(98)00128-6

Pigatto MC, Lima MCA, Galdino SL, Pitta IR, Vessecchi R, Assis MD, Santos JS, Dalla Costa T, Lopes NP (2011) Metabolism evaluation of the anticancer candidate AC04 by biomimetic oxidative model and rat liver microsomes. Eur J Med Chem 46:4245–4251. doi:10.1016/j.ejmech.2011.06.029

Pitta IR, Lima MCA, Galdino SL, Barbe JF (2004). Molecules with antitumor activity and chemical. PCT/BR03/00128

Pitta IR, Lima MCA, Galdino SL (2007) Acridine derivatives with antitumoral activity. WO 2007/109871 A2

Santos FC, Abreu P, Castro HC, Paixão ICPP, Cirne-Santos CC, Giongo V, Barbosa JE, Simonetti BR, Garrido V, Bou-Habib DC, Silva DO, Batalha PN, Temerozo JR, Souza TM, Nogueira CM, Cunha AC, Rodrigues CR, Ferreira VF, Souza MCBV (2009) Synthesis, antiviral activity and molecular modeling of oxoquinoline derivatives. Bioorg Med Chem 17:5476–5481. doi:10.1016/j.bmc.2009.06.037

Sondhi SM, Singh J, Rani R, Gupta PP, Agrawal SK, Saxena AK (2010) Synthesis, anti-inflammatory and anticancer activity evaluation of some novel acridine derivatives. Eur J Med Chem 45:555–563. doi:10.1016/j.ejmech.2009.10.042

Uchoa FT, Haas SE, Junior LB, Pigatto MC, Lima MCA, Galdino SL, Pitta IR, Costa TD (2011) Development and validation of an LC-MS/MS method for the pre-clinical pharmacokinetic investigation of the anticancer candidate AC04 in rodents. J Liq Chrom Rel Technol 34:744–752. doi:10.1080/10826076.2011.563890

Vispe S, Vandenberghe I, Robin M, Annereau JP, Creancier L, Pique V, Galy JP, Kruczynski A, Barret JM, Bailly C (2007) Novel tetra-acridine derivatives as dual inhibitors of topoisomerase II and the human proteasome. Biochem Pharmacol 73:1863–1872. doi:10.1016/j.bcp.2007.02.016

Wang JC (1996) DNA topoisomerases. Annu Rev Biochem 65:635–692. doi:10.1146/annurev.bi.65.070196.003223

Wenlock MC, Austin RP, Barton P, Davis AM, Leeson PD (2003) A comparison of physiochemical property profiles of development and marketed oral drugs. J Med Chem 46:1250–1256. doi:10.1021/jm021053p
Acknowledgments
The authors are thankful to CNPq (Conselho Nacional de Desenvolvimento Científico e Tecnológico, Brasil), the CAPES/COFECUB (Fundação Coordenação de Aperfeiçoamento de Pessoal de Ensino Superior/Comité Français d'Evaluation de la Coopération Universitaire avec le Brésil), the INCT_IF (Instituto Nacional de Ciência e Tecnologia para Inovação Farmacêutica) and the PPGIT (Programa de Pós-Graduação em Inovação Terapêutica) for their support of the joint research program.
About this article
Cite this article
da Rocha Pitta, M.G., Souza, É.S., Barros, F.W.A. et al. Synthesis and in vitro anticancer activity of novel thiazacridine derivatives. Med Chem Res 22, 2421–2429 (2013). https://doi.org/10.1007/s00044-012-0236-2
Received:

Accepted:

Published:

Issue Date:
Keywords
Thiazacridine

MTT assay anticancer

Molecular modeling