Abstract
Berberine (BBR) and dihydroberberine (HBBR) were investigated as inhibitors of pancreatic lipase in an attempt to explore their potential hypolipidemic activities. The study included docking simulations and in vitro enzymatic inhibition assays. At the molecular level, docking simulations revealed several significant binding interactions between the docked natural compounds and the key amino acids in the binding pocket of the pancreatic lipase enzyme. BBR had similar pattern of binding interactions as HBBR; however, BBR has a permanent cationic center which is suggested to have an adverse influence on ligand–pancreatic lipase affinity. This trend is explainable by the proposition that ionized ligands favor hydration instead of docking into the binding site. This might explain the lower inhibitory activity of BBR comparing to HBBR, which appeared from their estimated IC50 values. The logarithmic regression of PL inhibition versus concentration revealed estimated IC50 values of 106 and 8.0 μg/mL for BBR and HBBR, respectively.
Access options
Buy single article
Instant access to the full article PDF.
US$ 39.95
Tax calculation will be finalised during checkout.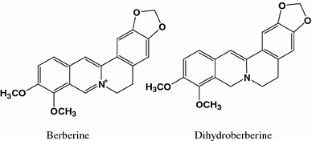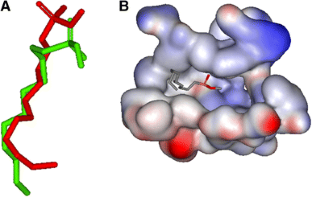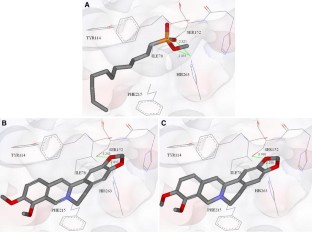 References
Arbeeny CM (2004) Addressing the unmet medical need for safe and effective weight loss therapies. Obes Res 12:1191–1196

Ballinger A, Peikin SR (2002) Orlistat: its current status as an anti-obesity drug. Eur J Pharmacol 440:109–117

Birari RB, Bhutani KK (2007) Pancreatic lipase inhibitors from natural sources: unexplored potential. Drug Discov Today 12:879–889

Bray GA, Tartaglia LA (2000) Medicinal strategies in the treatment of obesity. Nature 404:672–677

Bustanji Y, Taha MO, Yousef AM, Al-Bakri AG (2006) Berberine potently inhibits protein tyrosine phosphatase 1B: investigation by docking simulation and experimental validation. J Enzym Inhib Med Chem 21:163–171

Bustanji Y, Issa A, Mohammad M, Hudaib M, Tawah K, Alkhatib H, Almasri I, Al-Khalidi B (2010) Inhibition of hormone sensitive lipase and pancreatic lipase by Rosmarinus officinalis extract and selected phenolic constituents. J Med Plants Res 4:2235–2242

Bustanji Y, Al-Masri IM, Mohammad M, Hudaib M, Tawaha K, Tarazi H, AlKhatib HS (2011a) Pancreatic lipase inhibition activity of trilactone terpenes of Ginkgo biloba. J Enzym Inhib Med Chem 26:453–459

Bustanji Y, Mohammad M, Hudaib M, Tawaha K, Al-Masri IM, AlKhatib HS, Issa A, Alali F (2011b) Screening of some medicinal plants for their pancreatic lipase inhibitory potential Jordan. J Pharm Sci 4:81–88

Cairns E (2005) Obesity: the fat lady sings? Drug Discov Today 10:305–307

Cooke D, Bloom S (2006) The obesity pipeline: current strategies in the development of anti-obesity drugs. Nat Rev Drug Discov 5:919–931

Drent ML, Larsson I, Williamolsson T, Quaade F, Czubayko F, Vonbergmann K, Strobel W, Sjostrom L, Vanderveen EA (1995) Orlistat (Ro-18-0647), a lipase inhibitor, in the treatment of human obesity—a multiple-dose Study. Int J Obes 19:221–226

Egloff MP, Marguet F, Buono G, Verger R, Cambillau C, Vantilbeurgh H (1995) The 2.46-Angstrom resolution structure of the pancreatic lipase-colipase complex inhibited by a C-11 alkyl phosphonate. Biochemistry 34:2751–2762

Foster-Schubert KE, Cummings DE (2006) Emerging therapeutic strategies for obesity. Endocr Rev 27:779–793

FRED VUM (2006) OpenEye Scientific Software (www.eyesopen.com), Boston

Gurevich-Panigrahi T, Panigrahi S, Wiechec E, Los M (2009) Obesity: pathophysiology and clinical management. Curr Med Chem 16:506–521

Halford JCG (2006a) Obesity drugs in clinical development. Curr Opin Investig D 7:312–318

Halford JCG (2006b) Pharmacotherapy for obesity. Appetite 46:6–10

Hofbauer K (2002) Molecular pathways to obesity. Int J Obes 26:S18–S27

Hu YS, Davies GE (2010) Berberine inhibits adipogenesis in high-fat diet-induced obesity mice. Fitoterapia 81:358–366

Issa A, Mohammad M, Hudaib M, Tawah K, Abu Rjai T, Oran S, Bustanji Y (2011) A potential role of Lavandula angustifolia in the management of diabetic dyslipidemia. J Med Plants Res 5:3876–3882

Kim WS, Lee YS, Cha SH, Jeong HW, Choe SS, Lee MR, Oh GT, Park HS, Lee KU, Lane MD, Kim JB (2009) Berberine improves lipid dysregulation in obesity by controlling central and peripheral AMPK activity. Am J Physiol–Endocrinol Metab 296:E812–E819

Kong WJ, Wei J, Abidi P, Lin MH, Inaba S, Li C, Wang YL, Wang ZZ, Si SY, Pan HN, Wang SK, Wu JD, Wang Y, Li ZR, Liu JW, Jiang JD (2004) Berberine is a novel cholesterol-lowering drug working through a unique mechanism distinct from statins. Nat Med 10:1344–1351

Lee YS, Kim WS, Kim KH, Yoon MJ, Cho HJ, Shen Y, Ye JM, Lee CH, Oh WK, Kim CT, Hohnen-Behrens C, Gosby A, Kraegen EW, James DE, Kim JB (2006) Berberine, a natural plant product, activates AMP-activated protein kinase with beneficial metabolic effects in diabetic and insulin-resistant states. Diabetes 55:2256–2264

Manly CJ, Chandrasekhar J, Ochterski JW, Hammer JD, Warfield BB (2008) Strategies and tactics for optimizing the Hit-to-Lead process and beyond—a computational chemistry perspective. Drug Discov Today 13:99–109

Mukherjee M (2003) Human digestive and metabolic lipases—a brief review. J Mol Catal B Enzym 22:369–376

OMEGA VUM (2006) OpenEye Scientific Software Inc., Santa Fe, July, 2006

Shi YG, Burn P (2004) Lipid metabolic enzymes: emerging drug targets for the treatment of obesity. Nat Rev Drug Discov 3:695–710

Vantilbeurgh H, Sarda L, Verger R, Cambillau C (1992) Structure of the pancreatic lipase procolipase complex. Nature 359:159–162

Vega GL (2001) Obesity, the metabolic syndrome, and cardiovascular disease. Am Heart J 142:1108–1116

Vuddanda PR, Chakraborty S, Singh S (2010) Berberine: a potential phytochemical with multispectrum therapeutic activities. Expert Opin Inv Drug 19:1297–1307

Winkler FK, Darcy A, Hunziker W (1990) Structure of human pancreatic lipase. Nature 343:771–774
Acknowledgments
This project was sponsored by the Deanship of Scientific Research at the University of Jordan. The authors wish to thank the Deanship of Scientific Research at the University of Jordan for their generous funds. The authors would also like to thank the OpenEye Scientific Software for providing us with a free license for FRED software (FRED, version 2.1.5).
About this article
Cite this article
Mohammad, M., Al-masri, I.M., Issa, A. et al. Inhibition of pancreatic lipase by berberine and dihydroberberine: an investigation by docking simulation and experimental validation. Med Chem Res 22, 2273–2278 (2013). https://doi.org/10.1007/s00044-012-0221-9
Received:

Accepted:

Published:

Issue Date:
Keywords
Berberine

Dihydroberberine

Pancreatic lipase

Obesity

Docking simulations

Enzyme inhibition