Abstract
In this study, a novel series of 4,5-dihydro-7-alkoxy(phenoxy)-tetrazolo[1,5-a]quinoline derivatives was synthesized as potential antidepressant agents. Their antidepressant activities were evaluated by the forced swimming test and tail suspension test models. The pharmacological results showed that 7-(4-fluorobenzyloxy)-4,5-dihydrotetrazolo[1,5-a]quinoline 7j was found possessing strong activity in the both tests, especially in the FTS model, which was considered as the most promising compounds in this study.
Access options
Buy single article
Instant access to the full article PDF.
USD 39.95
Price excludes VAT (USA)
Tax calculation will be finalised during checkout.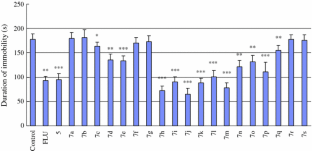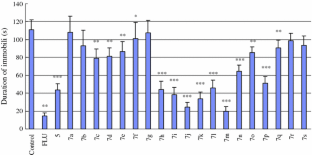 References
Beekman AT, Copeland JR, Prince MJ (1999) Review of community prevalence of depression in later life. Br J Psychiatry 174:307–311

Deng XQ, Wu D, Wei CX, Quan ZS (2010) Synthesis and antidepressant-like action of N-(2-hydroxyethyl) cinnamamide derivatives in mice. Med Chem Res. doi:10.1007/s00044-010-9470-7

El-Gazzar AB, Youssef MM, Youssef AM, Abu-Hashem AA, Badria FA (2009) Design and synthesis of azolopyrimidoquinolines, pyrimidoquinazolines as anti-oxidant, anti-inflammatory and analgesic activities. Eur J Med Chem 44:609–624

Gaspar-Barba E, Calati R, Cruz-Fuentes CS, Ontiveros-Uribe MP, Natale V, De Ronchi D, Serretti A (2009) Depressive symptomatology is influenced by chronotypes. J Affect Disord 119:100–106

Guan LP, Jin QH, Wang SF, Li FN, Quan ZS (2008) Synthesis and anticonvulsant activity of 5-phenyl-[1,2,4]-triazolo[4,3-a]quinolines. Arch Pharm (Weinheim) 341:774–779

Hernández AS, Cheng PT, Musial CM, Swartz SG, George RJ, Grover G, Slusarchyk D, Seethala RK (2007) Discovery, synthesis, and structure-activity studies of tetrazole based growth hormone secretagogues. Bioorg Med Chem Lett 17:5928–5933

Kaur K, Jain M, Khan SI, Jacob MR, Tekwani BL, Singh S, Singh PP, Jain R (2010) Synthesis, antiprotozoal, antimicrobial, β-hematin inhibition, cytotoxicity and methemoglobin (MetHb) formation activities of bis(8-aminoquinolines). Bioorg Med Chem 19:197–210

McDougall FA, Matthews FE, Kvaal K, Dewey ME, Brayne C (2007) Prevalence and symptomatology of depression in older people living in institutions in England and Wales. Age Ageing 36:562–568

N'Da DD, Breytenbach JC, Smith PJ, Lategan C (2010) Synthesis, cytotoxicity and antimalarial activity of ferrocenyl amides of 4-aminoquinolines. Arzneimittelforschung 60:627–635

Porsolt RD, Bertin A, Jalfre M (1977) Behavioural despair in mice: a primary screening test for antidepressants. Arch Int Pharmacodyn Ther 229:327–336

Rush AJ, Star D (2007) What have we learned? Am J Psychiatry 164:201–204

Schove LT, Perez JJ, Maguire PA, Loew GH (1994) Comparison of a new class of pyrrole containing benzodiazepine ligands to the pyrazoloquinolinones CGS 9896, 9895, and 8216. Med Chem Res 4:307–314

Steru L, Chermat R, Thierry B, Simon P (1985) The tail suspension test: a new method for screening antidepressants in mice. Psychopharmacology 85:367–370

Sun XY, Zhang L, Wei CX, Piao HR, Quan ZS (2008) Design, synthesis of 8-alkoxy-5,6-dihydro-[1,2,4]triazino[4,3-a]quinolin-1-ones with anticonvulsant activity. Eur J Med Chem 44:1265–1270

Trivedi MH, Daly EJ (2008) Treatment strategies to improve and sustain remission in major depressive disorder. Dialog Clin Neurosci 10:377–384

Villard V, Meunier J, Chevallier N, Maurice T (2011) Pharmacological Interaction With the Sigma 1 (σ1)-receptor in the acute behavioral effects of antidepressants. J Pharmacol Sci 115:279–292
Acknowledgments
This study was supported by the Doctor Research Start Foundation of Heilongjiang Bayi Agriculture University and the Project of Animal Good farming Innovation Team (SCX2011-10) of Heilongjiang Higher Education Committee.
About this article
Cite this article
Sun, XY., He, XJ., Pan, CY. et al. Synthesis and study of the antidepressant activity of novel 4,5-dihydro-7-alkoxy(phenoxy)-tetrazolo[1,5-a]quinoline derivatives. Med Chem Res 21, 3692–3698 (2012). https://doi.org/10.1007/s00044-011-9922-8
Received:

Accepted:

Published:

Issue Date:

DOI: https://doi.org/10.1007/s00044-011-9922-8
Keywords
Tetrazole

Quinoline

Forced swimming test

Tail suspension test