Abstract
Epidemiological studies have established an inverse relationship between plasma high-density lipoprotein (HDL) cholesterol concentration, and incidence of coronary artery disease (CAD); thus, the development of novel therapies that attempt to exploit the atheroprotective functions of HDL is a major goal. Inhibition of cholesteryl ester transfer protein (CETP) is one of the approaches targeted to increase HDL cholesterol concentration. CETP is a glycoprotein involved in transporting lipoprotein particles and neutral lipids between HDL and low-density lipoproteins (LDL), and therefore CETP inhibitors could be useful agents in the future for treating dyslipidemia and related disorders. Guided by our previously reported pharmacophore and QSAR models for CETP inhibition, we synthesized and bioassayed a series of sulfonic acid ester and benzenesulfonamide derivatives that can serve as a promising lead compounds for the development of potential and selective CETP inhibitors. The most potent compound 6k illustrated an IC50 of 3.4 μM.
Access options
Buy single article
Instant access to the full article PDF.
USD 39.95
Price excludes VAT (USA)
Tax calculation will be finalised during checkout.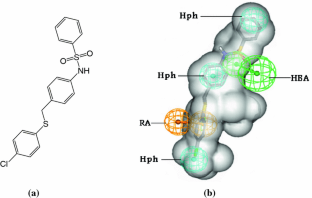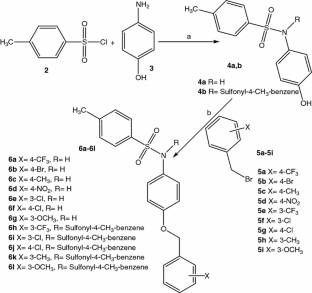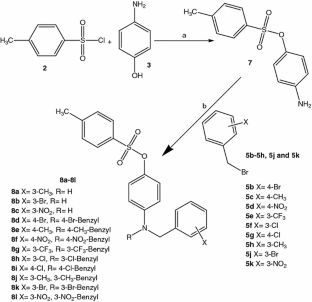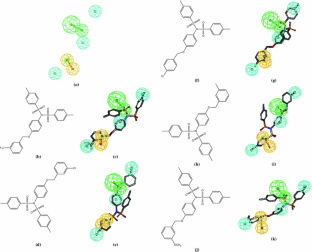 References
Abu Khalaf R, Abu Sheikha G, Bustanji Y, Taha MO (2010) Discovery of new cholesteryl ester transfer protein inhibitors via ligand-based pharmacophore modeling and QSAR analysis followed by synthetic exploration. Eur J Med Chem 45:1598–1617

Abu Sheikha G, Abu Khalaf R, Melhem A, Albadawi G (2010) Design, synthesis, and biological evaluation of benzylamino-methanone based cholesteryl ester transfer protein inhibitors. Molecules 15:5721–5733

Akamatsu M (2002) Current state and perspectives of 3D-QSAR. Curr Top Med Chem 12:1381–1394

Boekholdt SM, Kuivenhoven JA, Wareham NJ et al (2004) Plasma levels of cholesteryl ester transfer protein and the risk of future coronary artery disease in apparently healthy men and women. Circulation 110:1418–1423

Castilho MS, Marcelo S, Guido RafaelVC, Andricopulo, Adriano D (2007) 2D Quantitative structure–activity relationship studies on a series of cholesteryl ester transfer protein inhibitors. Bioorg Med Chem 15:6242–6252

Chapman MJ, Le Goff W, Guerin M, Kontush A (2010) Cholesteryl ester transfer protein: at the heart of the action of lipid-modulating therapy with statins, fibrates, niacin, and cholesteryl ester transfer protein inhibitors. Eur Heart J 31:149–164

Cronin MTD, Schultz TW (2003) Pitfalls in QSAR. J Mol Struct 622:39–51

Cuchel M, Lund-Katz S, de la Llera-Moya M, Millar JS, Chang D, Fuki I, Rothblat GH, Phillips MC, Rader DJ (2010) Pathways by which reconstituted high-density lipoprotein mobilizes free cholesterol from whole body and from macrophages. Arterioscler Thromb Vasc Biol 30:526–532

Grass DS, Saini U, Felkner RH et al (1995) Transgenic mice expressing both human apolipoprotein B and human CETP have a lipoproyein cholesterol distribution similar to that of normolipidemic humans. J Lipid Res 36:1082–1091

Hansson GK (2005) Inflammation, atherosclerosis, and coronary artery disease. N Engl J Med 352:1685–1695

Hanumantharao P, Sambasivarao SV, Soni LK, Gupta AK, Kaskhedikar SG (2005) QSAR analysis of analogs of bis[2-(acylamino) Ph] disulfides, 2-(acylamino) benzenethiols and S-[2-(acylamino) Ph] alkanethioates as antihyperlipidemic agents. Indian J Chem 44B:1481–1486

Julve J, Llaverias G, Blanco-Vaca F, Escolà-Gil JC (2011) Seeking novel targets for improving in vivo macrophage-specific reverse cholesterol transport: translating basic science into new therapies for the prevention and treatment of atherosclerosis. Curr Vasc Pharmacol 9:220–237

Kelkar MA, Pednekar DV, Pimple SR, Akamanchi KG (2004) 3D QSAR studies of inhibitors of cholesterol ester transfer protein (CETP) by CoMFA, CoMSIA and GFA methodologies. Med Chem Res 13:590–604

Lamarche B, Despres JP, Moorjani S, Cantin B, Dagenais GR, Lupien PJ (1996) Triglycerides and HDL-cholesterol as risk factors for ischemic heart disease, Results from the Quebec cardiovascular study. Atherosclerosis 119:235–245

Lewis GF (2006) Determinants of plasma HDL concentrations and reverse cholesterol transport. Curr Opin Cardiol 21:345–352

McPherson R, Mann CJ, Tall AR, Hogue M, Martin L, Milne RW, Marcel YL (1991) Plasma concentration of cholesteryl ester transfer protein in hyperlipoproteinemia. Arterioscler Thromb 11:797–804

Paigen B, Ishida BY, Verstuyft J, Winters RB, Albee D (1990) Atherosclerosis susceptibility differences among progenitors of recombinant inbred strains of mice. Arteriosclerosis 10:316–323

Qiu X, Mistry A, Ammirati MJ, Chrunyk BA et al (2007) Crystal structure of cholesteryl ester transfer protein reveals a long tunnel and four bound lipid molecules. Nat Struct Mol Biol 14:106–113

Tall AR, Wang N, Mucksavage P (2001) Is it time to modify the reverse cholesterol transport model? J Clin Invest 108:1273–1275

Vasan RS, Pencina MJ, Robins SJ, Zachariah JP, Kaur G, D'Agostino RB, Ordovas JM (2009) Association of circulating cholesteryl ester transfer protein activity with incidence of cardiovascular disease in the community. Circulation 120:2414–2420
Acknowledgments
The authors are grateful to the Scientific Research and Postgraduate Deanship at Al-Zaytoonah University of Jordan for sponsoring this project.
About this article
Cite this article
Abu Khalaf, R., Abu Sheikha, G., Al-Sha'er, M. et al. Design, synthesis, and biological evaluation of sulfonic acid ester and benzenesulfonamide derivatives as potential CETP inhibitors. Med Chem Res 21, 3669–3680 (2012). https://doi.org/10.1007/s00044-011-9917-5
Received:

Accepted:

Published:

Issue Date:

DOI: https://doi.org/10.1007/s00044-011-9917-5
Keywords
CETP inhibitors

High-density lipoprotein

Pharmacophore modeling

Benzenesulfonamide

Sulfonic acid ester