Abstract
A series of pyridazinone-containing compounds were designed and synthesized as congeners for diclofenac, the most potent and widely used NSAID. The target compounds were evaluated for their anti-inflammatory activity on rat paw edema inflammation model against diclofenac as a reference compound. Seven of the tested compounds demonstrated more than 50% inhibition of carrageenan-induced rat paw edema at a dose 10 mg/kg. The compounds, 6-(2-bromophenylamino)pyridazin-3(2H)-one 2a and 6-(2,6-dimethylphenylamino)pyridazin-3(2H)-one 2e, displayed 74 and 73.5% inflammation-inhibitory activity, respectively, which is comparable to diclofenac (78.3%) at the same dose level after 4 h. The most active compounds as anti-inflammatory agents, 2a, 2e, and 6a, displayed fewer number of ulcers and milder ulcer score than indomethacin in ulcerogenicity screening.
Access options
Buy single article
Instant access to the full article PDF.
USD 39.95
Price excludes VAT (USA)
Tax calculation will be finalised during checkout.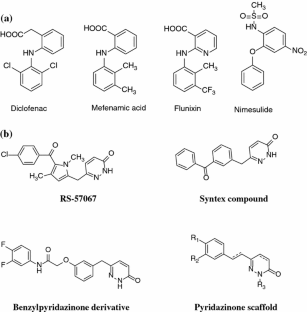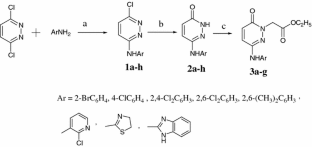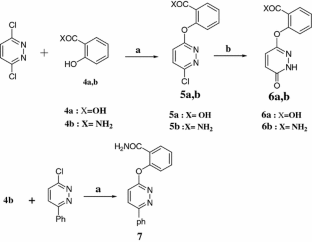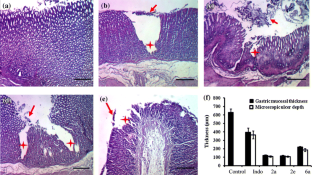 Similar content being viewed by others
References
Abouzid K, Bekhit SA (2008) Novel anti-inflammatory agents based on pyridazinone scaffold; design, synthesis and in vivo activity. Bioorg Med Chem 16:5547–5556

Allison MC, Howatson AG, Torranc CJ, Lee FD, Russell RIG (1992) Gastrointestinal damage associated with the use of nonsteroidal antiinflammatory drugs. N Engl J Med 327:749–754

Boissier JR, Ratouis R, Dumont C (1963) Synthesis and pharmacological study of new piperazine derivatives I benzylpiperazines. J Med Chem 6:541–544

Chintakunta VK, Akella V, Vedula MS, Mamnoor PK, Mishra P, Casturi SR, Vangoori A, Rajagopalan R (2002) 3-O-Substituted benzyl pyridazinone derivatives as COX inhibitors. Eur J Med Chem 37:339–347

Clementi G, Caruso A, Cutuli VMC, deBernardis E, Prato A, Mangano NG, Amico-Roxas M (1998) Effects of centrally or peripherally injected adrenomedullin on reserpine-induced gastric lesions. Eur J Pharmacol 360:51–54

Dogne JM, Supuran CT, Pratico D (2000) Adverse cardiovascular effects of the coxibs. J Med Chem 48:2251–2257

Gleave RJ, Beswick PJ, Brown AJ, Giblin GMP, Goldsmith P, Haslam CP et al (2010) Synthesis and evaluation of 3-amino-6-aryl-pyridazines as selective CB(2) agonists for the treatment of inflammatory pain. Bioorg Med Chem 20:465–468

Gökce M, Utku S, Küpeli E (2009) Synthesis and analgesic and anti-inflammatory activities 6-substituted-3(2H)-pyridazinone-2-acetyl-2-(p-substituted/non substituted benzal)hydrazone derivatives. Eur J Med Chem 44:3760–3764

Graham DJ, Campen D, Hui R, Spence M (2005) Risk of acute myocardial infarction and sudden cardiac death in patients treated with cyclo-oxygenase 2 selective and non-selective non-steroidal anti-inflammatory drugs: nested case-control study. The Lancet 365(9458):475–481

Hsiao F-Y, Tsai Y-W, Huang W-F (2009) Changes in physicians' practice of prescribing cyclooxygenase-2 inhibitor after market withdrawal of rofecoxib: a retrospective study of physician-patient pairs in Taiwan. Clin Ther 31(11):2618–2627

Lanas A, Rodriguez LAG, Arroyo MT, Gomollon F, Feu F, Gonzalez-Pérez A et al (2006) Risk of upper gastrointestinal ulcer bleeding associated with selective cyclooxygenase-2 inhibitors, traditional non-aspirin non-steroidal anti-inflammatory drugs, aspirin and combinations. Gut 55(12):1731–1738

Oyagi A, Ogawa K, Kakino M, Hara H (2010) Protective effects of a gastrointestinal agent containing Korean red ginseng on gastric ulcer models in mice. BMC Complement Altern Med 10:45–53

Süküroglu M, Çaliskanergun B, Ünlü S, Sahin MF, Küpelli E, Yesilada E, Banoglu E (2005) Synthesis, analgesic, and anti-inflammatory activities of [6-(3, 5-dimethyl-4-chloropyrazole-1-yl)-3(2H)-pyridazinon-2-yl] acetamides. Arch Pharm Res 28:509–517

Winter CA, Risley EA, Nuss GW (1962) Carrageenin-induced edema in hind paw of the rat as an assay for antiinflammatory drugs. Proc Soc Exp Biol Med 111:544–547
About this article
Cite this article
Abouzid, K.A.M., Khalil, N.A., Ahmed, E.M. et al. Design, synthesis, and evaluation of anti-inflammatory and ulcerogenicity of novel pyridazinone derivatives. Med Chem Res 21, 3581–3590 (2012). https://doi.org/10.1007/s00044-011-9895-7
Received:

Accepted:

Published:

Issue Date:

DOI: https://doi.org/10.1007/s00044-011-9895-7
Keywords