Abstract
A series of 5-((3-aryl-1-phenyl-1H-pyrazol-4-yl)methylene)thiazolidine-2,4-diones was synthesized by Knoevenagel condensation of various 3-aryl-1-phenyl-1H-pyrazole-4-carbaldehydes (1a–h) with thiazolidine-2,4-dione (2) in ethanol in the presence of piperidine. All compounds were screened for their in vitro antibacterial (Staphylococcus aureus, Bacillus subtilis, Pseudomonas aeruginosa and Escherichia coli) activity and compared with the commercially available antibiotic, ciprofloxacin. All compounds showed good activity against gram-positive bacteria, however, none of the compounds were found to be effective against gram-negative bacteria. Compound 3g was found to be most potent member among all the compounds showing MIC of 16 μg/ml against S. aureus and 32 μg/ml against B. subtilis. All the synthesized compounds were also tested for their in vitro antifungal (Aspergillus niger and A. flavus) activity and compared with commercially available fluconazole. They showed excellent antifungal activity. Compounds 3b, 3e, 3f and 3g were active against both fungi showing more than 60% inhibition. Compound 3e was found to be superior to the reference drug.
Access options
Buy single article
Instant access to the full article PDF.
US$ 39.95
Tax calculation will be finalised during checkout.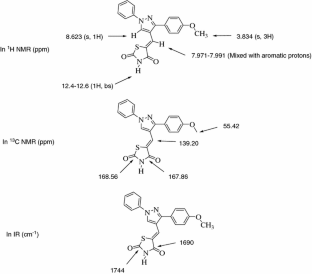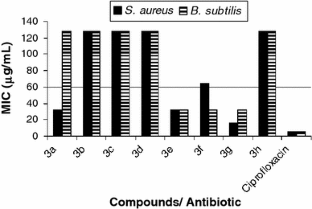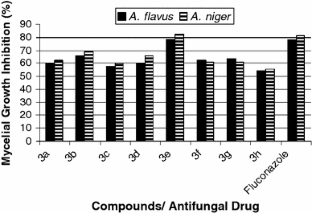 References
Ahmad I, Beg AJ (2001) Antimicrobial and phytochemical studies on 45 Indian medicinal plants against multi-drug resistant human pathogens. J Ethnopharmacol 74:113–123

Al-Burtamani SKS, Fatope MO, Marwah RG, Onifade AK, Al-Saidi SH (2005) Chemical composition, antibacterial and antifungal activities of the essential oil of Haplophyllum tuberculatum from Oman. J Ethnopharmocol 96:107–112

Altintas H, Ates O, Uydes-Dogan BS, Alp FI, Kaleli D, Ozdemir O, Birteksoz S, Otuk G, Satana D, Uzun M (2006) Synthesis and evaluation of antimicrobial and anticonvulsant activities of some new 3-[2-(5-aryl-1, 3, 4-oxadiazol-2-yl/4-carbethoxymethylthiazol-2-yl)imino-4-thiazolidinon-5-ylidene]-5-substituted/nonsubstituted 1H-indole-2-ones and investigation of their structure activity relationships. Arzneim Forsch 56:239–248

Andrews JM (2001) Determination of minimum inhibitory concentrations. J Antimicrob Chemother 48:5–16

Aneja KR, Sharma C, Joshi R (2010) Fungal infection of the ear: a common problem in north eastern part of Haryana. Inter J Otorhinolaryngol 74:604–607

Bhargava PN, Chaurasia MR (1969) New local anesthetics: derivatives of 5-diethyl amino acetoamido-2-arylimino-3-aryl-4-thiazolidones. J Pharm Sci 58:896–898

Bozdag-Dundar O, Mentese A, Verspohl EJ (2008) Synthesis and antidiabetic activity of some new thiazolyl-2,4-thiazolidinediones. Arzneim Forsch 58:131–135

Brown FC (1961) 4-Thiazolidinones. Chem Rev 61:463–521

Chandrappa S, Benaka Prasad SB, Vinaya K, Ananda Kumar CS, Thimmegowda NR, Rangappa KS (2008) Synthesis and in vitro antiproliferative activity against human cancer cell lines of novel 5-(4-mebenzylidene)-thiazolidine-2,4-diones. Invest New Drugs 26:437–444

Clark DA, Goldstein SW, Volkmann RA, Eggler JF, Holland GF, Hulin B, Stevenson Kreutter DK, Michael Gibbs E, Krupp MN, Merrigan P, Kelbaugh PL, Andrews EG, Tid DL, Suleske RT, Lamphere CH, Rajeckas FJ, Kappeler WH, McDermott RE, Hutsor Ross Johnsondagger M (1991) Substituted dihydrobezopyran and dihydrobenzofuran thiazolidine-2,4-diones as hypoglycemic agents. J Med Chem 34:319–325

Deohate PP, Deohate JP, Berad BN (2004) Synthesis of some Novel 1,2,4-dithiazolidines and their antibacterial and antifungal activity. Asian J Chem 16:255–260

El-Deeb IM, Bayoumi SM, El-Sherbeny MA, Abdel-Aziz AA-M (2010) Synthesis and antitumor evaluation of novel cyclic arylsulfonylureas: ADME-T and pharmacophore prediction. Eur J Med Chem 45:2516–2530

El-Gaby MSA, El-Hag Ali GAM, El-Maghraby AA, Abd El-Rahman MT, Helal MHM (2009) Synthesis, characterisation and in vitro antimicrobial activity of novel 2-thioxo-4-thiazolidinones and 4,4′-bis-(2-thioxo-4-thiazolidinone-3-yl)diphenylsulfones. Eur J Med Chem 44:4148–4152

Hyo JG, Kang B, Jeon R (2007) Synthesis and biological activity of 5-(4-[2-(methyl-p-substituted phenylamino)ethoxy]benzyl)thiazolidine-2,4-diones. Arch Pharm Res 30:1055–1061

Jeon R, Kim YJ, Cheon Y, Ryu JH (2006) Synthesis and biological activity of [[(heterocycloamino)alkoxy]benzyl]-2,4-thiazolidinediones as PPARγ agonists. Arch Pharm Res 29:394–399

Kaneria DJ, Datta NJ, Parekh HH (2003) Synthesis and pharmacological evaluation of some new 4-thiazolidinone derivatives. Indian J Het Chem 12:277–278

Kira MA, Abdel-Rahman MO, Gadalla KZ (1969) The Vilsmeier-Haack reaction—III cyclization of hydrazones to pyrazoles. Tetrahedron Lett 10:109–110

Lee HW, Kim BY, Ahn JB, Kang SK, Lee JH, Shin JS, Ahn SK, Lee SJ, Yoon SS (2005) Molecular design, synthesis and hypoglycemic and hypolipidemic activities of novel pyrimidine derivatives having thiazolidinedione. Eur J Med Chem 40:862–874

Mahalle SR, Netankar PD, Bondge SP, Mane RA (2008) An efficient method for knoevenagel condensation: a facile synthesis of 5-arylidenyl 2,4-thiazolidinedione. Green Chem Lett Rev 1:103–106

Metwally MA, Etman HA, Keshk EM, Fekry A (2006) Thiazolidin-5-ones: synthesis and reactions. Phosphorus Sulfur Silicon 181:1039–1058

Murugan R, Anbazhagan S, Sriman Narayanan S (2009) Synthesis and in vivo antidiabetic activity of novel dispiropyrrolidines through [3 + 2] cycloaddition reactions with thiazolidinedione and rhodanine derivatives. Eur J Med Chem 44:3272–3279

NCCLS (2000) Method for dilution antimicrobial susceptibility test for bacteria that grow aerobically approved standards, 5th edition. National Committee for Clinical Standards, Villanova

Nikaido H, Vaara M (1985) Molecular basis of bacterial outer membrane permeability. Microbiol Rev 1:1–32

Pastromas S, Sakellariou D, Koulouris S (2008) Thiazolidinediones anti-inflammatory and anti-atherosclerotic effects in type 2 diabetes mellitus. Anti-inflamm Anti-Allergy Agents Med Chem 7:217–223

Prakash O, Kumar R, Prakash V (2008) Synthesis and antifungal activity of some new 3-hydoxy-2-(1-phenyl-3-aryl-4-pyrazolyl) chromones. Eur J Med Chem 43:435–440

Prakash O, Pundeer R, Ranjan P, Pannu K, Dhingra Y, Aneja KR (2009a) Synthesis and antibacterial activity of 1,3-diaryl-4-cynopyrazoles. Ind J chem 48b:563–568

Prakash O, Kumar R, Sehrawat R (2009b) Synthesis and antibacterial activity of some new 2,3-dimethoxy-3-hydroxy-2-(1-phenyl-3-aryl-4-pyrazolyl)chromanones. Eur J Med Chem 44:1763–1767

Prakash O, Aneja DK, Arora S, Sharma C, Aneja KR (2010a) Synthesis and antimicrobial activities of some new 5-((3-(aryl)-1-phenyl-1H-pyrazol-4-yl)methylene)-3-phenylthiazolidine-2,4-diones. Med Chem Res. doi:10.1007/s00044-010-9503-2

Prakash O, Kumar M, Kumar R, Sharma C, Aneja KR (2010b) Hypervalent iodine(III) mediated synthesis of novel unsymmetrical 2,5-disubstituted 1,3,4-oxadiazoles as antibacterial and antifungal agents. Eur J Med Chem 45:4252–4257

Prashantha Kumar BR, Soni M, Santosh Kumar S, Singh K, Patil M, Nasir Baig RB, Laxmi Adhikary (2011) Synthesis, glucose uptake activity and structure-activity relationships of some novel glitazones incorporated with glycine, aromatic and alicyclic amine moieties via two carbon acyl linker. Eur J Med Chem 46:835–844

Ramsh SM, Ivanenko AG, Shpilyovy VA, Medvedskiy NL, Kushakova PM (2004) Synthesis of 2-aryl and 2-hetaryl derivatives of 2′-aminospiro[(1,3-dioxane)-5,5′-thiazolin]-4′one and spiro[(1,3-dioxane)-5,5′-thiazolidine]-2′,4′-dione. Chem Heterocycl Comp 40:919–925

Rawal RK, Tripthi RK, Katti SB, Pannecouque C, De Clercq E (2007) Synthesis and biological evaluation of 2,3-diaryl substituted-1,3 thiazolidin-4-ones as anti-HIV agents. Med Chem 3:355–363

Sahu SK, Banerjee M, Mishra SK, Mohanta RK, Panda PK, Misro PK (2007) Synthesis, partition coefficients and antibacterial activity of 3′-phenyl (substituted)-6′-aryl-2′(1H) 3′,3′ a-dihydrospiro[3-H-indole-3,5′- pyrazolo(3′,4′-d)-thiazolo-2-(1H)-ones]. Acta Pol Pharm 64:121–126

Scherrer R, Gerhardt P (1971) Molecular sieving by the Bacillum megaterium cell wall and protoplast. J Bacteriol 107:718–735

Szeto CC, K-T LiP (2008) Antiproteinuric and anti-inflammatory effects of thiazolidinedion. Nephrology 13:53–57

Terashima H, Hama K, Yamamoto R, Tsuboshima M, Kikkawa R, Hatanaka I, Shigata Y (1984) Effects of a new aldose reductase inhibitor on various tissues in vitro. J Pharmacol Exp Ther 229:226–230

Thaker KM, Kachhadia VV, Joshi HS (2003) Synthesis of 4-thiazolidinones and 2-azetidinones bearing benzo(b) thiophene nucleus as potential antitubercular and antimicrobial agents. Indian J Chem 42b:1544–1547

Tuncbilek M, Altanlar N (2006) Synthesis of new 3-(substituted phenacyl)-5-[3′-(4H–4-oxo-1-benzopyran-2-yl)-benzylidene]-2-thiazolidinediones and their antimicrobial activity. Arch Pharm 339:213–216

Youssef AM, White MS, Villanueva EB, El-Ashmawy IM, Klegeris A (2010) Synthesis and biological evaluation of novel pyrazolyl-2,4-thiazolidinediones as anti-inflammatory and neuroprotective agents. Bioorg Med Chem 18:2019–2028
Acknowledgments
The authors are thankful to Council of Scientific & Industrial Research (CSIR 01(2186)/07/EMR-II), New Delhi, India for providing financial assistance to carry out this study. One of the authors Deepak K. Aneja is grateful to the UGC, New Delhi, India for providing JRF. Thanks are due to CDRI, Lucknow for carrying out elemental analysis.
About this article
Cite this article
Prakash, O., Aneja, D.K., Lohan, P. et al. Synthesis and antimicrobial activity of 5-((3-aryl-1-phenyl-1H-pyrazol-4-yl)methylene)thiazolidine-2,4-diones. Med Chem Res 21, 2961–2968 (2012). https://doi.org/10.1007/s00044-011-9829-4
Received:

Accepted:

Published:

Issue Date:
Keywords
Pyrazole

Thiazolidine-2,4-dione

Antibacterial activity

Antifungal activity