Abstract
A new series of 1-(4-aminosulfonylphenyl)-3,5-diaryl pyrazolines (5) was synthesized by the reaction of appropriate chalcones 3 with 4-hydrazinobenzenesulfonamide hydrochloride (4) in ethanol in the presence of catalytic amount of acetic acid. All newly synthesized compounds were in vivo evaluated for their antiinflammatory activity using carrageenan-induced rat paw edema assay. Five of the newly synthesized compounds, 5d, 5g, 5h, 5i, and 5m displayed significant antiinflammatory activity, greater than 55% inhibition 3 h after the carrageenan injection. All the newly synthesized compounds were evaluated for their in vitro antimicrobial activity against two Gram-positive bacteria (Staphylococcus aureus and Bacillus subtilis); two Gram-negative bacteria (Escherichia coli and Pseudomonas aeruginosa), and two yeast (Candida albicans and Saccharomyces cerevisiae). Some of the newly synthesized compounds 5a, 5f, 5g, 5h, 5j, and 5k showed excellent antifungal activity, greater than the reference drug amphotericin B, against Saccharomyces cerevisiae.
Access options
Buy single article
Instant access to the full article PDF.
US$ 39.95
Tax calculation will be finalised during checkout.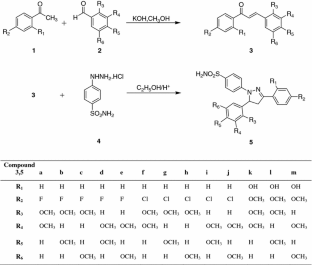 References
Ahmad I, Beg AJ (2001) Antimicrobial and phytochemical studies on 45 Indian medicinal plants against multidrug resistant human pathogens. J Ethnopharmacol 74:113–123

Amir M, Kumar H, Khan SA (2008) Synthesis and pharmacological evaluation of pyrazoline derivatives as new anti-inflammatory and analgesic agents. Bioorg Med Chem Lett 18:918–922

Andrews JM (2001) Determination of minimum inhibitory concentrations. J Antimicrob Chemother 48:5–16

Bandgar BP, Gawande SS, Bodade RG, Khobragade CN, Totre JV (2010) Synthesis and biological evaluation of simple methoxylated chalcones as anticancer, anti-inflammatory and antioxidant agents. Bioorg Med Chem 18(3):1364–1370

Barsoum FF, Hosnib HM, Girgis AS (2006) Novel bis(1-acyl-2-pyrazolines) of potential anti-inflammatory and molluscicidal properties. Bioorg Med Chem 14:3929–3937

Boumendjel A, Boccard J, Carrupt PA, Nicolle E, Blanc M, Geze A, Choisnard L, Wouessidjewe D, Matera EL, Dumontet C (2008) Antimitotic and antiproliferative activities of chalcones: forward structure-activity relationship. J Med Chem 51(7):2307–2310

Chaaban I, El-Khawaas ES, Mehran M, El-Sayed O, El-Saidi H, Enen HA (2007) Design, synthesis, and in vitro evaluation of cytotoxic activity of new substituted 1, 4-benzoquinones and hydroquinones. Med Chem Res 16:49–77

Dhar DN, Singh RK (1971) Chalcones VI. Synthesis of some 4′-Fluorochalcones, heterocyclic and polynuclear chalcone analogues. J Indian Chem Soc 48(1):83–85

Fioravanti R, Bolasco A, Manna F, Rossi F, Orallo F, Ortuso F, Alcaro S, Cirilli R (2010) Synthesis and biological evaluation of N-substituted-3, 5-diphenyl-2-pyrazoline derivatives as cyclooxygenase (COX-2) inhibitors. Eur J Med Chem 45:6135–6138

Jeong TS, Kim KS, Kim JR, Cho KH, Lee S, Lee WS (2004) Novel 3, 5-diaryl pyrazolines and pyrazole as low- density lipoprotein (LDL) oxidation inhibitor. Bioorg Med Chem Lett 14:2719–2723

Karthikeyan MS, Holla BS, Kumari NS (2007) Synthesis and antimicrobial studies on novel chloro-fluorine containing hydroxy pyrazolines. Eur J Med Chem 42:30–36

Manna K, Agrawal YK (2009) Microwave assisted synthesis of new indophenazine 1, 3, 5-trisubstruted pyrazoline derivatives of benzofuran and their antimicrobial activity. Bioorg Med Chem Lett 19:2688–2692

Muller G (2003) Medicinal chemistry of target family-directed masterkeys. Drug Discov Today 8:681–691

Okeke MI, Iroegbu CU, Eze EN, Okoli AS, Esimone CO (2001) Evaluation of extracts of the roots of Landolphia owerrience for antibacterial activity. J Ethnopharmacol 78:119–127

Penning TD, Talley JJ, Bertneshaw SR, Carten JS, Collins PW, Docter S, Graneto MJ, Lee LF, Malecha JW, Miyashiro JM, Rogers RS, Rogier DJ, Yu SS, Anderson GD, Burton EG, Cogburn JN, Gregory SA, Koboldt CM, Perkins WE, Seibert K, Veenhuizen AW, Zhang YY, Isakson PC (1997) Synthesis and biological evaluation of the 1,5-diarylpyrazole class of cycloxygenase-2 inhibitors: identification of 4-[5-(4-methylphenyl)-3-(trifluromethyl)-1H-pyrazol-1-yl] benzenesulfonamide (SC-58635, Celecoxib). J Med Chem 40:1347–1365

Rani P, Srivastava VK, Kumar A (2004) Synthesis and anti-inflammatory activity of heterocyclic indole derivatives. Eur J Med Chem 39:449–452

Rathish IG, Javed K, Ahmad S, Bano S, Alam MS, Pillai KK, Singh S, Bagchi V (2009) Synthesis and antiinflammatory activity of some new 1, 3, 5-trisubstituted pyrazolines bearing benzene sulfonamide. Bioorg Med Chem Lett 19:255–258

Reddy MVR, Billa VK, Pallela VR, Mallireddigari MR, Boominathan R, Gabriel JL, Reddy EP (2008) Design, synthesis, and biological evaluation of 1-(4-sulfamylphenyl)-3-trifluoromethyl-5-indolyl pyrazolines as cyclooxygenase-2 (COX-2) and lipoxygenase (LOX) inhibitors. Bioorg Med Chem 16:3907–3916

Sharma PK, Sawhney SN (1993) Synthesis and antiinflammatory activity of some 3-heterocycle-1, 2-benzothiazoles. Bioorg Med Chem Lett 3:1551–1554

Sharma PK, Sawhney SN (1997) Potent antiinflammatory 3-thiazole-4(5)-acetic acids of 1, 2-Benzisothiazole. Bioorg Med Chem Lett 7:2427–2430

Sharma PK, Sawhney SN, Gupta A, Singh GB, Bani S (1998) Synthesis and antiinflammatory activity of some 3-(2-thiazolyl)-1, 2-benzisothiazoles. Indian J Chem 37B:376–381

Sharma PK, Kumar S, Kumar P, Kaushik P, Kaushik D, Dhingra Y, Aneja KR (2010) Synthesis and biological evaluation of some pyrazolylpyrazolines as anti-inflammatory-antimicrobial agents. Eur J Med Chem 45:2650–2655

Sharma PK, Singh K, Kumar S, Kumar P, Dhawan SN, Lal S, Ulbrich H, Dannhardt G (2011) Synthesis and anti-inflammatory evaluation of some pyrazolo[3, 4-b]pyridines. Med Chem Res 20:239–244

Singh R, Malik OP (1994) Synthesis and antimicrobial activity of 1-(4-chlorophenyl)-3-(4-methoxy/3, 4-dimethoxyphenyl)propan-1, 3-diones and their 2-[(2-nitro/4-chloro or bromophenyl)azo]analogs. Indian J Chem 33B(5):455–459

Soliman R (1979) Preparation and antidiabetic activity of some sulfonylurea derivatives of 3, 5-disubstituted pyrazoles. J Med Chem 22:321–325

Tsatsas G, Catogas C, Mercier P (1960) Synthesis and tuberculostatic activity of some new thiosemicarbazones. Prakt Akad Athenon 35:418–423

Vinegar R, Schreiber W, Hugo R (1969) Biphasic development of carrageenin edema in rats. J Pharmacol Exp Ther 166:96–103

Zitouni GT, Chevallet P, Kiliç FS, Erol K (2000) Synthesis of some thiazolyl-pyrazoline derivatives and preliminary investigation of their hypotensive activity. Eur J Med Chem 35:635–641

Zitouni GT, O¨zdemir A, Kaplancikli ZA, Chevallet P, Tunali Y (2005) Phosphorus Sulfur Silicon Relat Elem 180:2717–2724
Acknowledgments
One of the authors (S.K.) is grateful to the University Grants Commission (UGC), New Delhi for the award of senior research fellowship. Defence Research and Development Organization (DRDO), New Delhi is acknowledged for financial support in the form of a research project.
About this article
Cite this article
Sharma, P.K., Kumar, S., Kumar, P. et al. Synthesis of 1-(4-aminosulfonylphenyl)-3,5-diarylpyrazoline derivatives as potent antiinflammatory and antimicrobial agents. Med Chem Res 21, 2945–2954 (2012). https://doi.org/10.1007/s00044-011-9823-x
Received:

Accepted:

Published:

Issue Date:
Keywords
Chalcones

4-Hydrazinobenzenesulfonamide hydrochloride

1-(4-aminosulfonylphenyl)-3

5-Diaryl-2-pyrazoline

Antiinflammatory

Antimicrobial