Abstract
In this study, a novel quercetin derivative bearing a trifluoromethyl group was synthesized by the nucleophilic aromatic substitution reaction between rutin and 2-chloro-5-(trifluoromethyl)-1,3-dinitrobenzene in basic medium. This synthetic quercetin showed antifungal activity against Candida albicans cultures. The results indicated a remarkable increase in the biological activity of this compound as compared to rutin.
Access options
Buy single article
Instant access to the full article PDF.
USD 39.95
Price excludes VAT (USA)
Tax calculation will be finalised during checkout.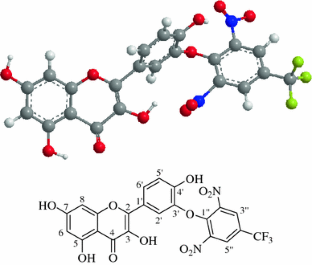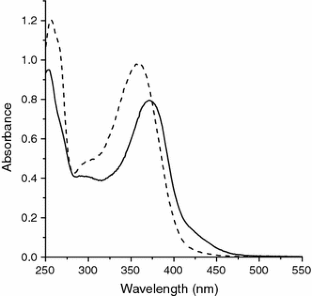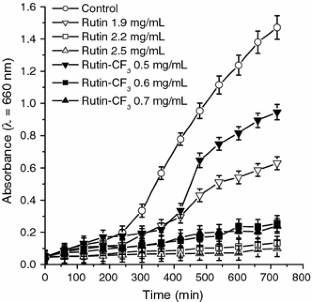 References
Ando A, Kumadaki I (1999) Progress on the syntheses of fluorine analogs of natural porphyrins potentially useful for the diagnosis and therapy of certain cancers. J Fluor Chem 100:135–146

Briona LP, Ukoa SE, Goldmanb DL (2007) Risk of resistance associated with fluconazole prophylaxis: systematic review. J Infect 54:521–529. doi:10.1016/j.jinf.2006.11.017

Chen Z, Hu Y, Wu H, Jiang H (2004) Synthesis and biological evaluation of flavonoids as vasorelaxant agents. Bioorg Med Chem Lett 14:3949–3952. doi:10.1016/j.bmcl.2004.05.061

Cormick MP, Rovera M, Durantini EN (2008) Synthesis, spectroscopic properties and photodynamic activity of a novel Zn(II) phthalocyanine substituted by fluconazole groups. J Photochem Photobiol A Chem 194:220–229. doi:10.1016/j.jphotochem.2007.08.013

Cormick MP, Alvarez MP, Rovera M, Durantini EN (2009) Photodynamic inactivation of Candida albicans sensitized by tri- and tetra-cationic porphyrin derivatives. Eur J Med Chem 44:1592–1599. doi:10.1016/j.ejmech.2008.07.026

Cushnie TPT, Lamb AJ (2005) Antimicrobial activity of flavonoids. Int J Antimicrob Agents 26:343–356. doi:10.1016/j.ijantimicag.2005.09.002

Duthie SJ, Dobson VL (1999) Dietary flavonoids protect human colonocyte DNA from oxidative attack in vitro. Eur J Nutr 38:28–34. doi:10.1007/s003940050043

Erlund I, Kosonen T, Alfthan G, Mäenpää J, Perttunen K, Kenraali J, Parantainen J, Aro A (2000) Pharmacokinetics of quercetin from quercetin aglycone and rutin in healthy volunteers. Eur J Clin Pharmacol 56:545–553

Goldman GH, da Silva Ferreira ME, dos Reis Marques E, Savoldi M, Perlin D, Park S, Godoy Martinez PC, Goldman MHS, Colombo AL (2004) Evaluation of fluconazole resistance mechanisms in Candida albicans clinical isolates from HIV-infected patients in Brazil. Diagn Microbiol Infect Dis 50:25–32. doi:10.1016/j.diagmicrobio.2004.04.009

Guardia T, Rotelli AE, Juarez AO, Pelzer LE (2001) Anti-inflammatory properties of plant flavonoids. Effects of rutin, quercetin and hesperidin on adjuvant arthritis in rat. Farmaco 56:683–687

Harborne JB, Williams CA (2000) Advances in flavonoid research since 1992. Phytochem 55:481–504. doi:10.1016/S0031-9422(00)00235-1

Huang H, Jia Q, Ma J, Qin G, Chen Y, Xi Y, Lin L, Zhu W, Ding J, Jiang H, Liu H (2009) Discovering novel quercetin-3-O-amino acid-esters as a new class of Src tyrosine kinase inhibitors. Eur J Med Chem 44:1982–1988. doi:10.1016/j.ejmech.2008.09.051

Iwalokun BA, Ogunledun A, Ogbolu DO, Bamiro SB, Jimi-Omojola J (2004) In vitro antimicrobial properties of aqueous garlic extract against multidrug-resistant bacteria and Candida species from Nigeria. J Med Food 7:327–333. doi:10.1093/jac/dkg476

Le Nest G, Caille O, Woudstra M, Roche S, Guerlesquin F, Lexa D (2004) Zn-polyphenol chelation: complexes with quercetin, (+)-catechin, and derivatives: I optical and NMR studies. Inorg Chim Acta 357:775–784. doi:10.1016/j.ica.2003.09.014

Manach C, Morand C, Demigné C, Texier O, Régérat F, Rémésy C (1997) Bioavailability of rutin and quercetin in rats. FEBS Lett 409:12–16. doi:10.1016/S0014-5793(97)00467-5

Mauludin R, Müller RH, Keck CM (2009) Development of an oral rutin nanocrystal formulation. Int J Pharm 370:202–209. doi:10.1016/j.ijpharm.2008.11.029

McClinton MA, McClinton DA (1992) Trifluoromethylations and related reactions in organic chemistry. Tetrahedron 48:6555–6666

Middleton E, Kandaswami C, Theoharides TC (2000) The effects of plant flavonoids on mammalian cells: implications for inflammation, heart disease, and cancer. Pharmacol Rev 52:673–751

Murakami A, Ashida H, Terao J (2008) Multitargeted cancer prevention by quercetin. Cancer Lett 269:315–325. doi:10.1016/j.canlet.2008.03.046

Patel M, Coogan MM (2008) Antifungal activity of the plant Dodonaea viscosa var angustifolia on Candida albicans from HIV-infected patients. J Ethnopharmacol 118:173–176. doi:10.1016/j.jep.2008.03.009

Pereira AP, Ferreira IC, Marcelino F, Valentão P, Andrade PB, Seabra R, Estevinho L, Bento A, Pereira JA (2007) Phenolic compounds and antimicrobial activity of olive (Olea europaea L. Cv. Cobrançosa) leaves. Molecules 12:1153–1162. doi:10.3390/12051153

Ribeiro MA, Rodrigues CP (2007) Up-regulation of ERG11 gene among fluconazole-resistant Candida albicans generated in vitro: is there any clinical implication? Diagn Microbiol Infect Dis 57:71–75. doi:10.1016/j.diagmicrobio.2006.04.019

Rotelli AE, Guardia T, Juárez AO, de la Rocha NE, Pelzer LE (2003) Comparative study of flavonoids in experimental models of inflammation. Pharmacol Res 48:601–606

Scalise I, Durantini EN (2004) Photodynamic effect of metallo 5-(4-carboxyphenyl)-10, 15, 20-tris(4-methylphenyl) porphyrins in biomimetic media. J Photochem Photobiol A Chem 162:105–113. doi:10.1016/S1010-6030(03)00317-4

Soysa NS, Samaranayake LP, Ellepola ANB (2004) Cytotoxic drugs, radiotherapy and oral candidiasis. Oral Oncol 40:971–978

Valsaraj R, Pushpangadan P, Smitt UW, Adsersen A, Christensen SB, Sittie A, Nyman U, Nielsen C, Olsen CE (1997) New anti-HIV-1, antimalarial, and antifungal compounds from Terminalia bellerica. J Nat Prod 60:739–742

Wachter GA, Hoffmann JJ, Furbacher T, Blake ME, Timmermann BN (1999) Antibacterial and antifungal flavanones from Eysenhardtia texana. Phytochem 52:1469–1471. doi:10.1016/S0031-9422(99)00221-6

White TC, Holleman S, Dy F, Mirels LF, Stevens DA (2002) Resistance mechanisms in clinical isolates of Candida albicans. Antimicrob Agents Chemother 46:1704–1713

Yongmoon H (2009) Rutin has therapeutic effect on septic arthritis caused by Candida albicans. Int Immunopharmacol 9:207–211. doi:10.1016/j.intimp.2008.11.002
Acknowledgments
The authors are grateful to the Consejo Nacional de Investigaciones Científicas y Técnicas (CONICET) of Argentina for financial support. M.G.A. and E.N.D. are Scientific Members of CONICET. T.C.T. thanks CONICET for a research fellowship.
About this article
Cite this article
Tempesti, T.C., Alvarez, M.G., de Araújo, M.F. et al. Antifungal activity of a novel quercetin derivative bearing a trifluoromethyl group on Candida albicans . Med Chem Res 21, 2217–2222 (2012). https://doi.org/10.1007/s00044-011-9750-x
Received:

Accepted:

Published:

Issue Date:

DOI: https://doi.org/10.1007/s00044-011-9750-x
Keywords
Antifungal activity

Flavonoid

Rutin

Quercetin

Candida albicans