Abstract
Extracellular- (E-PPS) and intracellular-protein–polysaccharides (I-PPS) complexes were produced by Trametes versicolor in submerged cultures with different carbon sources. The highest extracellular-(EPS) and intracellular-polysaccharide (IPS) concentration in the complexes was obtained with tomato pomace culture. DPPH radical scavenging for E-PPS and I-PPS produced by liter of culture was equivallent to 2.115 ± 0.227 and 1.374 ± 0.364 g of ascorbic acid, respectively. These complexes showed a protector effect in the oxidation of erythrocyte membranes and had ability to inhibit the hemolysis and methemoglobin synthesis in stressed erythrocytes. These results suggest that extracellular- and intracellular- polysaccharides produced are important bioactive compounds with medicinal potential.
This is a preview of subscription content, log in to check access.
Access options
Buy single article
Instant access to the full article PDF.
US$ 39.95
Tax calculation will be finalised during checkout.
Subscribe to journal
Immediate online access to all issues from 2019. Subscription will auto renew annually.
US$ 99
Tax calculation will be finalised during checkout.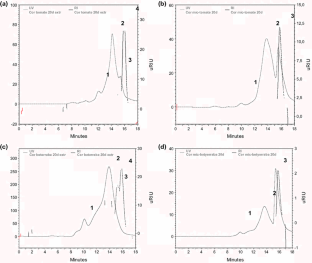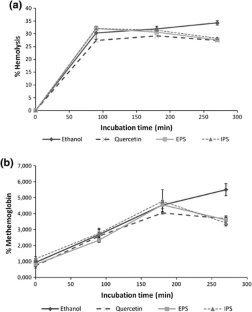 References
Barreca D, Laganà G, Tellone E, Ficarra S, Leuzzi U, Galtieri A, Belloco E (2009) Influences of flavonoids on erythrocyte membrane and metabolic implication through anionic exchange modulation. J Membrane Biol 230:163–171

Barros L, Falcão S, Baptista P, Freire C, Vilas-Boas M, Ferreira ICFR (2008) Antioxidant activity of Agaricus sp. mushrooms by chemical, biochemical and electrochemical assays. Food Chem 111:61–66

Braun S, Vecht-Lifshitz SE (1991) Mycelial morphology and metabolite production. Trend Biotechnol 9:63–68

Chen Y, Xie MY, Nie SP, Li C, Wang YX (2008) Purification, composition analysis and antioxidant activity of a polysaccharide from the fruiting bodies of Ganoderma atrum. Food Chem 107:231–241

Cui J, Chisti Y (2003) Polysaccharopeptides of Coriolus versicolor physiological activity, uses, and production. Biotechnol Adv 21:109–122

Cui J, Goh K, Archer R, Singh H (2007) Characterisation and bioactivity of protein-bound polysaccharides from submerged-culture fermentation of Coriolus versicolor Wr-74 and ATCC-20545 strains. J Ind Microbiol Biotechnol 34:393–402

Dubois M, Gilles K, Hamilton J, Rebers P, Smith F (1956) Colorimetric method for determination of sugars and related substances. Anal Chem 28:350–356

Gern R, Wisbeck E, Rampinelli J, Ninow J, Furlan S (2008) Alternative medium for production of Pleurotus ostreatus biomass and potential antitumor polysaccharides. Bioresour Technol 99:76–82

Jedinak A, Sliva D (2008) Pleurotus ostreatus inhibits proliferation of human breast and colon cancer cells through p53-dependent as well as p53-independent pathway. Int J Oncol 33:1307–1313

Jiang B, Zhang H, Liu C, Wang Y, Fan S (2010) Extraction of water-soluble polysaccharide and the antioxidant activity from GinKgo biloba leaves. Med Chem Res 19:262–270

Kim S, Hwang H, Park J, Cho Y, Song C, Yun J (2002) Mycelial growth and exo-biopolymer production by submerged culture of various edible mushrooms under different media. Lett Appl Microbiol 34:56–61

Lee C, Yang X, Wan J (2006) The culture duration affects the immunomodulatory and anticancer effect of polysaccharopeptide derived from Coriolus versicolor. Enzyme Microb Technol 38:14–21

Li S, Wang D, Tian W, Wang X, Zhao J, Liu Z, Chen R (2008) Characterization and anti-tumor activity of a polysaccharide from Hedysarum polybotrys Hand-Mazz. Carbohydr Polym 73:344–350

Lin E, Sung S (2006) Cultivating conditions influence exopolysaccharide production by the edible Basidiomycete Antrodia cinnamomea in submerged culture. Int J Food Microbiol 108:182–187

Lowry O, Rosebrough N, Farr A, Randall R (1951) Protein measurement with the folin phenol reagent. J Biochem 193:265–275

Manzoni M, Rollini M (2001) Isolation and characterization of the exopolisaccharide produced by Daedalia quercina. Biotechnol Lett 23:1491–1497

Marchall KC, Alexander M (1960) Growth characteristics of fungi and ascomycetes. J Bacteriol 80:412–416

Niki E, Komuro E, Takahashi M, Urano S, Ito E, Terao K (1988) Oxidative hemolysis of erythrocytes and its inhibition by free radical scavengers. J Biol Chem 263:19809–19814

Papagianni M (2004) Fungal morphology and metabolite production in submerged mycelia processes. Biotechnol Adv 22:189–259

Rau U (1997) Biosynthese, produktion und eigenschaften von extrazellulären Pilz-glucanem. Shaker, Aachen

Rau U, Kuenz A, Wray V, Nimtz M, Wrenger J, Cicek H (2009) Production and stuctural analysis of the polysaccharide secreted by Trametes (Coriolus) versicolor ATCC 200801. Appl Microbiol Biotechnol 81:827–837

Sakagami H, Aoki T, Simpson A, Tanuma S (1991) Induction of immunopotentiation activity by a protein-bound polysaccharide, PSK (review). Anticancer Res 11:993–999

Silva, JN, Beirão T, Filipe P, Fernandes A (2006) Efeito de flavonóides no stress oxidante e foto-oxidante no eritrócito humano. Boletim da SPHM 21

Tavares A, Agapito M, Coelho M, Silva J, Barros-Timmons A, Coutinho J, Xavier A (2005) Selection and optimization of culture medium for exopolysaccharide production by Coriolus (Trametes) versicolor. World J Microbiol Biotechnol 21:1499–1507

Tepe B, Daferera D, Tepe AS, Polissiou M, Sokmen A (2007) Antioxidant activity of the essencial oil and various extracts of Nepeta flavida Hub-Mor from Turkey. Food Chem 103:1358–1364

Tzianabos AO (2000) Polysaccharide immunomodulators as therapeutic agents: structural aspects and biologic function. Clinic Microbiol Rev 13(4):523–533

Wang JC, Hu SH, Liang ZC, Yeh CJ (2005) Optimization for the production of water-soluble polysaccharide from Pleurotus citrinopileatus in sumerged culture and its antitumor effect. Appl Microbiol Biotechnol 67:759–766

Zhang M, Cui SW, Cheung PCK, Wang Q (2007) Antitumor polyssacharides from mushrooms: a review on their isolation process, structural characteristics and antitumor activity. Trend Food Sci Technol 18:4–19
About this article
Cite this article
Santos Arteiro, J.M., Rosário Martins, M., Salvador, C. et al. Protein–polysaccharides of Trametes versicolor: production and biological activities. Med Chem Res 21, 937–943 (2012). https://doi.org/10.1007/s00044-011-9604-6
Received:

Accepted:

Published:

Issue Date:
Keywords
Protein–polysaccharides

Trametes versicolor

Submerged fermentation

Edible mushrooms

Antioxidant properties