Abstract
The chemical composition of chloroformic, ethyl acetate, butanolic, and methanolic extracts isolated from the fungus Gliocladium sp. using different solvents of increasing polarity was analyzed by GC-FID and GC-MS. Furthermore, the antimicrobial activity of extracts was tested against five Gram-positive and Gram-negative bacteria and four pathogenic fungi. The tested extracts exhibited an interesting antibacterial activity against all bacteria tested, even against Gram-negative bacteria presenting frequently a higher resistance and against all fungi except Candida albicans.
Access options
Buy single article
Instant access to the full article PDF.
US$ 39.95
Tax calculation will be finalised during checkout.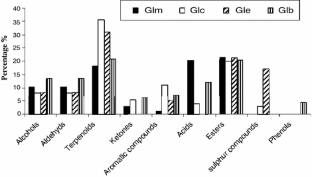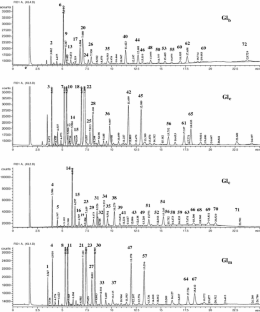 References
Adams RP (1995) Identification of essential oil components by gas chromatography/mass spectrometry. Allured, Carol Stream, IL, p 469

Bauer AW, Kirby WMM, Sherries JC, Tuck M (1966) Antibiotic susceptibility testing by a standardized disc method. Am J Clin Pathol 45:493–496

Burt S (2004) Essential oils: their antibacterial properties and potential applications in foods: a review. Int J Food Microbiol 94:223–253

Chang ST, Chen PF, Chang SC (2001) Antibacterial activity of leaf essential oils and their constituents from Cinnamomum osmophloeum. J Ethnopharmacol 77:123–127

Chen GW, Chung JG, Ho HC, Lin JG (1999) Effect of the garlic compounds diallyl sulphides and diallyl disulphides on acryl amide N-acetyl transferase activity in Klebsiella pneumoniae. J Appl Toxicol 19:75–81

Cox SD, Mann CM, Markham JL, Bell HC, Gustafson JE (2000) The mode of antimicrobial action of the essential oil from Malaleuca alternifolia (tea tree oil). J Appl Bacteriol 88:170–175

Delaquis PJ, Stanich K, Girard B, Mazza G (2002) Antimicrobial activity of individual and mixed fractions of dill, cilantro, coriander and eucalyptus essential oils. Int J Food Microbiol 74:101–109

Di Pietro A, Lorito M, Hayes CK, Broadway RM, Harman GE (1993) Endochitinase from Gliocladium virens: isolation, characterization, and synergistic antifungal activity in combination with gliotoxin. Phytopathology 83:308–313

Dorman HJD, Deans SG (2000) Antimicrobial agents from plants: antibacterial activity of plant volatile oils. J Appl Microbiol 88:308–316

Edziri H, Mastouri M, Ammar S, Mahjoub MA, Brahim S, Kenani A, Zine M, Aouni M (2008) Antibacterial, antioxidant and cytotoxic activities of extracts of Conyza canadensis (L.) Cronquist growing in Tunisia. Med Chem Res. doi:10.1007/s00044-008-9141-0

Harman GE, Howell CR, Viterbo A, Chet I, Lorito M (2004) Trichoderma species, opportunistic, avirulent plant symbionts. Nature Rev Microbiol 2:43–56

Hicheri F, Ben Jannet H, Cheriaa J, Jegham S, Mighri Z (2003) Antibacterial activities of a few prepared derivatives of oleanolic acid and of other natural triterpenic compounds. C R Chimi 6:473–483

Howell CR, Stipanovic RD, Lumsden RD (1993) Antibiotic production by strains of Gliocladium virens and its relation to the biocontrol of cotton seedling diseases. Biocontrol Sci Technol 3:435–440

Marmonier A (1987) Bactériologie médicale. Techniques usuelles. In: Antibiotiques, Technique de diffusion en gélose méthode des disques. SIMEP SA-PARIS, France, pp 238–244

Mahjoub MA, Ammar S, Edziri H, Mighri N, Bouraoui A, Mighri Z (2009) Anti-inflammatory and antioxidant activities of some extracts and pure natural products isolated from Rhus tripartitum (Ucria). Med Chem Res. doi:10.1007/s00044-009-9190-z

Marino M, Bersani C, Comi G (2001) Impedence measurements to study the antimicrobial activity of essential oils from Lamiacea and Compositae. Int J Food Microbiol 67:187–195

May J, Chan CH, King A, Williams L, French GL (2000) Time-kill studies of tea tree oils on clinical isolates. J Antimicrob Chemoth 45:639–643

Merritt S, David E, Wilford MH, Joe S, Gary S (2003) An endophytic Gliocladium sp. of Eucryphia cordifolia producing selective volatile antimicrobial compounds. Plant Sci 165:913–922

Moleyar V, Narasimham P (1986) Antifungal activity of some essential oil components. Food Microbiol 3:331–336

Papavizas GC (1985) Trichoderma and Gliocladium: biology, ecology and potential for biontrol. Ann Rev Phytopathol 23:23–54

Pauli A (2001) Antimicrobial properties of essential oil constituents. Int J Aromath 11:126–133

Paulitz TC, Linderman RG (1991) Lack of antagonism between the biocontrol agent Gliocladium virens and vesicular arbuscular mycorrhizal fungi. New Phytol 117:303–308

Pintore G, Usai M, Bradesi P, Juliano C, Boatto G (2002) Chemical composition and antimicrobial activity of Rosmarinus officinalis L. oils from Sardinia and Corsica. Flavour Fragr J 17:15–19

Ronda LA, Rybak MJ (2001) Bactericidal activities of two daptomycin regimens against clinical strains of glycopeptide intermediate-resistant Staphylococcus aureus, vancomycin-resistant Enterococcus faecium and methicillin-resistant Staphylococcus aureus isolates in an in vitro pharmacodynamic model with simulated endocardial vegetations. Antimicrob Agents Ch 45:454–459

Senatore F, Napolitano F, Ozcan M (2000) Composition and antibacterial activity of the essential oil from Crithmum maritimum L. (Apiaceae) growing wild in Turkey. Flavour Fragr J 15:186–189

Sharma S, Aneja MK, Mayer J, Much JC, Schloter M (2005) Characterization of bacterial community structure in rhizosphere soil of grain legumes. Microb Ecol 49:407–415

Shibamoto T (1987) Retention indices in essential oil analysis. In: Sandra P, Bicchi C (eds) Capillary gas chromatography in essential oil. Dr. Alfred Heuthig, pp 259–275

Smith-Palmer A, Stewart J, Fyfe L (1998) Antimicrobial properties of plant essential oils and essences against five important food-borne pathogens. Lett Appl Microbiol 26:118–122

Sökmen A, Gulluce M, Askin Akpulat H, Daferera D, Tepe B, Polissiou M (2004) The in vitro antimicrobial and antioxidant activities of the essential oils and methanol extracts of endemic Thymus spathulifolius. Food Control 15:627–634

Tsao SM, Yin MC (2001) In vitro antimicrobial activity of four diallyl sulphides occurring naturally in garlic and Chinese leek oils. J Med Microbiol 50:646–649

Ultee A, Kets EPW, Smid EJ (1999) Mechanisms of actions of carvacrol on the food-borne pathogen Bacillus cereus. Appl Environ Microbiol 65:4606–4610

Vanden Berghe DA, Vlietinck AJ (1991) In: Dey PM, Harbone JB, Hostettman K (eds) Screening methods for antibacterial and antiviral agents from higher plants. Methods in plant biochemistry. Assays for Bioactivity, vol 6. Academic Press, London, pp 47–69

Vargas Gil S, Pastor S, March GJ (2009) Quantitative isolation of biocontrol agents Trichoderma spp., Gliocladium spp. and actinomycetes from soil with culture media. Microbiol Res 164:196–205

Wilkinson JM, Hipwell M, Ryan T, Cavanagh HMA (2003) Bioactivity of Backhousiacitriodora: antibacterial and antifungal activity. J Agr Food Chem 51:76–81

Yen TB, Chang ST (2008) Synergistic effects of cinnamaldehyde in combination with eugenol against wood decay fungi. Bioresour Technol 99:232–236
Acknowledgments
The authors are grateful to Pr. Biard Jean-François, Laboratory SMAB, Faculty of Pharmacy, Nantes, France, for assistance in the botanical identification and Pr. Amina Bakhrouf, Laboratory of Environment Microbiology, Faculty of Pharmacy, Monastir, Tunisia, for assistance in antibacterial assays.
About this article
Cite this article
Liouane, K., Saïdana, D., Edziri, H. et al. Chemical composition and antimicrobial activity of extracts from Gliocladium sp. growing wild in Tunisia. Med Chem Res 19, 743–756 (2010). https://doi.org/10.1007/s00044-009-9227-3
Received:

Accepted:

Published:

Issue Date:
Keywords
Gliocladium sp.

Chemical composition

GC-FID

GC-MS

Antimicrobial activity