Abstract
Two new triterpenoids were isolated from the n-hexane extract of seeds of Nigella sativa Linn. and identified as cycloart-23-methyl-7,20,22-triene-3β,30-diol (1) and cycloart-3-one-7,22-diene-24-ol (2). In addition, two aliphatic compounds and two known sugars were isolated from alcohol extract, and identified as 4-hydroxy undecyl nonanoate (3), 14,20-dimethyl heptacosanol (4), maltose (5), and sucrose (6). They were characterized on the basis of spectral analysis and by comparing literature data. Extraction and transportation study of sugars were also investigated, which evaluated biological phenomena.
Access options
Buy single article
Instant access to the full article PDF.
US$ 39.95
Tax calculation will be finalised during checkout.
Subscribe to journal
Immediate online access to all issues from 2019. Subscription will auto renew annually.
US$ 79
Tax calculation will be finalised during checkout.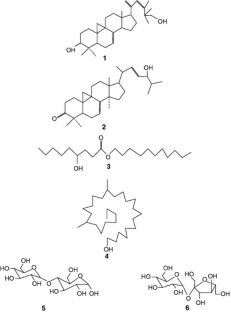 References
Al-Naggar TB, Gomez-Serranillos MP, Carreto ME, Villar AM (2003) Neuropharmacological activity of Nigella sativa L extracts. J Ethnopharmacol 88:63–68

Ali BH, Blunden G (2003) Pharmacological and toxicological properties of Nigella sativa. Phytotherapy Res 17:299–305

Anjaneyulu V, Parasad Harishchandra K, Ravi K, Connolly JD (1985) Triterpenoids from Mangifera indica. Phytochem 24(10):2359–2367

Anjaneyulu V, Rao G. Sambasiva, Connolly JD (1985) Occurance of 24-Epimer of Cycloart-25-ene-3-beta, 24-diols in stems of EUPHORBIA-TRIGONA. Phytochem 24(7):1610–1612

Atta-Ur-Rahaman, Malik S, Khurshid Zaman (1992) Nigellimine: a new isoquinoline alkaloid from seeds of Nigella sativa. J Nat Prod 55(5):676–678

Atta-Ur-Rahaman, Malik S (1985) Isolation and structure determination of Nigellicine, a novel alkaloid from the seeds of Nigella sativa. Tetrahedron Lett 26(23):2759–2762

Barik BR, Bhaumik T, Dey AK, Kundu AB (1994) Triterpenoids from Artocarpus heterophyllus. Phytochem 35(4):1001–1004

Barik BR, Bhaumik T, Dey AK, Kundu AB (1997) Triterpenoids of Artocarpus heterophyllus. J Ind Chem Soc 74: 163–164

Bellamy LJ (1975) The infrared spectra of complex molecules. 3rd ed. Chapman and Hall, London

Boulos L (1983) Medicinal plants of North Africa. Reference Publication Algonac, Michigan. 103

Deskoy EK (1995) Phytosterols from Murraya exotica. Phytochem 40(6):1769–1772

Dyer JR (1984) Applications of Absorption spectroscopy of Organic Compounds. Prentice Hall, New Delhi. pp 33–38

El-Dakhakhny M, Madi NJ, Lembert N, Ammon HPT (2002) Nigella sativa oil, Nigellone and derived thymoquinone inhibit synthesis of 5-lipoxygenase products in polymorphonuclear leukocytes from rats. J Ethanopharmacol 81:161–164

Goswamy P, Jivon K, Ze-Nai-Chen, Yang Lu (1996) A sterol glycoside from leaves of Clerodendron colebrookianum. Phytochem 41(1):279–281

Huv-Khuong F, Sangare M, Vhari VM, Bekaert A, Devys M, Bardier M, Lucks G (1975) 13C Nuclear Magnetic resonance spectral analysis of cycloartenol and related compounds. Tetrahedron Lett 22–23:1787–1790

Itoh T, Iish T, Tamura T, Matsumoto T (1978) Four new and other 4α-methyl sterols in the seeds of Solanaceae. Phytochem 17:971

Kida T, Furue D, Matsuyama A, Nakatsuji Y, Ikeda I (1996) Selective transport of saccharides through a bulk liquid membrane using reversed micelle carriers. Chem Lett 733–734

Krishihara S, Fuji S, Tmaki S, Kim KB, Wakiuchi N, Yamamoti Y (1992) Continuous chromatographic separation of sucrose, glucose and fructose using a simulated moving bed adsorber. Intl Sugar J 94(1128):305–308

Li JX, Kadota S, Hattohi M, Yoshimachi S, Shiro M, Oogami N, Mizunoand H, Namba T (1993) Constituents of Cimicifugae rhizoma. I. Isolation and characterization of ten new cycloartenol triterpenes from Cimifuga heracieifolia KOMAROV. Chem Pharm Bull 41(5):832–841

Lves SJ, Castro CM, Janiza FOM, Chuhla da Leitao VE, Filho Barbosa MJ, Silvaded SM (2000) Complete assignment of the 1H and 13C NMR Spectra of four triterpenes of the ursane, artane, lupane and friedelane groups. Magn Reson Chem 38:201–206

McLafferty FW (1993) Interpretation of Mass Spectra. 4th ed. W.A. Benjamin, Massachusetts

Nair SC, Salomi MJ, Pannikar B, Pannikar KR (1991) Modulatory effects of crocus sativus and Nigella sativa extracts on cisplatin-induced toxicity in mice. J Ethnopharmacol 31:75–83

Rao B, Suseela K (1982) Chemical examination of Euphorbia splendeus Boj. Ind J Chem 21(B):495–496

Silverstein RM, Webster FX (2002) Spectrometic identification of Organic Compounds. 6th ed. Wiley, NY

Smith BD, Gardiner SJ (1999) Facilitated transport of small hydrophilic bio molecules through artificial membranes. Adv Supramol Chem 5:157–202

St. Jacques M, Sunderarajan PR, Taylor KJ, Marchessault RH (1976) Nuclear magnetic resonance and conformational studies on amylose and model compounds in dimethyl sulfoxide solution. J Am Chem Soc 98(15):4386–4391

Swamy SMK, Tan BKH (2001) Extraction, Isolation and Characterization of Antitumor Principle, α-hederin from the seeds of Nigella sativa. Planta Med 67:29–32

Tanaka R, Mastunaga S (1991) Triterpene lactone from stem bark of Abies firma. Phytochem 30:1983

Tchinda AT, Tane P, Ayafor JF, Connolly JD (2003) Stigmastane derivatives and isovaleryl sucrose esters from Vernonia guineensis (Asteraceae). Phytochem 63:841–846

Ulubelen GT, Kaya U (1994) Steroidal compounds from Teucrium chamaedrys subsp. Chamaedrys Phytochem 36(1):171–173

Whistler RL, Moy BF (1955) Isolation of Maltohexose. J Am Chem Soc 77(21):5761–5762
Acknowledgements
The authors would like to thank RSIC, CDRI, LUCKNOW and RSIC, IIT-BOMBAY, for spectral analysis.
About this article
Cite this article
Mehta, B.K., Sharma, U., Agrawal, S. et al. Isolation and characterization of new compounds from seeds of Nigella sativa . Med Chem Res 17, 462–473 (2008). https://doi.org/10.1007/s00044-007-9080-1
Received:

Accepted:

Published:

Issue Date:
Keywords
Triterpenoids

Sugars

Seed

Transportation studies

Nigella sativa