Abstract
Herbal medicine has formed the basis of health care throughout the world since the dawn of civilization. Each plant is a unique chemical factory capable of synthesizing unlimited numbers of highly complex and unusual chemical substances whose structures could otherwise escape the imagination forever. Phytomedicines have been used as a treatment for many diseases, ranging from skin disease to cancer. Most of the anticancer drugs that we use today are derived from plants. The anticancer effect of plants is due to specific phytochemicals or the complex synergistic interactions among their various constituents. The aim of the present study was to evaluate the cytotoxic properties of an extract of the Curucuma zedoariae rhizome, a plant belonging to the family Zingeberaceae, and to determine its IC50 value. Various organic extracts were isolated using Soxhlet apparatus in order of increasing solvent polarity, namely petroleum ether, ethyl acetate, acetone, and methanol. Colorimetric [3-(4,5-Dimethylthiazol-2-yl)-2,5 diphenyltetrazolium bromide] assay (MTT assay) was done to determine the cytotoxicity against human cervical carcinoma cells (He La). Acridine orange–ethidium dromide dual staining and DNA fragmentation assays were done to detect apoptotic features. Among the various extracts studied, the petroleum ether extract was found to exhibit maximum cytotoxicity against He La cells. Our results suggest that the petroleum ether extract of the Curucuma zedoariae rhizome may have potential as an anticancer agent. Further steps have to be done to purify the compound and to elucidate the antitumor activity of the extract.
Access options
Buy single article
Instant access to the full article PDF.
USD 39.95
Price excludes VAT (USA)
Tax calculation will be finalised during checkout.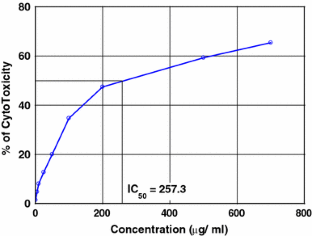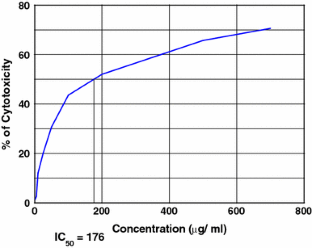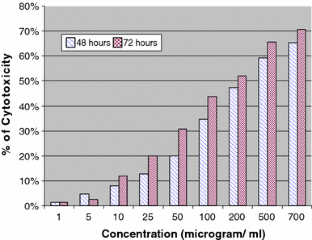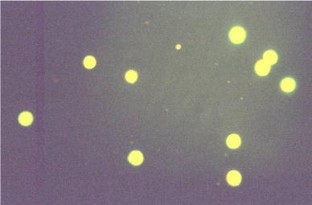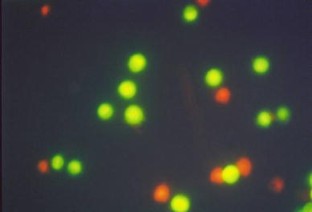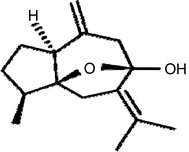 References
Anto RJ, Maliekal TT, Karunagaran DL (2000) 929 cells harbouring ectopically expressed Rel A resist curcumin induced apoptosis. J Biol Chem 275:15601–15604

Cohen JJ (1991) Programmed cell death in the immune system. Adv Immunol 50:55–85

Dahanukar SA, Thatte UM (1997) Current status of Ayurveda in phytomedicine. Phytomedicine 4:359–368

Gupta SK, Banerjee AB, Achari B (1976). Isolation of ethyl-P-methoxy cinnamate, the major antifungal principle of Curcuma zedoariae. Lloydia 39:218–222

Jang MK, Sohn DH, Ryu JH (2001). A curcuminoid and sesquiterpenes as inhibitors of macrophage TNF- α release from Curcuma zedoariae. Planta medica 67:550–552

Kirsh Volders M, Elhajouji A, Cundari E, Van Hummelen P (1997) The in vitro micronuclear test: A multi-endpoint assay to detect simultaneously mitotic delay, apoptosis, chromosome breakage and non-disjunction. Mutat Res 436:69–97

Lai EY, Chyau CC, Mau JL, Chen CC, Lai YJ, Shih CF, Lin LL (2004) Antimicrobial activity and cytotoxicity of the essential oil of Curcuma zedoariae. Am J Chin Med 32:281–290

Lien EJ, Wy Li (1985). Advances in Chinese medical materials research. 433–452

Radford IR, Murphy TK, Radley JM, Ellis SL (1994) Radiation response of mouse lymphoid and myeloid cell lines Part 2. Int J Radiat Biol 65(2):217–227

Rana AC, Avadhoot Y (1992) .Experimental evaluation of hepatoprotective activity of Gymnema sylvestre and Curcuma zedoariae. Fitoterapia 63:60–67. Scientific publishing 433–452

Scudiero DA, Shoemaker RH, Paull KD, Monks A, Tierney S, Nofziger H, Currens MJ, Seniff D, Boyd MR (1988) Evaluation of a soluble tetrazolium formasan assay for cell growth and drug sensitivity in culture using human and other tumour cell lines. Cancer Res 48:4827–4833

Singhal MK (2004) Jungles: Rich source of medicinal plants. Natural Product Radiance 3:203

Suffness M, Pezzuto JM (1991) Assays related to cancer Drug discovery In: Hostettman K (Ed) Methods in Plant Biochemistry Assays for bioactivity, Academic, London, New York. 6:71–133

Syu WJ, Shen CC, Don MJ, Ou JC, Lee GH, Sun CM (1998) Cytotoxicity of curcuminoids and some novel compounds from Curcuma zedoariae. J Nat Prod 61:1531–1534

Watanabe KM, Shibata M, Yano S, Cai Y, Shibuya H, Kitagawa I (1986) Antiulcer activity of extracts and isolated compounds From Zedoariae (Gajutsu) cultivated in Yakushima (Japan). Yakugaku zasshi 106:1137–1142
Acknowledgements
The first author, Lakshmi. S, would like to thank the Regional Cancer Centre, the Central Tuber Crops Research Institute, and the Regional Research Laboratory for the facilities to carry out the work.
About this article
Cite this article
Lakshmi, S., Dhanya, G.S., Joy, B. et al. Inhibitory effect of an extract of Curcuma zedoariae on human cervical carcinoma cells. Med Chem Res 17, 335–344 (2008). https://doi.org/10.1007/s00044-007-9069-9
Received:

Accepted:

Published:

Issue Date:

DOI: https://doi.org/10.1007/s00044-007-9069-9
Keywords
Curcuma zedoariae

Cervical cancer

Apoptosis

Medicinal plants

Anticancer

Cytotoxicity