Abstract
The complex system of communication used by social insects is responsible for their success on Earth. Cuticular hydrocarbons (CHCs) are considered the most commonly used form of communication among social insects. The best-known function of CHCs is to distinguish nestmates, providing cues to the whole colony to identify potential threats. In some species, CHCs function as queen pheromones, which contribute to the queens' ability to regulate the reproductive division of labor. Additionally, differences of CHCs were described in castes and they are also important in sex recognition. Here, we reinvestigated the chemical composition on the cuticle of German wasp Vespula germanica and we found that proportions of linear alkanes were more abundant in the cuticle of queens than other castes. Chemical analysis between caste and sex, including data of virgin queens and males, showed that each group possesses different compositions on their cuticle, being mostly quantitative differences. Thus, individuals of V. germanica may recognize and discriminate caste and sex through subtle chemical variations, or alternatively, based on templates used in nestmate recognition. The chemical analysis provides correlative evidence of CHCs being used as cues in the chemical communication of this species.
Access options
Buy single article
Instant access to the full article PDF.
USD 39.95
Price includes VAT (USA)
Tax calculation will be finalised during checkout.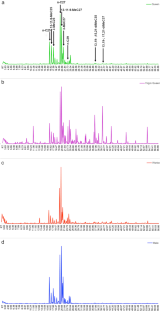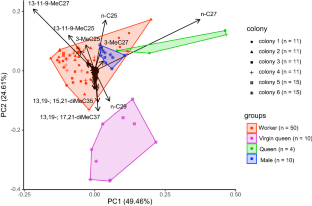 Data availability
Data was deposited in the supplementary section.
References
Andrade-Silva ACR, Nascimento FS (2015) Reproductive regulation in an orchid bee: social context, fertility and chemical signaling. Anim Behav 106:43–49. https://doi.org/10.1016/j.anbehav.2015.05.004

Ayasse M, Paxton RJ, Tengö J (2001) Mating behavior and chemical communication in the order hymenoptera. Annu Rev Entomol 46:31–78. https://doi.org/10.1146/annurev.ento.46.1.31

Beani L, Calloni C (1991) Leg tegumental glands and male rubbing behavior at leks in Polistes dominulus (Hymenoptera: Vespidae). J Insect Behav 4:449–462. https://doi.org/10.1007/BF01049330

Blomquist GJ, Bagnères AG (eds) (2010) Insect hydrocarbons: biology, biochemistry, and chemical ecology. Cambridge University Press, Cambridge

Bonckaert W, Drijfhout FP, d'Ettorre P et al (2012) Hydrocarbon signatures of egg maternity, caste membership and reproductive status in the common wasp. J Chem Ecol 38:42–51. https://doi.org/10.1007/s10886-011-0055-9

Brown WV, Spradbery JP, Lacey MJ (1991) Changes in the cuticular hydrocarbon composition during development of the social wasp, Vespula germanica (Hymenoptera, Vespidae). Comp Biochem Phys B 99:553–562. https://doi.org/10.1016/0305-0491(91)90337-d

Brown RL, El-Sayed AM, Suckling DM, Stringer LD, Beggs JR (2013) Vespula vulgaris (Hymenoptera: Vespidae) gynes use a sex pheromone to attract males. Can Entomol 145:389–397. https://doi.org/10.4039/tce.2013.8

Butts DP, Espelie KE, Hermann HR (1991) Cuticular hydrocarbons of four species of social wasps in the subfamily vespinae: Vespa crabro L., Dolichovespula maculata (L.), Vespula squamosa (Drury), and Vespula maculifrons (Buysson). Comp Biochem Physiol Part B Biochem 99:87–91. https://doi.org/10.1016/0305-0491(91)90012-3

Butts DP, Camann MA, Espelie KE (1995) Workers and queens of the European hornet Vespa crabro L. have colony-specific cuticular hydrocarbon profiles (Hymenoptera: Vespidae). Insectes Soc 42:45–55. https://doi.org/10.1007/BF01245698

Cini A, Cappa F, Pepiciello I, Platania L, Dapporto L, Cervo R (2019) Sight in a clique, scent in society: plasticity in the use of nestmate recognition cues along colony development in the social wasp Polistes dominula. Front Ecol Evol 7:444. https://doi.org/10.3389/fevo.2019.00444

Conte YL, Hefetz A (2008) Primer pheromones in social hymenoptera. Annu Rev Entomol 53:523–542. https://doi.org/10.1146/annurev.ento.52.110405.091434

D'Adamo P, Corley J, Sackmann P, Lozada M (2000) Local enhancement in the wasp Vespula germanica: are visual cues all that matter? Insectes Soc 47:289–291. https://doi.org/10.1007/PL00001717

da Silva RC, Prato A, Oi CA, Turatti ICC, Do Nascimento FS (2020) Dominance hierarchy, ovarian activity and cuticular hydrocarbons in the primitively eusocial wasp Mischocyttarus cerberus (Vespidae, Polistinae, Mischocyttarini). J Chem Ecol 46:835–844. https://doi.org/10.1007/s10886-020-01206-1

da Silva RC, Van Meerbeeck L, do Nascimento FS, Wenseleers T, Oi CA, (2021) Close-range cues used by males of Polistes dominula in sex discrimination. Sci Nat 108:1–16. https://doi.org/10.1007/s00114-021-01730-4

Derstine NT, Ohler B, Jimenez SI, Landolt P, Gries G (2017) Evidence for sex pheromones and inbreeding avoidance in select North American yellowjacket species. Entomol Exp Appl 164:35–44. https://doi.org/10.1111/eea.12591

Derstine NT, Gries R, Zhai H, Jimenez SI, Gries G (2018) Cuticular hydrocarbons determine sex, caste, and nest membership in each of four species of yellowjackets (Hymenoptera: Vespidae). Insectes Soc 65:581–591. https://doi.org/10.1007/s00040-018-0649-0

Holman L, Lanfear R, D'Ettorre P (2013) The evolution of queen pheromones in the ant genus Lasius. J Evol Biol 26:1549–1558. https://doi.org/10.1111/jeb.12162

Holman L, Hanley B, Millar JG (2016) Highly specific responses to queen pheromone in three Lasius ant species. Behav Ecol Sociobiol 70:387–392. https://doi.org/10.1007/s00265-016-2058-6

Hoover SER, Keeling CI, Winston ML, Slessor KN (2003) The effect of queen pheromones on worker honey bee ovary development. Naturwissenschaften 90:477–480. https://doi.org/10.1007/s00114-003-0462-z

Howard RW, Blomquist GJ (2005) Ecological, behavioral, and biochemical aspects of insect hydrocarbons. Annu Rev Entomol 50:371–393. https://doi.org/10.1146/annurev.ento.50.071803.130359

Kasper ML, Reeson AF, Cooper SJB, Perry KD, Austin AD (2004) Assessment of prey overlap between a native (Polistes humilis) and an introduced (Vespula germanica) social wasp using morphology and phylogenetic analyses of 16S rDNA. Mol Ecol 13:2037–2048. https://doi.org/10.1111/j.1365-294X.2004.02193.x

Keller L, Nonacs P (1993) The role of queen pheromones in social insects: queen control or queen signal? Anim Behav 45(4):787–794

Leonhardt SD, Menzel F, Nehring V, Schmitt T (2016) Ecology and evolution of communication in social insects. Cell 164:1277–1287. https://doi.org/10.1016/j.cell.2016.01.035

Litte M (1979) Mischocyttarus flavitarsis in Arizona: social and nesting biology of a polistine wasp. Z Tierpsychol 50:282–312. https://doi.org/10.1111/j.1439-0310.1979.tb01033.x

Loope KJ, Millar JG, Rankin EEW (2018) Weak nestmate discrimination behavior in native and invasive populations of a yellowjacket wasp (Vespula pensylvanica). Biol Invasions 20:3431–3444. https://doi.org/10.1007/s10530-018-1783-3

Mant J, Brändli C, Vereecken NJ, Schulz CM, Francke W, Schiestl FP (2005) Cuticular hydrocarbons as sex pheromone of the bee Colletes cunicularius and the key to its mimicry by the sexually deceptive orchid, Ophrys exaltata. J Chem Ecol 31:1765–1787. https://doi.org/10.1007/s10886-005-5926-5

Martin SJ, Vitikainen E, Helanterä H, Drijfhout FP (2008) Chemical basis of nest-mate discrimination in the ant Formica exsecta. Proc R Soc B Biol Sci 275:1271–1278. https://doi.org/10.1098/rspb.2007.1708

Masciocchi M, Angeletti B, Corley JC, Martínez AS (2020) Drone aggregation behavior in the social wasp Vespula germanica (Hymenoptera: Vespidae): effect of kinship and density. Sci Rep 10:1–7. https://doi.org/10.1038/s41598-020-64232-9

Mitra A, Palavalli Nettimi R, Ramachandran A et al (2015) Males and females of the social wasp Ropalidia marginata do not differ in their cuticular hydrocarbon profiles and do not seem to use any long-distance volatile mate attraction cues. Insectes Soc 62:281–289. https://doi.org/10.1007/s00040-015-0408-4

Oi CA, Van Oystaeyen A, Caliari Oliveira R, Millar JG, Verstrepen KJ, van Zweden JS, Wenseleers T (2015a) Dual effect of wasp queen pheromone in regulating insect sociality. Curr Biol 25:1638–1640. https://doi.org/10.1016/j.cub.2015.04.040

Oi CA, van Zweden JS, Oliveira RC, Van Oystaeyen A, Nascimento FS, Wenseleers T (2015b) The origin and evolution of social insect queen pheromones: novel hypotheses and outstanding problems. BioEssays 37:808–821. https://doi.org/10.1002/bies.201400180

Oksanen J, Kindt R, Legendre P, O'Hara B, Simpson GL, Stevens MHH, Wagner H (2008) The vegan package. Community Ecol Packag 190

Ono M, Sasaki M (1987) Sex pheromones and their cross-activities in six Japanese sympatric species of the genus Vespa. Insectes Soc 34:252–260. https://doi.org/10.1007/BF02224357

Paulmier I, Bagnères AG, Afonso CM, Dusticier G, Rivière G, Clément JL (1999) Alkenes as a sexual pheromone in the alfalfa leaf-cutter bee Megachile rotundata. J Chem Ecol 25:471–490. https://doi.org/10.1023/A:1020993518226

Peterson MA, Dobler S, Larson EL, Juárez D, Schlarbaum T, Monsen KJ, Francke W (2007) Profiles of cuticular hydrocarbons mediate male mate choice and sexual isolation between hybridizing Chrysochus (Coleoptera: Chrysomelidae). Chemoecology 17:87–96. https://doi.org/10.1007/s00049-007-0366-z

Post DC, Jeanne RL (1984) Venom as an interspecific sex pheromone, and species recognition by a cuticular pheromone in Paper Wasps (Polistes, Hymenoptera: Vespidae). Physiol Entomol 9:65–75. https://doi.org/10.1111/j.1365-3032.1984.tb00682.x

R Core Team (2018) R: a language and environment for statistical computing. Vienna: R Foundation for Statistical Computing. http://www.R-project.org

Signorotti L, d'Ettorre P, Sguanci G, Cervo R (2015) Pupal experience and nestmate recognition in Polistes dominula wasps. Insectes Soc 62:433–441. https://doi.org/10.1007/s00040-015-0422-6

Simmons LW, Alcock J, Reeder A (2003) The role of cuticular hydrocarbons in male attraction and repulsion by female Dawson's burrowing bee, Amegilla dawsoni. Anim Behav 66:677–685. https://doi.org/10.1006/anbe.2003.2240

Slessor KN, Kaminski LA, King GGS, Borden JH, Winston ML (1988) Semiochemical basis of the retinue response to queen honey bees. Nature 332:354–356

Spradbery JP, Maywald GF (1992) The distribution of the European or German wasp, Vespula germanica (Hymenoptera, Vespidae), in Australia—past, present and future. Aust J Zool 40:495–510. https://doi.org/10.1071/zo9920495

Tannure-Nascimento IC, Nascimento FS, Zucchi R (2008) The look of royalty: visual and odour signals of reproductive status in a paper wasp. Proc R Soc B Biol Sci 275:2555–2561. https://doi.org/10.1098/rspb.2008.0589

Thomas ML, Simmons LW (2008) Sexual dimorphism in cuticular hydrocarbons of the Australian field cricket Teleogryllus oceanicus (Orthoptera: Gryllidae). J Insect Physiol 54:1081–1089. https://doi.org/10.1016/j.jinsphys.2008.04.012

Tokoro M, Makino S (2011) Colony and caste specific cuticular hydrocarbon profiles in the common Japanese hornet, Vespa analis (Hymenoptera, Vespidae). Japan Agric Res Q 45:277–283. https://doi.org/10.6090/jarq.45.277

Van Oystaeyen A, Oliveira RC, Holman L, van Zweden JS, Romero C, Oi CA, d'Ettorre P, Khalesi M, Billen J, Wäckers F, Millar JG, Wenseleers T (2014) Conserved class of queen pheromones stops social insect workers from reproducing. Science 343:287–291. https://doi.org/10.5061/dryad.cg4qp

van Zweden JS, d'Ettorre P (2010) Nestmate recognition in social insects and the role of hydrocarbons insect hydrocarbons: biology, biochemistry, and chemical ecology. Cambridge Univ Press, Cambridge, pp 222–243

Ward D, Honan P, Lefoe G (2002) Colony structure and nest characteristics of European wasps, Vespula germanica (F.) (Hymenoptera:Vespidae), in Victoria Australia. Aust J Entomol 41:306–309. https://doi.org/10.1046/j.1440-6055.2002.00308.x

Wickham H, Chang W, Wickham MH (2016) Package 'ggplot2'. create elegant data visualisations using the grammar of graphics. Version 2:1–189
Acknowledgements
We would like to thank the two anonymous reviewers for their comments and suggestions on earlier versions of this manuscript.
Funding
This study was supported by Coordenação de Aperfeiçoamento de Pessoal de Nível Superior—Brasil (CAPES)—Finance Code 001 and Grant 2018/22461-3 São Paulo Research Foundation (FAPESP) to RCS. Additional funding was provided from Bilateral grant FWO-FAPESP to CAO, FSN and TW (process: 2018/10996-0 FAPESP and FWO: GOF8319N). Furthermore, Research Foundation Flanders to CAO (postdoctoral fellowship FWO-12V6318N). Conselho Nacional de Desenvolvimento Científico e Tecnológico also financially supported a productivity Grant to FSN (307702/2018-9). RLB was funded by the Ministry for Primary Industries (SFF 405195) and the Ministry for Business, Innovation and Employment SSIF.
Ethics declarations
Conflict of interest
The authors declare no conflicts of interest.
Supplementary Information
Below is the link to the electronic supplementary material.
About this article
Cite this article
da Silva, R.C., Brown, R.L., do Nascimento, F.S. et al. Cuticular hydrocarbons as cues of caste and sex in the German wasp Vespula germanica. Insect. Soc. 68, 261–276 (2021). https://doi.org/10.1007/s00040-021-00817-5
Received:

Revised:

Accepted:

Published:

Issue Date:
Keywords
Cuticular hydrocarbons

Vespinae wasps

GCMS

Chemical communication