Abstract
Facultatively social animals adaptively match social strategy to environmental context; as such, they offer unique insights into the ecological factors facilitating social evolution. We investigated temporal (seasonal) and spatial (nest architectural) factors governing flexible social behavior in the carpenter bee Xylocopa varipuncta Patton using repeated, non-destructive computerized tomography scans of nesting logs. We tested the hypothesis that group living is mediated by environmental factors, specifically ecological constraints and phenological parameters. These imaging data support a facultative social organization strongly influenced by seasonal shifts in life-history strategy. Our results also illuminate patterns of structural change associated with nest inheritance and eventual nest abandonment. This dynamic use of space mediates the within-nest interactions that determine social organization. Furthermore, constraints on the usefulness of inherited nest structures compound an existing limitation on nest sites that may underlie the origins of this flexible social strategy. These findings emphasize the importance of including spatial dynamics in considerations of the ecological contexts in which sociality evolved.
This is a preview of subscription content,
to check access.
Access this article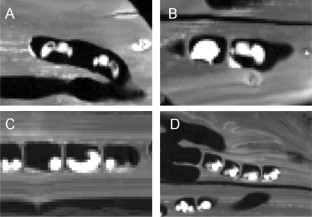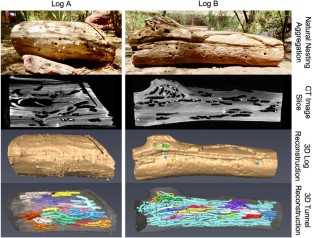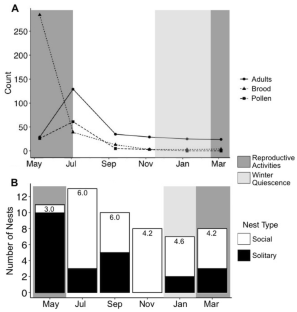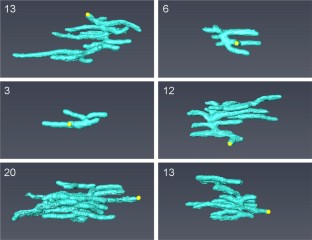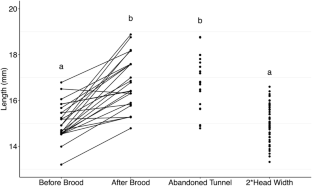 References
Alcock J, Johnson MD (1990) Female mate choice in the carpenter bee Xylocopa varipuncta. J Zool Lond 221:195–204

Allen TJ (2000) Architecture and communication among product development engineers. Calif Manag Rev 49(2):23–41

Arneson L, Wcislo WT (2003) Dominant-subordinate relationships in a facultatively social, nocturnal bee, Megalopta genalis (Hymenoptera: Halictidae). J Kansas Entomol Soc 76(2):183–193

Arnold W (1988) Social thermoregulation during hibernation in alpine marmots (Marmota marmota). J Comp Physiol B 158:151–156. https://doi.org/10.1007/BF01075828

Barve S, Koenig WD, Haydock J, Walters EL (2019) Habitat saturation results in joint-nesting female coalitions in a social bird. Am Nat 193(6):830–840. https://doi.org/10.1086/703188

Baum A, Valins S (1977) Architecture and social behavior: psychological studies of social density. L. Erlbaum Associates, Hillsdale

Bon R, Gonzalez G, Im S, Badia J (1990) Seasonal grouping in female moufflons in relation to food availability. Ethology 86(3):224–236. https://doi.org/10.1111/j.1439-0310.1990.tb00431.x

Bos D, van de Koppel J, Weissing FJ (2004) Dark-bellied brent geese aggregate to cope with increased levels of primary production. Oikos 107:485–496

Breed MD, Silverman JM, Bell WJ (1978) Agonistic behavior, social interactions, and behavioral specialization in a primitively eusocial bee. Insect Soc 25:351–364

Brothers DJ, Michener CD (1974) Interactions in colonies of primitively social bees—III. Ethometry of division of labor in Lasioglossum zephyrum (Hymenoptera: Halictidae). J Comp Physiol 90:129–168. https://doi.org/10.1007/BF00694482

Chapperon C, Seuront L (2012) Keeping warm in the cold: on the thermal benefits of aggregation behavior in an intertidal ectotherm. J Therm Biol 37(8):640–647. https://doi.org/10.1016/j.jtherbio.2012.08.001

Collias NE, Collias EC (1984) Nest Building and Bird Behavior. Princeton University Press, Princeton

Dapporto L, Palagi E (2006) Wasps in the shadow: looking at the pre-hibernating clusters of Polistes dominulus. Ann Zool Fennici 43:583–594

Dawkins R (1982) The extended phenotype. Oxford University Press, Oxford

Emlen ST (1982) The evolution of helping. I. An ecological constraints model. Am Natural 119(1):29–39

Field J, Paxton RJ, Soro A, Bridge C (2010) Cryptic plasticity underlies a major evolutionary transition. Curr Biol 20(22):2028–2031. https://doi.org/10.1016/j.cub.2010.10.020

Fuchs A, Schreyer A, Feuerbach S, Korb J (2004) A new technique for termite monitoring using computer tomography and endoscopy. Int J Pest Manag 50(1):63–66. https://doi.org/10.1080/0967087032000159300

Gerling D, Hermann HR (1978) Biology and mating behavior of Xylocopa virginica L. (Hymenoptera, Anthophoridae). Behav Ecol Sociobiol 3(2):99–111

Gerling D, Hurd PD, Hefetz A (1981) In-nest behavior of the carpenter bee, Xylocopa pubescens spinola. J Kans Entomol Soc 54(2):209–218

Gerling D, Hurd PD, Hefetz A (1983) Comparative behavioral biology of two Middle East species of carpenter bees (Xylocopa Latreille) (Hymenoptera: Apoidea). Smithsonian Contrib Zool 369:1–33. https://doi.org/10.5479/si.00810282.369

Gerling D, Velthuis H, Hefetz A (1989) Bionomics of the large carpenter bees of the genus Xylocopa. Ann Rev Entomol 34(72):163–190

Halley JD, Burd M, Wells P (2005) Excavation and architecture of Argentine ant nests. Insect Soc 52(4):350–356. https://doi.org/10.1007/s00040-005-0818-9

Haney BR, Fewell JH (2018) Ecological drivers and reproductive consequences of non-kin cooperation by ant queens. Oecologia 187(3):643–655. https://doi.org/10.1007/s00442-018-4148-9

Harris MA, Murie JO (1984) Inheritance of nest sites in female columbian ground squirrels. Behav Ecol Sociobiol 15(2):97–102

Hatchwell BJ, Komdeur J (2000) Ecological constraints, life history traits and the evolution of cooperative breeding. Anim Behav 59(6):1079–1086. https://doi.org/10.1006/anbe.2000.1394

He P, Maldonado-Chaparro AA, Farine DR (2019) The role of habitat configuration in shaping social structure: a gap in studies of animal social complexity. Behav Ecol Sociobiol 73(1):9

Hogendoorn K, Velthuis HHW (1993) The sociality of Xylocopa pubescens: does a helper really help? Behav Ecol Sociobiol 32(4):247–257. https://doi.org/10.1007/BF00166514

Holmes AL, Green GA, Morgan RL, Livezey KB (2003) Burrowing Owl nest success and burrow longevity in North Central Oregon. West N Am Nat 63(2):244–250

Jaubert J, Verheyden S, Genty D, Soulier M, Cheng H, Blamart D et al (2016) Early Neanderthal constructions deep in Bruniquel Cave in southwestern France. Nature 534(7605):111–114. https://doi.org/10.1038/nature18291

Jeanson R, Kukuk PF, Fewell JH (2005) Emergence of division of labour in halictine bees: contributions of social interactions and behavioral variance. Anim Behav 70:1183–1193. https://doi.org/10.1016/j.anbehav.2005.03.004

Kabo FW, Cotton-Nessler N, Hwang Y, Levenstein MC, Owen-Smith J (2014) Proximity effects on the dynamics and outcomes of scientific collaborations. Res Policy 43:1469–1485. https://doi.org/10.1016/j.respol.2014.04.007

Kapheim KM, Nonacs P, Smith AR, Wayne RK, Wcislo wt (2015) Kinship, parental manipulation and evolutionary origins of eusociality. Proc R Soc B Biol Sci 282(1803):20142886. https://doi.org/10.1098/rspb.2014.2886

Laland KN, Odling-Smee J, Feldman MW (2003) Niche construction, ecological inheritance, and cycles of contingency in evolution. In: Oyama S, Griffiths PE, Gray RD (eds) Cycles of contingency: developmental systems and evolution. MIT, Cambridge, pp 117–126

Lawson SP, Ciaccio KN, Rehan SM (2016) Maternal manipulation of pollen provisions affects worker production in a small carpenter bee. Behav Ecol Sociobiol 70(11):1891–1900. https://doi.org/10.1007/s00265-016-2194-z

Leadbeater E, Carruthers JM, Green JP, Rosser NS, Field J (2011) Nest inheritance is the missing source of direct fitness in a primitively eusocial insect. Science 333:874–876

Lincoln GA, Guinness F, Short RV (1972) The way in which testosterone controls the social and sexual behavior of the red deer stag (Cervus elaphus). Horm Behav 3(4):375–396

Lion S, Gandon S (2009) Habitat saturation and the spatial evolutionary ecology of altruism. J Evol Biol 22(7):1487–1502. https://doi.org/10.1111/j.1420-9101.2009.01769.x

Michener CD (1974) The social behavior of the bees: a comparative study. Harvard University Press, Cambridge

Michener C (1990) Castes in xylocopine bees. In: Engel W (ed) Social insects: an evolutionary approach to castes and reproduction. Springer, New York, pp 123–146

Minckley RL (1987) Aspects of the reproductive biology of two carpenter bees (genus Xylocopa) in southern Arizona. Master's thesis, University of Arizona

Minckley RL, Buchmann SL (1990) Territory Site Selection of Male Xylocopa (Neoxylocopa) varipuncta Patton (Hymenoptera: Anthophoridae). J Kansas Entomol Soc 63(2):329–339

Møller AP, Erritzøe J (2006) Parasite virulence and host immune defense: host immune response is related to nest reuse in birds. Evolution 50(5):2066. https://doi.org/10.2307/2410763

Myles TG (1988) Resource inheritance in social evolution from termites to man. In: Slobodchikoff CN (ed) The ecology of social behavior. Academic, New York, pp 379–423. https://doi.org/10.1016/B978-0-12-648780-0.50020-7

Perna A, Jost C, Couturier E, Valverde S, Douady S, Theraulaz G (2008) The structure of gallery networks in the nests of termite Cubitermes spp. revealed by X-ray tomography. Naturwissenschaften 95:877–884. https://doi.org/10.1007/s00114-008-0388-6

Peso M, Richards MH (2010) Knowing who's who: nestmate recognition in the facultatively social carpenter bee, Xylocopa virginica. Anim Behav 79(3):563–570. https://doi.org/10.1016/j.anbehav.2009.11.010

Pinter-Wollman N (2015) Nest architecture shapes the collective behavior of harvester ants. Biol Lett 11(10):20150695. https://doi.org/10.1098/rsbl.2015.0695

Pinter-Wollman N, Fiore SM, Theraulaz G (2017) The impact of architecture on collective behavior. Nat Ecol Evol 1(5):1–2. https://doi.org/10.1038/s41559-017-0111

Prager SM, Hunter FF (2011) Relationships between nest architecture and behavior in Xylocopa virginica (Hymenoptera: Apidae). J Insect Behav 24(4):293–306. https://doi.org/10.1007/s10905-011-9256-x

Rabosky ARD, Corl A, Liwanag HEM, Surget-Groba Y, Sinervo B (2012) Direct fitness correlates and thermal consequences of facultative aggregation in a Desert Lizard. PLoS One. https://doi.org/10.1371/journal.pone.0040866

Rau P (1933) The behavior of the great carpenter bee, with evidence on the genesis of certain instincts. The jungle bees and wasps of Barro Colorado Island (With Notes on Other Insects). Von Hoffman Press, St. Louis

Rehan SM, Leys R, Schwarz MP (2012) A mid-cretaceous origin of sociality in xylocopine bees with only two origins of true worker castes indicates severe barriers to eusociality. PLoS One 7(4):e34690. https://doi.org/10.1371/journal.pone.0034690

Reyer H (1984) Investment and Relatedness: a cost/benefit analysis of breeding and helping in the pied kingfisher (Ceryle rudis). Anim Behav 32(4):1163–1178

Richards MH, Course C (2015) Ergonomic skew and reproductive queuing based on social and seasonal variation in foraging activity of eastern carpenter bees (Xylocopa virginica). Can J Zool 93(8):615–625. https://doi.org/10.1139/cjz-2014-0330

Schradin C, Lindholm AK, Johannesen J, Schoepf I, Yuen CH, König B, Pillay N (2012) Social flexibility and social evolution in mammals: a case study of the African striped mouse (Rhabdomys pumilio). Mol Ecol 21(3):541–553. https://doi.org/10.1111/j.1365-294X.2011.05256.x

Shell WA, Rehan SM (2017) Behavioral and genetic mechanisms of social evolution: insights from incipiently and facultatively social bees. Apidologie 49:13–30. https://doi.org/10.1007/s13592-017-0527-1

Smith ML, Ostwald MM, Seeley TD (2015) Adaptive tuning of an extended phenotype: honeybees seasonally shift their honey storage to optimize male production. Anim Behav 103:29–33. https://doi.org/10.1016/j.anbehav.2015.01.035

Smith AR, Kapheim KM, Wcislo WT (2019) Survival and productivity benefits of sociality vary seasonally in the tropical, facultatively eusocial bee Megalopta genalis. Insect Soc. https://doi.org/10.1007/s00040-019-00713-z

Theraulaz G, Bonabeau E, Deneubourg JL (1998) The origin of nest complexity in social insects. Complexity 3(6):15–25

Turner JS (2000) The extended organism: the physiology of animal-built structures. Harvard University Press, Cambridge

Varoudis T, Swenson AG, Kirkton SD, Waters JS, Waters JS (2018) Exploring nest structures of acorn dwelling ants with X-ray microtomography and surface-based three-dimensional visibility graph analysis. Philos Trans R Soc B Biol Sci 373:20170237

Watanuki Y, Ishikawa K, Takahashi A, Kato A (2004) Foraging behavior of a generalist marine top predator, Japanese cormorants (Phalacrocorax filamentosus), in years of demersal versus epipelagic prey. Mar Biol 145:427–434. https://doi.org/10.1007/s00227-004-1345-3

Wcislo W, Fewell JH (2017) Sociality in Bees. In: Rubenstein DR, Abbot P (eds) Comparative social evolution. Cambridge University Press, Cambridge, pp 50–83

West-Eberhard MJ (1987) Flexible strategy and social evolution. In: Ito Y, Brown JL, Kikkawa J (eds) Animal societies: theories and facts. Japan Scientific Societies, Tokyo, pp 35–51

Williams J (2005) Designing neighbourhoods for social interaction: the case of cohousing. J Urban Des 10(2):195–227. https://doi.org/10.1080/13574800500086998

Wineman JD, Davis GF (2009) Spatial and social networks in organizational innovation. Environ Behav 41(3):427–442

Wolff JO, Lidicker WZ (1981) Communal winter nesting and food sharing in taiga voles. Behav Ecol Sociobiol 9(4):237–240

Yagi N, Hasegawa E (2012) A halictid bee with sympatric solitary and eusocial nests offers evidence for Hamilton's rule. Nat Commun 3(May):939. https://doi.org/10.1038/ncomms1939
Acknowledgements
We would like to thank St. Joseph's Hospital for use of their imaging facilities, particularly Dr. Chad Quarles, Laura Castillo and all of the technicians in the ER CT Scan facility. We also thank Dr. Laura Bell for image analysis advice and guidance, and Dr. Jon Harrison for use of the imaging software. We especially thank Dr. Miriam Richards and Dr. Noa Pinter-Wollman for useful discussion and feedback, and Dr. Stephen Buchmann and Dr. Jess Vickruck for thoughtful reviews that improved the quality of the manuscript. Finally, we thank Dr. Kaitlin Baudier, Dr. Ioulia Bespalova, Nathan Smith, Xiaohui Guo, Colin Lynch, Michael Lin, and Juliana Calixto for comments on the manuscript. This research was supported by an Arizona State University School of Life Sciences Research & Training Initiative Grant (to MMO), a National Science Foundation Graduate Research Fellowship (to MMO), and Arizona State University research funding (to JHF).
Electronic supplementary material
Below is the link to the electronic supplementary material.
Supplementary material 1 (MOV 595 kb)
About this article
Cite this article
Ostwald, M.M., Lyman, B.R., Shaffer, Z. et al. Temporal and spatial dynamics of carpenter bee sociality revealed by CT imaging. Insect. Soc. 67, 203–212 (2020). https://doi.org/10.1007/s00040-020-00761-w
Received:

Revised:

Accepted:

Published:

Issue Date:

DOI: https://doi.org/10.1007/s00040-020-00761-w
Keywords