Abstract
Honeybees that sting vertebrate predators embed and leave their stingers in the flesh of the stung animal and die shortly thereafter. To determine whether bees make life-or-death decisions based upon risk–benefit evaluations, the vigor of defenses of colonies that had a small loss potential versus those that have large loss potential was compared. Colonies 3–4 days old have small reserves, and thus, risk fewer reserves to lose to a potential predator. In contrast, colonies 19–22 days old risk large quantities of vulnerable immature brood, constructed wax comb, nectar/honey, and pollen and have limited future reproductive potential if their nest is abandoned. As predicted by a risk–benefit hypothesis, older colonies with much at risk sent proportionately larger percentages of stinging defenders to confront threats than younger colonies with less to lose. The percentage of defenders that issue from the 19–22-day-old colonies correlated with the population of workers within the colonies. The percentage of workers that attack strongly increased as the weight of colony-fixed resources within the combs increased. In queenless colonies having no potential to reproduce by swarming and little, or no, reserves of nectar or pollen, only a small percentage of workers defended the colony. These results provide support for the ability of defending honeybee workers to make life-or-death decisions based on evaluating risks of colony loss versus the benefit derived from their personal loss of life.
Access options
Buy single article
Instant access to the full article PDF.
USD 39.95
Price excludes VAT (USA)
Tax calculation will be finalised during checkout.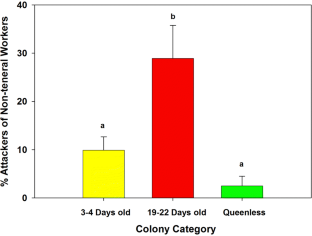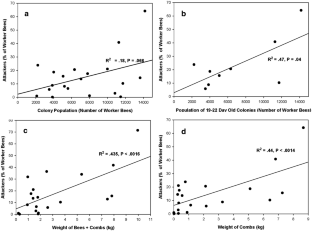 References
Baum KA, Tchakerian MD, Thoenes SC, Coulson RN (2008) Africanized honey bees in urban environments: a spatio-temporal analysis. Landscape Urban Plan 85:123–132

Boch R, Rothenbuhler WC (1974) Defensive behaviour and production of alarm pheromone in the honeybee. J Apic Res 13:217–221

Boch R, Shearer DA, Stone BC (1962) Identification of iso-amyl-acetate as an active component in the sting pheromone of the honeybee. Nature 195:1018–1020

Breed MD, Guzman-Novoa E, Hunt GJ (2004) Defensive behavior of honey bees: organization, genetics, and comparisons with other bees. Annu Rev Ent 49:271–298

Camazine S, Visscher PK, Finley J, Vetter RS (1999) House-hunting by honey bee swarms: collective decisions and individual behaviors. Insectes Soc 46:348–360

Collins AM, Rinderer TE, Tucker KW, Sylvester HA, Lackett JJ (1980) A model of honeybee defensive behaviour. J Apic Res 19:224–231

Couvillon MJ, Robinson EJH, Atkinson B, Child L, Dent KR, Ratnieks FLW (2008) En garde: rapid shifts in honeybee, Apis mellifera, guarding behaviour are triggered by onslaught of conspecific intruders. Anim Behav 76:1653–1658

Cunard SJ, Breed MD (1998) Post-stinging behavior of worker honey bees (Hymenoptera: Apidae). Ann Ent Soc Am 91:754–757

Gary N (2015) Activities and behavior of honey bees. In: Graham JM (ed) The hive and the honey bee. Dadant & Sons, Hamilton, pp 271–308

Guzman-Novoa E, Page RE, Spangler HG, Erickson EH (1999) A comparison of two assays to test the defensive behaviour of honey bees (Apis mellifera). J Apic Res 38:205–209

Hamilton WD (1963) The evolution of altruistic behavior. Am Nat 97:354–356

Hermann HR (1971) Sting autonomy, a defensive mechanism in certain social Hymenoptera. Insectes Soc 18:111–120

Hermann HR (1984) Defensive mechanisms: general considerations. In: Hermann HR (ed) Defensive mechanisms in social insects. Praeger, NY, pp 1–31

Maschwitz UW (1966) Alarm substances and alarm behavior in social insects. Vitamin Hormones 24:267–290

Papachristoforou A, Rortais G, Zafeiridou G, Theophilidis L, Garnery A, Thrasyvoulou P, Arnold G (2007) Hornets asphyxiated by honeybees. Curr Biol 17:795–796

Porter SD, Jorgensen CD (1981) Foragers of the harvester ant, Pogonomyrmex owyheei: a disposable caste? Behav Ecol Sociobiol 9:247–256

Rabe MJ, Rosenstock SS, Nielsen DI (2005) Feral Africanized honey bees (Apis mellifera) in Sonoran desert habitats southwestern Arizona. Southwest Nat 50:307–311

Rietschel P (1937) Bau und Funktion des Wehrstachels der staaten-bildenden Bienen und Wespen. Z Morph Okol Tiere 33:313–357

Schmidt JO (1990) Hymenoptera venoms: striving toward the ultimate defense against vertebrates. In: Evans DL, Schmidt JO (eds) Insect defenses: adaptive mechanisms and strategies of prey and predators. SUNY Press, Albany, pp 387–419

Schmidt JO (2016) The sting of the wild. Johns Hopkins Univ Press, Baltimore

Schmidt JO, Boyer Hassen LV (1996) When Africanized bees attack: what you and your clients should know. Vet Med 91:923–928

Schmidt JO, Thoenes SC (1987) Swarm traps for survey and control of Africanized honey bees. Bull Ent Soc Am 33:55–158

Schumacher MJ, Tveten MS, Egen NB (1994) Rate and quantity of delivery of venom from honeybee stings. J Allerg Clin Immunol 93:831–835

Seeley TD (1985) Honeybee ecology: a study of adaptation and social life. Princeton University Press, Princeton

Seeley TD, Buhrman SC (1999) Group decision making in swarms of honey bees. Behav Ecol Sociobiol 45:19–31

Seeley TD, Morse RA (1976) The nest of the honey bee (Apis mellifera). Insectes Soc 23:495–512

Seeley TD, Visscher PK (2004) Group decision making in nest-site selection by honey bees. Apidologie 35:101–116

Snodgrass RE (1984) Anatomy of the honey bee. Comstock Press, Ithaca

Utaipanon P, Holmes MJ, Oldroyd BP (2019) Queenless colonies contribute to the male breeding population at honey bee drone congregation areas. Insectes Soc 66:593–599

Visscher PK, Vetter RS, Camazine S (1996) Removing bee stings. Lancet 348:301–302

Wilson EO (2008) One giant leap: how insects achieved altruism and colonial life. Bioscience 58:17–25
Acknowledgments
I thank Bob Jacobson, Peter Underwood, and two anonymous reviewers for manuscript reviews.
About this article
Cite this article
Schmidt, J.O. Decision making in honeybees: a time to live, a time to die?. Insect. Soc. 67, 337–344 (2020). https://doi.org/10.1007/s00040-020-00759-4
Received:

Revised:

Accepted:

Published:

Issue Date:

DOI: https://doi.org/10.1007/s00040-020-00759-4
Keywords