Abstract
The success of social insect societies is often attributed to an efficient reproductive division of labor between queen and worker castes. At the group level, social insect colonies must decide both the timing and amount of resources to allocate to each caste. Queen production is typically restricted by factors such as season or the presence of fertile queens in colonies. In the absence of such inhibition, the relative production of new queens versus workers varies between and is regulated by colonies. Here, we investigate social regulation of caste in the ant Monomorium pharaonis through a series of experiments manipulating the environment in which developing larvae are reared. The number of new queens produced depended strongly on diet as well as the number of late-instar worker larvae in the colony at the time of caste regulation. Given that these late-instar larvae are known to process solid protein for the rest of the colony, their stimulatory effect on queen production is likely a result of their contribution to a colony's nutrient assimilation. Our results emphasize the need to consider late-instar larvae as critical social players and effectors of colony regulatory dynamics.
Access options
Buy single article
Instant access to the full article PDF.
US$ 39.95
Tax calculation will be finalised during checkout.
Subscribe to journal
Immediate online access to all issues from 2019. Subscription will auto renew annually.
US$ 79
Tax calculation will be finalised during checkout.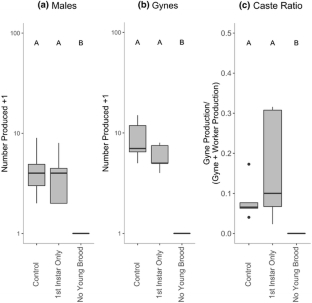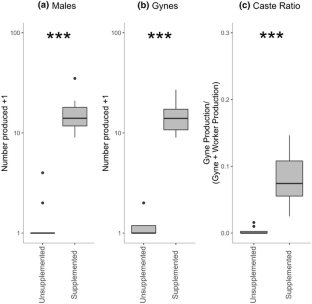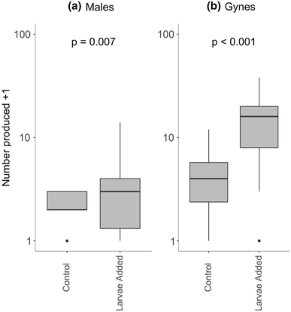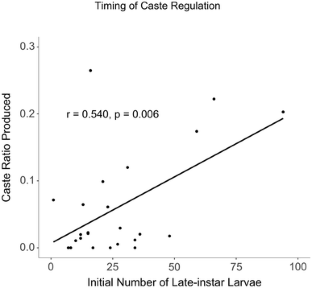 References
Anderson KE, Linksvayer TA, Smith CR (2008) The causes and consequences of genetic caste determination in ants (Hymenoptera: Formicidae). Myrmecol News 11:119–132

Aron S, Passera L, Keller L (1994) Queen-worker conflict over sex ratio: a comparison of primary and secondary sex ratios in the Argentine ant, Iridomyrmex humilis. J Evol Biol 7:403–418

Aron S, Vargot EL, Passera L (1995) Primary and secondary sex ratios in monogyne colonies of the fire ant. Anim Behav 49:749–757

Aron S, Keller L, Passera L (2001) Role of resource availability on sex, caste and reproductive allocation ratios in the Argentine ant Linepithema humile. J Anim Ecol 70:831–839

Berndt K, Kremer G (1986) Larvenmorphologie der Pharaoameise Monomorium pharaonis (L.)(Hymenoptera, Formicidae). Zool Anz 216:305–320

Bolton B (1995) A new general catalogue of the ants of the world. Belknap Press, Boston

Børgesen LW (1989) A new aspect of the role of larvae in the pharaoh's ant society (Monomorium pharaonis (L.)-Formicidae, Myrmicinae): producer of fecundity-increasing substances to the queen. Insectes Soc 36:313–327

Børgesen LW, Jensen PV (1995) Influence of larvae and workers on egg production of queens of the pharaoh's ant, Monomorium pharaonis (L.). Insectes Soc 42:103–112

Boulay R, Cerda X, Fertin A, Ichinose K, Lenoir A (2009) Brood development into sexual females depends on the presence of a queen but not on temperature in an ant dispersing by colony fission, Aphaenogaster senilis. Ecol Entomol 34:595–602

Cassill DL, Butler J, Vinson SB, Wheeler DE (2005) Cooperation during prey digestion between workers and larvae in the ant, Pheidole spadonia. Insectes Soc 52:339–343

Dussutour A, Simpson S (2008) Description of a simple synthetic diet for studying nutritional responses in ants. Insectes Soc 55:329–333

Ebie JD, Hölldobler B, Liebig J (2015) Larval regulation of worker reproduction in the polydomous ant Novomessor cockerelli. Naturwissenschaften 102:1–4

Edwards J (1987) Caste regulation in the pharaoh's ant Monomorium pharaonis: the influence of queens on the production of new sexual forms. Physiol Entomol 12:31–39

Endler A, Liebig J, Schmitt T, Parker JE, Jones GR, Schreier P, Holldobler B (2004) Surface hydrocarbons of queen eggs regulate worker reproduction in a social insect. Proc Natl Acad Sci USA 101:2945–2950

Fowler HG, Alves LE, Bueno OC (1993) Reproductive strategies of the exotic Pharaoh's ant, Monomorium pharaonis (L.) (Hymenoptera: Formicidae) in Brazil. Invertebr Repr Dev 23:235–238

Haydak MH (1970) Honey bee nutrition. Annu Rev Entomol 15:143–156

Heinze J, Trunzer B, Oliveira P, Hölldobler B (1996) Regulation of reproduction in the neotropical ponerine ant, Pachycondyla villosa. J Insect Behav 9:441–450

Hölldobler B, Wilson EO (1990) The ants. Harvard University, Boston

Hothorn T, Bretz F, Westfall P (2008) Simultaneous inference in general parametric models. Biom J 50:346–363

Keller L, Aron S, Passera L (1996) Internest sex-ratio variation and male brood survival in the ant Pheidole pallidula. Behav Ecol 7:292–298

Khila A, Abouheif E (2010) Evaluating the role of reproductive constraints in ant social evolution. Philos Trans R Soc Lond B Biol Sci 365:617–630

Libbrecht R, Schwander T, Keller L (2011) Genetic components to caste allocation in a multiple-queen ant species. Evolution 65:2907–2915

Linksvayer TA (2006) Direct, maternal, and sibsocial genetic effects on individual and colony traits in an ant. Evolution 60:2552–2561

Linksvayer TA, Kaftanoglu O, Akyol E, Blatch S, Amdam GV, Page R (2011) Larval and nurse worker control of developmental plasticity and the evolution of honey bee queen–worker dimorphism. J Evol Biol 24:1939–1948

Mikheyev AS, Linksvayer TA (2015) Genes associated with ant social behavior show distinct transcriptional and evolutionary patterns. Elife 4:e04775

Passera L, Aron S (1996) Early sex discrimination and male brood elimination by workers of the Argentine ant. Proc R Soc B 263:1041–1046

Peacock A, Baxter A (1950) Studies in Pharaoh's ant, Monomorium pharaonis (L.), 3: life history. Entomol Mon Mag 86:171–178

Peacock A, Smith I, Hall D, Baxter A (1954) Studies in Pharaoh's ant, Monomorium pharaonis (L.). (8). Male production by parthenogenesis. Entomol Mon Mag 90:154–158

Petralia R, Sorensen A, Vinson S (1980) The labial gland system of larvae of the imported fire ant, Solenopsis invicta Buren. Cell Tissue Res 206:145–156

R Core Team (2014). R: a language and environment for statistical computing. R Foundation for Statistical Computing, Vienna, Austria. http://www.R-project.org/. Accessed 05 July 2016

Richards MH, Packer L (1994) Trophic aspects of caste determination in Halictus ligatus, a primitively eusocial sweat bee. Behav Ecol Sociobiol 34:385–391

Ruel C, Cerda X, Boulay R (2012) Behaviour-mediated group size effect constrains reproductive decisions in a social insect. Anim Behav 84:853–860

Ruel C, Lenoir A, Cerdá X, Boulay R (2013) Surface lipids of queen-laid eggs do not regulate queen production in a fission-performing ant. Naturwissenschaften 100:91–100

Schmidt AM, Linksvayer TA, Boomsma JJ, Pedersen JS (2011) Queen–worker caste ratio depends on colony size in the pharaoh ant (Monomorium pharaonis). Insectes Soc 58:139–144

Schmidt K, Hunt B, Smith C (2012) Queen, worker, and male yellowjacket wasps receive different nutrition during development. Insectes Soc 59:289–295

Schwander T, Lo N, Beekman M, Oldroyd BP, Keller L (2010) Nature versus nurture in social insect caste differentiation 25:275–282

Smith CR, Suarez AV (2010) The trophic ecology of castes in harvester ant colonies. Funct Ecol 24:122–130

Teseo S, Kronauer DJ, Jaisson P, Châline N (2013) Enforcement of reproductive synchrony via policing in a clonal ant. Curr Biol 23:328–332

Teseo S, Châline N, Jaisson P, Kronauer DJ (2014) Epistasis between adults and larvae underlies caste fate and fitness in a clonal ant. Nat Commun 5:3363

Tschinkel WR (1988) Social control of egg-laying rate in queens of the fire ant, Solenopsis invicta. Physiol Entomol 13:327–350

Tschinkel WR (1995) Stimulation of fire ant queen fecundity by a highly specific brood stage. Ann Entomol Soc Am 88:876–882

Ulrich Y, Burns D, Libbrecht R, Kronauer DJ (2015) Ant larvae regulate worker foraging behavior and ovarian activity in a dose-dependent manner. Behav Ecol Sociobiol 70:1011–1018

Vargo EL, Fletcher DJ (1986) Evidence of pheromonal queen control over the production of male and female sexuals in the fire ant, Solenopsis invicta. J Comp Physiol A 159:741–749

Vargo EL, Passera L (1991) Pheromonal and behavioral queen control over the production of gynes in the Argentine ant Iridomyrmex humilis (Mayr). Behav Ecol Sociobiol 28:161–169

Villalta I, Angulo E, Devers S, Cerdá X, Boulay R (2015) Regulation of worker egg laying by larvae in a fission-performing ant. Anim Behav 106:149–156

Villalta I, Amor F, Cerdá X, Boulay R (2016a) Social coercion of larval development in an ant species. Naturwissenschaften 103:1–8

Villalta I, Blight O, Angulo E, Cerdá X, Boulay R (2016b) Early developmental processes limit socially mediated phenotypic plasticity in an ant. Behav Ecol Sociobiol 70:285–291

Vojvodic S, Johnson BR, Harpur BA, Kent CF, Zayed A, Anderson KE, Linksvayer TA (2015) The transcriptomic and evolutionary signature of social interactions regulating honey bee caste development. Ecol Evol 5:4795–4807

Wetterer JK (2010) Worldwide spread of the pharaoh ant, Monomorium pharaonis (Hymenoptera: Formicidae). Myrmecol News 13:115–129

Wheeler DE (1986) Developmental and physiological determinants of caste in social Hymenoptera: evolutionary implications. Am Nat 128:13–34

Wickham H (2009) ggplot2: elegant graphics for data analysis. Springer, New York

Zeileis A, Kleiber C (2008) AER: applied Econometrics with R. Springer, New York
Acknowledgments
We thank Justin Walsh and Aisling Zhao for help manipulating and monitoring colonies from experiment 3. We thank Dimitri Diagne for monitoring colonies from experiment 4. We thank Rohini Singh, Luigi Pontieri, and Justin Walsh for comments on previous drafts of the manuscript. This research was funded by the National Science Foundation award IOS-1452520.
Electronic supplementary material
Below is the link to the electronic supplementary material.
About this article
Cite this article
Warner, M.R., Kovaka, K. & Linksvayer, T.A. Late-instar ant worker larvae play a prominent role in colony-level caste regulation. Insect. Soc. 63, 575–583 (2016). https://doi.org/10.1007/s00040-016-0501-3
Received:

Revised:

Accepted:

Published:

Issue Date:
Keywords
Reproductive division of labor

Caste regulation

Caste ratio

Late-instar worker larvae