Abstract
Small carpenter bees (Ceratinini) are a key taxon to understanding the transition from subsocial to social behaviour, as all documented groups are long-lived and tend to their young periodically throughout development, though the behaviour of multiple lineages is little known. This study provides the first evidence for social nesting in three Neotropical species of Ceratina (Ceratinula) from Panama. Social nesting was associated with nest reuse, consistent with the hypothesis of kin associations, and the proportion of nests (per species) that displayed sociality was as follows: C. buscki 5 %; C. rectangulifera 0 %; C. tricolor 6 %; and C. zeteki 23 %. Sociality is always a low-frequency phenomenon in ceratinine bee populations, and generally represents a third or less of the population. The fact that the majority of colonies remain solitary indicates that solitary nesting is adaptive in the studied species.
Access options
Buy single article
Instant access to the full article PDF.
USD 39.95
Price excludes VAT (USA)
Tax calculation will be finalised during checkout.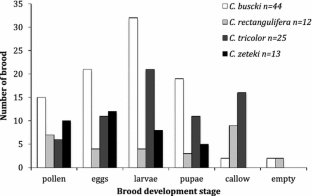 References
Flores-Prado L, Chiappa E, Niemeyer HM (2008) Nesting biology, life cycle, and interactions between females of Manuelia postica, a solitary species of the Xylocopinae (Hymenoptera: Apidae). New Zeal J Zool 35:93–102

Gonzalez VH, Moreno E, Richards MH (2004) Nesting biology of a Neotropical bee, Ceratina mexicana currani Schwarz (Hymenoptera: Apidae: Xylocopinae). J Kans Entomol Soc 77:58–60

Michener CD (1962) The genus Ceratina in Australia with notes on its nests (Hymenoptera: Apoidea). J Kans Entomol Soc 35:414–421

Michener CD (1985) From solitary to eusocial: need there be a series of intervening species? Fort Zool 31:293–305

Michener CD (1990) Castes in xylocopine bees. In: Engels W (ed) Social insects: an evolutionary approach to castes and reproduction. Springer, Berlin

Michener CD (2007) The bees of the world, 2nd edn. The John Hopkins University Press, Baltimore

Michener CD, Eickwort KR (1966) Observations on nests of Ceratina in Costa Rica (Hymeoptera: Apoidea). Rev Biol Trop 14:279–286

Rehan SM, Richards MH (2010) Nesting biology and subsociality of Ceratina calcarata (Hymenoptera: Apidae). Can Entomol 142:65–74

Rehan SM, Richards MH, Schwarz MP (2009) Evidence of social nesting in the Ceratina of Borneo. J Kans Entomol Soc 82:194–209

Rehan SM, Richards MH, Schwarz MP (2010) Sociality in the Australian small carpenter bee Ceratina (Neoceratina) australensis. Insect Soc 57:403–412

Rehan SM, Schwarz MP, Richards MH (2011) Fitness consequences of ecological constraints and implications for the evolution of sociality in an incipiently social bee. Biol J Linn Soc 103:57–67

Rehan SM, Leys R, Schwarz MP (2012) A mid-Cretaceous origin of sociality in xylocopine bee with only two origins of true worker castes indicates severe barriers to eusociality. PLoS One 7:e34690

Rehan SM, Richards MH, Adams M, Schwarz MP (2014) The costs and benefits of sociality in a facultatively social bee. Anim Behav 97:77–85

Sakagami SF, Laroca S (1971) Observations of the bionomics of some Neotropical xylocopine bees, with comparative and biofaunistic notes (Hymenoptera, Anthophoridae). J Fac Sci Hokkaido Univ 18:57–127

Sakagami SF, Maeta Y (1977) Some presumably presocial habits of Japanese Ceratina bees, with notes on various social types in Hymenoptera. Insect Soc 24:319–343

Sakagami SF, Maeta Y (1989) Compatibility and incompatibility of solitary life with eusociality in two normally solitary bees Ceratina japonica and Ceratina okinawana (Hymenoptera, Apoidea), with notes on the incipient phase of eusociality. Jpn J Entomol 57:417–739

Sakagami SF, Maeta Y (1995) Task allocation in artificially induced colonies of a basically solitary bee Ceratina (Ceratinidia) okinawana, with a comparison of sociality between Ceratina and Xylocopa (Hymenoptera, Anthophoridae, Xylocopinae). Jpn J Ecol 63:115–150

Schwarz MP, Tierney SM, Rehan SM, Chenoweth LB, Cooper SJ (2011) The evolution of eusociality in bees: workers began by waiting. Biol Lett 7:277–280

Tallamy DW, Wood TK (1986) Convergence patterns in subsocial insects. Annu Rev Entomol 31:369–390
Acknowledgments
This research was supported by an STRI short-term fellowship and a Sigma Xi grant to S. M. R., an STRI postdoctoral fellowship to S. M. T., and general research funds from STRI to W. T. W.
About this article
Cite this article
Rehan, S.M., Tierney, S.M. & Wcislo, W.T. Evidence for social nesting in Neotropical ceratinine bees. Insect. Soc. 62, 465–469 (2015). https://doi.org/10.1007/s00040-015-0425-3
Received:

Revised:

Accepted:

Published:

Issue Date:

DOI: https://doi.org/10.1007/s00040-015-0425-3
Keywords
Subsocial

Facultatively social

Small carpenter bee

Ceratinini

Xylocopinae