Abstract
More than 100 years of scientific research has provided evidence for sophisticated navigational mechanisms in social insects. One key role for navigation in ants is the orientation of workers between food sources and the nest. The focus of recent work has been restricted to navigation in individually foraging ant species, yet many species do not forage entirely independently, instead relying on collectively maintained information such as persistent trail networks and/or pheromones. Harvester ants use such networks, but additionally, foragers often search individually for food either side of trails. In the absence of a trail, these 'off-trail' foragers must navigate independently to relocate the trail and return to the nest. To investigate the strategies used by ants on and off the main trails, we conducted field experiments with a harvester ant species, Messor cephalotes, by transferring on-trail and off-trail foragers to an experimental arena. We employed custom-built software to track and analyse ant trajectories in the arena and to quantitatively compare behaviour. Our results indicate that foragers navigate using different cues depending on whether they are travelling on or off the main trails. We argue that navigation in collectively foraging ants deserves more attention due to the potential for behavioural flexibility arising from the relative complexity of journeys between food and the nest.
Access options
Buy single article
Instant access to the full article PDF.
US$ 39.95
Tax calculation will be finalised during checkout.
Subscribe to journal
Immediate online access to all issues from 2019. Subscription will auto renew annually.
US$ 79
Tax calculation will be finalised during checkout.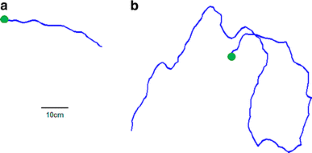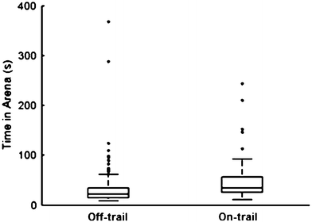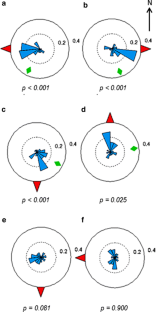 References
Baddeley B., Graham P., Husbands P. and Philippides A. 2012. A model of ant route navigation driven by scene familiarity. PLOS Comp. Biol., 8: e1002336. doi: 10.1371/journal.pcbi.1002336

Batschelet E. 1981. Circular Statistics in Biology. Academic Press, New York.

Benhamou S. 2004. How to reliably estimate the tortuousity of an animal's path: straightness, sinuousity or fractal dimension? J. Theor. Biol. 229: 209-220

Berens P. 2009. CircStat: A MATLAB Toolbox for Circular Statistics. J. Stat. Softw. 31(10)

Camlitepe Y. and Stradling D. 1995. Wood ants orient to magnetic fields. Proc. R. Soc. Lond. B. 261: 37-41

Cheng K. 2012. How to navigate without maps: the power of taxon-like navigation in ants. Comp. Cogn. Behav. Rev. 7: 1-22

Cole B.J., Smith A.A., Huber Z.J. and Wiernasz D.C. 2010. The structure of foraging activity in colonies of the harvester ant, Pogonomyrmex occidentalis. Behav. Ecol. 21: 337-342

Collett M. 2009. Spatial memories in insects. Curr. Biol. 19: R1103-R1108. doi: 10.1016/j.cub.2009.10.004

Collett T.S. and Collett M. 2002. Memory use in insect visual navigation. Nat. Rev. Neurosci. 3: 542-552

Fent K. and Wehner R. 1985. Ocelli: A celestial compass in the desert ant Cataglyphis. Science 228: 192-194

Fukushi T. 2001. Homing in wood ants, Formica japonica: use of the skyline panorama. J. Exp. Biol. 204: 2063-2072

Fukushi T. and Wehner R. 2004. Navigation in wood ants Formica japonica: context dependent use of landmarks. J. Exp. Biol. 207: 3431-3439

Gordon D., Guetz A., Greene M.J. and Holmes S. 2011. Colony variation in the collective regulation of foraging by harvester ants. Behav. Ecol. 22: 225-230

Graham P. and Cheng K. 2009. Ants use the panoramic skyline as a visual cue during navigation. Curr. Biol. 19: R935-R937.

Harris R., Hempel de Ibarra N., Graham P. and Collett T. 2005. Ant navigation: Priming of visual route memories. Nature 438: 302

Harrison J.F., Fewell J.H., Stiller T.M. and Breed M.D. 1989. Effects of experience on use of orientation cues in the giant tropical ant. Anim. Behav. 37: 869-871

Hölldobler B. 1971. Homing in the harvester ant Pogonomyrmex badius. Science 171: 1149-1151

Hölldobler B. 1974. Home range orientation and territoriality in harvesting ants. Proc. Natl Acad. Sci. USA 71: 3274-3277

Hölldobler B. 1976. Recruitment behaviour, home range orientation and territoriality in harvester ants. Behav. Ecol. Sociobiol. 1: 3-44

Hölldobler B. and Wilson E. O. 1990. The Ants. Harvard University Press, Cambridge.

Judd S. and Collett T.S. 1998. Multiple stored views and landmark guidance in ants. Nature 392: 710-714

Kohler M. and Wehner R. 2005. Idiosyncratic route-based memories in desert ants, Melophorus bagoti: how do they interact with path-integration vectors? Neurobiol. Learn. Mem., 83: 1-12

Legge E., Spetch M. and Cheng K. 2010. Not using the obvious: desert ants, Melophorus bagoti, learn local vectors but not beacons in an arena. Anim. Cogn. 13: 849–860

Müller M. and Wehner R. 1988. Path integration in desert ants, Cataglyphis fortis. Proc. Natl Acad. Sci. USA 85: 5287-5290

Narendra A. 2007. Homing strategies of the Australian desert ant Melophorus bagoti: I. Proportional path-integration takes the ant half-way home. J. Exp. Biol. 210: 1798-1803

Philippides A., Baddeley B., Cheng K. and Graham P. 2011. How might ants use panoramic views for route navigation? J. Exp. Biol. 214: 445-451

Philips J., Schmidt-Koenig K. and Muheim R. 2006. True navigation: sensory bases of gradient maps. In: Animal Spatial Cognition: Comparative, Neural, and Computational Approaches (M. Brown and R. Cook, Eds). Available: www.pigeon.psy.tufts.edu/asc/phillips/

Plowes N.J.R., Johnson R.A. and Hölldobler B. 2013. Foraging behavior in the ant genus Messor (Hymenoptera: Formicidae: Myrmicinae). Myrmecol. News 18: 33-49

Prabhakar B., Dektar K.N. and Gordon D.M. 2012. The regulation of ant colony foraging activity without spatial information. PLOS Comp. Biol. 8: e1002670. doi: 10.1371/journal.pcbi.1002670

Santschi F. 1911. Observations et remarques critiques sur le mécanisme de l'orientation chez les fourmis. Rev. Suisse Zool. 19: 305-338

Schultheiss P. and Cheng K. 2011. Finding the nest: inbound searching behaviour in the Australian desert ant, Melophorus bagoti. Anim. Behav. 81: 1031–1038

Solida L., Scalisi M. and Fanfani A. 2010. Interspecific space partitioning during the foraging activity of two syntopic species of Messor harvester ants. J. Biol. Res-Thessalon 13: 3-12

Sommer S. and Wehner R. 2005. Vector navigation in desert ants, Cataglyphis fortis: celestial compass cues are essential for the proper use of distance information. Naturwissenschaften 92: 468-71

Wehner R. 2003. Desert ant navigation: how miniature brains solve complex tasks. J Comp. Physiol. A. Neuroethol. Sens. Neural Behav. Physiol. 189: 579-88

Wehner R. and Menzel R. 1969. Homing in the ant Cataglyphis bicolor. Science 164: 192-194

Wehner R. and Müller M. 2006. The significance of direct sunlight and polarized skylight in the ant's celestial system of navigation. Proc. Natl Acad. Sci. USA 103: 12575-12579

Wehner R. and Srinivasan M. 2003. Path integration in insects. In: The Neurobiology of Spatial Behaviour (K.J. Jeffery, Ed). Oxford University Press, Oxford. pp 9-30

Wittlinger M., Wehner R. and Wolf H. 2006. The ant odometer: stepping on stilts and stumps. Science 312: 1965-1967

Wystrach A., Beugnon G. and Cheng K. 2011. Landmarks or panoramas: what do navigating ants attend to for guidance? Front. Zool. 8: 21. doi:10.1186/1742-9994-8-21

Wystrach A., Beugnon G. and Cheng K. 2012. Ants might use different view-matching strategies on and off the route. J. Exp. Biol. 215: 44-55
Acknowledgments
We are grateful to Iain Couzin, Daniel Rubenstein, Tanya Berger-Wolf and Jason Leigh for helpful discussion in the field and Iain Couzin, Robert Pringle and two anonymous reviewers for useful comments on the manuscript. This work was a part of the project performed in the joined Princeton-UIC Field Computational Ecology course in Spring 2012 (http://www.cs.uic.edu/bin/view/ComputationalEcology), with co-instructors Tanya Berger-Wolf and Jason Leigh (University of Illinois at Chicago), Daniel Rubenstein and Iain Couzin (Princeton University), who were instrumental in several parts of this research. We thank the staff at Mpala Resarch Centre (Kenya), Ol' Pejeta Nature Conservancy (Kenya), and fellow graduate students at EEB-Princeton University, CS at University of Illinois at Chicago, and University of Nairobi. Funding was provided by the Department of Ecology and Evolutionary Biology of Princeton University, NSF OCI-1152895 "EAGER: Field Computational Ecology Course" (Berger-Wolf and Rubenstein), NSF IIS-0747369 (Berger-Wolf) and NSF OCI-0943559 (Leigh).
Electronic supplementary material
Below is the link to the electronic supplementary material.
About this article
Cite this article
Offord, C., Reda, K. & Mateevitsi, V. Context-dependent navigation in a collectively foraging species of ant, Messor cephalotes . Insect. Soc. 60, 361–368 (2013). https://doi.org/10.1007/s00040-013-0301-y
Received:

Revised:

Accepted:

Published:

Issue Date:
Keywords
Harvester ants

Navigation

Collective foraging