Abstract
As possibly two of the last true naturalists, Carl Rettenmeyer and his wife Marian dedicated their lives to the study of army ants and their associates. Over the course of 55 years, the Rettenmeyers went on numerous field trips mainly to the Central American tropics and analyzed hundreds of self-collected samples and those sent by a multitude of other scientists, who were inspired by Carl's enthusiasm. It comes as no surprise that Carl Rettenmeyer became the world's leading expert on army ant associates. This paper, which the Rettenmeyers nearly completed before Carl's death in 2009, gives the first comprehensive list of animals known to be found in the company of a single army ant species: Eciton burchellii. The 557 recorded associates range from birds to insects and mites and comprise the largest described animal association centering around one particular species. Although some of these associates may be opportunistic encounters, we are confident that approximately 300 of the recorded species depend on the ants, at least in part, for their existence. The extinction of E. burchellii from any habitat over its vast area of distribution is likely to cause the extinction of numerous associated animals at that site. This overview will hopefully inspire researchers throughout the world to follow in the Rettenmeyers' footsteps and continue the investigation of army ants and their associates.
This is a preview of subscription content, log in to check access.
Access options
Buy single article
Instant access to the full article PDF.
US$ 39.95
Price includes VAT for USA
Subscribe to journal
Immediate online access to all issues from 2019. Subscription will auto renew annually.
US$ 99
This is the net price. Taxes to be calculated in checkout.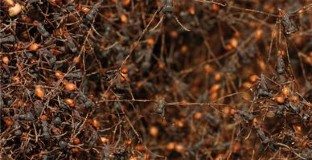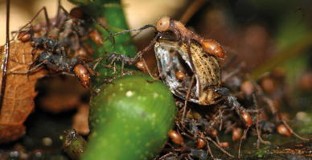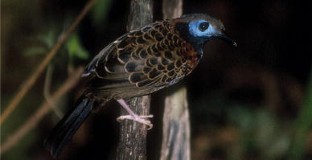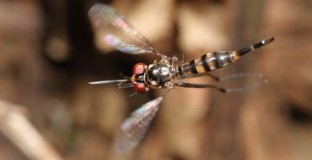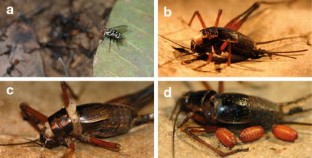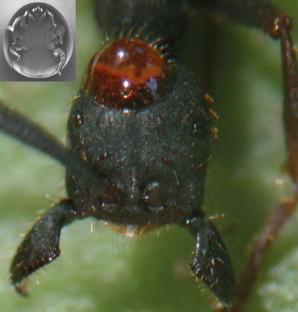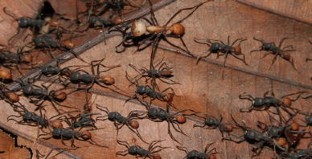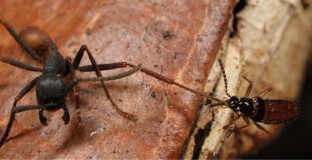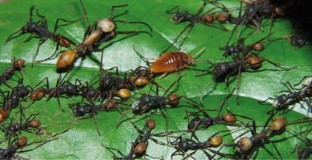 References
Akre R.D. 1968. The behavior of Euxenister and Pulvinister, Histerid beetles associated with army ants. Pan-Pac. Entomol. 44: 87-101

Akre R.D. and Rettenmeyer C.W. 1966. Behavior of Staphylinidae associated with army ants (Formicidae: Ecitonini). J. Kansas Entomol. Soc. 39: 745-782

Akre R.D. and Rettenmeyer C.W. 1968. Trail-following by guests of army ants (Hymenoptera: Formicidae: Ecitonini). J. Kansas Entomol. Soc. 41: 165-174

Akre R.D. and Torgerson R.L. 1969. Behavior of Vatesus beetles associated with army ants (Coleoptera: Staphylinidae). Pan-Pac. Entomol. 45: 269-281

Bates H.W. 1863. The naturalist on the river Amazons. John Murray, London. 407 pp

Beebe W. 1919. The home of the army ants. Atlantic Mon. 124: 454-464

Beneway D.F. 1961. Androeuryops, a new genus of Tachinidae (Diptera) from Central America. J. Kansas Entomol. Soc. 34: 44-47

Berghoff S.M., Wurst E., Ebermann E., Sendova-Franks A.B., Rettenmeyer C.W. and Franks N. 2009. Symbionts of societies that fission: mites as guests or parasites of army ants. Ecol. Entomol. 34: 684-695

Bickford D., Lohman D.J., Sodhi N.S., Ng P.K.L., Meier R., Winker K., Ingram K.K. and Das I. 2007. Cryptic species as a window on diversity and conservation. Trends Ecol. Evol. 22: 148-155

Borgmeier T. 1928. Investigacoes sobre phorideos myrmecophilos (Diptera: Phoridae). Arch. Inst. Biol. S. Paulo 1: 159-192, pl. 127-135

Borgmeier T. 1955. Die Wanderameisen der Neotropischen Region. Stud. Entomol. 3: 1-717

Chaves-Campos J. 2003. Localization of army-ant swarms by ant-following birds on the Caribbean slope of Costa Rica: following the vocalization of antbirds to find the swarms. Ornitol. Neotrop. 14: 289-294

Chesser R.T. 1995. Comparative diets of obligate ant-following birds at a site in Northern Bolivia. Biotropica 27: 382-390

Chillcott J.G. 1958. Two new species of Euryomma (Stein) (Muscidae: Diptera) from Panama. Can. Entomol. 90: 725-731

Curran C.H. 1934. Review of the Tachinid genus Calodexia van der Wulp (Diptera). Am. Mus. Novit. 685: 1-21

Del Hoyo J., Elliott A. and Christie D.A. (Eds) 2003. Handbook of the Birds of the World (Volume 8): Broadbills to Tapaculos. Lynx Edicions, Barcelona. 845 pp

DeVries P.J., Austin G.T. and Martin N.H. 2009. Estimating species diversity in a guild of Neotropical skippers (Lepidoptera: Hesperiidae) with artificial lures is a sampling problem. Insect Conserv. Diver. 2: 125-134

Disney R.H.L. and Berghoff S.M. 2005. New species and new records of scuttle flies (Diptera: Phoridae) associated with army ants (Hymenoptera: Formicidae) in Trinidad and Venezuela. Sociobiology 45: 887-898

Dodge H.R. 1968. The Sarcophagidae of Barro Colorado Island, Panama (Diptera). Ann. Entomol. Soc. Am. 61: 421-450

Drummond I. and Boyce A. 1976. Buttterflies associated with an army ant swarm raid in Honduras. J. Lepidopt. Soc. 30: 237-238

Elzinga R.J. 1978. Holdfast mechanisms in certain Uropodine mites (Acarina: Uropodina). Ann. Entomol. Soc. Am. 71: 896-900

Elzinga R.J. 1979. Evolution of the holdfast structures in Planodiscus-Antennequesoma-Coxequesoma complex of army ant mites. Recent Adv. Acarology 2: 447-450

Elzinga R.J. 1993. Larvamimidae, a new family of mites (Acari, Dermanyssoidea) associated with army ants. Acarologia 34: 95-103

Elzinga R.J. 1998. A new genus and five new species of mites (Acari: Ascidae) associated with army ants (Hymenoptera: Formicidae). Sociobiology 31: 351-361

Elzinga R.J. and Rettenmeyer C.W. 1974. Seven new species of Circocylliba (Acarina: Uropodina) found on army ants. Acarologia 16: 595-611

Faria C.M.A. and Rodrigues M. 2009. Birds and army ants in fragmented Atlantic Forest of Brazil. J. Field Ornithol. 80: 328-335

Franks N.R. 1982. Ecology and population regulation in the army ant Eciton burchellii. In: The Ecology of a Tropical Forest: Seasonal Rhythms and Long-Term Changes (Leigh E.G., Rand A.S. and Windsor D.M., Eds), Smithsonian Institution Press, Washington, D.C. pp 389-395

Franks N.R. 1985. Reproduction, foraging efficiency and worker polymorphism in army ants. In: Experimental Behavioral Ecology and Sociobiology: in Memoriam Karl von Frisch,1886-1982 (Hölldobler B. and Lindauer M., Eds), G. Fischer Verlag, Sunderland, Mass. pp 91-107

Franks N.R. and Fletcher C.R. 1983. Spatial patterns in army ant foraging and migration: Eciton burchellii on Barro Colorado Island, Panama. Behav. Ecol. Sociobiol. 12: 261-270

Gotwald W.H. Jr. 1995. Army Ants: the Biology of Social Predation. Cornell University Press/Comstock Press, Ithca. 302 pp

Houck M.A. 1991. Ecological and evolutionary significance of phoresy in the Astigmata. Annu. Rev. Entomol. 36: 611-636

Kistner D.H. 1979. Social and evolutionary significance of social insect symbionts. In: Social Insects (Hermann H.R., Ed), Academic Press, New York, London. pp 339-413

Kistner D.H. and Jacobson H.R. 1990. Cladistic analysis and taxonomic revision of the ecitophilous tribe Ecitocharini with studies of their behavior and evolution (Coleoptera, Staphylinidae, Aleocharinae). Sociobiology 17: 333-480

Kumar A. and O'Donnell S. 2007. Fragmentation and elevation effects on bird-army ant interactions in neotropical montane forest of Costa Rica. J. Trop. Ecol. 23: 581-590

Lamas G., Mielke O.H.H. and Robbins R.K. 1993. The Arenholz technique for attracting tropical skippers (Hesperiidae). J. Lepidopt. Soc. 47: 80-82

Loomis H.F. 1959. New myrmecophilous millipeds from Barro Colorado Island, Canal Zone, and Mexico. J. Kansas Entomol. Soc. 32: 5-11

Mann W.M. 1934. Stalking ants, savage and civilized, A naturalist braves bites and stings in many lands to learn the story of an insect whose ways often parallel those of man. National Geogr. Mag. 66: 171-192

Masner L. and García J.L.R. 2002. The Genera of Diapriinae (Hymenoptera: Diapriidae) in the New World. Bull. Amer. Mus. Nat. Hist., N.Y. 268: 1-138

Ray T.S. and Andrews C.C. 1980. Antbutterflies: Butterflies that follow army ants to feed on antbird droppings. Science 210: 1147-1148

Reichensperger A. 1925. "Ameisenmimikry" und "Metöke Myrmekoidie". Biol. Zentralbl. 45: 290-303

Rettenmeyer C.W. 1961a. Observations on the biology and taxonomy of flies found over swarm raids of army ants (Diptera: Tachinidae, Conopidae). Univ. Kansas Sci. Bull. 42: 993-1066

Rettenmeyer C.W. 1961b. Arthropods associated with Neotropical army ants with a review of the behavior of these ants (Arthropoda: Formicidae: Dorylinae). Ph.D. University of Kansas

Rettenmeyer C.W. 1962a. Behavior, abundance and host specificity of mites found on Neotropical army ants (Acarina; Formicidae: Dorylinae). Proc. 11th Int. Congr. Entomol., Vienna. pp 610-612, Table 617

Rettenmeyer C.W. 1962b. The behavior of millipedes found with Neotropical army ants. J. Kansas Entomol. Soc. 35: 377-384

Rettenmeyer C.W. 1963a. Behavioral studies of army ants. Univ.Kansas Sci. Bull. 44: 281-465

Rettenmeyer C.W. 1963b. The behavior of Thysanura found with army ants. Ann. Entomol. Soc. Am. 56: 170-174

Rettenmeyer C.W. 2009. Associates of Eciton burchellii. Available from: http://www.armyantbiology.com or see acknowledgements above

Rettenmeyer C.W. and Akre R.D. 1968. Ectosymbiosis between phorid flies and army ants. Ann. Entomol. Soc. Am. 61: 1317-1326

Roberts D.L., Cooper R.J. and Petit L.J. 2000. Flock characteristics of ant-following birds in premontane moist forest and coffee agroecosystems. Ecol. Appl. 10: 1414-1425

Schneirla T.C. 1971. Army Ants. A Study in Social Organization. Freeman, W.H. San Francisco. 349 pp

Steiger S.S., Fidler A.E., Valcu M. and Kempenaers B. 2008. Avian olfactory receptor gene repertoires: evidence for a well-developed sense of smell in birds? Proc. R. Soc. B-Biol. Sci 275: 2309-2317

Swartz M.B. 1997. Behavioral and population ecology of the army ant Eciton burchellii and ant-following birds. The University of Texas, Austin

Swartz M.B. 2001. Bivouac checking, a novel behavior distinguishing obligate from opportunistic species of army-ant-following birds. Condor 103: 629-633

Wasmann E. 1887. Neue Brasilianische Staphyliniden, bei Eciton hamatum gesammelt von Dr. W. Müller. Deut. Entom. Zeit. 31: 403-416, pl. 405

Wasmann E. 1894. Kritisches Verzeichniss der Mymecophilen und Termitophilen Arthropoden. Mit Angabe der Lebensweise und mit Beschreibung neuer Arten. Felix L. Dames Berlin. xv + 231 pp

Wasmann E. 1903. Zum Myrmecrytypus der Dorylinengäste. Biol. Centralbl. 2, 5, 6, 7, 8: 581-590

Watkins J.F.I. 1976. The Identification and Distribution of New World Army Ants (Dorylinae: Formicidae). Markham Press Fund of Baylor University Press Waco, Texas. 102 pp

Willis E.O. and Oniki Y. 1978. Birds and army ants. Annu. Rev. Entomol. 9: 243-263

Wrege P.H., Wikelski M., Mandel J.T., Rassweiler T.A. and Couzin A.D. 2005. Antbirds parasitize foraging army ants. Ecology 86: 555-559

Zikán J.F. 1929. Myrmekophilie bei Hesperiden? Entomol. Rundschau 46: 27-28
Acknowledgments
We are grateful for the help of numerous field assistants and students aiding in the collection and sorting of army ants and their associates. Naming all of them would go beyond the scope of this paper. Our special thanks go to the following taxonomists for identifying and/or describing E. burchellii associates: Sidney Camras, Henry Disney, Ernst Ebermann, Richard Elzinga, David Kistner, Sandor Mahunka, Lubomir Masner, and Alexy Tishechkin. We would also like to thank Charlene and Adam Fuller for many hours spent in the field gathering information about E. burchellii and their associates and Adam for photographing and identifying antbirds. We thank Daniel Kronauer for comments on an earlier draft of this paper and for the permission to use some of his photographs as illustrations. Last but not least, we thank Phillip DeVries (Lepidoptera) and Henry Disney (Phoridae) for checking and adding to the respective tables. This work was supported by the British Ecological Society (SEPG 39/39), the Carl and Marian Rettenmeyer Ant-Guest Collection Endowment of the University of Connecticut, the Leverhulme Trust (F/00 182/AI), the Smithsonian Institution (SRA), the State Museum of Natural History Stuttgart, and the National Science Foundation. We thank the Asa Wright Nature Centre (Trinidad), the Estación Biologica de Monteverde (Costa Rica), the Organization for Tropical Studies (OTS) (Costa Rica), the Smithsonian Tropical Research Institute (STRI) (Panama), and the Summer Institute of Linguistics (Ecuador) for providing facilities and arranging collection and export permits. This work conforms to the legal requirements of the countries in which samples were collected.
Electronic supplementary material
Below is the link to the electronic supplementary material.
About this article
Cite this article
Rettenmeyer, C.W., Rettenmeyer, M.E., Joseph, J. et al. The largest animal association centered on one species: the army ant Eciton burchellii and its more than 300 associates. Insect. Soc. 58, 281–292 (2011). https://doi.org/10.1007/s00040-010-0128-8
Received:

Revised:

Accepted:

Published:

Issue Date:
Keywords
Myrmecophiles

Ant guests

Symbiosis

Arthropods

Tropical ecology

Biodiversity