Abstract
Male ants have long been thought to leave the nest, swarm, mate and die in quick succession (male aggregation syndrome). However, the ancestors of the ants likely used female calling, where females advertise with pheromones for longer lived and presumably free living males. In this study, male lifespan was compared in four species from a Panama rain forest. Males of two species with aggregation syndrome (Atta colombica and Azteca sp.) lived only days after collection at a light trap, and their lifespan failed to increase when supplied sugar water ad libitum. In contrast, two species with female calling syndrome (Ectatomma ruidum and Paraponera clavata) lived up to 116 days when fed. These results link male lifespan to mating systems, and provide a framework to examine variation in how ant colonies invest in males.
This is a preview of subscription content, log in to check access.
Access options
Buy single article
Instant access to the full article PDF.
US$ 39.95
Tax calculation will be finalised during checkout.
Subscribe to journal
Immediate online access to all issues from 2019. Subscription will auto renew annually.
US$ 99
Tax calculation will be finalised during checkout.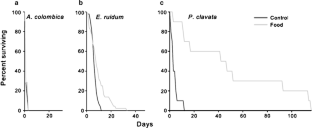 References
Baer B. 2003. Bumblebees as model organisms to study male sexual selection in social insects. Behav. Ecol. Sociobiol. 54: 521–533

Baer B., Krug A., Boomsma J.J. and Hughes W.O.H. 2005. Examination of the immune responses of males and workers of the leaf-cutting ant Acromyrmex echinatior. Insect. Soc. 52: 298–303

Baer B. and Boomsma J.J. 2006. Mating biology of leaf-cutting ants Atta colombica and A. cephalotes. J. Morphol. 267: 1165–1171

Bartz S.H. 1982. On the evolution of male workers in the Hymenoptera. Behav. Ecol. Sociobiol. 11: 223–228

Boomsma J.J., Baer B. and Heinze J. 2005. The evolution of male traits in social insects. Annu. Rev. Entomol. 50: 395–420

Bourke A.F.G. and Franks N.R. 1995. Social Evolution in Ants. Princeton University Press, Princeton, New Jersey. 529 pp

Brown W.L. 1968. An hypothesis concerning the function of metapleural glands in ants. Am. Nat. 102: 188–191

Cherif H., Tarry J.L., Ozanne S.E. and Hales C.N. 2003. Ageing and telomeres: a study into organ- and gender-specific telomere shortening. Nucleic Acids Res. 31: 1576–1583

Dobson F.S. and Oli M.K. 2007. Fast and slow life histories of mammals. Ecosci. 14: 292–299

Emlen S.T. and Oring L.W. 1977. Ecology, sexual selection, and the evolution of mating systems. Science 197: 215–223

Hahn D.A., Johnson R.A., Buck N.A. and Wheeler D.E. 2004. Storage protein content as a functional marker for colony-founding strategies: a comparative study within the harvester and genus Pogonomyrmex. Physiol. Biochem. Zool. 77: 100–108

Heinze J. and Hölldobler B. 1993. Fighting for a harem of queens: physiology of reproduction in Cardiocondyla male ants. Proc. Natl Acad. Sci. USA 90: 8412–8414

Heinze J. 2004. Reproductive conflict in insect societies. Adv. Stud. Behav. 34: 1–57

Helms K.R. 1994. Sexual size dimorphism and sex ratios in bees and wasps. Am. Nat. 143: 418–434

Hölldobler B. and Haskins C.P. 1977. Sexual calling behavior in primitive ants. Science 195: 793–794

Hölldobler B. and Bartz S.H. 1985. Sociobiology of reproduction in ants. In: Experimental Behavioral Ecology and Sociobiology (Hölldobler B. and Lindauer M., Eds), Sinauer Associates, Sunderland, Mass. pp 237–257

Jemielity S., Kimura M., Parker K.M., Parker J.D., Cao X., Aviv A. and Keller L. 2007. Short telomeres in short-lived males: what are the molecular and evolutionary causes? Aging Cell 6: 225–233

Johnson R.A. 2002. Semi-claustral colony founding in the seed harvester ant Pogonomyrmex californicus: a comparative study of colony founding strategies. Oecologia 132: 60–67

Kaspari M., Pickering J., Longino J.T. and Windsor D. 2001. The phenology of a neotropical ant assemblage: evidence for continuous and overlapping reproduction. Behav. Ecol. Sociobiol. 50: 382–390

Keller L. and Passera L. 1989. Size and fat content of gynes in relation to the mode of colony founding in ants. Oecologia 80: 236–240

Keller L. and Genoud M. 1997. Extraordinary lifespans in ants: a test of evolutionary theories of ageing. Nature 389: 255–263

Keller L. and Jemielity S. 2006. Social insects as a model to study the molecular basis of ageing. Exp. Gerontol. 41: 553–556

Kozlowski J. and Weiner J. 1997. Interspecific allometries are by-products of body size optimization. Am. Nat. 149: 352–380

May R.C. 2007. Gender, immunity and the regulation of longevity. BioEssays 29: 795–802

Mercier J.L., Lenoir J.C., Eberhardt A., Frohschammer S., Williams C. and Heinze J. 2007. Hammering, mauling, and kissing: stereotyped courtship behavior in Cardiocondyla ants. Insect. Soc. 54: 403–411

Mori A., Grasso D.A., Visicchio R. and Le Moli F. 2001. Comparison of reproductive strategies in facultative and obligatory slave-making ants: the case of Formica sanguinea and Polyergus rufescens. Insect. Soc. 48: 302–314

Peters R.H. 1983. The Ecological Implications of Body Size. Cambridge University Press, Cambridge, Mass. 344 pp

Poulsen M., Bot A.N.M., Nielsen M.G. and Boomsma J.J. 2002. Experimental evidence for the costs and hygienic significance of the antibiotic metapleural gland secretion in leaf-cutting ants. Behav. Ecol. Sociobiol. 52: 151–157

Reznick D.N. 1997. Life history evolution in guppies (Poecila reticulata): Guppies as a model for studying the evolutionary biology of aging. Exp. Gerontol. 32: 245–258

Rolff J. 2002. Bateman's principle and immunity. Proc. R. Soc. Lond. B 269: 867–872

Schmid-Hempel P. 2005. Evolutionary ecology of insect immune defenses. Annu. Rev. Entomol. 50: 529–551

Sibly R.M. and Brown J.H. 2007. Effects of body size and lifestyle on evolution of mammal life histories. Proc. Natl Acad. Sci. USA 104: 1–6

Speakman J.R. 2005. Body size, energy metabolism and lifespan. J. Exp. Biol. 208: 1717–1730

Thornhill R. and Alcock J. 1983. The Evolution of Insect Mating Systems. Harvard University Press, Cambridge, Mass. 547 pp

Trivers R.L. 1972. Parental investment and sexual selection. In: Sexual Selection and the Descent of Man, 1871–1971 (Campbell B., Ed), Aldine Press, Chicago, Ill. pp 136–179

Tschinkel W.R. 1992. Brood raiding and the population dynamics of founding and incipient colonies of the fire ant, Solenopsis invicta. Ecol. Entomol. 17: 179–188

Vainio L., Hakkarainen H., Rantala M.J. and Sorvari J. 2004. Individual variation in immune function in the ant Formica exsecta; effects of the nest, body size and sex. Evol. Ecol. 18: 75–84

Vollrath F. and Parker G.A. 1992. Sexual dimorphism and distorted sex ratios in spiders. Nature 360: 156–159

Weber N.A. 1972. Gardening in the Ants: the Attines. American Philosophical Society, Philadelphia, Penn. 146 pp

Wiernasz D.C., Sater A.K., Abell A.J. and Cole B.J. 2001. Male size, sperm transfer, and colony fitness in the western harvester ant, Pogonomyrmex occidentalis. Evolution 55: 324–329

Yamauchi K., Ishida Y., Hashim R. and Heinze J. 2006. Queen-queen competition by precocious male production in multiqueen ant colonies. Curr. Biol. 16: 2424–2427

Zuk M. and McKean K.A. 1996. Sex differences in parasite infections: patterns and processes. Int. J. Parasitol. 26: 1009–1024
Acknowledgments
R. Cothran, D. Donoso, O. Fincke, E. Marsh Matthews, and D. Shepard provided many excellent suggestions for improving this manuscript. R. Bixenmann assisted in caring for male alates. During this research, JZS was supported by an Adams Summer Research Fellowship from the Department of Zoology of the University of Oklahoma.
About this article
Cite this article
Shik, J.Z., Kaspari, M. Lifespan in male ants linked to mating syndrome. Insect. Soc. 56, 131–134 (2009). https://doi.org/10.1007/s00040-009-0003-7
Received:

Revised:

Accepted:

Published:

Issue Date:
Keywords
Body size

Female calling syndrome

Life history

Male aggregation syndrome