Abstract
Objectives
To investigate the availability of and to characterise the internet electronic cigarette (e-cigarette) vendors (IEVs) that continued to sell vaping devices in an Indian city despite the promulgation of an Indian Ordinance on 18th September 2019 that prohibits e-cigarettes nation-wide.
Methods
A structured internet search engine queries to identify IEVs. Subsequently, a content analysis to all identified IEVs was performed to check if they delivered vaping products to a New Delhi address (non-compliant with Indian Ordinance). Those non-compliant IEVs were then described according to some characteristics of interest.
Results
Sixteen out of 45 identified IEVs (35.6%) were not compliant with the Indian Ordinance. Amongst them, half were general e-commerce, 75.0% did not apply any age verification methods, and 56.3% did not feature health or safety warnings on their websites. Many of these IEVs employed a wide range of promotional strategies, such as price discounts, health benefits claims, and social networks utilisation.
Conclusions
E-cigarettes were still highly available and accessible in an Indian capital city through online sales following a bold step taken by the country to totally ban vaping products.
Access options
Buy single article
Instant access to the full article PDF.
USD 39.95
Price excludes VAT (USA)
Tax calculation will be finalised during checkout.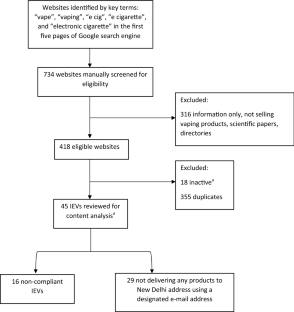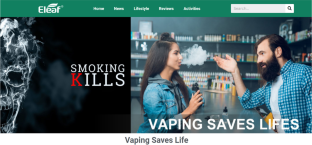 References
Bhatnagar A, Payne TJ, Robertson RM (2019) Is there a role for electronic cigarettes in tobacco cessation? J Am Heart Assoc 8:e012742. https://doi.org/10.1161/JAHA.119.012742

Breitbarth AK, Morgan J, Jones AL (2018) E-cigarettes—An unintended illicit drug delivery system. Drug Alcohol Depend 192:98–111. https://doi.org/10.1016/J.DRUGALCDEP.2018.07.031

Business Wire (2019) Global e-cigarette market outlook and forecast 2019–2025. https://www.businesswire.com/news/home/20191106006014/en/Global-e-Cigarette-Market-Outlook-Forecast-2019-2025. Accessed 2 Jan 2020

Camenga D, Gutierrez KM, Kong G et al (2018) E-cigarette advertising exposure in e-cigarette naïve adolescents and subsequent e-cigarette use: a longitudinal cohort study. Addict Behav 81:78–83. https://doi.org/10.1016/j.addbeh.2018.02.008

Cohen JE, Sarabia V, Ashley MJ (2001) Tobacco commerce on the internet: a threat to comprehensive tobacco control. Tob Control 10:364–367. https://doi.org/10.1136/tc.10.4.364

Czaplicki L, Kostygina G, Kim Y et al (2019) Characterising JUUL-related posts on Instagram. Tob Control tobaccocontrol 2018:054824. https://doi.org/10.1136/tobaccocontrol-2018-054824

Eissenberg T, Bhatnagar A, Chapman S et al (2020) Invalidity of an oft-cited estimate of the relative harms of electronic cigarettes. Am J Public Health 110:161–162. https://doi.org/10.2105/AJPH.2019.305424

U.S. Department of Health and Human Services (2016) E-cigarette use among youth and young adults: a report of the Surgeon General. Atlanta (GA)

Funabashi M, Grzech A (2005) Challenges of expanding Internet: e-commerce, e-business, and e-government. In: 5th IFIP Conference on e-Commerce, e-Business, and e-Government (13E'2005), October 28–30, 2005, Poznan, Poland, Springer

Goniewicz ML, Kosmider L, Delijewski M et al (2014) The impact of the 2010 Polish smoke-free legislation on the popularity and sales of electronic cigarettes. Eur J Public Health 24:471–473. https://doi.org/10.1093/eurpub/ckt214

Harrell MB, Weaver SR, Loukas A et al (2017) Flavored e-cigarette use: Characterizing youth, young adult, and adult users. Prev Med Rep 5:33–40. https://doi.org/10.1016/j.pmedr.2016.11.001

Institute for Global Tobacco Control (2019) Sale | Global Tobacco Control—learning from the experts. https://www.globaltobaccocontrol.org/e-cigarette/sale. Accessed 6 Jan 2020

Jo CL, Williams RS, Ribisl KM (2015) Tobacco products sold by internet vendors following restrictions on flavors and light descriptors. Nicotine Tob Res 17:344–349. https://doi.org/10.1093/ntr/ntu167

Kim AE, Chew R, Wenger M et al (2019) Estimated ages of JUUL Twitter followers. JAMA Pediatr 173:690–692. https://doi.org/10.1001/jamapediatrics.2019.0922

Law TJ (2019) Meet the top 10 search engines in the world in 2019. In: Oberlo. https://www.oberlo.com/blog/top-search-engines-world. Accessed 9 Jan 2020

Liang BA, Mackey TK (2011) Prevalence and global health implications of social media in direct-to-consumer drug advertising. J Med Internet Res 13:e64. https://doi.org/10.2196/jmir.1775

Lorigo L, Haridasan M, Brynjarsdóttir H et al (2008) Eye tracking and online search: Lessons learned and challenges ahead. J Am Soc Inf Sci Technol 59:1041–1052. https://doi.org/10.1002/asi.20794

Mackey TK, Miner A, Cuomo RE (2015) Exploring the e-cigarette e-commerce marketplace: Identifying Internet e-cigarette marketing characteristics and regulatory gaps. Drug Alcohol Depend 156:97–103. https://doi.org/10.1016/j.drugalcdep.2015.08.032

Ministry of Communications and Information Technology (2011) Information technology (intermediaries guidelines) rules, 2011. In: Ministry of Communication and Information Technology. https://dispur.nic.in/itact/it-intermediaries-guidelines-rules-2011.pdf. Accessed 27 Jul 2020

Ministry of Law and Justice (2019) The prohibition of electronic cigarettes (production, manufacture, import, export, transport, sale, distribution, storage and advertisement) ordinance, 2019. New Delhi

Mohanty VR, Chahar P, Balappanavar AY, Yadav V (2017) Electronic Nicotine Delivery Systems (ENDS): mapping the Indian online retail market. Nicotine Tob Res 19:1386–1389. https://doi.org/10.1093/ntr/ntx044

Muposhi A, Dhurup M (2018) A content analysis of e-cigarettes selling propositions on South African retail websites. J Transdiscipl Res South Afr 14:1–6. https://doi.org/10.4102/td.v14i1.552

National Academies of Sciences, Engineering and Medicine (2018) Public health consequences of e-cigarettes. National Academies Press, Washington, D.C.

Nikitin D, Timberlake DS, Williams RS (2016) Is the e-liquid industry regulating itself? A look at e-liquid internet vendors in the United States. Nicotine Tob Res 18:1967–1972. https://doi.org/10.1093/ntr/ntw091

Ollila E (2019) See you in court: obstacles to enforcing the ban on electronic cigarette flavours and marketing in Finland. Tob Control Tobaccocontrol-2019-055260. https://doi.org/10.1136/tobaccocontrol-2019-055260

Press Trust of India (2019a) E-cigarettes set to be banned in India as Parliament passes bill. https://www.indiatoday.in/india/story/e-cigarettes-set-to-be-banned-in-india-as-parliament-passes-bill-1624496-2019-12-02. Accessed 25 Jan 2020

Press Trust of India (2019b) First case in e-cigarette ban filed in Calcutta HC, firm says decision discriminatory. In: India Today. https://www.indiatoday.in/india/story/ban-e-cigarettes-discriminatory-calcutta-high-court-electronic-cigarette-1603648-2019-09-26. Accessed 8 Jan 2020

Rijhwani K, Hashmi S, Mohanty V et al (2018) Hookah products and online retail marketing strategies in India: a content analysis. Indian J Cancer 55:261. https://doi.org/10.4103/ijc.IJC_142_18

Sharan RN, Chanu TM, Chakrabarty TK, Farsalinos K (2020) Patterns of tobacco and e-cigarette use status in India: a cross-sectional survey of 3000 vapers in eight Indian cities. Harm Reduct J 17:21. https://doi.org/10.1186/s12954-020-00362-7

Sharma P (2019) All you need to know about India's e-cigarette ban. In: Week. https://www.theweek.in/news/india/2019/09/18/all-you-need-to-know-about-indias-e-cigarette-ban.html. Accessed 2 Mar 2020

Supreme Court of India (2020) Woke Vapors Pvt. Ltd. vs Union Of India on 13 January, 2020. In: Indian Kanoon. https://indiankanoon.org/doc/152774787/. Accessed 27 Jul 2020

Tata Institute of Social Sciences and Ministry of Health and Family Welfare Government of India (2017) Global Adult Tobacco Survey GATS 2 India 2016–2017 Report, New Delhi

The 50th Union World Conference on Lung Health (2019) Novel and emerging nicotine and tobacco products: science, challenges and regulatory action. https://www.youtube.com/watch?v=GaZ2Ax0GoUQ. Accessed 25 Jan 2020

Truth Initiative (2019) E-cigarettes: facts, stats and regulations. https://truthinitiative.org/research-resources/emerging-tobacco-products/e-cigarettes-facts-stats-and-regulations. Accessed 2 Jan 2020

Ward A, Gordon K (2019) Vape companies borrow from Big Tobacco ad playbook. In: The Columbus Dispatch. https://www.dispatch.com/news/20191118/vape-companies-borrow-from-big-tobacco-ad-playbook/1. Accessed 9 Jan 2020

WHO FCTC COP 7 (2016) WHO Report: Electronic Nicotine delivery systems and electronic non-nicotine delivery systems (ENDS/ENNDS), Delhi

Williams RS, Derrick J, Ribisl KM (2015) Electronic cigarette sales to minors via the internet. JAMA Pediatr 169:e1563. https://doi.org/10.1001/jamapediatrics.2015.63

Williams RS, Derrick J, Liebman AK et al (2018a) Content analysis of age verification, purchase and delivery methods of internet e-cigarette vendors, 2013 and 2014. Tob Control 27:287–293. https://doi.org/10.1136/tobaccocontrol-2016-053616

Williams RS, Derrick J, Liebman AK, LaFleur K (2018b) Content analysis of e-cigarette products, promotions, prices and claims on internet tobacco vendor websites, 2013–2014. Tob Control 27:e34–e40. https://doi.org/10.1136/tobaccocontrol-2017-053762

Zhu S-H, Sun JY, Bonnevie E et al (2014) Four hundred and sixty brands of e-cigarettes and counting: implications for product regulation. Tob Control 23:iii3–iii9. https://doi.org/10.1136/tobaccocontrol-2014-051670
Acknowledgements
Authors would like to thank Bloomberg Initiative to Reduce Tobacco Use, supporting the Tobacco Control Unit at The Union South-East Asia Office (The Union), New Delhi. We also thank "La Caixa" Foundation for providing PhD fellowship to BA, and the Ministry of Universities and Research, Government of Catalonia for partly funding the Tobacco Control Research Group at ICO-IDIBELL (BA, EF, MF).
Funding
This study received no specific grant from any funding agency in the public, commercial, or not-for-profit sectors.
Ethics declarations
Conflict of interest
The authors declare that they have no conflict of interest.
Additional information
Publisher's Note
Springer Nature remains neutral with regard to jurisdictional claims in published maps and institutional affiliations.
Electronic supplementary material
Below is the link to the electronic supplementary material.
About this article
Cite this article
Amalia, B., Kapoor, S., Sharma, R. et al. Online sales compliance with the electronic cigarettes ban in India: a content analysis. Int J Public Health 65, 1497–1505 (2020). https://doi.org/10.1007/s00038-020-01480-6
Received:

Revised:

Accepted:

Published:

Issue Date:

DOI: https://doi.org/10.1007/s00038-020-01480-6
Keywords
E-cigarettes

ENDS

Policy

India

Internet

Sales