Abstract
Objectives
Short-term medical service trips (MSTs) are a controversial modality for addressing the health of marginalized populations. Despite their prevalence, there are no routinely used evaluative frameworks. This study used stakeholder consensus to validate a literature-based framework for MST best practices.
Methods
A recent systematic review was used to construct a preliminary list of best practices for short-term MSTs. We then recruited a multidisciplinary panel of academics, medical professionals, program coordinators, and non-medical volunteers for a three-round e-Delphi consensus-building exercise to review the list. A 7-point Likert scale was used, with mean scores 4–7 representing rejection, scores < 2 representing acceptance, and elements scoring in between being redistributed for discussion.
Results
The literature review identified 30 best practices. Twenty-six stakeholders were recruited for the e-Delphi panel, with 73.1% responding to all three rounds. Eighteen elements were accepted into the final framework.
Conclusions
This framework identifies essential MST best practices and enables volunteers to compare organizations. Future research should translate this framework into an assessment tool and initiate dialogue between host communities, local clinicians, and sending organizations.
This is a preview of subscription content, log in to check access.
Access options
Buy single article
Instant access to the full article PDF.
US$ 39.95
Price includes VAT for USA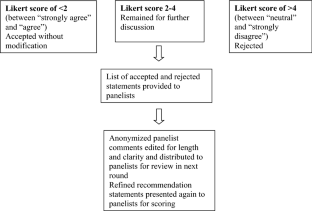 References
ADAPTE (2009) The ADAPTE process: resource toolkit for guideline adaptation. ADAPTE (2009) Guideline adaptation: a resource toolkit. http://www.g-i-n.net

Ahmed F, Grade M, Malm C et al (2017) Surgical volunteerism or voluntourism—are we doing more harm than good? Int J Surg Lond Engl 42:69–71. https://doi.org/10.1016/j.ijsu.2017.04.020

Akins RB, Tolson H, Cole BR (2005) Stability of response characteristics of a Delphi panel: application of bootstrap data expansion. BMC Med Res Methodol 5:37. https://doi.org/10.1186/1471-2288-5-37

AmeriCares (2013) Medical outreach best practices study: a literature review. AmeriCares. https://medicaloutreach.americares.org/globalassets/_mo/resources/07_bestpractices/americares-medoutreachpracticesstudy-lit-review-final.pdf. Accessed 1 Feb 2018

Caldron PH, Impens A, Pavlova M, Groot W (2015) A systematic review of social, economic, and diplomatic aspects of short-term medical missions. BMC Health Serv Res 15:380. https://doi.org/10.1186/s12913-015-0980-3

Crump JA, Sugarman J (2008) Ethical Considerations for Short-term Experiences by Trainees in Global Health. JAMA, J Am Med Assoc 300:1456–1458. https://doi.org/10.1001/jama.300.12.1456

Dainton C, Chu C (2015) Symptom clusters on primary care medical service trips in five regions in Latin America. J Epidemiol Glob Health 5:259–264. https://doi.org/10.1016/j.jegh.2014.12.002

Dainton C, Chu CH, Lin H, Loh L (2016) Clinical guidelines for Western clinicians engaged in primary care medical service trips in Latin America and the Caribbean: an integrative literature review. Trop Med Int Health 21:470–478. https://doi.org/10.1111/tmi.12675

Dillman DA, Smyth JD, Christian LM (2014) Internet, phone, mail, and mixed-mode surveys: the tailored design method. Wiley, Hoboken

Hasson F, Keeney S, McKenna H (2000) Research guidelines for the Delphi survey technique. J Adv Nurs 32:1008–1015. https://doi.org/10.1046/j.1365-2648.2000.t01-1-01567.x

Hsieh H-F, Shannon SE (2005) Three approaches to qualitative content analysis. Qual Health Res 15:1277–1288. https://doi.org/10.1177/1049732305276687

Langowski MK, Iltis AS (2011) Global Health Needs and the Short-Term Medical Volunteer: ethical Considerations. HEC Forum 23:71–78. https://doi.org/10.1007/s10730-011-9158-5

Lasker JN (2016) Hoping to Help: The Promises and Pitfalls of Global Health Volunterring. Cornell Univeristy Press, United States of America

Lynn MR (1986) Determination and Quantification Of Content Validity. Nurs Res 35:382–386

Maki J, Qualls M, White B et al (2008) Health impact assessment and short-term medical missions: a methods study to evaluate quality of care. BMC Health Serv Res 8:121. https://doi.org/10.1186/1472-6963-8-121

Meshkat B, Cowman S, Gethin G et al (2014) Using an e-Delphi technique in achieving consensus across disciplines for developing best practice in day surgery in Ireland. J Hosp Adm 3:1. https://doi.org/10.5430/jha.v3n4p1

Roche SD, Ketheeswaran P, Wirtz VJ (2016) International short-term medical missions: a systematic review of recommended practices. Int J Public Health 62:31–42. https://doi.org/10.1007/s00038-016-0889-6

Rozier MD, Lasker JN, Compton B (2017) Short-term volunteer health trips: aligning host community preferences and organizer practices. Glob Health Action 10:1267957. https://doi.org/10.1080/16549716.2017.1267957

Seager G (2012) When Healthcare Hurts: An Evidence Based Guide for Best Practices in Global Health Initiatives. AuthorHouse, Bloomington

Straus S, Tetroe J, Graham ID (2013) Knowledge translation in health care: moving from evidence to practice. Wiley, New York

Sykes KJ (2014) Short-Term Medical Service Trips: a Systematic Review of the Evidence. Am J Public Health 104(7):e38–e48. https://doi.org/10.2105/AJPH.2014.301983

Walker L, Avant K (2011) Strategies for Theory Construction in Nursing, 5th edn. Pearson, London

WHO (2013) Classification and minimum standards for foreign medical teams in sudden onset disasters. World Health Organization, Geneva

WPRO (2010) The WHO health systems framework. In: WPRO, World Health Organization, Geneva. http://www.wpro.who.int/health_services/health_systems_framework/en/. Accessed 1 Feb 2018
Ethics declarations
Conflict of interest
The authors declare that they have no conflict of interest.
Additional information
Publisher's Note
Springer Nature remains neutral with regard to jurisdictional claims in published maps and institutional affiliations.
About this article
Cite this article
Dainton, C., Chu, C.H., Gorman, C. et al. Development of a theoretical framework for assessment of quality of primary care medical service trips in Latin America. Int J Public Health 64, 333–342 (2019). https://doi.org/10.1007/s00038-018-1199-y
Received:

Revised:

Accepted:

Published:

Issue Date:
Keywords
Medical missions

Global health

Primary care

Medical service trips

Medical education

Medical volunteering